One of the top traits people consider when choosing a designer breed is its appearance. And when it comes to designer dogs, the Pomapoo is a fun and unique choice. We'll take a look at the types of Pomapoo colors below.
This mixed breed is small, affectionate, and intelligent, making it an excellent dog for families and singles alike. Because this mixed breed comes from such varied dogs, there are many possible coat colors to choose from — here's the full list.
Before scrolling down this guide "Types of Pomapoo Colors," check out: How to Take Care of a Pomapoo (2023) and What is the Price of a Pomapoo? (2023).
What Is a Pomapoo?
A Pomapoo is a designer dog, also known as a mixed breed. It is the result of breeding a Pomeranian with a Toy Poodle. Since it's a mixed breed, it is not officially recognized by dog breed organizations such as the American Kennel Club.
Since both Pomeranians and Toy Poodles are small breeds, so is the Pomapoo. You can expect this dog to grow to about eight to 10 inches tall and weigh between five and 15 pounds. Its small stature makes it a great lap dog and ideal for apartments or homes with small yards.
With quality care, regular exercise, and a healthy diet, a Pomapoo can live as long as 14 years.
Types of Pomapoo Colors
Each Pomapoo will get its traits from its parents, both of which can have various coat colors. When you factor in things like recessive traits and lineage, this means a Pomapoo can end up with all kinds of shades and patterns.
Here are some of the most common types of Pomapoo colors.
Black Pomapoo
Black Pomapoos have black fur that covers their entire body, from head to toe. The dark appearance is attractive to some people and causes the puppy's nose and eyes to blend in with the rest of its features.
The glossy black fur is sometimes accompanied by a small white patch on the dog's chest, but it can also just be all black.
Blue Merle Pomapoo
Any dog with a merle pattern will feature patches of solid color mixed in with a paler hue. While the pattern is undoubtedly pretty, merle coats happen due to genetic defects in pigmentation. This defect doesn't mean anything is wrong with the dog; it just impacts its appearance.
Blue merle Pomapoos, often simply called blue Pomapoos, have patches of black and gray of various hues all over their bodies. Depending on the severity of their genetic defect, these patches can be dramatic or subtle.
Black and Tan Pomapoo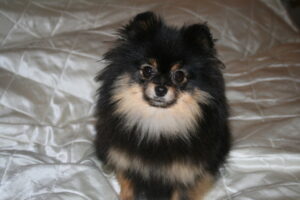 Black and tan Pomapoos are similar to black Pomapoos. Most of their fur tends to carry a dark hue, while certain portions of their body display varying shades of tan. In most cases, the tan shows up in places like the face, chest, and paws of a Pomapoo.
Some black and tan Pomapoos can also have spots or patches of tan throughout their black fur, making for some very interesting and unique coats.
Chocolate Pomapoo
If one or both of a Pomapoo's parents are brown, the puppies in the litter can turn out to be chocolate-colored.
Chocolate Pomapoos sport fur that's a gorgeous shade of chocolate brown. They are darker than tan-colored pups but lighter than black Pomapoos. Most of these dogs also feature white paws and may have small white patches on their chest.
Cream Pomapoo
Cream Pomapoos, also known as fawn, are very light-colored dogs. While they are not quite white, they are lighter than chocolate or tan and feature a very creamy, warm color throughout their coat.
A cream Pomapoo may have some dark markings around its face, ears, and tail. It may also showcase white spots on its chest.
Red Pomapoo
There's nothing quite as stunning as the rusty-brown coat of a red Pomapoo. Red coats often feature reddish-brown tones throughout.
Pomeranians and Toy Poodles can have red coats, so a Pomapoo can have this type of coloring. The red may also show up in patches or feature lighter spots on the dog's face or body.
White Pomapoo
At first glance, you might confuse the white Pomapoo for a cream Pomapoo. While their colors are similar, white Pomapoos tend to have a much brighter, purer shade to their coats in comparison to cream-colored pups.
White Pomapoos can be all white, but they often feature small patches of cream or tan. Most often, you'll find these patches on their face and ears.
Tri-Colored Pomapoo
As their name suggests, tri-colored Pomapoos have not one, not two, but three different colors mixed into their fur. These dogs can look different depending on their parents, but many feature white, tan, and black color combinations.
A tri-color Pomapoo may also combine white with tan or brown. The patterns can vary, with spots around the eyes, ears, body, and paws.
Sable Pomapoo
Sable Pomapoos are one of the most unique-looking colors in the breed. When it comes to dogs, sable means that the fur is light-colored at the roots with black tips, which can look gray from a distance.
A sable-colored Pomapoo may have different colors at the roots, including tan, brown, and gray.
More About Pomapoos
Looking at the types of Pomapoo colors and picking out your favorite is the fun part of choosing your puppy, but it's crucial to learn about the serious issues too.
If you want to care for your Pomapoo properly, you should learn about its temperament, grooming needs, and potential health concerns.
Pomapoo Temperament
Because the Pomapoo comes from two different purebred breeds, the Pomeranian and the Toy Poodle, it tends to pull characteristics from each parent.
For instance, Toy Poodles are very smart. Likewise, Pomeranians tend to be intelligent as well. Chances are, your Pomapoo will be very alert and easy to train. You can have a blast entertaining this dog by teaching it new tricks.
Pomeranians and Toy Poodles both have fun personalities. Toy Poodles are friendly and loyal, while Pomeranians are perky and active. This often leads to a winning combination: a pup that is affectionate, friendly, and fun-loving.
Keep in mind, though, that Pomeranians can be cautious of strangers. A Pomapoo puppy might pick this trait up and can be quite reserved if you don't socialize it properly and at an early age.
Grooming a Pomapoo
Both Toy Poodles and Pomeranians come with fairly demanding grooming needs. Toy Poodles have thick, curly fur and sensitive skin. Pomeranians have fluffy double coats. Because both breeds are active and love to play, they are prone to getting dirty and getting mats in their fur.
Most Pomapoos will have short- to medium-length coats with wavy or curly fur. If you're lucky, your Pomapoo will receive the low-shedding gene from its Toy Poodle parent.
Still, it's a good idea to brush your puppy's coat a few times per week to prevent tangles and mats. Your Pomapoo may also need consistent trims to maintain its fluffy fur.
The bathing frequency will depend on your Pomapoo's activity and how much time it spends outside, but once a month should be fine. Be sure to use an all-natural, soothing shampoo that's gentle on sensitive skin.
Pomapoo Diet
All dogs need a balanced diet consisting of protein, fats, and carbs. The Pomapoo is a small dog, so it doesn't need to eat as much as other breeds. This mixed breed does well with dry food formulated for small dogs.
Avoid giving your Pomapoo wet dog food. As a small breed, it may be prone to plaque buildup and obesity — both of which can be exacerbated by a wet food diet. Always use the recommended serving size and avoid free-feeding a Pomapoo.
Pomapoo Health Conditions
There are many debates as to whether mixed breeds are more or less likely to have health issues than purebreds. Either way, it's always a good idea to know what potential issues could arise so that you can quickly and properly handle the situation and care for your dog.
Some of the most common health conditions in Pomapoos can include:
You can learn more about these conditions to recognize the signs. Always contact your vet with any health questions you have about your dog. Proper diet and exercise, along with regular checkups, can help ensure your dog has the best and longest possible life.
Frequently Asked Questions
How long do Pomapoos live?
The life expectancy of a healthy Pomapoo is 12 to 14 years.
Are Pomapoos rare?
Compared to other designer dogs — like the hugely popular Goldendoodle and Labradoodle — the Pomapoo is much less common.
How big is a full-grown Pomapoo?
When a Pomapoo is fully grown, it will be eight to 10 inches tall.
Conclusion for "Types of Pomapoo Colors"
Pomapoos are not the most common designer dog breed out there, but they sure are cute. If you're looking for a small dog that's spunky, affectionate, and intelligent, this might be the one for you.
Because Toy Poodles and Pomeranians come in so many different colors, there are several different types of Pomapoo colors out there. Knowing what your options are can help you decide what you'd like your designer dog to look like.
Be sure to additionally research things like temperament, grooming schedules, nutritional needs, and training tips before adopting any kind of dog. It's critical to ensure you can care for a specific breed before you get one to make sure it lives a long and happy life.
For more articles similar to this guide on types of Pomapoo colors, check out:
You can learn more about the Pomapoo dog breed by watching "The Pomeranian Toy Poodle Mix (Pomapoo) Everything You Need To Know About" down below:
Garrett loves animals and is a huge advocate for all Doodle dog breeds. He owns his own Goldendoodle named Kona. In addition, he volunteers at the Humane Society of Silicon Valley, where he fosters dogs and helps animals. Garrett enjoys writing about Doodles and believes that dogs can teach humans more about how to live than humans can teach a dog.
Why Trust We Love Doodles?
At We Love Doodles, we're a team of writers, veterinarians, and puppy trainers that love dogs. Our team of qualified experts researches and provides reliable information on a wide range of dog topics. Our reviews are based on customer feedback, hands-on testing, and in-depth analysis. We are fully transparent and honest to our community of dog owners and future owners.