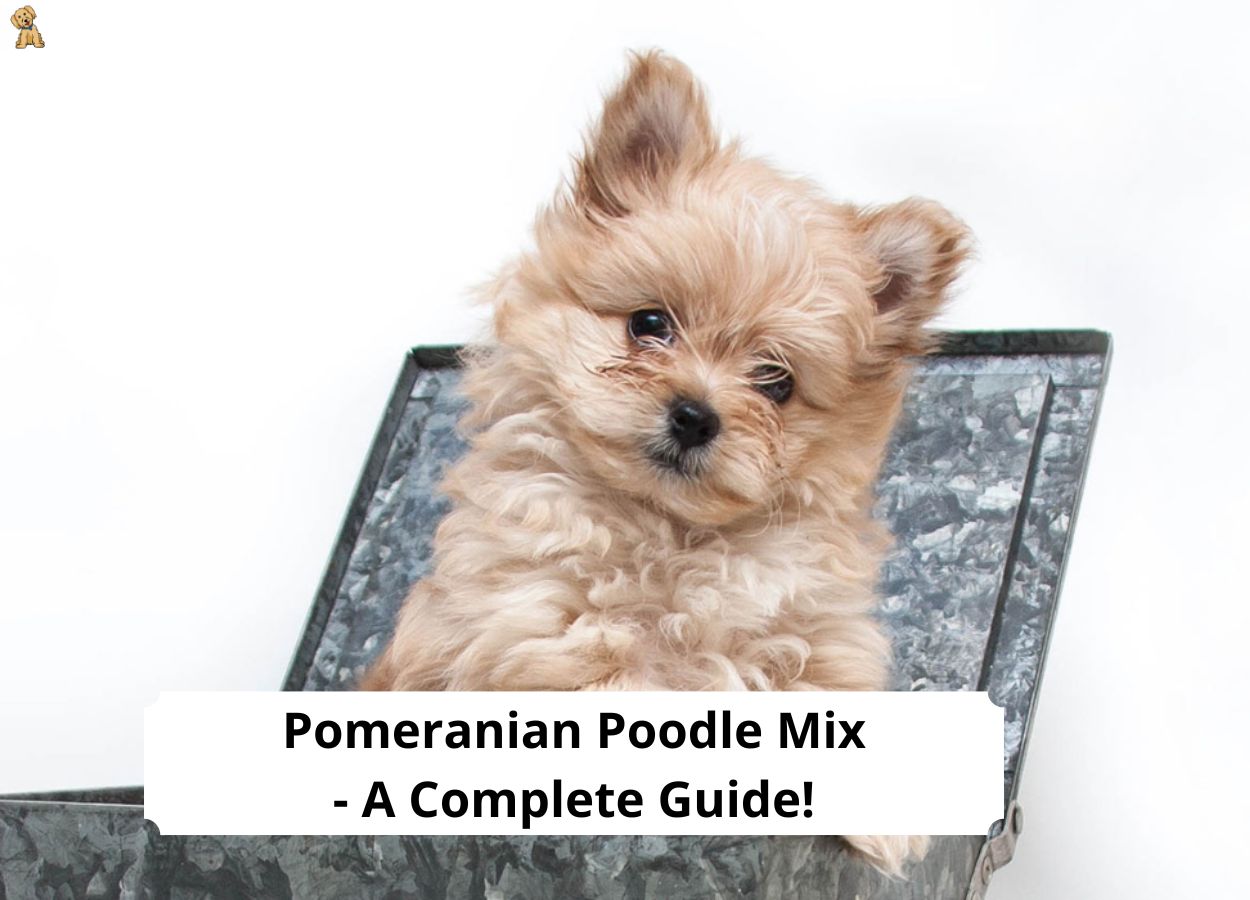 Are you thinking about adding a new, furry addition to your home but want to ensure that you purchase the perfect pup? Perhaps you're currently considering whether a Pomeranian and Poodle mix would suit you or your family, but you have a few questions or concerns about this mixed breed.
Then, look no further than this Pomeranian Poodle mix complete guide, compiled to ensure you learn everything you need to know about this relatively new breed of dog before adding it to your home.
This complete guide will teach you about the Pomapoo's origins and ancestry, possible appearance, essential care, typical behavior, and health concerns. Read on to discover the history of the two distinct and lustrous bloodlines from which the Pomapoo descend from in this complete guide. Both of which have been beloved by nobility and royalty alike.
Before you scroll down this Pomeranian and Poodle mix dog breed guide, you can check out these other mixed dog bree guides: How To Take Care Of a Pomapoo and What Is the Price Of a Pomapoo?
The Poodle History
The Poodle's history goes back to the 1500s and most likely originates from Germany or Central Europe, even though it's mainly associated with France. It was in France that the Poodle became standardized, becoming popular amongst the 15th-century French aristocracy and eventually becoming the country's national dog.
However, at one point, around the 1920s, the Poodle's popularity in North America weakened so much that the breed nearly died out on the continent but fortunately made a comeback a decade later, saving the breed.
Then at some point in the early 20th century, smaller-sized Poodles started being bred to achieve a standard toy size of the breed. Unfortunately, with the standard Poodle weighing up to 45 pounds and growing as high as 21 inches, it's not an ideal pet for apartment living.
So downsizing the breed's size was most likely to make it easier for those living in smaller spaces to enjoy these beautiful, intelligent creatures.
The Pomeranian History
The Pomeranians' history goes back to the 1800s, with the earliest possible mention of the breed made by James Boswell in his diary Grand Tour: Germany and Switzerland, dated November 2nd, 1764. The Pomeranian's exact origins are unknown, but their origins begin possibly in Germany, most likely Pomerania.
However, it wasn't until the breed was brought to England that it was named the Pomeranian; however, those Pomeranians were larger than the typical Pomeranians known today.
It is unknown exactly when the Pomeranian started being bred down to its current toy size. Still, it probably began with the same intention behind the Toy Poodle's creation, to create a petite-sized companion that would do well in a smaller living space.
The Pomapoo
A relatively new breed of dog, this cute, furry bundle of love is quickly becoming popular among Poodle and Pomeranian lovers the world over. Known as the Pomapoo, this toy-sized dog is ideal for apartment living and will make a great companion for individuals and the perfect addition for a family with children.
Origins
Although it is unknown precisely when the first Pomapoo was bred, its largely believed to have first been bred in the early 1990s in North America. Unfortunately, not much else is known about this Poodle Pomeranian mix.
Type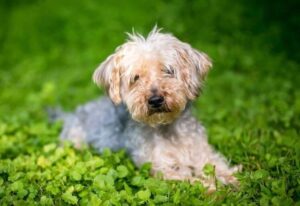 A Pomapoo is a hybrid dog bred from the toy (Toy Poodle) and toy (Pomeranian) parents. A toy dog is a small breed of dog bred for companionship.
Cost
A Pomapoo from a reputable breeder can cost between $500 – $2,000. As the breed grows in popularity, expect its cost also to increase.
AKC
Even if a Pomapoo comes from a purebred Pomeranian and a purebred Toy Poodle, the AKC (American Kennel Club) doesn't recognize it as a dog breed. Furthermore, the AKC doesn't recognize designer, mixed, or hybrid dog breeds. However, ACHC (American Canine Hybrid Club) does recognize them as long as both parents are purebred.
Hypoallergenic
It's important to note that no dog is truly hypoallergenic because it's not the dog's coat that aggravates your allergies, but the dander that irritates your allergies, and all dogs have dander.
However, some breeds of dogs are known to be less likely to trigger allergies in those whose allergies are less severe. Typically, the less the dog sheds, the less likely they are to aggravate your allergies.
A Pomapoo could (potentially) fall into this category thanks to its Poodle ancestry. The possibility for the Pomapoo to be hypoallergenic is because all Poodle breeds are known to be less likely to trigger dog allergies in people. After all, they shed very infrequently.
Pomapoo Appearance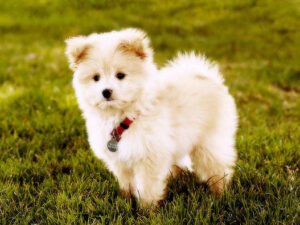 The Pomapoo is an adorable, small-sized dog, and thanks to its mixed ancestry, its appearance can vary widely. However, reputable and skilled breeders know how to breed dogs to get a specific appearance out of their litter, and if you're hoping for a specific look, it's essential to find such a breeder.
Keep in mind that the more reputable and skilled the breeder, the higher the cost of the Pomapoo. Below is a list of the most crucial facts about a Pomapoo's appearance.
Average Weight
A Pomapoo's ideal weight is between 5 to 15 pounds, with the heavier weight acceptable for a male versus a female. To keep your pomapoo healthy, ensure that their weight stays within this range.
Average Height
A Pomapoo's average height is between 8 to 12 inches, with the bigger size for a male versus a female.
Coat Type
A Pomapoo's coat length will range between short to medium, and its fur can either be curly like its Poodle parent or straight like its Pomeranian parent, or even a wavy mix of both coat types.
Coat Colors and Patterns
A Pomapoo's coat can be a variety of colors and patterns. For example, a Pomapoo's coat color can range from black, red, gray, cream, fawn, white, gold, yellow, and various shades of brown. In addition, a Pomapoo's coat pattern can be bicolor, tricolor, brindle, or sable.
Ear Shape
A Pomapoo can also have a variety of different ear shapes. For example, it can have either button ears, thanks to its poodle ancestry, or pricked ears, thanks to its Pomeranian ancestry. Or even a mix of the two.
Pomapoo Care
One of the most important things as an owner of any pet is the care you must provide your pet with regularly. As a pet owner, you're responsible for the well-being and life of every furry, scaly, or feathery pet you add to your home. Below is a list of the essential aspects of Pomapoo care.
Grooming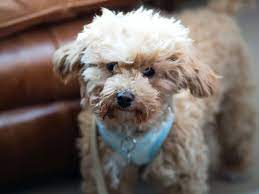 A Pomapoo, like its Pomeranian and Poodle parents, requires regular grooming. Therefore, a Pomapoo's grooming routine should consist of daily brushing and regular professional grooming.
Daily brushing is essential to ensure that a Pomapoo's coat remains mat free. While regular professional grooming every four to six weeks will ensure that your Pomapoo looks and feels its best.
Shedding
A Pomapoo's shedding will primarily depend on what type of coat it inherits. Pomeranians are known to shed moderately year-round but excessively twice a year during spring and fall when they "blow out" their coats. However, Poodles rarely shed and shed very infrequently.
So a Pomapoo with a straight coat will most likely take after its Pomeranian parent and shed more often, while a Pomapoo with a curly coat will most likely take after its Poodle parent and shed less often. However, Pomapoos with a wavy coat, a mix between parents, may tend to shed somewhere between the two more consistently.
Exercise
A Pomapoo does well with apartment living, but that doesn't mean it cannot benefit from a regular exercise routine. Regular exercise is crucial for this breed which is at higher risk than others for excessive weight gain.
Additionally, the Pomapoo, taking after their Pomeranian parent, are active and playful, so maintaining a regular and fun exercise schedule will provide them with the attention, play, and activity they crave while helping them stay fit. Remember that the Pomapoo is a small dog with a delicate structure, so children who play too rough require supervision to ensure they aren't accidentally hurt.
Teeth Care
A Pomapoo, even at an early age, is susceptible to dental issues because the breed can experience various problems with their teeth, from an enamel defect to an irregular bite. However, daily teeth brushing will ensure that their teeth remain healthy, and you can identify any dental concerns sooner rather than later.
Pomapoo Behavior
When adding a pet to your home, every potential pet parent worries about several different factors. One of those worrisome factors is the potential pet's behavior. A potential pet's behavior is troubling because its behavior will directly and tremendously impact the home and household. Below is a list of the most important aspects of a Pomapoo's typical behavior.
Temperament
A Pomapoo is a friendly, playful, active breed of dog that, like its Pomeranian parent, loves to be the center of attention and has strong loyalty tendencies. Because they're a friendly breed of dog, they essentially get along with everyone, from children to seniors to other pets and even strangers.
As with most toy breeds, a Pomapoo loves to be with its owner or surrounded by its family. The Pomapoo will bond equally with all its family members and doesn't tend to connect with one specific person.
Additionally, a Pomapoo can, like its Pomeranian parent, experience separation anxiety if forced to remain apart from its owner or family for too long. The separation anxiety will cause them to develop destructive behavioral tendencies to deal with it. Additionally, if they're left outside alone for too long, a Pomapoo will begin to bark excessively and dig up your lawn.
Training
A Pomapoo will take after its intelligent Poodle parent, and with the proper training regiment, they will take to training quickly.
Since training is an opportunity for these adorable pups to be the center of attention, short training sessions that are fun and include plenty of treats will impact an impressionable young puppy the most. In addition, Pomapoos have a great love of learning new tricks and are eager to please their owners.
While training your Pomapoo, it's important to remember to exercise patience and focus on helping them remain calm. In addition, since both the Pomeranian and Toy Poodle are known to be talkative breeds, during your short training sessions, focus on teaching your Pomapoo to refrain from barking. Barking is something that a Pomapoo will start as a puppy and, without proper training, will carry on into adulthood.
Pomapoo Health
Another pet parent worry is the potential pet's health and, more importantly, potential health issues. You raise this adorable fur baby from a pup to adult to senior, giving your love and receiving unconditional love back, and there is nothing more upsetting than some unforeseen health issue affecting them and you being unprepared. Below is a list of the most important aspects of a Pomapoo's health.
Life Span
A Pomapoo can live between 12 to 15 years if they are well cared for throughout its life. But, like all dogs, a Pomapoo's lifespan primarily depends upon three key factors you can control. Everything else is, unfortunately, up to genetics.
Factor number one, they visit the vet regularly and get their vaccinations regularly. Factor number two, they remain a healthy weight for their size. Finally, factor number three, they receive the right amount of regular exercise.
Health Concerns
A Pomapoo is a generally healthy dog; however, like all dogs, there are potential health concerns that you should be aware of before purchasing a Pomapoo. First, the Pomapoo is known to have a high potential risk for weight gain.
As with people, an unhealthy weight can lead to other health concerns, so ensuring that your Pomapoo always maintains an appropriate weight for their breed and gender is a great way to keep them healthy.
Other potential health concerns for the Pomapoo include cataracts, epilepsy, tracheal collapse, patellar luxation, and dental issues. Some of these health concerns, like cataracts, dental problems, and even patellar luxation, can occur in any dog, whether a large breed or small breed.
Unfortunately, as with any dog, the older it gets, the more likely it will experience health concerns, some of which can be unexpected of the breed.
Main Takeaways
After reading this complete guide about the Pomeranian and Poodle mix, you're better prepared to decide if the sweet Pomapoo is the right fit for your home. You've learned everything you need to know about the Pomapoo, from its origins and ancestry to its possible appearance to its most essential care expectations to its typical behavior and potential health concerns.
If you're hoping to add a Pomapoo to your home, do your research and find a reputable and experienced breeder (preferably licensed or registered) to purchase your new fur baby from, this will ensure that your new pup is as healthy as possible.
Frequently Asked Questions
As it is with anything, there are always lingering questions and concerns when it comes to purchasing something new. Below are some of the most common questions people have about the Pomeranian Poodle mix, the Pomapoo, compiled and answered for your convenience.
What is a Pomeranian Poodle mix called?
A Pomeranian and Poodle mix is called a Pomapoo.
How much do Pomapoos cost?
A Pomapoo typically costs between $500 and $2,000 from a reputable breeder.
Are Pomapoos hypoallergenic?
Are Pomapoos hypoallergenic?
A Pomapoo can (potentially) be less likely to trigger dog allergies in people thanks to its Poodle ancestry.
Do Pomapoo puppies bark a lot?
A Pomapoo puppy, like its Pomeranian and Toy Poodle parents, can tend to bark, and if this behavior isn't correctly taught to be unacceptable, it can continue into adulthood. However, it's important to remember that all puppies bark, especially when playing; like children that shout and talk at high volume, that's how they socialize.
Are Pomapoos good dogs?
A Pomapoo makes excellent companionship dog; they're friendly, playful, and highly loyal.
Are Pomapoos high energy?
A Pomapoo is known to be playful and moderately active; a regular exercise routine can offset this.
Can Pomapoos be left alone?
A Pomapoo can be left alone for about 8 hours if you ensure a comfortable setup at home and walk it before leaving it alone. However, Pomeranians are known to experience separation anxiety when separated from their owner for too long, so it's crucial to keep this fact in mind with your Pomapoo.
Are Pomeranian and Poodles hypoallergenic?
A Pomeranian is not hypoallergenic; however, the Poodle is considered hypoallergenic because they're less likely to trigger allergies in people whose dog allergies aren't as severe.
Does a Pomapoo have fur or hair?
A Pomapoo has fur, which can be short or medium in length and either straight or curly.
How big does a Pomapoo get?
A Pomapoo is a toy breed; as such, they're small-sized dogs that should weigh no more than 15 pounds and grow no bigger than 12 inches.
Is a Pomapoo easy to train?
A Pomapoo, thanks to its Poodle ancestry, is quite intelligent and should take to a firm but loving training regiment reasonably well. But, as with all puppies, it's essential to start training them while they are young and impressionable.
Garrett loves animals and is a huge advocate for all Doodle dog breeds. He owns his own Goldendoodle named Kona. In addition, he volunteers at the Humane Society of Silicon Valley, where he fosters dogs and helps animals. Garrett enjoys writing about Doodles and believes that dogs can teach humans more about how to live than humans can teach a dog.
Why Trust We Love Doodles?
At We Love Doodles, we're a team of writers, veterinarians, and puppy trainers that love dogs. Our team of qualified experts researches and provides reliable information on a wide range of dog topics. Our reviews are based on customer feedback, hands-on testing, and in-depth analysis. We are fully transparent and honest to our community of dog owners and future owners.