The Merle Cockapoo is a unique dog. The speckled patterns on their fur make them stand out in a crowd. And like all Cockapoos, the Merle Cockapoo is nothing short of a lovable, adorable puppy. But before you adopt one of these dogs, there are a few things you need to know.
Merle Cockapoos are different from other Cockapoos, and not just when it comes to their appearances. For example, Cockapoos with a merle pattern can face various health risks. There is also some speculation regarding whether they are true Cockapoos. And even if you don't plan on adopting one anytime soon, these 13 fun facts about the Cockapoo Merle may surprise you.
Before you scroll down this list of interesting facts about the merle Cockapoo, you can check out these other similar content from our team at We Love Doodles: Can You Get a Merle Maltipoo and The Danger of Double Merle Dogs.
1. It's Possible That Merle Cockapoos Might Not Be True Cockapoos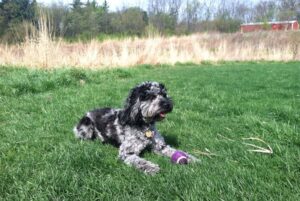 Merle patterned fur is incredibly rare in purebred Poodles and purebred Cocker Spaniels. This means the origin of the Merle Cockapoo is not quite certain. As a result, many dog breeders suspect that Merle Cockapoos are not true Cockapoos.
Some believe that Merle Cockapoos have additional dog breeds in their ancestry. Australian Shepherds, Old English Sheepdogs, or Collies are just a few possibilities. So, if you are seeking a purebred Cockapoo, you may have trouble finding one with a merle coat.
But aside from genetics and coloring, the difference between a Merle Cockapoo and any other Cockapoo is trivial. A Merle Cockapoo can still be a wonderful pet if you're not too concerned about having a purebred dog.
2. Merle Cockapoos Are Super Affectionate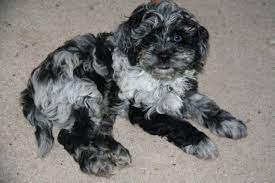 Like all Cockapoos, the Merle Cockapoo is an incredibly affectionate dog. When you have one of these dogs in your home, don't be surprised if they follow you everywhere you go. This makes the Merle Cockapoo a suitable dog breed for people who want to dedicate lots of time to their furry friend.
They enjoy lots of cuddles and playtime. However, affectionate dogs can often be a handful. Cockapoos need lots of attention and are more likely to experience separation anxiety. So, the Cockapoo Merle may not be your best choice if you're often away from home.
Related: Bad Things About The Cockapoo.
3. Many Merle Cockapoos Have Trouble Hearing
Dogs with white fur and blue eyes, traits that most Merle Cockapoos possess, have a higher risk of deafness. So, if you plan on adopting one of these dogs, training them might be a little more challenging. The shape of a Cockapoo's ears also puts them at a higher risk of poor hearing, especially as they age.
These dogs have narrow ear canals, which allow the wax to build up and block the eardrum. These factors mean that if you have a Cockapoo with merle coloring, their risk of being deaf is somewhat high. However, being deaf isn't necessarily a bad thing. Deaf dogs can still live long, healthy, and happy lives if you're willing to make some adjustments.
Related: Common Cockapoo Health Issues.
4. Merle Cockapoos Are Great With Children
The Cockapoo is a mashup between two super kid-friendly dog breeds: the Poodle and the Cocker Spaniel. These dog breeds are incredibly affectionate, loyal, patient, and easy to train. So, the Cockapoo Merle is the way to go if you're looking for a family-friendly canine friend.
The temperament of merle-colored dogs doesn't differ from its solid-colored counterparts. So, you can rest assured that the Merle Cockapoo will be as family-friendly as any other.
Related: Friendliest Dog Breeds with Images.
5. Merle Cockapoos Are More Likely to Have Heterochromia
Heterochromia is when an animal has two different eye colors. This condition is common in dogs with Merle patterns, so you will often see Merle Cockapoos with one brown eye and one blue eye. Some Merle Cockapoos can also have sectoral heterochromia when there are two different colors (typically brown and blue) in a single iris. Fortunately, heterochromia is nothing to worry about. Dogs with this condition do not face more health risks than dogs without.
6. Merle Cockapoos Are a Good Choice For People With Dog Allergies
Cockapoos are a hypoallergenic dog breed, a trait they get from their Poodle parents. But some people may be wondering if Merle Cockapoos are an exception to this because of their unique coat pattern. People with dog allergies may be pleased to know that the Merle Cockapoo is just as hypoallergenic as any other. So, if you're allergic to dogs, this beautiful breed may be the furry friend you need.
Related: Everything You Need to Know About Chicken Allergy in Dogs.
7. Merle Cockapoos Can Be Very Expensive
If you want a Merle Cockapoo, you may have to save up a lot of money. These dogs are in high demand due to their unique appearances, so getting your hands on one may take a chunk of your savings. The prices will vary depending on the breeder, but sometimes, a Merle Cockapoo puppy can cost up to several thousand dollars.
Not only is the initial purchase expensive, but raising a Merle Cockapoo can be costly over time, too. Because these dogs have a higher risk of health issues such as ear infections or deafness, you may need to take them to the vet more often than you would with another dog breed.
Related: How Much Does a Cockapoo Cost?
8. Merle Cockapoos Can Come in Different Colors
Not all Merle Cockapoos have the same colors. There are two main types of coloring in Merle Cockapoos:
Blue

Merle

Cockapoo

Chocolate

Merle

Cockapoo
A full-grown blue Merle Cockapoo has gray, white, black, and small amounts of brown in its fur. The colors of their fur have cool undertones. This means that this type of Cockapoo may look blue in certain lighting.
On the other hand, the chocolate Merle Cockapoo has mainly brown coloring in its fur. Sometimes, they can have slightly red undertones. When you see their cocoa-like appearance, it is not hard to tell where these Cockapoos get their name.
9. Merle Cockapoos Have a High Risk of Ear Infections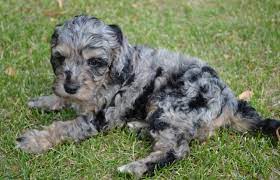 It seems the Merle Cockapoo is prone to many ear-related issues. We've mentioned earlier that Merle Cockapoos are at a higher risk of being deaf. However, did you know they also face a high risk of ear infections? This risk comes from the narrow shape of a Cockapoo's ear, which can easily trap dirt and bacteria.
With their heightened risk of deafness, ear infections in Merle Cockapoos can be serious. Fortunately, there are ways to keep your Merle Cockapoo safe from ear infections. Regular vet visits and frequent ear cleaning are the best ways to ensure your Cockapoo has healthy ears.
Related: How to Put Ear Drops in an Aggressive Dog and Best Dog Ear Cleaners.
10. Merle Cockapoos Are Quite Intelligent
Did you know that the Cockapoo Merle is a clever dog? Their intelligence comes from combining two super smart breeds—the Poodle and the Cocker Spaniel. Cocker Spaniels have a reputation for being very quick learners. And Poodles are one of the most intelligent dog breeds, making them a common choice for service animals.
When you combine these two sharp-minded dogs, you will get a pretty smart Cockapoo. Their intelligence makes them super easy to train, too. So, if you want an obedient dog, the Merle Cockapoo could be an excellent choice.
Related: Cockapoo vs. Poodle Dog Breed Comparison.
11. Merle Cockapoos Often Have Blue Eyes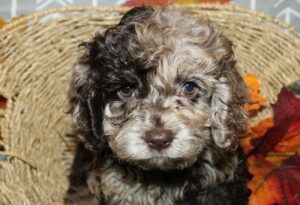 Most dog breeds have brown eyes because of how their bodies carry melanin. However, a handful of dogs commonly have blue eyes, and the Merle Cockapoo is one of them. While many Merle Cockapoos have one blue eye and one brown eye, they may also have two blue eyes.
This trait is somewhat common in the Merle Cockapoo because their bodies have less melanin. Blue-eyed Merle Cockapoos have beautiful, unique appearances. So, if you want a dog that'll stand out in a crowd, the Merle Cockapoo is sure to catch some eyes.
Related: When Do Puppy's Eyes Change Color?
12. Merle Cockapoos Have Speckled Skin
Merle Cockapoos have a reputation for their colorful, speckled coats of fur. But did you know that they have this same pattern on their skin, too? You may see some of these speckles on your Merle Cockapoo's paw pads. And if you were to shave your Merle Cockapoo, you would notice their skin has a speckle pattern just like their fur.
13. Breeding Two Merle Cockapoos Can Be Risky
If you are trying to breed Merle Cockapoos, it may seem like combining two Merle dogs is the best way to go. However, when you mix two Merle dogs, there is a 25% risk that one of their puppies will have the double Merle gene.
All Merle Cockapoos face specific health risks. But Cockapoos with double Merle genes have an even higher risk of health issues, specifically blindness, small or uneven eyes, and deafness. So, in general, if you are breeding Merle Cockapoos, it is best to avoid pairing two Merles.
Conclusion For "Interesting Facts About The Merle Cockapoo"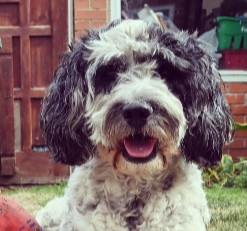 The Cockapoo Merle is one of a kind. There are so many interesting things to know about these dogs, and this list only covered a handful of feats. Merle Cockapoos can come with specific health risks, but that's true of many other dog breeds. That aside, there are still many benefits to owning a Merle Cockapoo. They have a reputation for being intelligent, loyal, and affectionate dogs.
Their unique appearances make them incredibly beautiful, too. So, if you think a Merle Cockapoo is perfect for you, you will want to keep those risks and other downsides in mind. Most importantly, please give them the proper care so they can live long, healthy lives as your companion.
If you find this guide, "Interesting Facts About The Merle Cockapoo," helpful and informative, you can check out these other related content from our team:
For more information on the Merle Cockapoo, you can learn more by watching "10 Important Facts About Cockapoo Every New Mom Should Know" down below: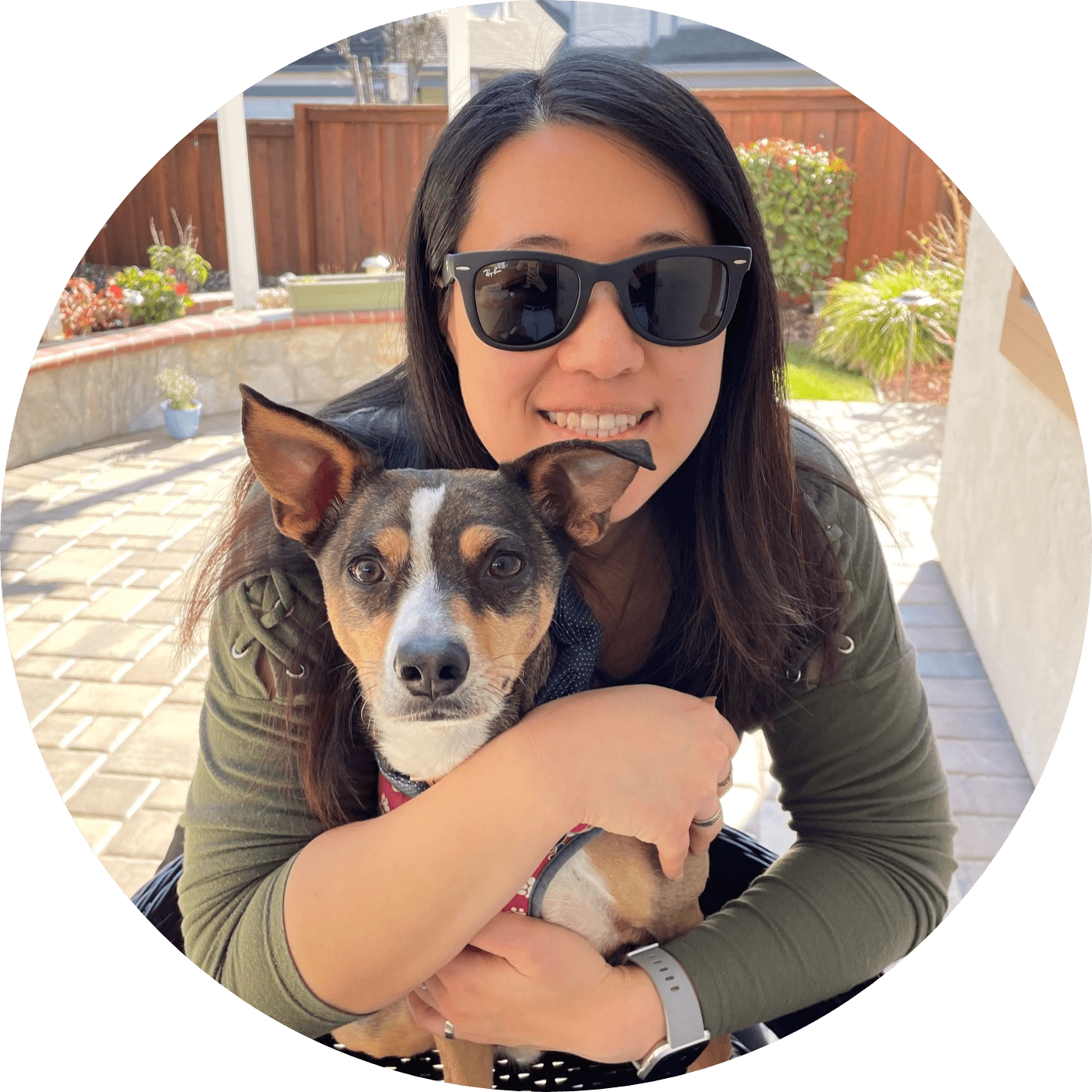 Dr. Sabrina Kong graduated from the Royal Veterinary College in England in 2016 and has been working at a small animal clinic in Northern California since then. She grew up in the Bay Area and got her bachelor's degree from Cal Poly San Luis Obispo. She also became a Certified Canine Rehabilitation Practitioner through a program at the University of Tennessee.
When she isn't in the clinic taking care of her four-legged patients, she enjoys traveling and trying new foods with her friends and her three-legged dog, Apollo. She adopted Apollo from her clinic when he was a puppy with numerous health issues. Dr. Kong truly cares about taking care of animals.