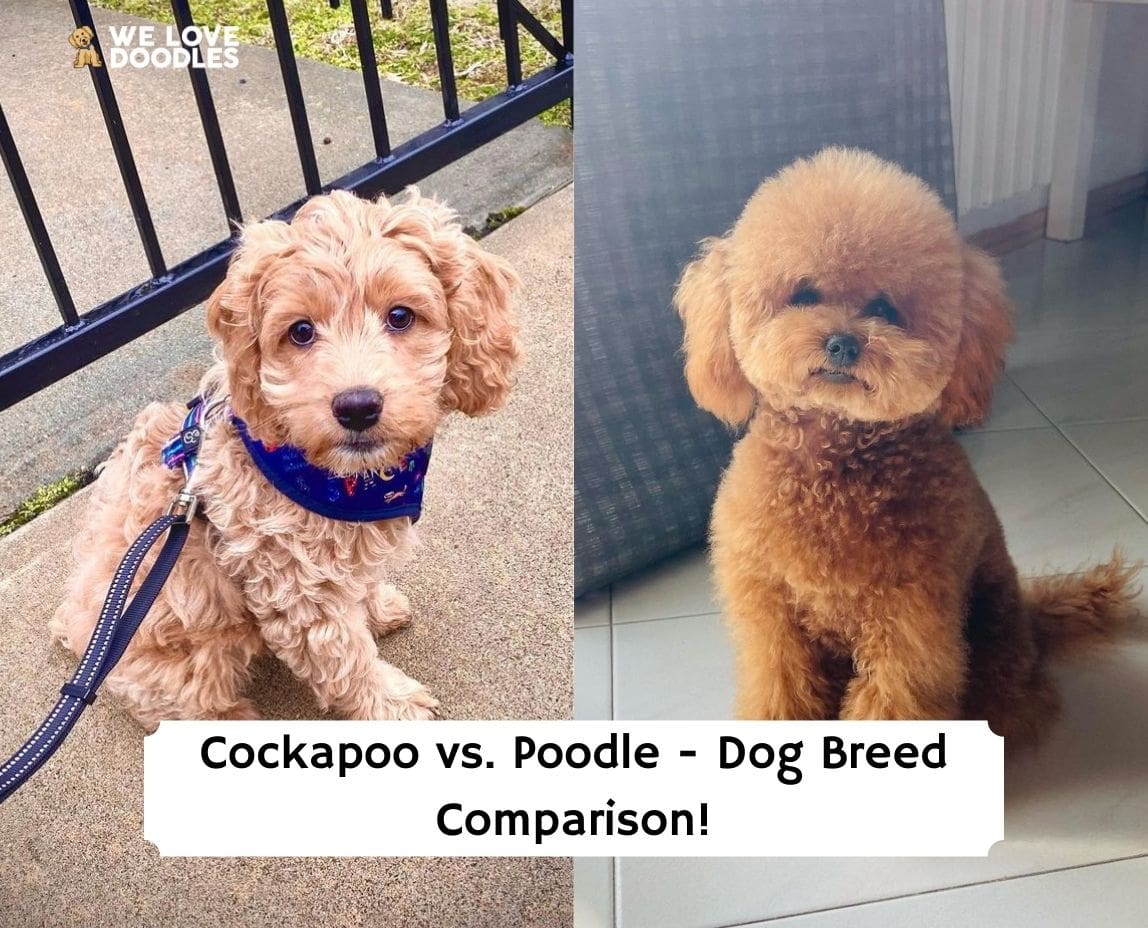 As a possible new pet owner or simply just someone with an interest in different breeds of dogs, you have probably wondered about the unique traits, characteristics, personalities, and maybe even the history that come along with a certain breed of dog. Perhaps you might be interested in the idea of bringing a new puppy into your family but haven't decided which is best for you, or maybe cannot decide between two breeds.
Researching the best dog to bring into your family can be quite a daunting task. Luckily, we are here to compare two exceptionally popular breeds in the nation. In this article, we will explore Cockapoo vs. Poodle! We will provide a brief summary of the differences and then dive right into this puppy party.
Other articles you would like: Cockapoo vs. Goldendoodle and Cockapoo vs. Labradoodle.
Quick Summary of the Differences Between a Cockapoo and Poodle
The Cockapoo is a mix between the Cocker Spaniel and Poodle.
The Poodle comes in three different sizes: toy, miniature, and standard. The Cockapoo is almost always bred with a miniature or toy Poodle. Thus, the Cockapoo will be smaller than a standard Poodle.
The Poodle is more hypoallergenic and nonshedding than a Cockapoo. This is because the Cocker Spaniel has a fur coat that will shed.
Poodles will have a more curly coat when compared to a Cockapoo. Cockapoo coats are either straight, wavy, or curly.
Both dogs will require a significant amount of grooming including regular brushing, haircuts, and combing to prevent mats, tangles, and knots in their fur.
Cockapoos are generally considered more easygoing than Poodles. A Poodle needs constant interaction due to their high intelligence.
Cockapoos are a mixed dog breed so they inherit genes related to hybrid vigor. This means that they typically will live longer than a Poodle due to less inbreeding.
Now let's dive into an in-depth guide between the Poodle and Cockapoo!
Poodle

First, let's start with the history of the Poodle and how we came to know and love this popular puppy. The Poodle is the national dog of France, and the French sure do love their Poodles, but this breed is also increasingly popular in the United States as well, especially with the introduction of minis, toys, and hybrid breeding. Despite the Poodle's being the national dog of France, the breed actually originated as a duck hunter in Germany. The word "pudelin" refers to splashing in the water, which evolved into the term "Poodle" over time. This explains why they are great water retrievers!
As we mentioned earlier, Poodles have become more popular with the introduction of a variety of sizes. Poodles come in three size varieties: Standards should be more than 15 inches tall at the shoulder; Miniatures are 15 inches or under; Toys stand no more than 10 inches. A Standard Poodle is generally the best athlete of the varieties due to its size, averaging about 50-70 pounds, but regardless of a Poodle's size, they will be energetic, playful, loyal, and very smart. Additionally, all varieties of Poodles will have a curly, low-allergen coat that comes in a variety of colors such as white, black, and apricot.
Speaking of their coat, let's talk about the grooming needs of a Poodle. When you think of a Poodle, you may envision its elegant and well-kept coat. Surprisingly, the elaborate coat styling that this breed is known for once had a practical purpose: trimmed areas lightened the weight of the puppy's coat and prevented snagging on underwater debris, while the long hair around the joints and vital organs protected the dog from the cold water. Grooming is a large responsibility for the potential owner of a poodle. Most Poodle owners take their dogs to the groomers every three to six weeks, with daily brushing between those visits. If you do not brush and comb a full-coated Poodle completely to the skin, the hair will mat near the roots and will have to be shaved off to start all over with new growth. Owners tend to prevent this by keeping their coat short to prevent tangling and matting. If you want to cut down on grooming costs, you can learn how to give your Poodle their own trims, but this task must be done with a lot of care and precision, so it's best to leave it to the professionals. If dedicating time or energy to grooming your dog is not something you're interested in, it may be time to reconsider a Poodle.
Poodles are known to be great dogs for a few reasons. Here are just some of their best traits:
Trainability
Great with Family and Kids
Make excellent guard dogs
Affectionate
Playful
Speaking of trainability, it is important to note that if you are considering bringing a Poodle into your family, you heavily consider training them or opting for professional training classes as well as the time to dedicate to their active nature. Poodles, as we mentioned before, are highly intelligent and eager to please their owners. Poodles are actually regarded as one of the most intelligent breeds in the world. In training, you will see that they are agile, elegant, and they enjoy and excel in essentially all of canine sports, including agility, obedience, and tracking. Due to their duck hunting ancestors from Germany, they also make great retrievers. As mentioned previously, Poodles love to stay active, whether it is retrieving sticks or toys, going on long walks, or even swimming. If hanging out on the couch or being away for long portions of the day is part of your schedule, a Poodle may not be the correct breed for you. As with most active breeds, bored Poodles can get destructive if they aren't physically and mentally stimulated. If you love to walk, run, hike and stay active, a Poodle will fit perfectly in your family!
In our exploration of the Poodle, it is also imperative that we cover the health trends and concerns of this breed so that you, as a potential owner, can be aware of these conditions. Luckily, Poodles overall are known to be a healthy breed with very few health complications. Most of them live happy and healthy lives, with a life expectancy of 10-18 years – which is quite high in terms of a canine. As with all breeds, however, some health issues can occur, including hip dysplasia and several eye disorders. It is important to schedule a visit with a veterinarian upon bringing home a new puppy so that they can give further details on these conditions and what symptoms to look out for as your dog grows up.
Cockapoo
If you are not familiar with hybrid breeds, you may be wondering just what a "Cockapoo" is. Well, this adorable and loving breed is a mix between a Poodle and a Cocker Spaniel. It is known as a designer breed that just recently started in the 1960s. Breeders combined the Cocker Spaniel and Poodle breeds to take the best traits of each, which makes a completely people-oriented hybrid who's intelligent enough to train easily, hardly sheds, and is ultra affectionate.
We have already learned about the Poodle, one of the Cockapoo's ancestors, so let's take a look at the Cocker Spaniel to understand the full history of this puppy. The Cocker Spaniel is known for being smart, gentle, and happy – when they look at you with their big eyes, it's enough to melt anyone's heart. Originally bred as hunting dogs in the United Kingdom, the Cocker Spaniel was used to hunt the Eurasian woodcock, this is where 'cocker" derived from. When the breed was brought to the United States, these dogs were bred to a different standard, which enabled it to specialize in hunting the American woodcock. When it comes to the Cockapoo, the first breeding may have been accidental, but the happy result was a litter of puppies who were quite well received, and the Cockapoo line began there. As with most hybrid breeds, efforts must be made to establish breed standards and start the Cockapoo on the difficult journey of being recognized as a true breed, one producing offspring with consistent traits.
As we mentioned, the Cockapoo was bred in order to take the best traits of both of their ancestors, the Poodle and Cocker Spaniel. Cockapoos are a popular breed for possessing the following traits:
Affectionate with family
Great with kids and other dogs
Adaptability to change
Easy to train
High energy and playfulness
As far as sizing goes, the Cockapoo will be much smaller. Just like their Poodle ancestors, they come in a variety of sizes. Toy Teacup, Toy, Miniature, and Standard. Standing at between 10 and 15 inches, and weighing between 6 and 19 pounds is where the Standard Cockapoo falls, and gets smaller with each variety. If you are looking for a small to medium-sized dog, a Cockapoo may be just right for you. Additionally, the Cockapoo has the desirable low-allergen coat just like the Poodles, but with much less maintenance.
Cockapoos do not require the level of grooming that Poodles do. The Cockapoo has a single, long coat that can range from straight to lose curls. Cockapoos can be found in all the colors and color combinations that are seen in both Cocker Spaniels and Poodles — which gives a wide range of options! Grooming needs for a Cockapoo include daily brushing, especially if their coat is long to avoid tangling and matting, and trips to the groomers once every six to eight weeks. There is still some level of maintenance required with this breed, so plan to fit that into your schedule should you choose to bring home a Cockapoo!
Just like their Poodle parents, Cockapoos are naturally intelligent dogs that enjoy pleasing their owners. Cocker Spaniels are also known as people-pleasers, so when it comes to training a Cockapoo, the result is a canine that's eager to learn and ready to impress with new tricks. Of course, as with any dog breed, it's up to the dog owner to teach their pet commands, tricks, or anything else they want their dog to learn in order to become good canine citizens. Cockapoos respond well to positive reinforcement such as treats or affection.
As with any breed, it is important to consider the health risks and determine whether this is something you are ready to take responsibility for. According to the American Cockapoo Club, most cockapoos have an average lifespan of 14 to 18 years, which is above average for canines. Cockapoos are known to be a usually healthy breed but must be watched for the following ailments: cataracts, hip dysplasia, allergies, liver disease, ear infections, and patellar luxation. Your trusted veterinarian will be well versed on each of these conditions and guide you through the necessary steps to correct should your companion come into a situation with any of the previously mentioned conditions.
Conclusion for Cockapoo vs. Poodle
As you have learned from this article, there are definitely some clear differences when it comes to the comparison of Poodles and Cockapoos. Whether it's their size, coat, or personality, each breed has unique qualities that make them lovable and a perfect addition to the right family for them. Regardless of which breed you decide is right for you, it is important to note that owning a dog is a large responsibility. This animal relies on you for food, shelter, attention, and love, so it is important to understand your duties to create a wonderful life for them, if necessary care is taken, we're positive that each of these dogs will return the favor by creating a wonderful life and companionship with you.
Other articles you would like:
Want to watch a video on the Cockapoo vs. Poodle? Still curious about the Cockapoo? We highly recommend this video:
Garrett loves animals and is a huge advocate for all Doodle dog breeds. He owns his own Goldendoodle named Kona. In addition, he volunteers at the Humane Society of Silicon Valley, where he fosters dogs and helps animals. Garrett enjoys writing about Doodles and believes that dogs can teach humans more about how to live than humans can teach a dog.
Why Trust We Love Doodles?
At We Love Doodles, we're a team of writers, veterinarians, and puppy trainers that love dogs. Our team of qualified experts researches and provides reliable information on a wide range of dog topics. Our reviews are based on customer feedback, hands-on testing, and in-depth analysis. We are fully transparent and honest to our community of dog owners and future owners.