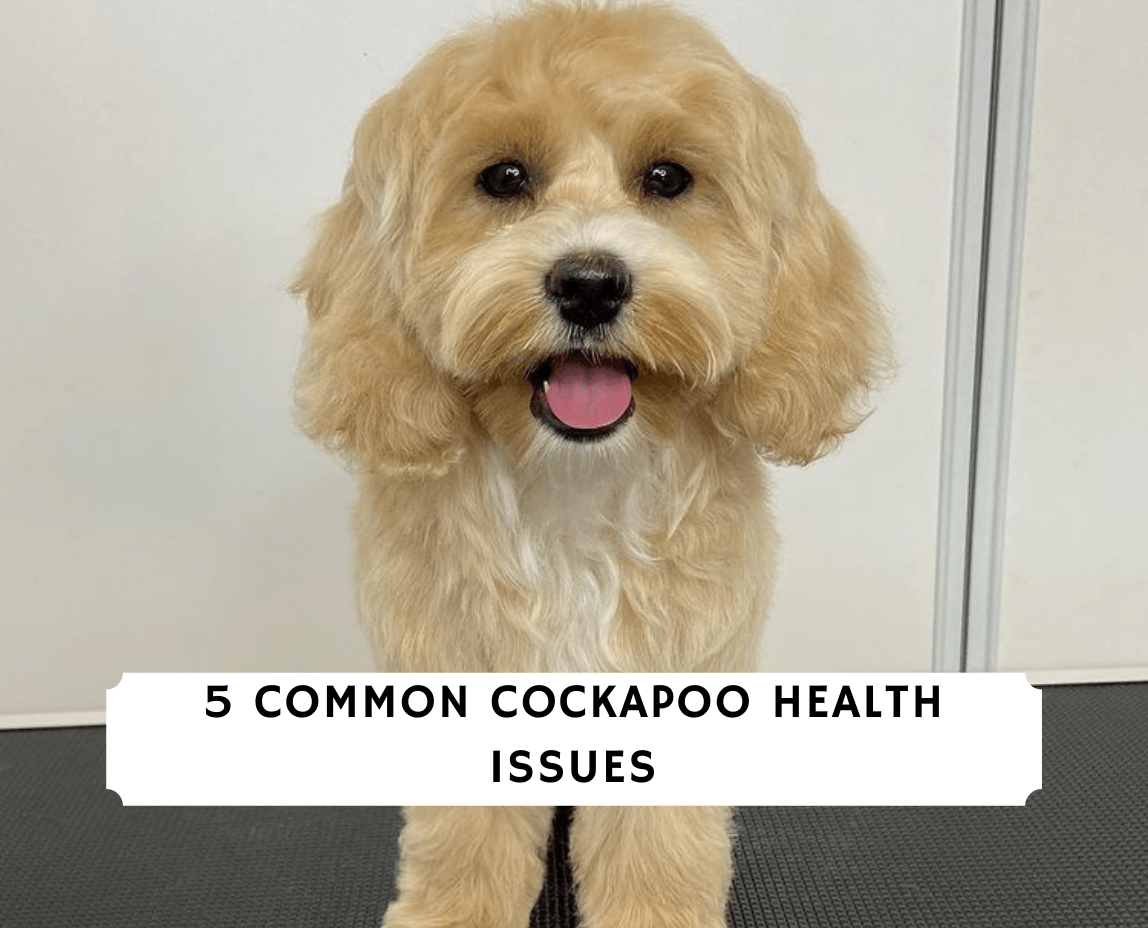 Do you own a Cockapoo, or are you considering one from a breeder? There are a few health issues that you need to be aware of when you own one of these dogs.  While they are usually very healthy dogs, there are some diseases that these breeds are prone to developing. Today, Dr. Chyrle Bonk, who is a veterinarian, will walk us through the 5 most common Cockapoo health issues.
Other articles you would like: Cockapoo Pros and Cons and Best Cockapoo Dog Names.
5 Common Cockapoo Health Problems
These are some health issues that are seen in Cocker Spaniels and Poodles, so you need to be aware of these issues in your Cockapoo. Some of these health problems can't be prevented with genetic testing, and some of them are developed based on environmental factors or lifestyle.
1. Gastric Dilation and Volvulus (GDV)
Gastric Dilation and Volvulus or GDV is the medical term for Bloat.  Bloat in a dog occurs when their stomach gets enlarged, flips over, and twists on itself.  This will cause an obstruction of the outflow of the stomach.  Once your dog's stomach has twisted, your Cockapoo's stomach will quickly get distended, and they will look bloated. 
Common signs of Bloat that is seen in Cockapoos are:
Hard, distended, or bloated abdomen

Pacing

Retching

Increased Heart Rate or Pulse

Excessive Drooling

Collapse
If your Cockapoo has developed Bloat, it will need to go to a veterinarian as soon as possible.  If this is after hours, you need to seek out your closest veterinary emergency clinic.  
Bloat is usually a life-threatening emergency disease that will need surgery.  Bloat causes a blockage in your Cockapoo's gastrointestinal tract. This can also be a very painful condition.  
Treating Bloat
You cannot treat Bloat at home.  Your veterinarian will x-ray your Cockapoo to see if their stomach is twisted. There is a classic double bubble sign that is seen on x-rays.  If your Cockapoo's stomach is twisted, it will need emergency surgery and untwist its stomach.  Once your veterinarian untwists their stomach, they will tack your Cockapoo's stomach in place to help prevent their stomach from twisting again.
Preventing Bloat
You can change many things in your dog's daily routine at home to help prevent your Cockapoo from developing Bloat.  Even with all of the preventative measures that you do at home, some Cockapoos will develop Bloat.  Feed your Cockapoo's small meals a few times a day will help decrease the chance of bloating.  After your Cockapoo eats, it is best to let them rest for about 1 hour to help their food get fully digested. This will help prevent them from developing Bloat.
Bloat is a scary and often life-threatening condition that needs immediate veterinarian care.  With care and certain preventative measures, many Cockapoos who are prone to bloating can have certain lifestyle modifications to decrease their chance of developing Bloat.
2. Arthritis 
If your Cockapoo has hip or elbow dysplasia, this will turn into arthritis as they get older.  Even if your Cockapoo does not have either of these issues, it may still develop arthritis when they get older. If your dog does have arthritis, it will have issues moving.  They may even have a problem standing up, not using a leg, or maybe limping when they are walking.
Arthritis is seen more commonly in dogs that are overweight and larger.  If you make sure that your Cockapoo is at lean body weight, it can help decrease the pain your Cockapoo has from any arthritis issues. 
If your Cockapoo is limping for more than one day or seems like they are not getting any better, it would be best to make an appointment with your vet. They can help figure out why your dog is limping or having any mobility issues.  
Common signs of arthritis or joint pain are seen in Cockapoo are:
Limping

Issues walking

Difficulty standing, especially after your Cockapoo has been lying down for a while
Your veterinarian will figure out why your Cockapoo is limping and prescribe them some medications and/or supplements to help decrease the pain and inflammation in their joints. 
Depending on the cause of their problems, there are also surgical procedures that may permanently fix their problem.  It is best to make an appointment with your vet to help figure out why your Cockapoo has these issues and get a prescription of medication to help with their arthritis. 
3. Obesity
Obesity is commonly seen in older Cockapoos that don't exercise as much.  As your dog gets older, its metabolism slows down.  When your Cockapoo's metabolism slows down, you need to decrease the amount of food you are feeding.  This will help keep them from becoming overweight. 
Many people forget to do this and cause their dog to become overweight.  Your dogs do not have the ability to know to stop eating when they are full.  When your Cockapoo overeats, it causes them to gain a few extra pounds.  Being overweight can cause your Cockapoo to develop other health issues like: 
Joint pain and arthritis

Problems breathing

Heart problems

Liver and kidney problems
You can do things at home to help your Cockapoo lose few extra pounds, like increasing the time they spend outside exercising. You can toss a ball for your dog to chase or even take them on a long walk each day.  You can also help by decreasing the amount of food that they eat. Decrease their food by 1/4th, and you will easily help them shed those few extra pounds.
4. Cancer
As your Cockapoo ages, you may notice them having lumps and bumps. These may be fatty masses, but they could be a cancerous growth.  Your vet can take a sample of the mass, and look at them under the microscope, to see if this is cancerous or not.  
Common signs that would cause you to think that your Cockapoo may have cancer, such as:
Vomiting

Diarrhea

Losing Weight

Seeing growths
If you notice any of these signs, your vet can examine your Cockapoo to see if this is cancer. Your vet can help you decide on the best treatment for these masses on your dog.
5. Heart Disease
As your Cockapoo gets older, it can develop heart issues.  As your Cockapoo gets older, its heart may not function how it should.  Common signs seen in dogs with heart disease are:
Coughing after exercising

Issues breathing

Collapsing after playing
Your vet will be able to listen to your Cockapoo's heart to see if they have a heart murmur.  They also will listen to their lungs since some heart diseases also cause issues with their lungs. If your vet hears a heart murmur, this suggests that there is something wrong with your Cockapoo heart.
If your dog has signs of heart disease, your vet will want to run tests.  The most common test that your vet may want to run is chest x-rays, an Echocardiogram (an ultrasound of the heart), or an EKG.  The results of these tests will help your vet figure out how progressed their heart disease is.  Once they figure out exactly what is wrong with your dog's heart, there are medications that your dog can be started on.  These medications will help your Cockapoo's heartbeat more effectively and decrease any fluid in the chest and abdomen.
Conclusion for Cockapoo Health Issues
In general, there aren't many Cockapoo health issues, and they are generally healthy dogs. If your Cockapoo is acting like they are not feeling well, it would be best for them to see your veterinarian. They can run tests to figure out what is going on with your Cockapoo.  The quicker you start treating your Cockapoo, the quicker your Cockapoo will return to its healthy and happy life. 
Other articles you will like:

Dr. Chyrle Bonk received her veterinary degree from Oregon State University in 2010. She has been practicing in a mixed animal clinic in rural Idaho ever since at Clearwater Valley Veterinarian Clinic. When she's not busy writing, treating animals, or working on her cattle ranch, she may be found somewhere in the Idaho wilderness with her husband and kids. Dr. Chyrle Bonk is a writer for We Love Doodles and verifies that the information we post is accurate the up to date! She is also an advisor and editor.
Why Trust We Love Doodles?
At We Love Doodles, we're a team of writers, veterinarians, and puppy trainers that love dogs. Our team of qualified experts researches and provides reliable information on a wide range of dog topics. Our reviews are based on customer feedback, hands-on testing, and in-depth analysis. We are fully transparent and honest to our community of dog owners and future owners.