You've been working with your dog for months on potty training. It has gradually followed your directions, but you suddenly see wet patches on your dog's bed or couch. If you've been wondering, "My dog bed is wet but it's not urine," what could be the reason?
Your first thought will be putting your nose close to the wet patch to ascertain if it has the usual dog's urine stench. If it turns out not to be the case, it's natural that you'll start worrying as a dog owner. Keep reading to learn more.
Before you read this guide, "My Dog Bed Is Wet But It's Not Urine," check out: How to Clean a Dog Bed: Tips and Tricks! (2023) and Why Does My Dog Leave Brown Spots on the Bed? (2023).
What Are the Potential Causes of the Wet Patch?
There are various causes for a damp spot that's not urine on your dog's bed. Here are some of the most prevalent causes.
Ectopic Ureters
There's a possibility your dog has anatomical abnormalities, such as ectopic ureters. Urine leakage in dogs occurs when ureters, which transport urine from the kidneys to the bladder, open somewhere else in the urogenital system.
Urethral Hypoplasia
Hypoplasia occurs when an organ in the body has not fully developed to its full potential. The condition usually affects the urethra, which transports urine from the bladder to the outside via the reproductive organs.
If your dog's urethra is underdeveloped or weak, they're likely to experience compulsive wet leaking that's not urine. It's typically a congenital defect, meaning it's present at birth. Urethral hypoplasia can affect both male and female dogs, though it's more common in male dogs.
Gender
Urinary incontinence is a common issue among senior spayed female dogs. Typically, spayed female dogs have their ovaries surgically removed. If the vet didn't operate correctly, they would likely develop incontinence later.
Age
The muscles that control the bladder and urethra in older dogs become weaker, just like in older humans. The muscles' capacity to contract and vitality weakens progressively. Consequently, senior dogs have a harder time controlling fluid leakages.
Bladder Hypermobility
Several muscles enclose a dog's bladder. When these muscles contract forcefully, they induce urine leakage from a dog's bladder, forming wet patches. Impairment to any spinal nerves that play a role in the urine pathway can lead to inconsistencies in a dog's regular urination.
Brain and Spinal Lesions
When a dog sustains an accident or trauma that causes damage to one of the brain or spinal centers that regulate urine, they're likely to experience excessive urination. The urination may manifest as unscented wet spots on your dog's bed.
Urinary Tract Infection (UTI)
The condition develops when germs enter a dog's urinary tract and spread there. It causes dogs to urinate more frequently than usual, which can be very uncomfortable. It's a prevalent condition contributing to dogs' production of unscented wet patches. The symptoms include painful urination and continuous licking of the urinary tract.
Bladder Tumors
Tumors form when tissue grows at an abnormally rapid rate. When a dog has a bladder tumor, the bladder can't hold as much urine, causing pressure accumulation. That might prompt the dog to leave wet patches on its bed.
Excitement or Anxiety
Puppies and adult dogs can become overly excited and anxious, causing them to have a wet bed.
That's more common for dogs in new environments and those undergoing stressful events such as thunderstorms, separation anxiety, and loud noises. It might also occur during playtime or when a dog attempts to mark their territory.
Behavioral Issues
Certain dogs tend to lick their genitals regularly. The constant licking might make them droop, leaving moist patches on their beds. At times, frequent licking could be an indication of an illness.
Dripping Nose
Your dog might suffer from an excessively dripping nose, which causes them to release wet patches on its bed. If you're unsure about this, take a few minutes to watch your dog when it's sleeping.
Treatments for a Dog's Wet Patches
As soon as you notice wet patches on your dog's bed, you should go to a vet. A professional diagnosis is the most accurate way to determine what treatment your pet needs.
If you don't know about a pet's medication, it's best to leave it to the professionals. We all have that neighbor or family member that swears to have cured its dog with X and Y, but it would be better to leave all the medication to the professionals.
There are several treatments your dog can go through, and here are the most common ones.
Using Antibiotics
Antibiotics are the most common treatment for dogs that suffer from a urinary infection. Although the name might not give it away, a urinary tract infection, or UTI, can be a deadly obstruction and needs immediate attention.
After examining your pet, the vet will provide the necessary antibiotics and will indicate to you how you should administer them to your dog.
Surgery
This is a last-case scenario. Your dog will only need surgery if cancer or urethral stenosis is what's causing it to wet the bed. Still, it's your vet who'll have the last word about going or not into a surgical procedure.
Chemotherapy
Bladder issues can be the cause of your dog wetting the bed, and in some cases, a tumor is the most likely diagnosis. If that's the case, the veterinarian may recommend chemotherapy or radiation therapy.
If the tumor isn't advanced or benign, the chemotherapy will probably have positive effects on your dog.
Treatments for Behavioral Issues
If your vet determines the wet patches are coming from anxiety or stress, they'll likely recommend the following:
Exercise
Training
Socializing
It would help if you also considered decreasing stress triggers in your home, whatever those may be.
If your dog is only leaving wet patches on the bed, and not all around the house, you could try to close all the rooms with beds on them when you're not home.
Or, hide your dog's bed too. However, this will only further the problem, given they need to sleep somewhere else. You could also get one of those bed-wetting deterrents.
Frequently Asked Questions
Here are the most common questions people also ask when wondering why their pets are wetting their beds with something else than urine.
Why is my dog's bed soaking wet?
There are several potential explanations for your dog's wet bed. Be it bladder hypermobility, ectopic ureters, or a UTI, it's of the utmost importance to get your pet to the veterinarian as soon as possible.
Why does my dog leave a wet spot after lying down?
Your dog may leave a wet spot wherever it lays down due to a medical condition that induces excessive drooling. Although it's not the most common, wet spots can be caused by behavioral problems your dog may have.
Why is my dog's bed wet but doesn't smell like pee?
Dogs can become overly excited, causing them to wet their beds with saliva. They can also have urethral hypoplasia which can make your dog's bed wet even when no urine is present. If this has happened to your pet, you should take it to a vet for a proper diagnosis of the problem.
Why does my dog keep leaking pee?
Dogs may leak pee due to bladder infections and age. Puppies and elderly dogs may be unable to control their bladder and could leak urine while they sleep. If your pet has suffered brain or spinal injuries, they can also cause incontinence in dogs.
Can dogs wet themselves in their sleep?
Yes, dogs can wet themselves in their sleep. Urination is a natural process, and it's not unusual for them to lose control while asleep. The condition's treatment options depend on the underlying cause, ranging from medications to behavior modification therapies.
Conclusion for "My Dog Bed Is Wet But It's Not Urine"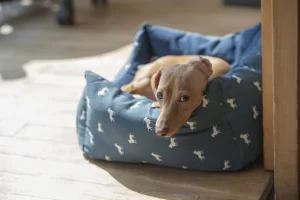 The root cause requires careful consideration of various potential reasons. If you suspect your dog's bed is wet from a medical condition, it's essential to take them to the vet for a thorough examination. If the condition results from behavioral issues, you can consult a dog behaviorist when home remedies fail.
Depending on the cause, many possible treatments exist, including dietary changes, supplements, medications, lifestyle modifications, and even surgery.
Regardless of the reason, managing and treating the issue will ensure a dry, comfortable place for your dog to sleep. We hope you enjoyed reading our guide explaining why my dog bed is wet but it's not urine.
If you find this guide, "My Dog Bed Is Wet But It's Not Urine," helpful, check out:
Learn more by watching "My Dog Pee's On MY Bed! What Can I Do To Fix This?" down below:
Garrett loves animals and is a huge advocate for all Doodle dog breeds. He owns his own Goldendoodle named Kona. In addition, he volunteers at the Humane Society of Silicon Valley, where he fosters dogs and helps animals. Garrett enjoys writing about Doodles and believes that dogs can teach humans more about how to live than humans can teach a dog.
Why Trust We Love Doodles?
At We Love Doodles, we're a team of writers, veterinarians, and puppy trainers that love dogs. Our team of qualified experts researches and provides reliable information on a wide range of dog topics. Our reviews are based on customer feedback, hands-on testing, and in-depth analysis. We are fully transparent and honest to our community of dog owners and future owners.