Dogs are incredible companions, though they can be messy. If your dog leaks a brown liquid, it can be both worrying and frustrating. So why does your dog leave brown spots on the bed?
A few culprits may be the cause, including anal gland leakage, puss, or urine. Your vet may be able to treat some issues, while others may take some investigation to determine the root cause and form a plan.
Let's discuss why your dog would leave brown spots on the bed and what to do next.
Before you read this guide, "Why Does My Dog Leave Brown Spots on the Bed," check out: Why Does My Dog Scratch My Bed Sheets? and Why Do Dogs Sleep at the Foot of the Bed? 6 Reasons! (2023).
Anal Sac Discharge or Disorder
Anal glands, or anal sacs, are small tissue pouches located under the skin's surface on each side of a dog's anus. These anal sacs secrete a foul-smelling, oily, brown liquid.
The smelly secretions have chemicals that allow dogs to recognize one another and mark their territory. Your dog's anal glands are also meant to aid in lubrication when your dog does its business. Your pet may abnormally express its anal glands due to soft stool, its anatomy, or increased fluid production.
The brownish liquid may also leak out when your dog lies down and leaves behind a brownish stain. Sometimes, dogs need their anal glands manually expressed by a human.
Full, impacted, or infected anal sacs are uncomfortable for your pet, who will try to ease its discomfort.
Signs and symptoms of anal gland issues:
Redness or swelling near the anus
Foul-smelling brown liquid coming from the anus
Dragging its bottom
Licking or chewing the area
Chasing its tail
Struggling to defecate
What to Do
It's best to get your dog's anal glands expressed by a professional, like a veterinarian, vet nurse, or groomer, who understands the process. You can also do the job yourself if the sacs aren't infected, though most people prefer to let the professionals handle it since it's unpleasant.
However, if you want to learn how to do it yourself, you may ask a veterinarian to show you the steps. Understanding the process from someone familiar is crucial because improper anal gland expressions can be uncomfortable for your pet and the cost of the procedure can add up.
To express anal glands, you or your vet will insert an index finger into the anus and gently squeeze each sac separately between the inserted finger and thumb.
Even if your pup doesn't have an infection, expressing anal glands can be uncomfortable and invasive. Do your best to keep your pet calm and distracted until the end of the process.
If your pet exhibits any symptoms of an anal gland infection, it's best to let the veterinarian handle it. Additionally, your dog may need treatment to alleviate the pain or treat the condition.
Infection With Pus
If your dog has an infection anywhere on its body, pus leakage may leave stains behind. Pus may be yellow, green, brownish, or clear.
Infections containing pus commonly occur in areas with an open wound or cut. So, consider if your dog was injured recently or had surgery within the last couple of weeks.
Even without an injury, a dog's gums may get infected. If your dog has an abscess or gum infection, the drool may mix with some pus, leaving a colored spot where it was recently lying down.
Like humans, dogs are susceptible to gum disease or periodontal disease. This condition is caused by bacteria in the mouth that can damage your pet's gums, bones, and other areas of the mouth. Typically, gum disease is practically invisible until it advances.
Ensure you take your dog for routine dental cleanings to limit the chances of periodontal disease. If your dog has bad breath, lost or broken teeth, inflamed gums, or a loss in appetite, consult your veterinarian.
What to Do
If you notice any signs of infection, you'll want to take your pet to a professional.
These signs include:
Sneezing
Fever
Vomiting
Red skin
Pustules
Coughing
Crusted skin
Bleeding
Fatigue
Dried discharge
Depression
Swelling
Decreased appetite
Hair loss
Itching
If you notice your pet has oozing pus or see any signs of infections, you need to call your vet immediately. They'll determine the best treatment plan and likely prescribe antibiotics to clear up the infection.
Urine Leakage or Incontinence
Urine leakages or incontinence occur when a canine loses voluntary control over its bladder. Your dog may leave brown spots on the bed if it has a bladder issue.
Although urine is typically light yellow, a dog's health can be affected by its shade. There are several reasons for dog incontinence, like brain abnormalities, congenital disabilities, disease, and age.
Young pets with incontinence may have a congenital disability called ectopic ureters. A dog's uterers transfer the urine to the bladder from the kidney. Although rare, some dogs' uterers develop abnormally and connect to another body part, like the urethra, rather than the bladder.
Another reason for bladder leakage may be hormone-responsive incontinence. This issue occurs after neutering and is most common in female dogs. This issue may occur months to years after neutering.
It's also possible your dog has a urinary tract infection. However, dogs with a UTI typically have an accident in the house rather than leak a small amount of urine.
The above are just a few conditions that may lead to full or partial incontinence. Additionally, older dogs have weaker bladders and may have accidents inside or urine leakages.
What to Do
Pay attention to your dog's other symptoms. Leaking urine is a symptom of a more significant issue, so it's vital to determine what the root cause is.
Other symptoms to look out for include:
Excessive thirst
Whimpering during urination
Discolored urine
Lack of appetite
Licking genitals
Your vet may treat your pup with medications or surgery, depending on the condition. Fixing the issue causing the incontinence is the best way to eliminate it — and get your dog feeling better.
If there doesn't seem to be a root cause or you have an older dog with a weaker bladder, your vet may prescribe medication to help with the incontinence.
Porphyrins
Porphyrins are dye molecules containing iron produced when a dog's body breaks down red blood cells. Typically, porphyrins are excreted through the saliva, tear ducts, and urine. If you've seen a dog lick a white sheet, article of clothing, or light-colored fur, you may notice it leaves behind an iron-brown mark.
Although all dogs excrete porphyrins, it's more common or visible in some dogs than others. For example, white dogs commonly have visible tear staining near the eye ducts. There are also some breeds more prone to excessive excretions.
Usually, the stains from porphyrins are on a canine's face. However, if your dog's eyes leak or your pup drools a bit, it's possible for some brown staining to get on your bed.
What to Do
Some brown discharge out of the eyes or in the saliva is normal. However, if your dog suddenly has more eye leakage, there may be an issue.
Causes of excessive tearing may include:
Eye infection
Ear infection
Bacteria from plastic food bowls
Certain medications
Abnormally small tear duct openings
Stress
Foreign object in the eye
Abnormally large tear-producing glands
Teething (in young puppies)
Poor-quality diet
Ingrown eyelashes
Take your dog to the vet to rule out the above before attempting to treat it at home. Your vet may prescribe eye drops, medication, or other treatments to help manage the excessive tearing.
Canine Bacterial Pyoderma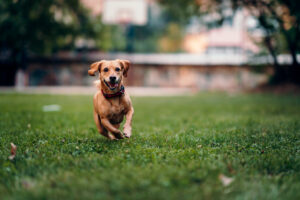 Canine bacterial pyoderma is a skin infection that causes pus formation in the affected area. Your dog may be itchy or in pain or emitting an unpleasant smell. It's also possible for the secretions to leave brown staining on the surface where your pet lies.
Dogs may get pyoderma from flea allergies, environmental allergens, parasitic skin infections, endocrine diseases, or immune disorders.
What to Do
Pyoderma can show up in several ways. Some dogs will have several symptoms throughout their entire body, while others will have an infection in a concentrated area.
Areas of the skin where there's skin overlap are common areas of infection, like armpits, facial folds, between the toes, or the groin. Your dog may be itchy, though this isn't always a symptom.
Look out for signs and symptoms like:
Lesions or pustules
Excessive shedding
Discharge from the skin
Red bumps
Areas of red, swollen skin
Flaky or crusty skin
Take your dog to the veterinarian if you notice any abnormal symptoms.
Your vet may prescribe antibiotics or an antibacterial spray. Additionally, the vet will treat the underlying issue to prevent the condition from returning.
Frequently Asked Questions
Here are some frequently asked questions about why dogs leave brown spots on the bed.
Why is my dog leaking brown discharge?
Anal gland issues are the most common cause of your dog leaking brown discharge, especially if it has a foul odor. If your dog's anal glands don't get expelled during bowel movements, they must be expressed manually.
Why does my dog's drool leave light blood marks on my bed?
The staining is likely caused by porphyrin, a naturally occurring substance in saliva, tears, and urine. It appears pinkish brown in areas where your pet recently licked, produced tears, or dribbled.
Why does my dog's saliva turn his fur brown?
When your dog continuously licks their fur, the porphyrins in the saliva can cause brown staining.
Conclusion for "Why Does My Dog Leave Brown Spots on the Bed"
When your dog leaves brown spots behind, the most likely causes are anal gland leakage, puss, or urine. All of these issues are treatable either at home or by your veterinarian, but you may have to do some digging to identify the source.
If you find this guide, "Why Does My Dog Leave Brown Spots on the Bed," helpful, check out:
Learn more by watching "Why Does Your Dog Sleep With You? 7 Reasons You'll Love" down below:
Garrett loves animals and is a huge advocate for all Doodle dog breeds. He owns his own Goldendoodle named Kona. In addition, he volunteers at the Humane Society of Silicon Valley, where he fosters dogs and helps animals. Garrett enjoys writing about Doodles and believes that dogs can teach humans more about how to live than humans can teach a dog.
Why Trust We Love Doodles?
At We Love Doodles, we're a team of writers, veterinarians, and puppy trainers that love dogs. Our team of qualified experts researches and provides reliable information on a wide range of dog topics. Our reviews are based on customer feedback, hands-on testing, and in-depth analysis. We are fully transparent and honest to our community of dog owners and future owners.