Dog breeds with different or unusual ears can be found everywhere. Some have drop or rose-shaped ears, while others have button ears. We're here to explain what button ears are, which dog breeds are known for them, and what causes them.
Before you scroll down this list of the dog breeds with button ears, check out: 9 Best Mop Dog Breeds! (2023) and 13 Skinny Dog Breeds With Pictures! (2023).
Which Dog Breeds Have Button Ears?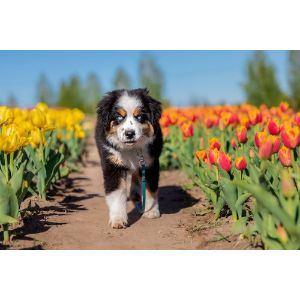 There are many different dog breeds known for their button ears.
1. Parson Russell Terrier
Originally developed to help hunt foxes in England, Parson Russell Terriers are a small breed.
This compact dog is able to play moderately to heavily thanks to strong muscles. It is important to consider that, even though Parson Russell Terriers are excellent family pets, they need regular exercise in order to maintain their health.
In the shape of folded earlobes, its ears hang down on its cheeks. With its folded ears, the Parson Russell Terrier's ears allow it to follow scent trails, just like the other dogs on this list with button ears.
2. Welsh Terrier
In Wales, the Welsh Terrier was developed to hunt foxes and badgers, which was the breed's original purpose. In size and shape, the Welsh Terrier is similar to an Airedale Terrier, albeit miniature.
A muscular, stocky breed, its traits include a lively temperament and a lack of shyness. Dogs like this should be exercised regularly since they are fairly active.
As part of the breed standard, the Welsh Terrier has button ears. Those considering owning a Welsh Terrier should be aware of the dog's tendency to be uncooperative and to have an occasional attitude.
3. Border Terrier
Border Terriers have button ears and are classified as drop-eared dogs, so they droop their ears down to one side, making them ideal for apartment dwellers or those with limited space. While these dogs do not require much of your attention, they will still require a couple of walks each day if you want them to be happy.
Although friendly and good with children, the Border Terrier dog is not recommended for families with cats because its prey-driven temperament will encourage it to chase them. You might find this dog to be the ideal choice if you don't want a dog that requires much space.
4. Manchester Terrier
Occasionally black with specific tan markings, Manchester Terriers are small to medium-sized dogs with smooth, glossy coats. Intuitive, compact, and with substance to back it up.
The height of an adult male dog is 42cm and the height of an adult female dog is 38cm. Since Elizabethan times, the Black and Tan Terrier has been used to control rats and other pests.
Known for his tenacity, stubbornness, and vocality, the Manchester Terrier is one of the most unusual dogs. Besides being loyal to his family, it is a fun-loving companion with all the traits of a terrier.
5. Australian Shepherd
Australian Shepherds do not originate in Australia, as their name suggests. Their original purpose was to help farmers herd livestock in the United States. Collies and sheepdogs, both originally imported from Australia, formed the basis of the breed, which boasts a diverse heritage.
There is something special about the Australian Shepherd, with its striking coat and button ears. These dogs are incredibly intelligent and obedient.
6. Airedale Terrier
Black and tan Airedales have an undercoat that is soft, while their topcoat is slightly harsh.
In terms of activity and energy, Airedale Terriers are active, energetic, and fearless.
In the past, oversized Airedales — known by some as Oorgangs — were used as big-game hunters as well as pets, guardians, or family members.
7. Lakeland Terrier
Lakeland Terriers were created in England to control farm rodents due to their similar size and coloration to Welsh Terriers. In addition to being well-mannered and smart, the breed is gentle around children, making it a terrific household companion.
It can be difficult to find Lakeland Terriers outside of the UK, despite their excellent family qualities.
8. Smooth Fox Terrier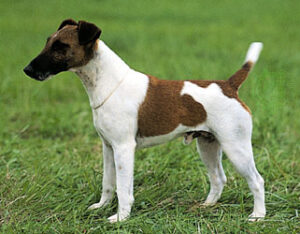 Smooth coats and button ears make Smooth Fox Terriers one of the most popular dogs. Despite not doing well in extreme outdoor conditions, they are hardy dogs who fare well in almost any weather if they don't lose their temper.
Because of its long coat, this breed was originally meant to herd livestock or protect properties against intruders depending on the region. Rats and rabbits are now controlled on British farmlands using them.
The Fox Terrier breed prides itself on hard work.
9. Irish Terrier
Like others on this list, the Irish Terrier began as a rodent-control breed. Despite being one of the oldest terrier breeds, little is known about its lineage.
This medium-sized breed has a hard, rugged look characterized by a rectangular face and short, scruffy beard. If not properly socialized at a young age, the Irish Terrier can start conflicts with other dogs because it is a driven and focused breed.
10. American Hairless Terrier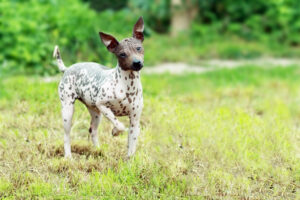 There is no hair on an American Hairless Terrier by nature. A smooth-coated dog is one of three types, in addition to prick-eared dogs and rose-ear dogs. A dog's ears may also be cropped when they're puppies or adults in order to improve their posture.
Occasionally brushing the American Hairless Terrier with a rubber brush and bathing are all that is required to care for the breed's soft coat. Due to their non-shedding coats, these dogs produce fewer allergens, and they need less physical activity.
11. Norfolk Terrier
Originally the Norfolk Terrier was an offspring of the Norwich Terrier with pointy ears. The Norfolk Terrier is one of the world's tiniest dogs with button ears. Norfolk Terriers require moderate exercise due to their stocky and compact size. Family-oriented and curious, this breed is ideal for homes with children.
Individual Norfolks possess distinct characteristics and are known to be quite independent and expressive dogs.
What Causes Dogs To Have Button Ears?
Button ears are typically found in breeds whose ear canals are naturally short. In addition to having shorter hair on their ears, these breeds can appear to have button ears. Typically, dogs inherit this characteristic.
There is no universal dog breed standard regarding how much ears should grow, so some breeds look floppy or long, while others may be cropped closer for aesthetic purposes or to obtain the breed standard.
It is possible, however, to inherit partially perked ears from breeds other than German Shepherds and terriers, which often causes them to develop this fold naturally.
What Are Button Ears?
The top halves of button ears fold over, but the bottom halves stand upright. An ear canal is usually covered by this fold. The Manchester Terrier, Smooth Fox Terrier, and Jack Russell Terrier are common terrier breeds with this ear type. The breed standard does allow some tolerance for certain dogs, such as Jack Russell Terriers who may have drop earlobes rather than button ears.
What Are the Other Types Of Dog Ears?
Not all dogs have button ears. There are many different types of ears that are common in various dog breeds. These are some of them.
Cocked Ears
This erect ear has a small bend at the top, similar to the button ear, except that the fold doesn't cover the ear canal. It is also known as the semi-crop ear.
Dogs with exposed ear canals may remain alert to quiet sounds because of their exposed ear canals. Shetland Sheepdogs and Border Collies are known for having this type of ear.
Several owners will "tip" their puppies' ears after a certain period of time because of the breed standard that requires the ears to be three-fourths erect. There are some Shelties that will tip their ears naturally, but there are others that will not, so it's important to wait for a few months to see how things progress.
Filbert-Shaped Ears
Triangular filbert-type ears are only found in one breed of dog, the Bedlington Terrier.
A Bedlington's ears must be neither too thin nor too thick in order to hang properly against the face. These dogs are known for their distinctive ear tassels, which were once believed to protect their ear tips during hunting.
Drop Ears
One of the most common types of dog ears is drop ears, also called lop ears or pendant ears. Breeds of scenthounds are very likely to have this type of ear. They appear to collect scents from the air with their long, drooping ears and keep them near their noses and faces, according to one theory.
Among the breeds with drop ears are the Beagle, Bloodhound, Basset Hound, and Cocker Spaniel.
V-shaped ears are a variation of drop-ears. Hungarian Vizslas are required to have this particular style. An ideal V-shaped ear must hang close to the cheeks, according to the UK Viszla breed standard. The Bullmastiff also has this shape.
Rose Ears
Some dog breeds have rose ears. At the lower edge of the back, the rose ear folds inwards, while at the top, it curves over, outward, and back, showing that inside the ear is formed from cartilage.
English Bulldogs with this ear type are desirable according to the breed standard, which is why you will see a lot of show Bulldogs with it. Many Bulldog owners glue their dog's ears if they are not naturally shaped like roses.
First-time owners should seek out the help of an experienced owner, since this procedure is generally painless. In addition to Greyhounds, Estrela Mountain Dogs have this ear type as well. Bullmastiff owners, on the other hand, do not like this type of ear.
Erect Ears
In terms of erect ears, there are a number of variations.
Chihuahuas and Cardigan Welsh Corgis, for example, have large, proportionate ears. As seen in the Basenji, hooded ears curve inwards slightly rather than sitting straight up. Chow Chows and French Bulldogs have blunt and slightly round ears, just like erect ears can be pointy.
An English Toy Terrier breed-specific variation of the erect ear can also be found. It is said that the ear shape of this breed is similar to that of a candle flame, according to breed experts. A proportionately close distance separates the ears on this head which are located high on the head. The tips are pointed and the sides are slightly indented.
Frequently Asked Questions
What is the difference between button and drop ears?
Button ears partially stand up with a tip that folds over, while drop ears fully hang low.
What kind of dogs have rose ears?
Typical examples of the rose-type ear include Pitbulls, Pugs, and Greyhounds.
Why do groomers cover a dog's ears?
Ear covers like the Happy Hoodie can help protect and calm dogs during noisy grooming sessions.
Conclusion for "Dog Breeds With Button Ears"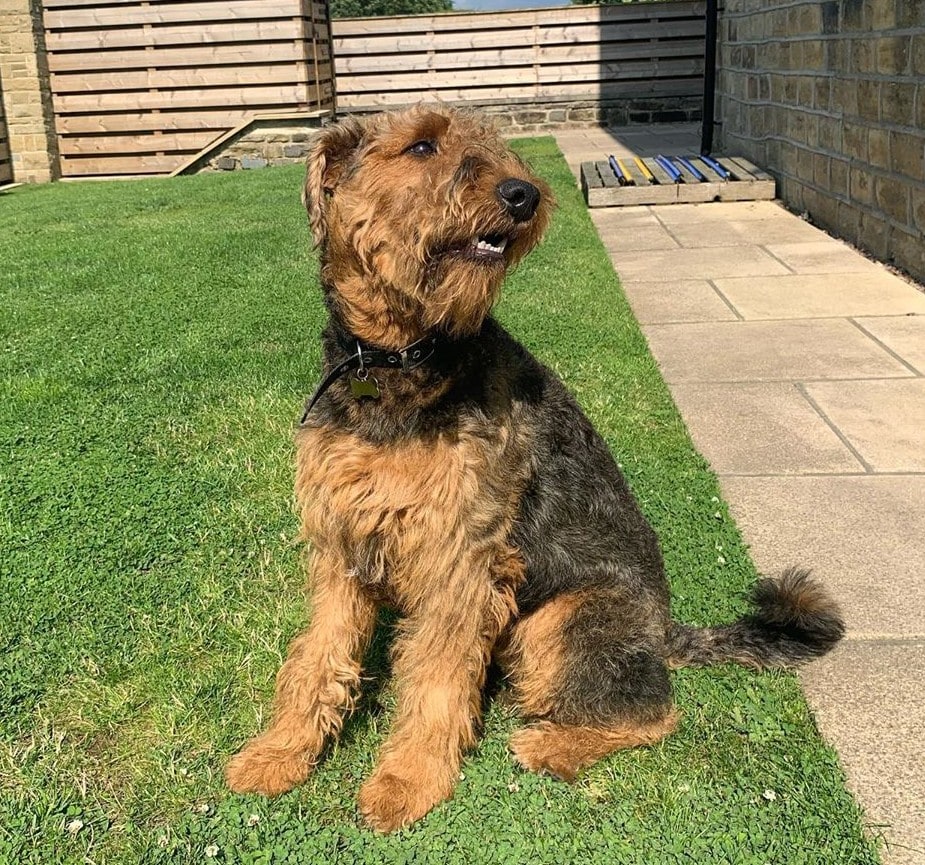 Several dog breeds are known for button ears, including Welsh, Airedale, and Norfolk Terriers, as well as Australian Shepherds. Simply put, the top halves of button ears fold over, but the bottom halves stand upright.
Learn about even more dog breeds:
Learn more about the many different types of floppy ear dog breeds by watching "Top 15 Dogs With Floppy Ears – 🐶 Cute Floppy Eared Dogs." down below:
Garrett loves animals and is a huge advocate for all Doodle dog breeds. He owns his own Goldendoodle named Kona. In addition, he volunteers at the Humane Society of Silicon Valley, where he fosters dogs and helps animals. Garrett enjoys writing about Doodles and believes that dogs can teach humans more about how to live than humans can teach a dog.
Why Trust We Love Doodles?
At We Love Doodles, we're a team of writers, veterinarians, and puppy trainers that love dogs. Our team of qualified experts researches and provides reliable information on a wide range of dog topics. Our reviews are based on customer feedback, hands-on testing, and in-depth analysis. We are fully transparent and honest to our community of dog owners and future owners.