If you're wondering how to make Doberman ears stand up, here's what you need to know. Erect ears are a common characteristic of the Doberman breed, but did you know these dogs aren't born that way? Puppies have to undergo an ear cropping procedure to achieve this look.
As a Doberman owner or a person thinking about adopting a Doberman, you might wonder how to make Doberman ears stand up without cropping. Here is what you need to know about Doberman ears and whether cropping is a good decision.
Before you scroll down to a more in-depth answer to this guide, "How to Make Doberman Ears Stand Up," you can check out these other similar content from our team at We Love Doodles: When Do Chihuahua's Ears Stand Up and When Do Yorkie's Ears Stand Up?
Do Dobermans Ears Naturally Stand Up?
Many people think that Dobermans naturally have erect ears because cropping is common among owners. However, Dobermans naturally have long V-shaped ears that look like the ears of a Dachshund.
Dobermans with long ears can be difficult to identify as such since it's more common to see images of Dobermans with cropped ears. However, natural or cropped ears won't affect the personality traits of this amazing breed, from their loyalty to their intelligence.
Doberman Ear Product Recommendations: Best Dog Ear Cleaners and Zymox Ear Solution For Dogs.
How Does Ear Cropping Work For Dobermans?
Ear cropping is a surgical procedure that typically lasts around 30 minutes. During this procedure, a vet will cut a portion of the ears to shorten and reshape them. They will also use stitches to change how the ear tissue connects to the rest of the head. It's a non-invasive procedure with few risks as long as the vet has experience reshaping Doberman ears. The vet can create different shapes and lengths based on how they cut and stitch the ears.
The ears can look short or long, depending on how much tissue the vet removes. Experienced vets can also change the shape of the ears to enhance their appearance, a common practice for show dogs. Owners typically schedule the ear cropping procedure once their Doberman puppy ages eight to 12 weeks. After the procedure, it's essential to ensure the ears heal properly to achieve the desired shape.
Your puppy must wear tape and a piece of Styrofoam that sits between the ears until their ears adopt an upright shape. Doberman taped ears can look odd, but this process ensures your puppy's ears heal properly. Most puppies need to wear the tape for two months, but it can take up to a year for their ears to adopt the cropped posture.
More Dog Ear Guides: Is Dog Ear Piercing Safe and Legal and How to Put Ear Drops in an Aggressive Dog.
Can You Make a Doberman's Ear Stand Up Without Cropping?
Doberman ear posting without cropping isn't possible. During the ear cropping procedure, a vet will change the shape and length of the ears. Natural Doberman ears are too long to stand upright, and the way they connect to your dog's head doesn't allow for an upright ear posture.
Some owners who wonder how to make Doberman ears stand up without cropping might think that taping the ears to a splint or supportive frame can change their posture. But unfortunately, this method won't work, and the supportive frame will make your puppy feel uncomfortable.
However, you will likely see a difference in how your puppy carries their ears as they grow. Puppies undergo many changes as their skull grows and their adult teeth come in. As a result, it can be difficult for their facial muscles to support the ears at times, making them look floppy.
Your puppy should get their adult teeth at six months of age. After that, it should be easier to adopt good ear posture, and you'll see your Doberman holding the base of its ears in a more alert fashion even though the ear flap will still frame the sides of the face. If you want a dog with upright ears, you should think about adopting another breed.
Siberian Huskies, German Shepherds, Belgian Shepherds, Australian Cattle Dogs, or Shiba Inus are other large dogs to consider if you're looking for the pricked ear look. A Miniature Pinscher can also be a good option. These dogs are smaller than Dobermans but have a similar appearance, and their ears stand upright naturally.
Are There Any Benefits to Ear Cropping for Dobermans?
Many owners research how to get Doberman's ears to stand up because the breed's cropped ears and docked tail look are common. Some owners prefer this look because it makes dogs look more alert, a characteristic that a guard dog would want to see. Ear cropping is quick and inexpensive, and there are few risks if you choose an experienced vet.
However, there are some downsides to consider:
Your puppy will be under full anesthesia during the procedure. There is always a slight risk of complications when putting an animal under, but this risk is higher in puppies and senior dogs.
Ear cropping is painful. Your puppy will have to take pain meds while they heal and could experience side effects like vomiting, diarrhea, or a loss of appetite.
Your puppy must wear tape and a piece of Styrofoam on its head for two months. It can be uncomfortable, and they will require supervision, so they don't remove the Styrofoam.
There is also a risk of infection as the stitches heal.
Your puppy might need additional surgical procedures if the result doesn't look even.
It's also important to keep in mind that the benefits of ear cropping are purely aesthetic. You might have heard cropping can prevent ear infections or have other health benefits, but research suggests it's not the case. The preference for cropped ears is a matter of personal taste.
Many Doberman owners like this breed because of their striking appearance and decide to crop their puppy's ears to achieve the imposing Doberman look. In their breed standards, some organizations include cropped ears and docked tails. For example, the AKC describes a Doberman's ears as normally cropped and calls for docking the tail.
The Doberman Pinscher Club of America has similar breed standards. These breed standards mean owners must put their dogs through these procedures if they want to participate in official canine events or obtain official breed papers. If you purchase a puppy through a licensed breeder, they will likely apply the AKC or DPCA standards and perform these surgical procedures before letting you adopt your new puppy.
However, attitudes are changing. A growing number of Doberman owners choose not to perform this procedure. Ear cropping and tail docking are now illegal in the U.K. and other European countries unless your dog needs these procedures for medical reasons.
Doberman's Ears and Body Language
Traditionally, people would adopt Dobermans to guard their homes. The cropped ear look became extremely popular since it made these dogs look alert and watchful. However, you should know that dogs use their ears to express emotions. Ears that stand upright typically indicate that a dog is alert and attentive. If a dog pins their ears back, they're afraid or stressed.
Since a Doberman with cropped ears can't pin their ears back, it can be challenging to communicate their feelings to their owners, to new humans they meet, and to other dogs. Ear cropping can lead to behavioral issues since people and other animals won't be able to tell when your dog is feeling stressed. People might miss other subtle signs that your dog isn't comfortable, which could result in aggression and even biting.
Related: When Do Corgi Ears Stand Up?
What About Tail Docking for Dobermans?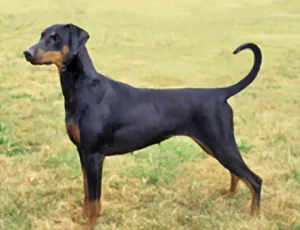 The docked tail look is common for Dobermans, but this breed naturally has a thin and long tail. Many owners opt for tail docking because Dobermans are prone to tail injuries. Their thin tail can break easily, which can be very painful and require amputation. It doesn't take much for a tail injury to appear.
Wagging their tail too hard and hitting it against furniture can be enough to sustain a painful injury. Tail docking is a surgical procedure. Like with ear cropping, there are a few risks linked to anesthesia, pain meds, and healing. However, this simple procedure can prevent painful injuries later in life.
If you have a Doberman puppy, you should have a vet look at its tail and determine whether it's thin enough to warrant tail docking. This procedure can be beneficial if your dog has a high risk of experiencing tail breakage. However, you should know that research suggests tail docking can change a dog's behavior.
Not being able to use their tail to communicate their feelings can result in aggression and make it difficult for humans and other dogs to read your dog. If you decide to have your Doberman's tail docked, you must socialize your puppy with other humans and dogs. Obedience classes can also be an excellent way to prevent aggression.
Conclusion For "How to Make Doberman Ears Stand Up"
Most people think about cropped ears and docked tails when they conjure up a mental image of a Doberman. So, the answer to the query of how to make Doberman ears stand up without cropping is that you cannot. For Doberman owners, it's important to weigh the pros and cons of performing these procedures. Many owners choose not to get their puppy's ears docked since it's a painful procedure and the only benefits are cosmetic.
If you find this guide, "How to Make Doberman Ears Stand Up," helpful and informative, you can check out these other articles from our team at We Love Doodles:
You can learn more about your Doberman Pinscher's ears by watching "Cropped Ears vs. Natural Ears: Which is Better" from an informative video we found for you down below: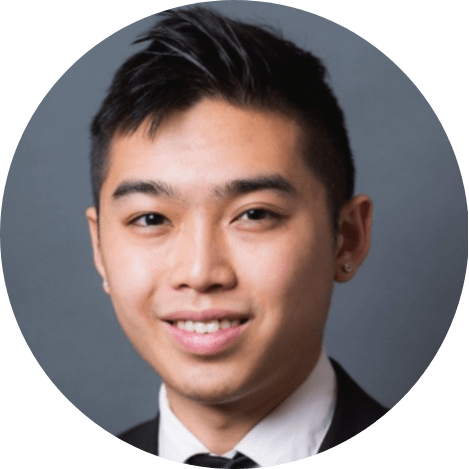 Andy is a full-time animal rescuer and owner of a toy doodle. When he's not saving dogs, Andy is one of our core writers and editors. He has been writing about dogs for over a decade. Andy joined our team because he believes that words are powerful tools that can change a dog's life for the better.
Why Trust We Love Doodles?
At We Love Doodles, we're a team of writers, veterinarians, and puppy trainers that love dogs. Our team of qualified experts researches and provides reliable information on a wide range of dog topics. Our reviews are based on customer feedback, hands-on testing, and in-depth analysis. We are fully transparent and honest to our community of dog owners and future owners.