What is the first thing that crosses your mind when you think about a Corgi? You will probably appreciate this delightful dog's sturdy build and friendly demeanor. However, the most noticeable thing about a Corgi is its upright ears.
If you have recently adopted a Corgi that does not have pointed ears, don't be alarmed. It is perfectly normal for a Corgi with floppy ears to exist. As new dog parents, this can be a cause for concern because you aren't used to seeing a Corgi with floppy ears. However, with a little research, you'll learn that this happens more frequently than you'd think.
Before you get through the rest of the article, you might want also to check out: Why Does My Chihuahua Have Floppy Ears?
When Do Corgis Ears Become Upright?
Most Corgis have drooping ears that lie close to the scalp when they are still tiny pups. Corgi owners have observed that a Corgi's ears stand up within the first few months – typically around 8 to 12 weeks old.
It might happen within the first two weeks of their birth or during their eighth week after birth. Some Corgis even take as long as eight to twelve months to achieve those signature perky Corgi ears. If your dog's ears are still floppy after that period, then you need to find out why. In such cases, most pet owners consult a vet for a possible solution.
Related: When Do Corgis Stop Growing?
Why Do You Have a Corgi with Floppy Ears?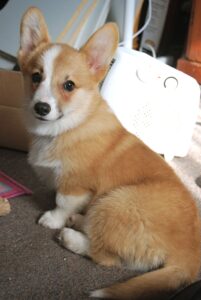 It might look strange, but it's nothing to be afraid of. This is quite normal as young Corgis' ears take time to fully develop. There are various reasons why Corgi ears do not stand upright on their own.
Teething
This is one of the most common reasons why Corgis have drooping ears. They are still teething, which means their ears haven't been fully formed yet. A dog's external ear structure is composed of cartilage. Cartilage is made up of collagen and elastic fibers, which give the ears flexibility and strength.
Can you feel the way you can move your ear back and forth without damaging it or feeling any discomfort? Your dog's ears are like that.
When Corgis are young, their ears are still in the process of getting fully formed. Your dog's body seems to consider teething more important, so the bulk of the calcium goes to their mouth instead of their ears.
As it requires more muscular strength for dog ears to stand upright, it's quite normal for the ears to be drooping. However, if their dog ears are drooping after the teething phase is over, then it's time to book that vet appointment.
Severe Calcium Deficiency
Calcium is an important nutrient for cartilage and bone development. Hence, it takes time for dogs' ears, teeth, tendons, fingers, spinal cord, and limb bones to fully grow.
While they are teething, most of the calcium is utilized for teeth development. However, the other reason is they have a calcium deficiency, which is a medical condition.
There are many ways to detect calcium deficiency, with some being obvious even to a non-medical professional.
Here are some signs that your dog is not getting enough calcium:
Weakness
Convulsion or seizures
Behavioral changes
Loss of appetite
Loss of body control
Muscle spasms
This deficiency can lead to other issues that are far more severe than floppy ears. It shouldn't be taken lightly. If you observe any of these symptoms, you must immediately go to the vet. It's true that Vitamin K and D deficiencies also lead to bone-growth issues, but only an expert can tell for sure.
Inherited Floppy Ears
What if your Corgi is several weeks old, has an otherwise healthy disposition, but still has floppy ears? It could be genetic. Corgis are supposed to have pointy ears, but they may have genes for a floppy set of ears.
Just like some people are shorter or taller than others, genetics play a vital role in the development of your puppy. To put your mind at ease, check the parents of your Corgi. If any of your Corgi's parents or grandparents – that you are aware of – had drooping ears, then you can relax. There's not much you can do about it, but you can reassure yourself that it's natural.
You Are Petting Them Incorrectly
This might sound like an exaggeration, but petting your Corgi incorrectly can have adverse effects on the growth of their ears.
How does this happen? When Corgis are still growing, their ear cartilage is not yet fully developed. If you repeatedly pet the ear in a downward direction, the cartilage will follow suit. Avoid petting your Corgi on or near their ears altogether. If you can't avoid it, ensure their ears are standing upwards while you pet them.
Environmental Reasons
This is an exceptional reason, but the environment can also affect your dogs' overall development. These include:
Behavior of dog owners
Diet and food supplements
Emotional needs
Dogs are like children. They need love, support, and proper nutrition to grow.
How to Tape Your Corgi's Ears Upright
While having drooping or floppy ears is nothing to be embarrassed about, many dog parents want to change them. This is one of the most popular tips on the internet. Many dog parents and a few dog experts swear by the tape method.
Before you do anything to your Corgi's ears, make sure you prepare him beforehand. Let him get used to the tape by offering the roll as a plaything. Afterward, give them a treat and praise them for staying still.
Related: Why Do Corgis Sploot?
Tape Method
Hold your dog's head securely.
Tear off a 1 ½ or 2-inch strip of tape.
Gently hold your dog's ear upright and tape it in the desired direction.
For added reinforcement, take a longer piece of tape and wrap it around both ears.
Let the tape stay for 3-4 weeks for the best results.
Some modify the tape method by adding drinking straws as support. When you use a straw, you are setting a firm base for the ears.
Tape and Straw Method
Take two straws and wrap them lightly in tissue paper using medical tape.
Once the straws are ready, attach them to the ear hole. Add layers of tape to firmly fix the straw to the ear.
Cut off the extra straw that exceeds the length of the ear. Leave some space to avoid hurting your dog.
After both straws have been taped to the ears, use a long piece of tape to join both the ears at the base.
Let the tape stay for 2-4 weeks.
If you want further information, take a look at this video.
Although many dog owners simply apply tape on their dog ears, it won't be effective unless the dog ears are standing upright after it's been taped. You must be careful with this method to avoid hurting your Corgi.
Tips for Taping Your Corgi's Ears
Use medical or masking tape that will not hurt the dog once removed.
Watch out for signs of itching or irritation.
Make sure you keep the tape for the stipulated amount of time. (About 3-4 weeks)
Keep changing the tape regularly.
Avoid getting it wet.
Do not wrap the tape too tightly or remove it suddenly.
Avoid doing this if your dog has skin or any other allergies.
This method is only effective if your dog is young and still has flexible ears. For adults, this might not be as helpful.
More Tips for Upright Corgi Ears
Exercise Their Jaw Muscles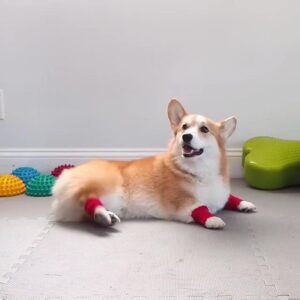 Your dog's ears are connected to muscles in the jaw, mouth, and the rest of the head. Provide chew toys that allow your pet to exercise those muscles. Hopefully, this will also contribute to firmer ears.
Pet Them Properly
As discussed before, improper petting can lead to floppy ears. If you want to learn how to pet them properly, you can have a look at YouTube videos or consult a specialist. Most dog owners suggest that you should avoid petting them downwards. Try using an upward motion while petting so that your Corgi's ears remain upright.
Make Sure Your Pet Is Healthy
It doesn't stop there. As dog parents, you should maintain the emotional and physical well-being of your pet. They should have the basics like nutritious food, medical care, exercise, and a secure living area. Make sure they are also getting enough attention and physical affection. This applies to any dog breed.
Should I Crop My Corgi's Ears?
You may have come across online articles recommending ear cropping for droopy ears. How does it work? A vet would cut off part of a dog's long ears, usually when a puppy is less than 3 months old. The idea is that the ear would have a perkier shape after the surgery.
Some breeding clubs do this for aesthetic reasons, especially for dog show competitors. However, the American Veterinary Medical Association only approves of ear cropping for medical purposes.
Keep in mind that ear cropping would be extremely painful for your Corgi. While the actual procedure is done under anesthesia, the healing process may be traumatic for your pup. Get a second professional opinion before you consider surgery for your pet.
What If Your Corgi's Ears Never Stand Upright?
Some pet owners wish to enter and show their Corgis in competitions. If your Corgi has downward ears, this might be an issue. The American Kennel Club (AKC) requires upright ears for competitors of this breed.
Since it's not a severe medical issue, drooping ears should not worry dog parents. Once your vet has assured you that your Corgi's ears are not an indicator of a serious medical issue, don't worry about those ears.
If you have done everything in your power to ensure your dog has upright ears, but they still managed to droop, the only thing left to do is to accept that.
The worst thing you can do is make them feel bad about their ears. Most dogs sense how you feel about things, so they will eventually realize that you are not pleased by their appearance.
Floppy ears or not, Corgis look cute. Drooping ears give dogs a mellow look that can be viewed as appealing.
How to Care for Your Corgi's Ears
Given their size and shape, Corgi's ears are prone to infection. Ear infections happen because microorganisms like yeast grow in moist and warm places.
Plus, your pet can't clean their ears on their own. Every time your dog plays outside dirt or grass can get stuck in their ears. If left alone, these foreign objects can become breeding grounds for bacteria.
That's why it's important to check your Corgi's ears regularly.
Your Corgi's ears should have a healthy pink color. They should also be free from mites or fleas. There should be no strong or stinky smell coming from the ear canal. If there are any signs of inflammation, pus, or too much wax buildup, better take your pet to the vet.
Here are some tips to get you started:
Gather your supplies: a clean towel, a cleaning solution from your vet, and cotton balls. Do not use Q-tips or anything pointed as you may end up pushing dirt deeper into the ear canal.
Sit with your Corgi and make sure he is calm. Now's the time to use treats to get him on his best behavior.
Carefully pour the recommended amount of cleaning solution into the ear canal. Hold your dog firmly as this won't be comfortable for him.
After half a minute, let your pet go and have him shake his head. When he is done, wipe his face with the towel. Clean off the outside of his ears with the cotton balls.
Do this every other week up to every month. Avoid under cleaning or over cleaning your Corgi's ears, as both can cause issues.
Conclusion for When Do Corgi Ears Stand Up?
Corgis make adorable house pets. They are alert, sensitive, and fast learners. With their adorable features, they make excellent pets and cuddle buddies. Having pointy ears gives these dogs a regal look that most dog parents do not want to miss out on.
What if you have a Corgi with floppy ears, and you can't stop the flop? Remember that floppy ears aren't bad. They might make your dog look a bit different, but their adorable personality remains the same.
Other articles you would like:
Garrett loves animals and is a huge advocate for all Doodle dog breeds. He owns his own Goldendoodle named Kona. In addition, he volunteers at the Humane Society of Silicon Valley, where he fosters dogs and helps animals. Garrett enjoys writing about Doodles and believes that dogs can teach humans more about how to live than humans can teach a dog.
Why Trust We Love Doodles?
At We Love Doodles, we're a team of writers, veterinarians, and puppy trainers that love dogs. Our team of qualified experts researches and provides reliable information on a wide range of dog topics. Our reviews are based on customer feedback, hands-on testing, and in-depth analysis. We are fully transparent and honest to our community of dog owners and future owners.