Dealing with Corgi shedding is inevitable. If you're planning to adopt a Corgi or you have recently adopted one, then you must be wondering whether they shed a lot of hair or not. Gear up because they indeed shed a lot of hair. While there are numerous reasons why Corgis shed, there are also solutions to ease the problem. In this guide created by our team at WeLoveDoodles, we'll teach you everything you need to know about your Corgi shedding.
Before scrolling down this guide, we think you might find these articles helpful: Best Dog Bed For a Corgi and Best Small Non-Shedding Dog Breeds.
Why Does My Corgi Shed Hair?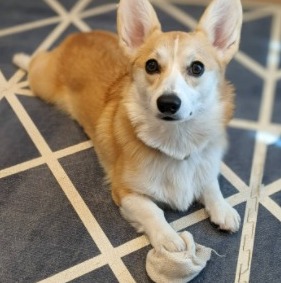 Shedding is no cause for concern. It's a natural process for dogs to replace their weak follicles with new and healthy hair. However, Corgis shed far more hair than you would typically expect. Here are some reasons explaining why that happens.
1. Seasonal Changes
You must've observed, seasonal changes bring about minute changes in our skin and hair texture. Dogs have a more intense cycle. Most Corgis blow their coats at least twice a year. Once in the fall and once during spring. They develop a thick coat during the winters to protect themselves from the cold weather. However, once winter gets over, and the temperatures start to rise, they shed their thick coat during spring. When autumn approaches, it gets colder. They shed their undercoat again to help make way for a thicker coat of hair for winter. This is a natural and unavoidable annual cycle. All you can do is follow a few good tips to avoid spending too much time cleaning up.
2. Lack of Grooming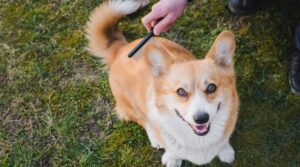 If your dog hasn't been groomed properly, it could result in excessive shedding. A Corgi needs to be brushed and bathed regularly. Apart from getting dirt and dust particles away from them, it also helps clear out sticky hair follicles and oily skin responsible for shedding hair.
Corgi Grooming Product Recommendations: Best Dog Grooming Kit and Best Pet Grooming Clippers.
3. Medical Reasons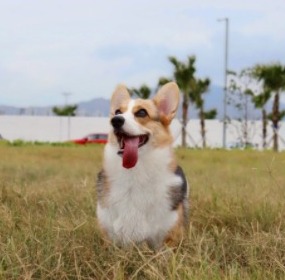 Though most dogs shed hair due to natural processes, sometimes there are medical reasons behind it. If they are shedding copious amounts of hair and you think there's something wrong, then take them to the vet. Here are some of the medical reasons that your Corgi is shedding much more hair than usual.
Nutrition Deficiency: Like most mammals, the effects of a nutrition deficiency are predominantly seen on the skin and hair of dogs. If your dog has an Omega 3 and 6 deficiency, you may have observed a dull coat accompanied by flaky skin. This could also be the cause of excessive shedding.
Hormonal Imbalance: If they have mood swings and are getting excited quickly, they could be having a hormonal imbalance which is causing them to shed. Many reasons could cause this: they need to go through their heat cycle, experiencing pain because of a medical illness, stressed, pregnant, or neutered. If it's any of these reasons, then it's good to remember that hormonal changes also affect hair fall and shedding in dogs.
Allergies: Another reason for shedding more than necessary could be skin allergies. However, if it's a skin allergy, they will have other symptoms as well. These symptoms include itchy red skin, inflamed eyes, inflamed ears, patches of missing fur, water eyes, sneezing, or constant scratching. As skin allergies are easy to notice, you must immediately take them to the vet for further examination. There are also dog allergy test kits you can use.
Stress and Anxieties: Dogs can experience various stressors. Whatever this reason might be, it could lead to your Corgi dealing with excessive shedding. As a Corgi owner, you'll have to find the root cause for their stress or anxiety. You can either consult a behavioral expert or visit a veterinarian.
Infection Due To Fleas or Parasites: A flea or parasite attack can also explain excessive shedding. Once you have established this after inspecting them, you can see a vet who can help you further with the situation.
Corgi Product Recommendations: Best Dog Bed For Separation Anxiety and Best Dog Food With Vitamins and Minerals.
How Much Hair Does a Corgi Shed?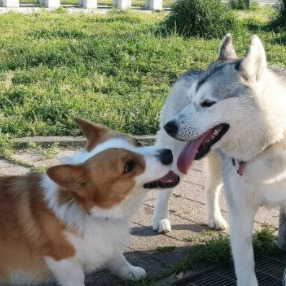 To answer that, you have to remember that Corgis have a double coat. Please do not fall for their small size. A medium-sized Corgi sheds twice as much hair as any other average dog of its size. If you have a Corgi, you must be prepared to do the following:
Ready to vacuum regularly
Use lint rollers frequently
Keep scrubbing off hair from clothes and furniture
Ways to Reduce or Manage the Corgi Shedding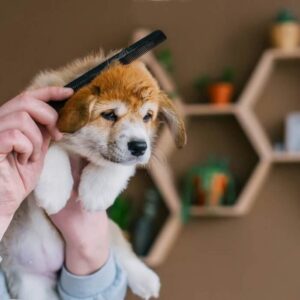 The shedding in Corgis is inevitable. However, you can help them reduce their shedding process and manage the mess it creates using a few simple tips.
1. Regular Hygienic Baths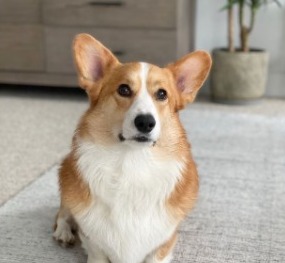 Corgis must have a bath at least once a month consistently. Even if you're busy, bath them. However, there are certain tips you can follow to give them a proper bath.
Use lukewarm water
Be gentle around their joints
Use a shampoo that will maintain their coat
Blow-dry or towel rub until they are completely dry
Clean them thoroughly
Corgi Bathing Product Recommendations: Best Dog Grooming Tub and Best Waterless Dog Shampoos.
2. Brush Them Thoroughly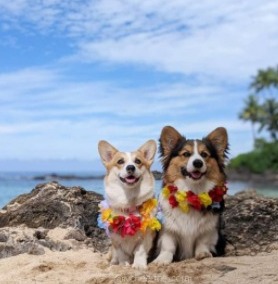 Brushing is an important grooming activity. If you brush your dog at least 2 to 3 times a week, it helps in detangling their hair. Hair that isn't entangled has a lesser chance of staying put and not falling. If you brush their hair regularly, you'll also be removing the weaker hair or excess hair, and now this won't fall randomly on your carpet or furniture and littering your homes.
Corgi Brushing Products: Best Slicker Brushes For Dogs
3. Get Them a Good Haircut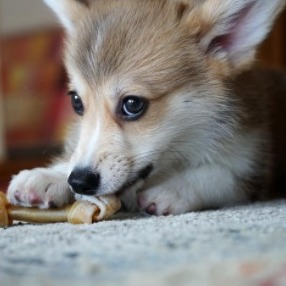 A good haircut should be given before summers and winters. To combat the heat, remove excess hair before summer, and to bear the cold weather, remove excess matting before winters. If you go to a hair salon, they will help you get the right kind of haircut. A haircut also helps them reduce shedding. After the hair is cut and the coat is reduced, it helps them maintain the length and avoid unnecessary loss of hair. If you decide to trim their hair at home, you can follow these tips:
Use sharp scissors
Comb them thoroughly before you start cutting
Leave enough space between the skin and hair tip
Keep combing them as and when you cut the hair
Rinse them after you are done trimming and dry them
You can use a detangling solution for a smoother experience
You can trim their coat once every three months
It should be noted; trimming does not mean shaving. You must be very careful while cutting not to cut any more hair its than necessary. Losing their topcoat can lead to severe health issues.
4. Never Shave Off Their Hair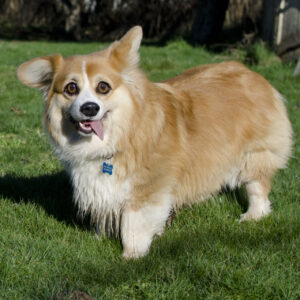 Corgi's double coat of hair exists to protect them from the cold weather. If you leave them bare, no matter how you try to salvage the situation, they can develop severe health issues like hypothermia or hyperthermia. Therefore, shaving off your Corgi's hair is a cruel thing to do. Never do that if you love your dog. If you have damaged their roots in the process of shaving, it can lead to permanent bald spots. Even while trimming, never use an electric trimmer. Either you'll get too close or end up shaving their hair by mistake.
5. Take Them Out For Exercises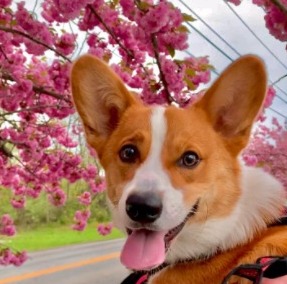 Exercising is a great way for them to loosen up and use their energy. Even if you take them for their daily walks, it will help to regulate their hormones and stress levels. In turn, it helps them shed less hair. Though shedding happens due to physiological reasons, it can also be due to psychological causes. If you allow them to exercise regularly, that can help them stay healthier.
Corgi Exercising Products: Best Dog Playpen For Hardwood Floors and Best Weighted Vest For Dogs.
6. Give Them A Healthy Diet and Supplements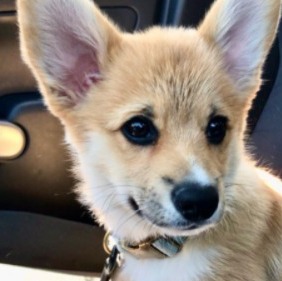 One of the most common reasons for shedding excessively is malnourishment. As discussed, nutrient deficiency becomes evident when the skin becomes dry and rough and hair grows dull. To combat that, they need proper health supplements. You get many supplements in the market that help make their coats luscious and robust. However, the best thing for them is good proteins such as salmon, duck, turkey, or fish. Common protein sources such as chicken and lamb can cause an allergic reaction in dogs.
Dog Food Recommendations: Best Air-Dried Dog Food and Spot & Tango Healthy Dog Food.
7. Follow A Strict Grooming and Cleaning Schedule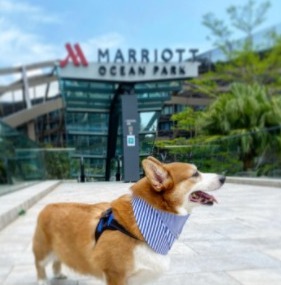 If you follow a strict grooming schedule, it can help you keep track of how many times you bathed, brushed, and vacuumed your home. It can also help you track how much hair they are shedding and manage cleaning after them effectively.
Here's a schedule:
Bath them once a week
Brush their coat at least twice a week and 10 times a month
Vacuum your home every week
Clean the hair stuck to carpet and furniture once every two weeks
Trim either one every three months or when it's necessary
You can mark the dates on your calendar to keep and avoid missing out on doing these things. As grooming helps reduce shedding, it should be strictly followed.
Conclusion For "How To Deal With Corgi Shedding"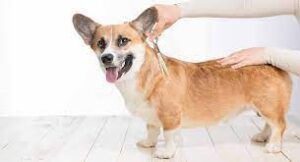 You must visit the vet and go for regular checkups to avoid missing out on any illness. If your Corgi is shedding a lot of hair and seems unnatural, you can take them to the vet and have them checked. It might be harmless, but it's always better to be safer. Though we can't do much about the Corgi shedding a lot of hair, our team shared some of the reasons and symptoms to understand why this happens and ways to help reduce it.
For more articles with mentions of the Corgi dog breed, check out:
To learn more about Corgi shedding, watch "How Much Do Corgis Shed Per Day" from VlogAfterCollege down below: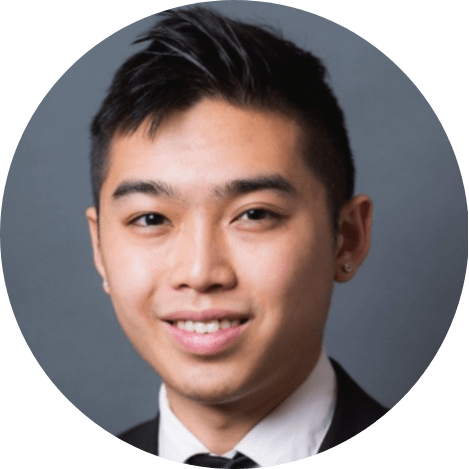 Andy is a full-time animal rescuer and owner of a toy doodle. When he's not saving dogs, Andy is one of our core writers and editors. He has been writing about dogs for over a decade. Andy joined our team because he believes that words are powerful tools that can change a dog's life for the better.
Why Trust We Love Doodles?
At We Love Doodles, we're a team of writers, veterinarians, and puppy trainers that love dogs. Our team of qualified experts researches and provides reliable information on a wide range of dog topics. Our reviews are based on customer feedback, hands-on testing, and in-depth analysis. We are fully transparent and honest to our community of dog owners and future owners.