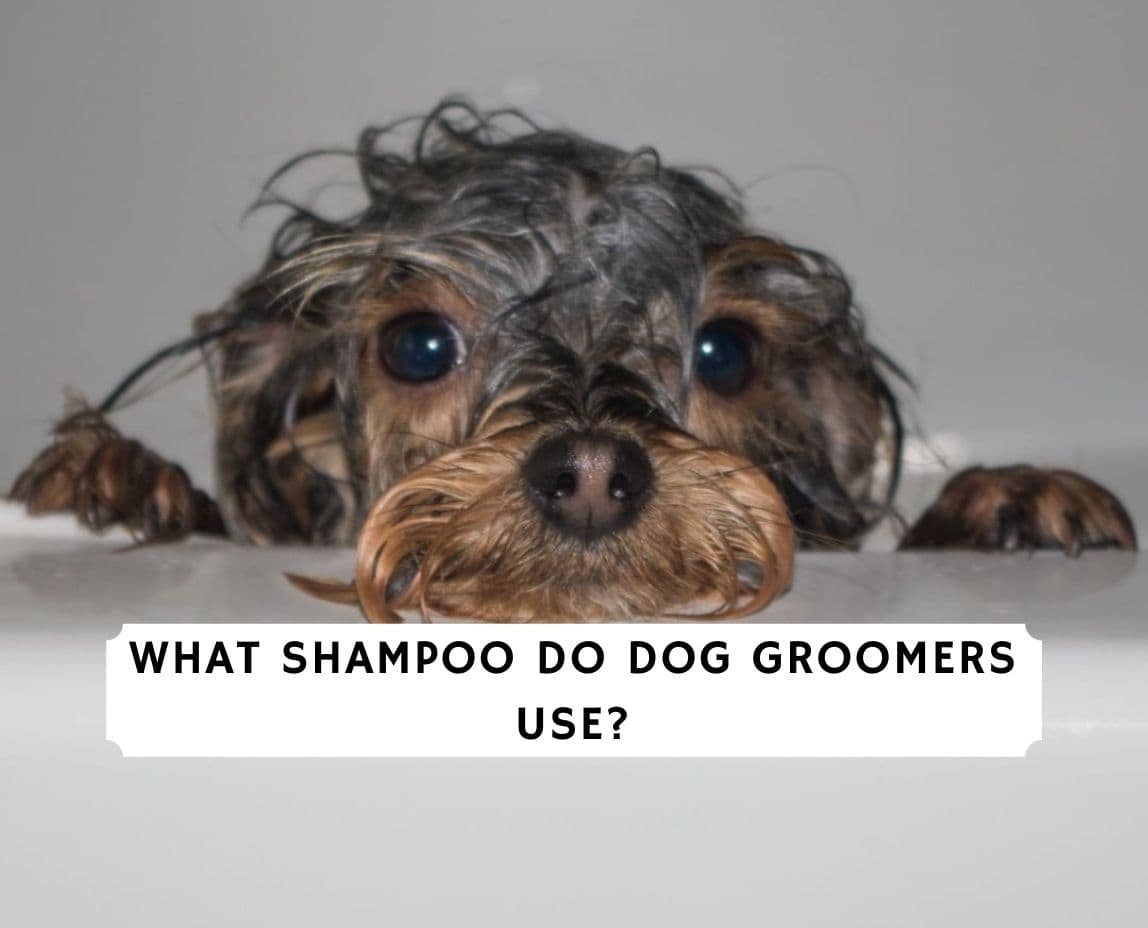 Nobody likes a dirty, smelly dog. Well, unless it's another dirty, smelly dog. You do your best to keep your dog on a regular bathing and grooming schedule, but with the state of the world, scheduling issues, and pandemic restrictions, it's not always possible to get to a professional dog groomer.
Many dog owners have to manage their dog bathing and grooming at home in between appointments, or as a substitute for their regularly scheduled professional grooming.
Of course, you want your dog to be just as clean and sweet-smelling as they are when they're fresh from the dog groomer. So what shampoo do dog groomers use? We've asked several professionals to weigh and reviewed the top five shampoos used by dog groomers. We've taken the guesswork, trial, and error out of your search for the best shampoos used by dog groomers.
We've tested the top-selling products to make you the best at-home dog groomer and keep your puppy clean and smelling great. We've also given you some guidance on brands and advice on additive ingredients to look for when you're shopping for a good dog shampoo and conditioner.
In a rush? Here are the top picks!
Product
Best Overall
We Love Doodles Shampoo
Runner Up
TropiClean Shampoo for Dogs
Budget Pick
Top Performance Pet Shampoo
Nature's Specialties Shampoo
Image
Best Dog Shampoo Used By Groomers Reviewed
Coming in at the top of our list is the TropiClean Shampoo for Pets. This product ticks all the boxes for a high-quality 2-in-1 shampoo and conditioner. It's a type of shampoo dog groomers use that is safe, natural, and gives the desired result; a clean, soft, and sweet-smelling dog.
The product saves time and gives value for money in the long run. This is a one-step cleanser and conditioner that also comes in a one-gallon size that you dilute everytime you use it.
The soap and paraben-free shampoo and conditioner will not dry out your dog's coat, and the papaya and coconut scent gives your dog that "fresh from the groomer" look and feel. Other shampoo scents are available, but this one is the most popular choice.
Conditioning your dog's coat makes it easier to brush your puppy out. This is especially important for medium, dense, or long-haired dogs. This dog groomer shampoo ingredients are naturally derived and cruelty-free. This product delivers as advertised.
That is why we've selected the TropiClean Dog Shampoo as our top pick for what shampoo dog groomers use.
2-in-1 Shampoo/Conditioner
Ingredients derived from Nature
Safe -Ph Balanced, Soap and Paraben Free
Made in the U.S.A
Sweet Smelling, choice of scents
The We Love Doodles shampoo was developed by dog groomers and used throughout several grooming locations in the United States. We just started recently selling it to individuals via Amazon. It took us two years to develop and we strongly believe that it is one of the best dog shampoos on the market today.
The We Love Doodles dog shampoo was developed to be a 4-in-1 shampoo, conditioner, detangler, and moisturizer. It's made with several USDA-certified organic ingredients and contains no harsh chemicals. Our design has gone through over 20 iterations with the help of dog groomers and veterinarians.
Additionally, the shampoo is proudly produced and tested in one of the largest dog shampoo manufacturing facilities in the United States. There are no harsh chemicals including no formaldehyde, no alcohol, no synthetic dyes, and no parabens. Most other cheaper dog shampoos will contain less than 1% natural ingredients. The We Love Doodles shampoo is derived from 98.25% natural ingredients. We have a 100% satisfaction guarantee if either you or your dog does like the shampoo. We stand behind our product and think you will love it.
The TropiClean Shampoo for dogs offers a line of pet care products that are made in the United States with naturally derived ingredients. The 2-in-1 shampoo and conditioner provides a rich and luxurious lather that leaves your dog's skin and coat conditioned, sweet-smelling, and easy to brush out. This product is safe for use in dogs 12 weeks old and older. This is the kind of shampoo that professional dog groomers use all around the world.
This product comes in a variety of scents to keep your dog smelling like he just came from the groomer. The papaya and coconut scent is recommended, but other scents are available.
The product is soap and paraben-free and cruelty-free. The blend of botanicals and cleansers will give your dog a lustrous and soft coat as a result.  Check the ingredients as some of these products contain wheat, which some dogs may be allergic to.
Runner up on our list is the Fresh Pet Shampoo by Top Performance. This dog shampoo is popular with professional dog groomers as well as at-home bathers. It cleans and conditions the coat, is formulated to the dog's pH, and does not irritate your dog's skin – even on the most sensitive of dogs.
The concentrated product has a strong scent, which some customers found to be overpowering. However, we found that most shampoos that dog groomers use have a stronger scent.
The majority of reviews state that this product leaves a clean-smelling scent that lasts for weeks in between bathing. The smell is strong enough that an application of cologne is not needed. 
This conditioning shampoo leaves your dog's coat clean and shiny, easy to brush out and the effects are long-lasting. We tried this shampoo on our dog and could smell the scent for around 10+ days.
This product comes in various sizes for multiple pet use and is also recommended for laundering dog beds and bedding.
Our budget pick for the best dog shampoo used by groomers is the Wahl 4-in-1 Calming Shampoo for dogs. This product cleans, conditions, detangles, and moisturizes all in the same application. The formulation of chamomile and lavender gives your dog a lasting scent that is also calming and relaxing for you and the dog.
Lavender has been known to calm dogs down. The inclusion of lavender with the soothing effects of chamomile makes a wonderful combination of scents that are soothing to a dog's skin and senses. Professional groomers will use this shampoo if they have many clients with anxious or nervous dogs.
Wahl has been providing products to the dog grooming industry for fifty years. Their products are high quality and cost-effective. A little bit of this product goes a long way. It is available in various sizes so your purchase of the Wahl product is a good budget value.
This product can be used on dogs with some skin allergies. It contains no harsh chemicals that will dry out your dog's skin. For the price of this grooming shampoo, you can't really go wrong with a Wahl product.
Plum Silky is another 2-in-1 Shampoo/Conditioner on our list of the best dog shampoos used by groomers. This product cleans and conditions your dog's coat to give it a fluffy texture and shine along with a fresh long-lasting scent.
Nature's Specialties Plum Silky is a biodegradable and non-toxic formula containing silk proteins, Panthenol,  vitamins, soothing aloe, and essential oils. It's pH balanced so it won't irritate your dog's sensitive skin.
This product is recommended by professional groomers as well as the home groomer. The shampoo product is concentrated so a little bit goes a long way. Some customers dilute, and others use full strength. Plum Silky is available in several sizes to meet your multiple pet bathing needs.
These products used to only be available at dog shows and professional events, now you can purchase them for home use on Amazon. It is one of the most popular types of shampoo that dog groomers use.
Plum Silky is a quality product that will leave your dog soft, smooth, and sweet-smelling after his bath. The light fragrance is long-lasting and non-irritating. For a fluffy and sweet-smelling pooch, Plum Silky is a great choice.
Last on our list of what shampoo dog groomers use is the Veterinary Formula Solutions Triple Strength Dirty Dog Concentrated Shampoo. 
This product claims to be three times more effective in getting your dirty dog clean and fresh. This product is formulated exclusively for dogs, and the smellier the better. The deodorizer in this dog shampoo can't be beaten for getting the stink out. The fresh green apple and White Tea fragrance that lingers long after your dog's bath will make you glad you took the time to de-stink him.
This product is formulated with aloe, wheat protein, shea butter, and vitamin E, to condition and soothe your dog's coat and skin. This dog grooming shampoo will not strip the oils from your dog's skin and coat because it's pH balanced for your dog's coat.
The exclusive DirtRepel formula uses ionic technology to keep your dog's coat cleaner. This means you can go for longer intervals between baths.
The product is concentrated so a little bit goes a long way, and the results are long-lasting, which makes the Veterinary Formula Solutions Triple Strength Dirty Dog Concentrated Shampoo a budget-friendly option as well.
Great product with good results. For all stinky dogs looking for a professional groomers shampoo, this one's for you.
How to Choose a Dog Groomers Favorite Shampoo
The best dog shampoos used by groomers will vary. A good professional dog groomer is called upon to bathe and groom all breeds of dogs with various skin or coat issues. Therefore they must have some specialty formula shampoos on hand for customers that need help with matting/detangling, flea and tick problems, or skin allergies.
If your dog does not have the above issues, you can likely select an all-purpose type of shampoo/conditioner formulated for dogs. Most of these, such as those we listed above, will suit your need to bathe your dog at home and achieve professional-quality results.
Make sure that you do not use any of the professional strength or concentrated shampoos on puppies under 12 weeks. Check with your veterinarian to discuss when it is safe to bathe your puppy.
If you are unsure whether or not your dog has sensitive skin, first do a test patch application on an area of your dogs' skin, following the package directions for the shampoo. Wash and dry, then inspect for any irritation before you bathe your dog.
Professional Dog Bathing tips
Before you attempt to bathe your dog at home, take some tips from professional groomers.
Train your dog to stand for bathing and grooming. Your dog should be comfortable with being touched all over their body and having his feet and face handled. If you are going to blow dry his coat after the bath, they'll need to be desensitized to the feel and sound of the air blowing on them.
You should also teach them to be tied on a short lead, which leaves your hands free to bathe them. Be sure to choose a place to wash your dog that you don't mind water being sprayed or shaken onto. It's going to happen.
Use warm water. Cold is as shocking to the dog as it would be for a human. We can guarantee he will like his baths much more if the water is warm and soothing.
Dilute your shampoo. Most shampoos come in concentrated form, and unless your dog is a filthy monster, you most likely do not need to use it at full strength.
Make it fun. Lather them up and scrub with your hands using a massaging motion. Make the bath as pleasant as possible, and reward your dog with lots of praise and treats.
Thoroughly rinse out the shampoo product all the way to the skin. Avoid getting soap and water in your dogs eyes, ears and nose. Once your dog is rinsed, towel them off before you turn them loose, because they will shake the remaining water out of their coat which could make a mess in your bathroom. 
In conclusion, bathing your dog only needs to happen on a monthly basis under normal circumstances. If you give your dog a good brushing weekly, they should not need to be bathed more often.
Conclusion for What shampoo do dog groomers use?
Some dogs are happiest in mud and dirt, and they love to bring it back home to share with you. Those dogs will need more frequent bathing, obviously. The main concern is to avoid letting their coat become too dry, or using too much shampoo that will irritate the skin.
Using a 2-in-1 shampoo/conditioner is the best way to handle the messy puppies and keep their skin safe and healthy. We've reviewed some of the top shampoos that dog groomers use to help keep your dog clean and smelling fresh! Learn what works best for you and your dog, and make bath time a fun and positive experience for you both.
Other articles you would like:
Garrett loves animals and is a huge advocate for all Doodle dog breeds. He owns his own Goldendoodle named Kona. In addition, he volunteers at the Humane Society of Silicon Valley, where he fosters dogs and helps animals. Garrett enjoys writing about Doodles and believes that dogs can teach humans more about how to live than humans can teach a dog.
Why Trust We Love Doodles?
At We Love Doodles, we're a team of writers, veterinarians, and puppy trainers that love dogs. Our team of qualified experts researches and provides reliable information on a wide range of dog topics. Our reviews are based on customer feedback, hands-on testing, and in-depth analysis. We are fully transparent and honest to our community of dog owners and future owners.