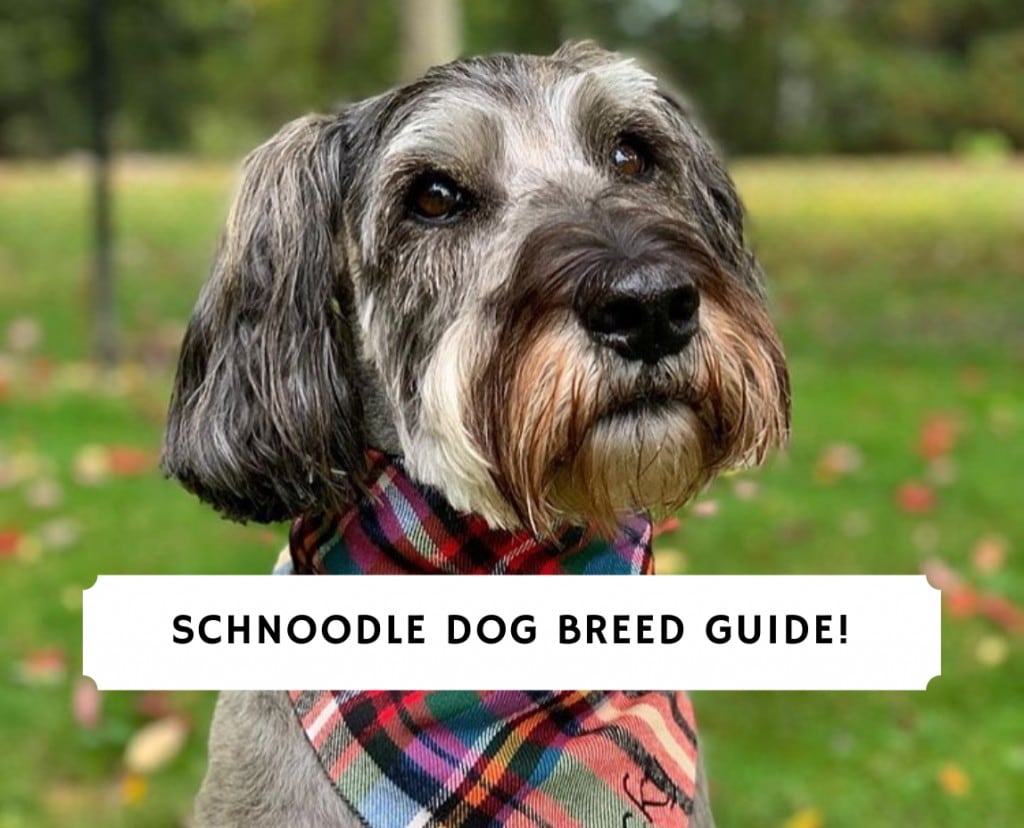 Schnoodles are a unique type of dog breed. They are a mix between the Schnauzer and a Poodle and are some of the most popular dog breeds available. These crossbred dogs were first introduced back in the 1980s and have grown in popularity like crazy!
In this article, we will introduce you to the Schnoodle dog breed. We will tell you all about the history, colors, sizes, temperament, and personality. This guide will help you decide whether or not you want a Schnoodle in your family!
Do you want to learn more information about the Schnoodle? We also created a video below:
Other articles you would like: Best Schnoodle Breeders in the United States and Schnoodle Rescues for Adoption.
More Information About the Schnauzer
Schnauzers originated in Germany back in the late 1800s and early 19th century. The average life expectancy for Schnauzers ranges anywhere between 12 to 15 years. The average weight of a Schnauzer is around 11 to 12 pounds. Their heights vary but on average they are about 13" – 14". The temperament of schnauzers is that they are fearless, alert, playful, friendly, and obedient. Schnauzer colors are usually one of these four-color combos: black, white, salt and pepper, or black and silver.
They are usually well-mannered dogs and are very loyal.  One great thing about Schnauzers is that they are extremely easy to train. Since schnauzers have high energy and are people pleasers it shouldn't be too hard to house train your pup. 
More Information About the Poodle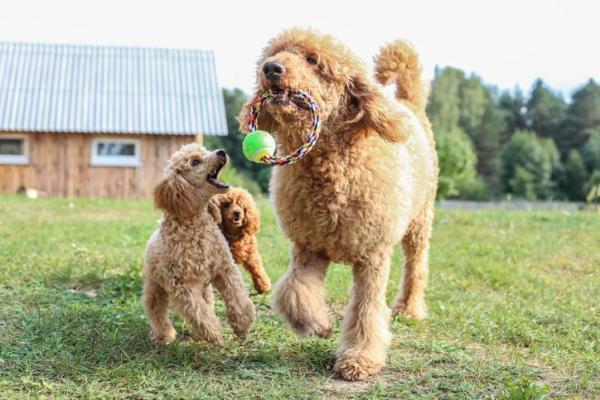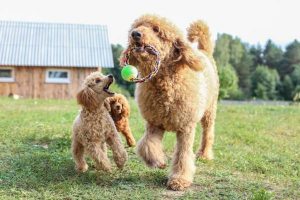 The Poodle side of your Schnoodle has some unique qualities of its own. Poodles come in three different sizes: standard, miniature, and toy. The origin of the Poodle is unknown, but most people believe that they come from Germany or France. They are an extremely popular dog breed, and according to the American Kennel Club (AKC), Poodles are the 7th most popular dog.
Poodles are one of the most intelligent dog breeds and they constantly win in different award shows for intellect and appearance. The average life expectancy of the poodle is 12 to 15 years and their height varies depending on their size. Poodles come in several colors brown, black, red, grey, apricot, silver, cream, and white.
A toy Poodle's height is about 9 to 11 inches, a miniature Poodle is about 11 to 14 inches, medium Poodles are usually around 14- 18 inches, and a Standard Poodle's height is 18 to 24 inches. The average weight of a poodle anywhere between 5 lbs. to 70 lbs. depending on which size Poodle. Poodles come in several colors brown, black, red, grey, apricot, silver, cream, and white.
More Information about the Schnoodle
Schnoodles are a combo of Schnauzer and the Poodle. Schnoodles are hypoallergenic and shed very little hair. Both Poodles and Schnauzers are hypoallergenic breeds so if you're allergic to pets, this is an ideal dog breed.  Since these breeds don't shed there is less pet dander released into the air and onto surfaces which limits the number of allergies someone has.
One downside of dogs that don't shed is that their fur tends to get tangled and matted. So be prepared for different grooming costs and brushing their fur every couple of days! Schnoodles are hybrid dogs so they are not recognized to be purebred. They also have a wide variety of health issues, so also be prepared for different types of veterinarian fees.
Hybrid dogs do tend to have fewer health issues than purebred dogs. Schnoodles are known to get heart disease, different skin allergies, progressive renal atrophy, epilepsy, and others. There are ways to keep your pet as healthy as you can! Schnoodles are indoor dogs, so it is important for your puppy to get as much playtime as they can.
Schnoodle Exercise Requirements
Schnoodles require regular exercise. Schnoodles can be very high energy dogs so it is important for them to get at least one hour of playtime a day. If your dog doesn't get enough playtime then they can get into things you won't want them to (i.e. destroying the couch or other items in the house!). The good news is that Schnoodles are very easy to train.
Schnoodle Personality & Temperament
Since both the parents are some of the most intelligent dog breeds out there the apple doesn't fall far from the tree. Schnoodles are also some of the most family-oriented dogs. They're an excellent choice for families with babies and even elderly people.
It is important that you properly introduce the Schnoodle to the family, even other pets! Schnoodles also do well with other pets and are very social but they need to be comfortable with the child/pet/person first! Schnoodles get very attached once they warm up to the family so try not to leave them alone for too long! Schnoodles are known to get separation anxiety.
One other aspect of the Schnoodle is that they do tend to bark. Schnoodles are moderate barkers, so be prepared if you live in an apartment or condo. You can train them, but they will still bark sometimes especially if someone comes knocking at your door.  The Schnauzer side of the dog makes it want to protect the household! They are extremely protective of their households, which can scare strangers or bad guys away!
Schnoodle Sizes
Schnoodles are some of the most beautiful dogs available. Schnoodles come in different sizes: Teacup, Toy, Mini, and Standard. A teacup Schnoodle is about 5-8 pounds, a toy Schnoodle is 9-11 pounds, a mini Schnoodle is 12-15 pounds, and a standard is the largest size that is about 16-20 pounds. The size of the dog greatly depends on the size of which parent is the Schnauzer and which parent is the Poodle.
Schnoodles are usually fully grown by 15 months old. By four months old they have grown about 60% of their total body weight. The size of the dog affects their temperament.
Schnoodle Colors
Schnoodles are a unique breed and have a very special look to them. Since Schnauzers only come in a handful of colors most of the coloring on the dog comes from the Poodle side.  
Most Schnoodles come in a mixed color or bi-color. Some Schnoodles come in chocolate, white, grey, silver, and black. Whenever you are adopting your dog, if there is information available about the parents this is the best way to judge what your Schnoodle will look like whenever it is fully grown. There are several things involved when trying to figure out what color your Schnoodle will be once grown.
Like we mentioned before, what color the parents were, and which parent was a female or male highly determines what color Schnoodle you will get. For example, a female Poodle and male Schnauzer or male Poodle and female Schnauzer makes a big difference. The reason this is important is that male Poodles are usually larger than females and this plays a role in genetics, the sex, color, and quality of the parents also play a role in the color of your pup.
Types of Schnoodle Coats
The Schnoodle coat can be a variety of things but usually, it is usually fluffy, wavy, and curly. In addition, they are usually softer than a Poodles coat. Schnoodles often have double coats, but this can depend on the dog you have!
The dog's coat will not be fully grown until they reach one year of age. After a year, you can get a better grasp on what they will look like for the future. First-generation Schnoodles have their own characteristics so whenever you are adopting one try to find out as much information as you can about the owner.
Rare Schnoodle Coat Colors
There are some uncommon colors of Schnoodles you might encounter, too! No two dogs are ever the same but the most uncommon colors of Schnoodles are red, brown and black, and parti colors.
Parti colored Schnoodles are the dogs that have white as a primary color and then patches of other solid colors. The patches of other colors usually are black, red, brown, cream, or apricot. Parti coat colors come from Poodle genetics.
Benefits of a Schnoodle
All of the different colors Schnoodles come in a different range of sizes, the fact that they are some of the most intelligent puppies out there. Here are the top reasons people like to own Schnoodles :
Schnoodles don't shed in comparison to most dogs (due to them being hypoallergenic)
They are extremely protective of the household and family members.
They learn quickly and are very trainable. Schnoodles also are very keen to be trained since they want to make their owners happy!
Schnoodles have a great temperament! They are some of the most confident dogs available on the market.
The perfect watchdog!
The color variations. If you must get your dog from a breeder you can pretty much select what you would like them to look like. Which is another good thing since there are several Schnoodle breeders across the United States! Be sure to pick which one is right for your needs.
Schnoodles love to swim! Actually, Schnoodles really just enjoy being outside but do NOT like to live outside!
Schnoodles have big personalities that will always keep you entertained and on your toes!
Schnoodles are very affectionate! This can be a huge pro if you love cuddling.
Schnoodles want friends. They are very social with other dogs and kids.
Schnoodles usually do not smell bad since dogs that shed are the ones with that distinct "dog smell".
Schnoodles are usually calm, so you do not have to worry about them running around acting crazy!
Conclusion for Schnoodle Dog Breed Guide
Whether you are a family, a young professional, an elderly couple, a single person, or you live in a house, condo, or townhome there is a Schnoodle size, color, variety, for you out there! Schnoodles are some of the more affordable hypo-allergenic dogs! Be sure to check online and do your research before adopting/purchasing a dog to make sure it is the right choice for you.
Other articles you will like:
Garrett loves animals and is a huge advocate for all Doodle dog breeds. He owns his own Goldendoodle named Kona. In addition, he volunteers at the Humane Society of Silicon Valley, where he fosters dogs and helps animals. Garrett enjoys writing about Doodles and believes that dogs can teach humans more about how to live than humans can teach a dog.
Why Trust We Love Doodles?
At We Love Doodles, we're a team of writers, veterinarians, and puppy trainers that love dogs. Our team of qualified experts researches and provides reliable information on a wide range of dog topics. Our reviews are based on customer feedback, hands-on testing, and in-depth analysis. We are fully transparent and honest to our community of dog owners and future owners.