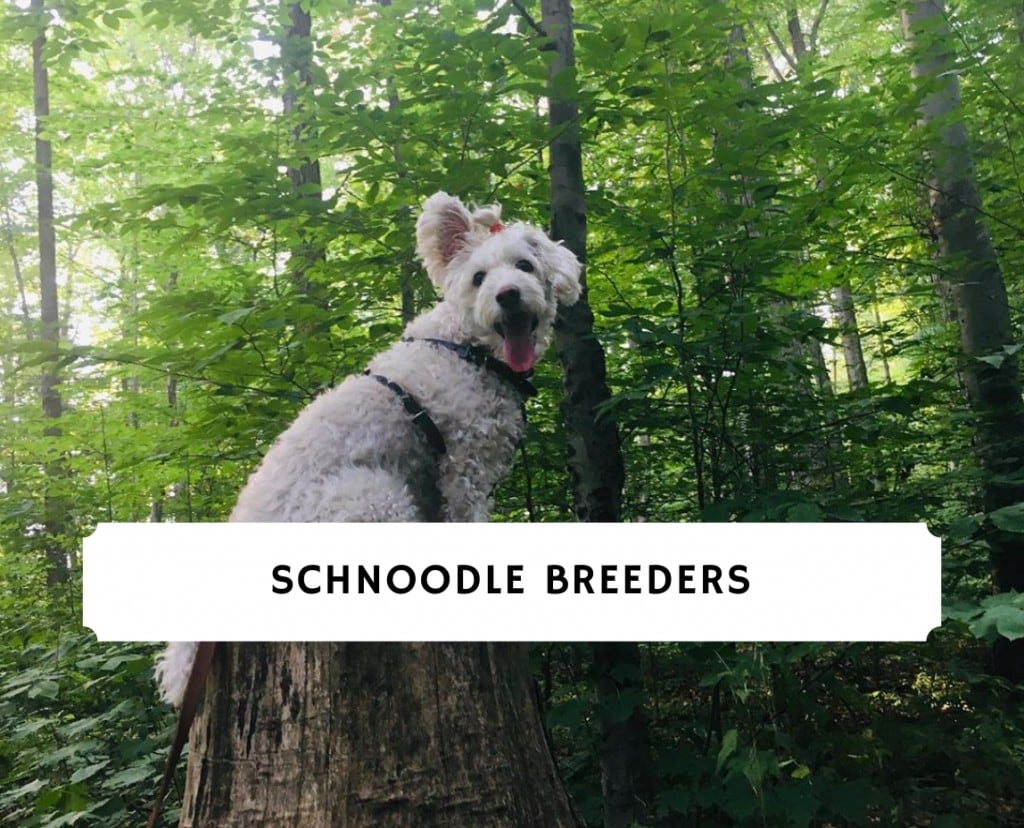 Among the designer dogs of the world, there is not another doodle with a name that is more fun to say than the Schnoodle. This dog is a mix between a Schnauzer and a Poodle. They come in different sizes and we dare say the Giant Schnoodle is the frontrunner for our favorite designer dog. They are commanding, gentle, and are great family pets. In addition, they inherit a hypoallergenic and nonshedding coat from the Poodle which makes them highly desirable for pet owners who hate dog hair. As you can imagine, Schnoodle puppies for sale are growing in popularity throughout the United States.
Knowing where to get a Schnoodle puppy is a different story. Making sure you get a puppy, no matter the breed, from a reputable breeder will make all of the difference. Schnoodle breeders that don't care about health or socialization will set their puppies and the future families up for failure. You will see several puppy mills and backyard breeders selling Schnoodles without genetic testing. After a few years, a Schnoodle puppy may end up getting a known genetic disease which will cost you a lot of money in medical expenses.
We have put together a shortlist of the best Schnoodle breeders from around the country. We even found one Schnoodle breeder from out of the country that we believe is reputable. Many breeders are also willing to ship their puppies or meet you at the airport so you can contact any of these breeders for more information.
However, you should always do your own research as breeding practices change often. In general, you should ask any potential breeder about health tests, genetic testing, puppy warranties, and see if you can visit their breeding facility. You want a Schnoodle breeder that you can trust will sell you a healthy puppy.
Articles you will like: How Much Does a Schnoodle Cost? and Schnoodle Rescues for Adoption.  
PuppySpot is our favorite place to get a Schnoodle because you won't have to wait over a year to get a puppy like at most individual breeders. Since PuppySpot is a large network of reputable breeders that are backed by the AKC and USDA, they can get you a Schnoodle puppy faster than an individual breeder. Additionally, you can select the color of your puppy, age, and gender. We got one of our Doodles from PuppySpot and had a really great experience.
We also liked that PuppySpot has one of the longest health warranties that a breeder will offer: 10 years! Prior to shipping a puppy, they do a head-to-nose health check to ensure the dog is healthy. They also own their own airline and have transported over 225,000 puppies safely across the United States. We highly suggest that you check out PuppySpot if you're looking for a new Schnoodle puppy.
Update: PuppySpot has given our blog readers $100 off a new puppy with coupon code "WLD100".
Schnoodle Puppy Information
Generation: All generations including F1, F1B, F2, F2B, etc.
Size: Mini, Medium, and standard Schnoodle puppies
Schnoodle Breeder Information
2. Pierce Schnoodles (North Carolina)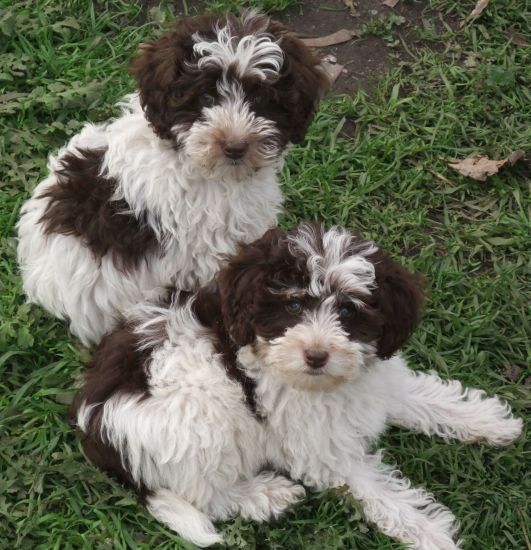 Pierce Schnoodles is owned and operated by a husband and wife team located in Pittsboro, North Carolina. The owners have been in the business of breeding Schnoodles for many years and wouldn't want to do anything else. In fact, the wife grew up helping her parents run their Schnauzer breeding operation so she's grown up with dogs. She even had a Schnoodle growing up before they were trendy and called a Schnoodle. That dog was such a great pet that it just made sense to continue breeding them when she became an adult.
Their Schnoodle puppies are born in the owner's home and stay there with the moms for a few weeks while they grow and build immunity. This also helps with their socialization as they interact with other puppies and humans. Once they are older they do move to a separate building on the property that they refer to as the nursery. There are multiple pictures and explanations on the website about the facility and how they use it.
They seem to be a reputable and ethical Schnoodle breeder in North Carolina that truly cares for the health and well-being of their dogs. One of the things they offer is boarding for past clients. If you have bought a mini or standard Schnoodle from this breeder and need to board the dog while you are on vacation then you can bring them to their first home. There is a cost, but it is comparable to what any other facility would charge.
If you want to buy a Pierce Schnoodle then you will need to decide on the size you want and fill out an application. Giants Schnoodle puppies for sale are $1600 with a $250 non-refundable deposit. Minis Schnoodle puppies for sale are $1000 to $1400 depending on color with a deposit of $100. 
Schnoodle Puppy Information
Generation: F1 Schnoodle puppies
Size: Mini, Standard Schnoodle puppies
Schnoodle Breeder Information
3. Domino Schnoodles (California)
Domino Schnoodles is a small family operation that is owned and managed by a mother-daughter team in Southern California. For both of them, this is not their only career or obligation. The daughter is currently enrolled in college after leaving a job as an aid to special needs adults and the mother is now retired but rides and shows horses during her free time.
Because of this, they do ask that all visitors make an appointment as well as the appropriate arrangements before attempting to come to see their breeding facilities. This does not mean they are a puppy mill. It means that they don't want visitors to bring puppy illnesses to their homes and to their dogs. It is very common for Schnoodle breeders to ask for appointments even when they are reputable and ethical breeders.
The Domino Schnoodles website is very informative but it is hard to navigate. Don't let that discourage you because they do offer beautiful and healthy Schnoodle puppies in California. There is information about the breed of dogs in general as well as the kind of lifestyles that would be suited to a Schnoodle. They are active dogs and love to be outside running around.
They do require deposits but they are different depending on the Schnoodle puppy. Each of their puppies is individually priced. The one that is available on the website right now is $2700. If you are interested in purchasing a Schnoodle puppy from this breeder then you will need to contact them about upcoming litters and reserving your puppy. Keep in mind that the deposit is not transferable. So once you put a deposit on the puppy or the litter then you are locked in.
Schnoodle Puppy Information
Generation: F1 Schnoodle puppies
Size: Mini, Standard Schnoodle puppies
Schnoodle Breeder Information
4. Valley View Schnoodle Breeders (Australia)
Valley View Schnoodle Breeders is actually not located in the United States but they ship all over the world. The reason we included them on this list is that the dogs that come from this country don't usually need to be quarantined as long as the health papers are in order. Valley View is located in Victoria, Australia.
Because of the health standards that they already have for the dogs and the paperwork that accompanies the dogs, you will likely be able to take your Schnoodle puppy right home from the airport.
Another reason is that the Schnoodle puppies are of high quality and the breeder seems to be ethical. They do breed several different types of dogs but they offer health guarantees and do extensive health and genetic testing. This helps to ensure that their offspring and a future puppy will not get sick from a known genetic disease.
Things are also done differently in Australia and they are more strict about breeding dogs than the United States. They have to be a licensed Schnoodle breeder to be able to sell dogs domestically and internationally. Valley View is not only licensed, but they are also veterinarian audited. This means that a veterinarian has gone to their facilities and determined that the site is healthy for the dogs. You won't see this type of stringent control from Schnoodle breeders in the United States.
Of course, having a dog shipped internationally is not cheap and that cost is going to play into the total price of the dog. If you are interested in prices or getting on the waiting list then you will need to call or email them. They do give international calling information on their website.
Schnoodle Puppy Information
Generation: F1 Schnoodle puppies
Size: Mini, Standard Schnoodle puppies
Schnoodle Breeder Information
5. Angela's Schnoodles (Indiana)
Angela's Schnoodles is a family breeder in Bluffton, Indiana. They are a large family and everyone is involved in the business in some way. All of the adult dogs are pets in someone's home. Many of them live with the breeder as pets while some are in foster homes or guardian homes. All of the Schnoodle breeding adults are owned by the breeder but none of them are related in any way. This helps to ensure that their bloodlines are different and won't pass on hereditary diseases.
On the website, the owner says that all of the Schnoodle puppies are raised on-site in their home. In fact, all of the puppies are born in their kitchen. Because of where the puppies are born and the individual attention that they want to give them, they only have one litter whelped and nursing at a time.
They do have a pretty long waiting list for their Schnoodle puppies in Indiana but the wait seems to be worth it. All of the parents are AKC registered and have been tested for genetics issues as well as health conditions. The website has great questions and answers sections. They answer almost every possible question.
The owner has been breeding dogs for 25 years but has only been breeding Schnoodles for that last 10 years. Eight years before that she was working solely with Standard Poodles. Regardless, she has tons of experience breeding dogs and knows the ins and outs.
If you want to add Angela's Schnoodle puppy you will need to put down a $300 deposit. While it is non-refundable, you can transfer it to another litter if the color, size, or gender you were hoping for isn't in the current litter.
Schnoodle puppy prices range from $1500 to $3500 depending on the coloring of the puppy. Merle's are the most expensive choice because this is a more rare coat color.
Schnoodle Puppy Information
Generation: F1, F1B Schnoodle puppies
Size: Mini, Standard Schnoodle puppies
Schnoodle Breeder Information
How to Choose a Schnoodle Breeder?
There are several Schnoodle puppies for sale popping up throughout the United States because it's a trending dog breed. If you didn't find any breeder on our list that will suit your needs, you can always do your own research to find a reputable breeder. Here are the main tips that we can give you to find a Schnoodle Breeder.
Ask for Health and Genetic Tests. Health and genetic testing is very important for any Schnoodle puppy because you don't want your puppy to inherit a disease that could shorten their lifespan. In general, Schnoodles live 12+ years and you want all those years to be happy years for your dog. 
Ask for Pictures. You want to see pictures of the parent dogs because this will help you determine your future Schnoodle puppy's size and coat color. In addition, any breeder who won't provide pictures of each individual puppy and parents is likely a scam.
Develop a Relationship with the Breeder. The most important factor before you put a deposit down for a Schnoodle puppy is going to be trust. At the end of the day, you want to know that your Schnoodle will be healthy and well socialized. 
Request to View the Facilities. Most reputable breeders will let you view their breeding facilities. This gives you an idea of how the dogs are treated and live their daily life. Make sure that the breeder doesn't kennel their dogs all day and they get plenty of socialization. A well-socialized Schnoodle puppy will be less anxious and stressed when they transition to your home.
Conclusion for Schnoodle Breeders in the United States
There are many Schnoodle breeders throughout the United States, but that doesn't mean they are all reputable. One of the hardest tasks you will have to do before you purchase a Schnoodle is to find a trustworthy breeder to sell you a healthy puppy. Schnoodles are a 12+ year investment so it's important that you do your research to find the best available breeders. Please don't purchase from a puppy mill or backyard breeder because these dogs may have medical issues that will cost you more money in the long run.
Other articles you will like:
Garrett loves animals and is a huge advocate for all Doodle dog breeds. He owns his own Goldendoodle named Kona. In addition, he volunteers at the Humane Society of Silicon Valley, where he fosters dogs and helps animals. Garrett enjoys writing about Doodles and believes that dogs can teach humans more about how to live than humans can teach a dog.
Why Trust We Love Doodles?
At We Love Doodles, we're a team of writers, veterinarians, and puppy trainers that love dogs. Our team of qualified experts researches and provides reliable information on a wide range of dog topics. Our reviews are based on customer feedback, hands-on testing, and in-depth analysis. We are fully transparent and honest to our community of dog owners and future owners.