Finding the right Schnoodle puppy is hard work especially in such a large state like California. You need to find the right breeder, select the right Schnoodle litter, figure out the costs of raising a Schnoodle and the list goes on. Whether you're a new potential Schnoodle owner or an experienced dog owner, a helping hand always makes it easier.
We have compiled a list of the best Schnoodle breeders in California to help you select the best breeder and bring home your perfect Schnoodle puppy. All the breeders on the list take great measures to ensure that every Schnoodle you purchase from their business will be a joy for you and your loved ones.
It's worthwhile to note that since Schnoodle puppies for sale in California has been trending, there are several puppy mills and backyard breeders. These breeders won't provide any genetic or health testing and will sell their dogs at cheaper prices. While the upfront cost may be a little bit cheaper, you may end up paying a lot more money in medical bills as your Schnoodle grows older.
1. California Schnoodles
California Schnoodles is home to the Sheepadoodle and the Giant Schnoodle. Their Schnoodle puppies are gorgeous with a soft and wavy coat. Their dams and sires are AKC registered and non-shedding breeds that have undergone various health tests to verify they are the breeding healthy litters Schnoodle puppies.
Aside from health tests, the parents are also checked for their temperament and personalities. Their dams and sires have sweet, alert, and intelligent personalities that would bond with any type of family. In general, Schnoodle puppies will have friendly and non-aggressive temperaments. They will get along great with children and strangers when they are properly socialized.
California Schnoodles is just 30 miles outside of Sacramento, California with plenty of acreage for the parent dogs and puppies to play, interact and exercise.
Each Schnoodle puppy for sale costs $3000. To hold a puppy from a litter, you will need to put down $500 as a non-refundable deposit. The rest of the balance is due at 6 weeks of age. In addition, this Schnoodle breeder in California has several delivery options available. For far-off states, commercial flights are considered the best option and cost $300 inclusive of travel crate and health certificate. For families or individuals on the west coast, the fee ranges between $100 to $150 for personal delivery.
Schnoodle Puppy Information:
Generation: F1 Schnoodle puppies
Size: Giant Schnoodle puppies
Schnoodle Breeder Information:
2. Domino Schnoodles California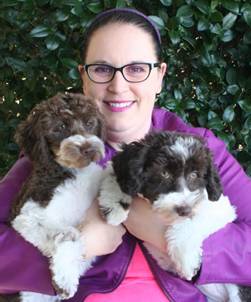 Domino Schnoodles California has been in the breeding business for over 40 years and breeding Schnoodles for 18 of those years. They have developed a unique breeding philosophy centered on respect, confidence, and stress. Their aim is to hand off a confident and healthy Schnoodle to a confident buyer. For what it's worth, they were one of the oldest Schnoodle breeders in California that we could find.
All their Schnoodle mamas and papas are traced 6 generations back and checked for any genetic or breed-specific illnesses. They only breed their AKC Schnauzers and Poodles when they are certified to make sure they have healthy and happy puppies.
Socialization, for the Schnoodle puppies, is done within the litter and not by being handled daily with humans. The breeder believes that daily handling produces a Schnoodle that is needy and only secure when you are nearby or holding it. If Schnoodles interact with humans 24/7 then they will develop separation anxiety later down the line. This tendency grows even deeper when you have to leave for school, work, or other activities. This leaves the Schnoodle puppy alone, confused, and stressed about why the handling all the sudden stopped.
This Schnoodle breeder in California doesn't have any waiting lists but instead gives planned birth dates. Shipping options are available and upon discussion with the breeder. Each pup comes with a health guarantee and lifetime support.
Schnoodle Puppy Information:
Generation: F1 Schnoodle puppies
Size: Medium Schnoodle puppies
Schnoodle Breeder Information:
3. Puppy Love 4 U
Puppy Love 4 U has been breeding puppies since 1991. They are just outside of Sacramento, California, and specialize in breeding Lhasa Apsos, Schnoodles, and Lhasapoos. Their adult dogs are AKC registered and cleared for any breed-specific and genetic conditions.
Their Schnoodle puppies are bred and loved in their own home. They are socialized and receive all current vaccinations, deworming schedule, and veterinarian checked. This breeder's aim is to produce a Schnoodle puppy that is healthy, has a good temperament, and will bring you more joy in your home.
To start off the process, you need to contact the Schnoodle breeder in California to get an application. You can view their available list of Schnoodle puppies or upcoming litters on their Facebook page.
They haven't listed the puppy prices on their website but you can get this information through contacting them on their social media pages or phone number. In general, a Schnoodle will cost you around $2000 depending on the size and coat color. The Schnoodle breeder is open to any questions and will happily guide you in your journey of selecting the right Schnoodle.
Schnoodle Puppy Information:
Generation: F1 Schnoodle puppies
Size: Medium Schnoodle puppies
Schnoodle Breeder Information:
Location: 1094 Summerview Drive, San Jose, CA 95132. Located in northern California.
Website: Puppy Love 4 U
Telephone: 916-747-5242
Facebook Page: Puppy Love 4 U
Where do you find a Schnoodle breeder in California?
Even though the Schnoodle is gaining popularity in California, few reputable breeders guarantee you a healthy puppy that is bred ethically. The breeders we've looked at in this article are the best Schnoodle breeders in California that we could find. They know their stuff, have been breeding dogs for a long time, and their previous customers are all satisfied.
If you're looking to add a Schnoodle puppy to your family, we highly suggest you pick one of the Schnoodle puppies listed above.
5 Things to Know About Schnoodles
1. Exercise Requirements
Your new Schnoodle puppy will need regular exercise. The type of exercise, however, varies as they grow older. Your Schnoodle will enjoy activities such as jumping around, running in the yard, flyball, and fetch. The level of exercise will highly depend on your Schnoodle's size. The bigger your Schnoodle, the more exercise they will need.
2. Dog Training
We advise you to start training your Schnoodle when they're still a puppy. With discipline and the right training, your Schnoodle will pick up basic obedience training quickly and be ready to advance in agility and obedience training. 
When training a Schnoodle, choose to use positive reinforcement training such as giving them dog treats and praise. This will guarantee eagerness and success. Yelling, punishment, and other negative reinforcements don't help the puppy learn and they will develop fear and anxiety. You don't want to damage the bond between you and your Schnoodle with negative reinforcement.
3. Grooming Maintenance
Schnoodles, in comparison with other doodles, are high-maintenance dogs. Your Schnoodle will need a good brush every couple of days and a weekly bath. In addition, you have to use dog clippers to cut your Schnoodles hair every 6 to 12 weeks.
For your Schnoodle's diet, your chosen breeder will usually give you a recommended dog food, how to feed your dog, and when to feed your new Schnoodle. Many Schnoodle breeders in California typically recommend high-quality dog food and kibble appropriate for your Schnoodle as they grow into an adult.
The dog food serving size will depend on the size and weight of your Snoodle. If you're not sure about this, we recommend you speak to your veterinarian and use the recommended serving sizes on each dog food bag.
We recommend you avoid free feeding and break your Schnoodle's mealtimes into 2 separate feedings to check on their eating habits. This will prevent issues like bloat and minimize the chances of your Schnoodle becoming obese.
4. Behavior
Your Schnoodle will take after his and her parents. Typically, Schnoodles are intelligent, happy, and cheerful went they are properly socialized. They are usually comfortable hanging out with you, no matter what you're up to. They are also protective and affectionate which makes them one of the best family doodles in the market.
5. Common Health Problems
Schnoodles are prone to health issues, common to its parent breeds, such as Progressive Retinal Atrophy, Epilepsy, Patellar Luxation, Diabetes Mellitus, Bloat, Addison's Disease, Legg-calve-Perthes disease, ear infections, and cataracts.
Most of these issues pop up later on in a Schnoodle's life. This is why it is crucial to ensure you are buying your new Schnoodle puppy in California from certified and reputable breeds like the ones on this list.
In addition, it's important that you maintain regular checkups with your veterinarian especially as your Schnoodle grows older to ensure you can tackle any potential issues as early as possible.
Conclusion for Schnoodle Breeders in California
This designer teddy-bear looking dog is perfect for anyone looking for a new doodle. Schnoodles are energetic, loyal, intelligent, and will fill your home with tons of joy. Getting your Schnoodle from a reputable breeder in California, will make the process easier and better for you and your future Schnoodle puppy.
If you're not sure a Schnoodle will make the best fit for your family, you can check out these other amazing doodles that would make an excellent addition to your life: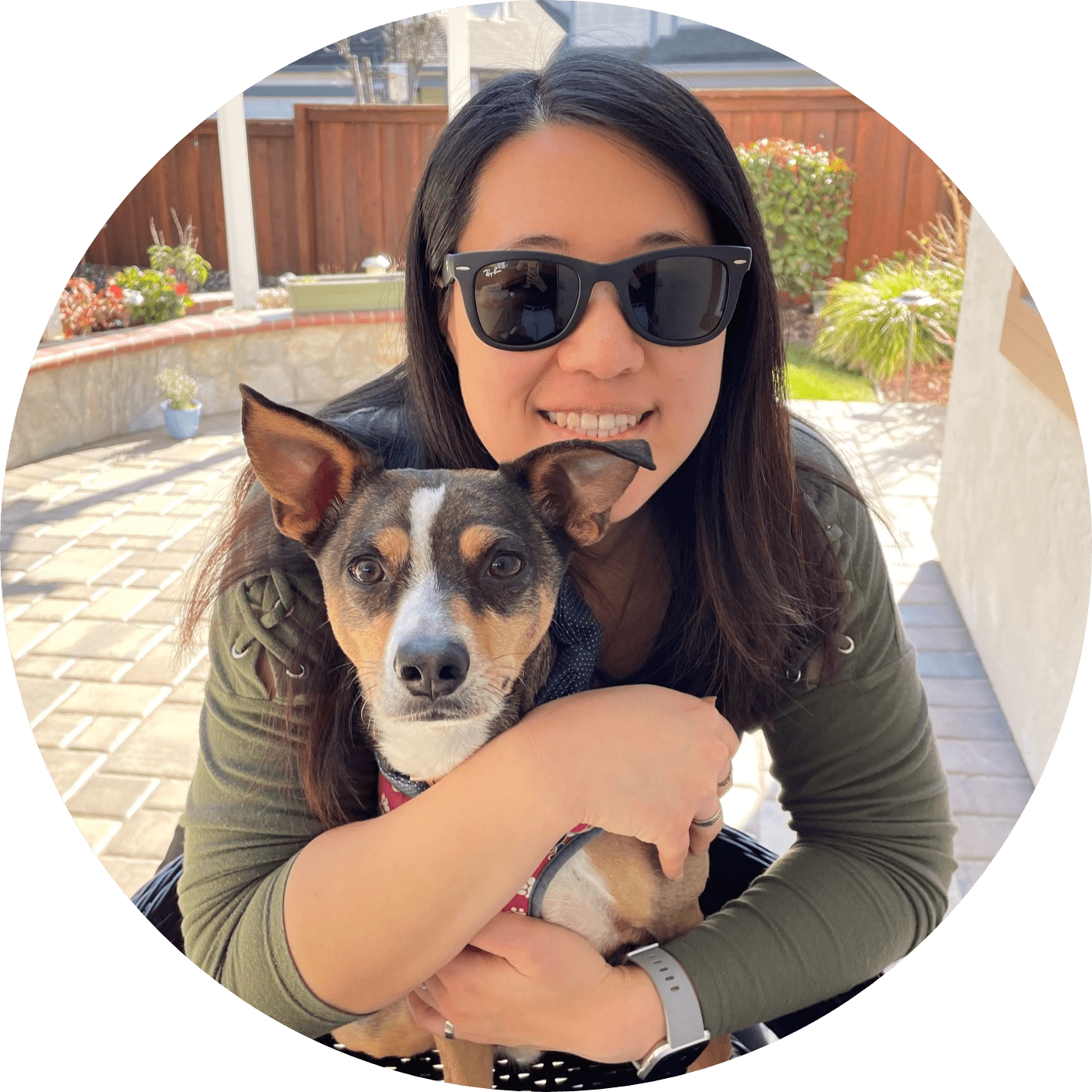 Dr. Sabrina Kong graduated from the Royal Veterinary College in England in 2016 and has been working at a small animal clinic in Northern California since then. She grew up in the Bay Area and got her bachelor's degree from Cal Poly San Luis Obispo. She also became a Certified Canine Rehabilitation Practitioner through a program at the University of Tennessee.
When she isn't in the clinic taking care of her four-legged patients, she enjoys traveling and trying new foods with her friends and her three-legged dog, Apollo. She adopted Apollo from her clinic when he was a puppy with numerous health issues. Dr. Kong truly cares about taking care of animals.