If your dog is pregnant, we're sure you're very excited about the puppies that will soon be here! You're watching your pup, looking for signs that the time has come for those little fur balls to make their entrance. In watching your dog, you may observe a bit of "leaking" from her genital area. In that case, you're probably asking yourself, "Did my pregnant dog pee, or did her water break?!"
Well, we've got the answers! In this guide, we're going to talk about what to expect when your dog is ready to give birth, and what to do when she's ready to whelp her puppies.
Before reading this guide, "Did My Pregnant Dog Pee or Did Her Water Break," check out: Can a Pregnant Dog Carry Puppies in Their Rib Cage? (2023) and 1 Month Pregnant Dog Guide: What You Need To Know! (2023).
What Happens to My Dog During Labor?
To understand whether your dog's water broke, it's important to figure out what actually happens when your dog whelps puppies. There are three stages to a dog's labor process, so we'll take a look at those first.
First Stage of Labor
In the first stage of labor, your dog's cervix will begin to open. This allows puppies to "fit" through the birth canal with as minimal pain to Mom as possible.
During this time, your dog will likely begin to pant, pace, or whine, and there's a solid chance she will refuse food. Keep fresh water nearby for her to drink as she pleases. Keeping food close to her is helpful, too, but it's normal for her not to want to eat.
It's unlikely that anything will go wrong during the first stage of labor, but keep an eye on your dog's temperature. It's expected that her temperature will drop to about 98.5 degrees, but if this happens and she doesn't go into labor within 24 hours, there could be a problem.
Second Stage of Labor
In the second stage of labor, your dog will begin to experience contractions. Soon enough, you'll notice that she's pushing! Your first puppy should be born within the hour, with subsequent puppies born within a half hour following each other.
During this stage, you'll want to give your dog plenty of privacy, but monitor her if she'll let you. Several things can go wrong, so record the length of time between births.
If your dog goes more than 30 minutes actively pushing with no signs of the next puppy, or if she rests for over two hours between puppies, please call a vet.
Third Stage of Labor
After each puppy is born, you're ready to enjoy the result of all that hard work! Your dog isn't done yet, though, as during the third stage of labor includes the passage of the placenta.
Now, keep in mind that it's normal for your dog to pass a puppy, then a placenta, then a puppy, and so on. However, it's also normal for more than one puppy to be born preceding their placentas. Each birth is different!
There typically isn't much that can go awry during the third stage of labor. However, you'll want to count each placenta and measure that number against the number of puppies that were born. You'll also want to take note of any foul-smelling discharge after the dogs are born.
If the puppies-to-placenta ratio doesn't match, or if your dog's placenta or discharge smells bad, please call your veterinarian.
Did My Pregnant Dog Pee or Did Her Water Break?
Now that you know the signs of labor and the stages of whelping, let's talk about the question you came here to answer: "Did my pregnant dog pee or did her water break?"
If you see a pregnant dog leaking fluid, it can be alarming! This is especially true if it occurs before it's time for your dog to give birth.
You can relax, though. As early as four weeks into her pregnancy, your dog may experience some "leaking" of discharge. It's a clear, barely-scented liquid with a thicker-than-water viscosity. So long as you're not noticing blood, pus, or odor, your dog is likely just fine.
As for her water breaking, we touched on the timing earlier. It's extremely rare for your dog's water to break prior to labor. In most cases, this won't occur until the second stage of labor when your dog is actively pushing.
When your dog's "water" breaks, amniotic fluid is released. Ordinarily, this is a clear fluid. This may vary, though, so let's look at what vaginal discharge should look like — and shouldn't look like — during whelping.
Vaginal Discharge After Dogs Give Birth
Regardless of the species giving birth, labor and delivery results in a wide array of "fluids" that you may not have previously been exposed to! Some may look worrisome to you, and some should be! Let's look at what you may notice as your dog goes through pregnancy and labor.
Reddish-Brown Discharge
You may spot a reddish-brown discharge following the delivery of your new puppies. This is normal and healthy, but should only last a few weeks at most after whelping.
Creamy Yellow Discharge
If you notice a creamy yellow discharge coming from your dog, please seek medical attention as this can be a sign of infection.
Greenish Black Discharge
This can be normal, and will typically occur in the hours following the last puppy's birth. If the discharge persists, see a vet.
Red Discharge
This can be an indication of the presence of blood. It's normal to spot red discharge during and immediately following the birth of your puppies. However, persistence can mean that something is awry, and you should contact your dog's veterinarian.
Clear Discharge
Clear discharge is normal. You may notice this throughout your dog's pregnancy and even for up to a week or so following the birth of her puppies.
Helping Your Dog Through a Healthy Pregnancy
Most dog owners are simultaneously nervous and excited to discover their dog is pregnant. What comes next? How do you care for your dog? Put simply, you've got more to worry about than just whether your dog is peeing or if her water has broken!
Once you determine that your dog is pregnant, talk to your vet! Together you can decide how to change her food and diet, and how to accommodate her exercise needs during her pregnancy.
Similarly, you'll want to prepare for the weeks following whelping, and the birth process itself. Read, read, read! With knowledge comes the ability to help your dog through her pregnancy.
Of course, you'll also want to continue chats with your vet so that if your dog's condition changes or if concerns arise, you can act accordingly.
Don't forget about the weeks that your dog is nursing her pups, too. Her dietary needs will change in an effort to support feeding those puppies, and her activity level will likely drop. Keep food and water by your dog's side as she won't want to leave her puppies while they're still nursing.
Take your dog's lead. If she's comfortable with attention from her humans, by all means, show her some love and affection. Remember, though, that some dogs will become territorial during this time. Don't be surprised if your dog expresses unusual aggression or a desire to simply be left alone.
Your vet is going to be your first line of communication throughout the pregnancy and the first person you should call if something doesn't look quite right. Have a backup, emergency vet's number handy as well. Those four-in-the-morning emergencies aren't unheard of!
Frequently Asked Questions
Now that you are better prepared to determine whether your pregnant dog is peeing or whether her water has broken, it's time to look at a few answers to some more frequently asked questions by We Love Doodles readers.
How do I know if something is wrong when my dog is whelping puppies?
For all the domestication they've been granted, dogs are still extremely self-sufficient when it comes to pregnancy, labor, and delivery. Chances are, your dog will experience no trouble at all. Heck, your dog may even give birth overnight, away from you, leaving you to wake up to find puppies!

Keep an eye on your dog as best you can, with the understanding that she may feel a bit territorial. Usually, your dog will give birth on her own with no issue, and will even chew the umbilical cords of her puppies to cut them!

However, if you notice any strange fluids, smells, or behavior from your dog, call the vet. Even if everything is a-ok, it's best to have that assurance that there are no complications.
When will my dog's water break during pregnancy?
You've probably seen the television versions of labor, where a woman's water breaks in a dramatic and theatrical way while she's at work or on the subway. The reality of the situation is that that rarely happens. Usually, a human's amniotic sac isn't affected until she's in active labor, close to the time when she's ready to push the baby through the birth canal.

Dogs operate in a similar way. While it's true that you may observe your dog's water breaking, it's more likely that the event will occur right before she delivers her puppies. If you can, pay attention to the color and smell of the discharge your dog releases. Clear is perfect. Some color is usually okay. But a lot of green, red, or yellow in the discharge can be a sign of trouble.
What is the "water" made of when a dog's water breaks?
When your dog's water breaks it's because the amniotic sac, which is filled with amniotic fluid, has ruptured. This is not an emergency and is a normal part of the birth process.

In fact, all vertebrae that are members of the clade Amniota have an amniotic sac. That includes reptiles, birds, and mammals alike!
Conclusion for "Did My Pregnant Dog Pee or Did Her Water Break"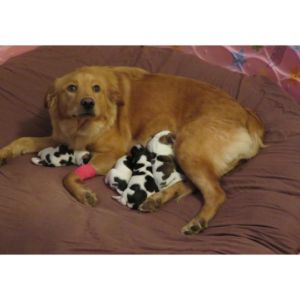 When you discover that your dog is pregnant with puppies, it can be a very exciting time! However, it can be confusing and nerve-wracking, too, so you likely have questions.
One of those questions — and a good one — is whether your pregnant dog is peeing or whether her water has broken. Thankfully, most dogs' water breaks as a normal part of the three stages of labor, and you may not notice that it's happened at all.
As best as you can, monitor your dog for signs of distress during the labor process. Happily, most dogs are quite self-sufficient throughout the process, but if something does arise you'll want to have the vet on standby.
If you find this guide, "Did My Pregnant Dog Pee or Did Her Water Break," helpful, check out:
Learn more by watching "How to Know if Your Dog's Water Brooke? Boxer Dog PREGNANCY🦮Week 8 🐕‍🦺Day 56" down below:
Garrett loves animals and is a huge advocate for all Doodle dog breeds. He owns his own Goldendoodle named Kona. In addition, he volunteers at the Humane Society of Silicon Valley, where he fosters dogs and helps animals. Garrett enjoys writing about Doodles and believes that dogs can teach humans more about how to live than humans can teach a dog.
Why Trust We Love Doodles?
At We Love Doodles, we're a team of writers, veterinarians, and puppy trainers that love dogs. Our team of qualified experts researches and provides reliable information on a wide range of dog topics. Our reviews are based on customer feedback, hands-on testing, and in-depth analysis. We are fully transparent and honest to our community of dog owners and future owners.