In this guide, we'll cover everything you need to know about a Long-Haired Deer Head Chihuahua. The Chihuahua (pronounced 'chuh-vaa-vaa') is the smallest dog breed in the world.
They make for cute, fun pets for people who prefer tiny companions. Chihuahuas are also perfect for people who live in apartments or travel frequently and need to take their pets with them.
Did you know that the AKC accepts only the apple head Chihuahua as the official standard? But, interestingly enough, the UK Kennel Club recognizes two kinds of Chihuahuas based on coat type, long-haired and smooth-coated.
Before scrolling down this Long-Haired Deer Head Chihuahua article, check out these related Chihuahua mix guides: Rat Terrier Chihuahua Mix and Chihuahua Poodle Mix.
How Many Types of Chihuahuas Are There?
Apple Head Chihuahua
Deer Head Chihuahua
Fawn Chihuahua
Long-Haired Chihuahua
Smooth-Coated Chihuahua
Teacup Chihuahua
Yes, there are several variations of Chihuahua. In this article, we'll be talking about the long-haired deer head Chihuahua.
Origin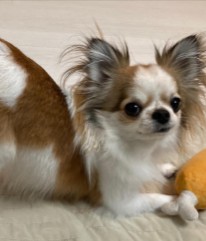 The Chihuahua is said to have originated in Mexico. No one is quite sure 'when,' though. While there is no official proof yet, studies have indicated that the Chihuahua is descendants of a now extinct dog breed, the Techichi.
Some say the deer head Chihuahua mix was a favorite among the Aztecs since the 1500s. We know that the AKC officially recognized the breed sometime in the 1900s.
They were brought into the United States by travelers who were amazed by how tiny these dogs were. Yes, they are so small and lightweight that you can carry them around for hours, even fit them in your purse or handbag.
Once Chihuahuas were cast in ads and films, they became a favorite celebrity pet. Today, they are commonly bred as companions or toy dogs. The world has grown so infatuated with the idea of toy dogs that a new size is being intentionally bred—teacup dogs.
Appearance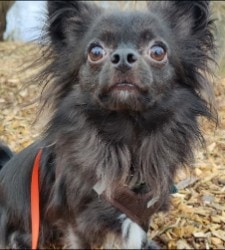 When you look at this breed, you may think you're looking at a baby deer, not a dog. Their elongated face gives them an elegant look, unlike Chihuahua's apple head with its tiny face and extra bulbous eyes.
Most dog owners prefer the deer head Chihuahua because they do not appear deformed. In addition, certain body parts, like the nose, muzzle, neck, legs, and body, are relatively longer than the apple head of Chihuahua. They also have flatter heads with a 45-degree slope.
Their eyes are situated higher on the head and have a more balanced distance than other Chihuahuas. The Long-Haired Deer Head Chihuahua is also bigger—they can weigh from 3 to 6 pounds and grow between 8 to 12 inches long.
Temperament
Chihuahuas are energetic, confident, and feisty. Their strong personality and attitude mean these dogs don't do well with other dogs. Most Chihuahua owners share that their tiny pets frequently fight with other pets.
Their loyalty and affectionate temperament will often have them follow a family member around and get attached to them. While they are a fun dog breed to have around, they demand plenty of attention.
They are suspicious of strangers and want to protect their owners at all costs, an attribute that makes them excellent watchdogs. Lastly, the Chihuahua, the smallest breed of dog globally, will suffer from Small Dog Syndrome. This causes the dog to become highly stubborn, aggressive, or snappy towards bigger dog breeds.
Although it may look like your Chihuahua is trying to attack the bigger dog, in reality, this aggression is a defensive behavior—your little Chihuahua is scared or nervous. With proper training and socialization at a young age, Chihuahuas unlearn this behavior.
Related: Is My Chihuahua Too Skinny?
Grooming
A Chihuahua needs a lot of love and care. Its delicate body doesn't handle rough treatment or environment. So grooming is essential for any long-haired breed, even a Chihuahua.
Fortunately, once a month is sufficient to keep your long-haired Chihuahua's coat shiny and clean. At home, you can ensure that their coat remains clean and knot-free by brushing it twice a week and bathing them once every four weeks.
Chihuahuas are prone to ear infections, particularly the long-haired breed. So pet parents should clean Chihuahua ears with baby wipes gently. And since they are predisposed to dental problems, pet owners need to brush their Chihuahua baby's teeth once a week.
Related: How to Groom with a Slicker Brush and How Long Does Dog Grooming Take?
Coat
These dogs will have a long silky, and flowy coat. Their coats can be red, sable, tan, fawn, liver, chocolate, silver, gray, white, or black. Other coat variations of long-haired deer head Chihuahua mix include spotted, piebald, merle splashed, or marked with patterns.
Chihuahuas are not heavy shedders, meaning you can go ahead and buy or adopt a long-haired Chihuahua without worrying about dog hair all over your house or apartment. This does not mean that a long-haired Chihuahua is hypoallergenic.
If you or anyone you know has allergies, please be careful. The Long-Haired Deer Head Chihuahua mix does have one advantage over a short-coat Chihuahua—they are better insulated against cold. However, both the short and long-haired Chihuahua still feel cold and shiver even at the slightest drop in temperature.
Exercise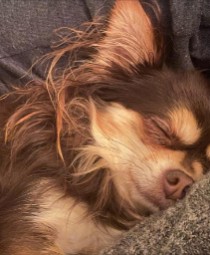 Since Chihuahuas are tiny dogs, their exercise requirement is minimal. They are a bundle of energy, though. 30 minutes of daily exercise is sufficient to keep your Chihuahua baby happy and in good shape.
You can try an evening or morning walk around the block every day or a short run in the park. Also, make sure you keep toys at home and in your bag as they are happy to entertain themselves when you need a break from them to do some work.
Long-Haired Deer Head Chihuahua: Training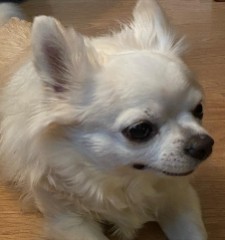 These dogs have big attitudes, but they are also very disciplined, making training a breeze. However, first-time dog owners shouldn't opt for a Chihuahua as they need a firm trainer to match their activity and personality.
Some things to look out for:
They also tend to bark at everything: You'll need to train them to avoid annoying your neighbors.
They don't like being picked up: People see small dogs and presume it's safe to grab them, pick them up, and cuddle them. Chihuahuas are wary of strangers and often get aggressive when touched by a non-family member. Your Chihuahua baby will need to be trained not to snap or snarl if you have a family of pet huggers.
They don't like bigger dogs: Yes, we've mentioned this before. Chihuahuas see bigger dogs as threats and react by picking fights with them. Train your Chihuahua while it's still a puppy to teach them to socialize better with other dogs.
Training it when to pee: Small Body = Small Bladder = More Bathroom Breaks.
Ensure you train your puppy from the beginning so it knows where to relieve itself when it needs to. This is very important if you intend to travel frequently with your Chihuahua baby.
Dog Exercise Product Recommendations: Best Dog Playpen For Hardwood Floors and Best Weighted Vest For Dogs.
Compatibility
Strong personalities and fragile bodies are a Chihuahua's identifying features. If you live in a big family with plenty of children and pets around, then perhaps a Chihuahua is not for you.
Chihuahuas are known to snap at or bite children. Chihuahuas are not tolerant of rowdy behavior. Tail pulling, ear pulling, general manhandling will bring out the worst in your Chihuahua. They aren't cuddlers either, especially with strangers.
Because of their tiny size, Chihuahuas are more prone to being stepped on, sat on, or tripped over because of their tiny size. Chihuahuas also like to burrow under blankets, so be careful when you find a pile of blankets or clothes around the house. Be mindful around your Chihuahua, please. Their tiny bodies cannot handle day-to-day accidents like large dog breeds.
Chihuahuas are best suited for owners who like peace with just the right amount of play. Since they are small dogs, they do fit nicely in an apartment.
Do be advised, though. Don't leave a Chihuahua alone at home for extended periods—they can't deal with being by themselves and may show destructive or aggressive behavior.
Related: Ways to Make Your Chihuahua Happy and Are Chihuahuas Actually Dogs?
Diet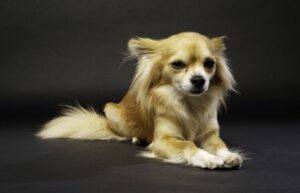 Small portions are best for this tiny dog. They tend to put on weight if their diet and exercise are not adequately balanced. Obesity isn't healthy for little dogs as their bodies can't handle it.
The ideal weight for a long-haired deer head Chihuahua is between 8 and 15 pounds. A half-cup of food split into two meals is roughly what most experts suggest. Speak with a vet about what kind of food to feed your Chihuahua baby.
They have a small mouth and need food they can chew without discomfort. Smaller dogs are also prone to hypoglycemia, making it necessary for the owner to follow a strict and regular feeding schedule.
If your dog stops eating or becomes picky about food, visit a vet as soon as possible. These dogs have a soft bone structure, which means a jaw problem could quickly develop or worsen if not diagnosed on time.
Related: How to Care For a Chihuahua Puppy.
Health Issues
The deer head Chihuahua has fewer genetic issues than other Chihuahua breeds. But that doesn't mean they are entirely health issue-free. Below is a list of illnesses or disorders the dog is prone to:
Molera/soft spot
Ventriculomegaly
Iris decay
Patellar Luxation
Mandibular degeneration
Osteoarthritis/Rheumatoid arthritis
Tooth loss
Their cardiovascular system, airways, teeth, and hypoglycemia are also common. So if you notice your Chihuahua baby getting irritable, sluggish, losing appetite, or showing disinterest, then you should schedule a checkup with the vet at the earliest.
Another issue is cold or rainy weather. The dog loves the sun and will be happy to play outside during a sunny day, but on a wet or cold day, they are less likely to be as active and would rather stay indoors, burrowing in their favorite blanket.
Reproduction
Chihuahuas have their first heat cycle around 6 to 8 months, which is similar for long-haired deer head Chihuahuas. Therefore, pet parents shouldn't breed Chihuahuas in their first heat cycle like all other dog breeds.
The second or third cycle is safer for the mum and puppies. These tiny dogs are known to have a smaller litter size. However, don't be surprised if your Chihuahua has a larger litter.
Chihuahuas can have as many as ten puppies. Be watchful of your Chihuahua during her heat cycle. Breeding with a bigger dog is possible but highly unsafe for a female Chihuahua. This is because the delivery becomes complicated and could result in her death.
Cost
A deer head Chihuahua mix can cost anywhere from $400 to $1,000. Several factors contribute to this difference. Here's what to look out for:
Smaller dogs are more expensive than bigger ones.
A Chihuahua with a white-colored coat is the most expensive and rarest to find.
They also are high-maintenance dogs, which means additional expenses. However, what you need to look for is the parent's temperament and health.
These factors contribute directly to how the puppy will be and how much care and training it will need. Some breeders also try to sell a sick or ill puppy by convincing buyers that the puppy is a teacup-sized Chihuahua.
Unfortunately, there have been many cases where supposed teacup-sized Chihuahuas grow to regular size. Since there is no way to know whether a puppy is a teacup Chihuahua until it grows up, your best bet is to buy from a trusted breeder.
Mixes
A long-haired deer head Chihuahua is most commonly crossbred with Chihuahua's apple head. The result isn't predictable, and the puppy could be an apple head or a deer head. Other breeds crossbred with the deer head Chihuahua are terriers like Jack Russell or the Yorkshire.
Crossbreeding is done intentionally by breeders to add features owners prefer, such as floppy ears, long coats, coat colors changes, hypoallergenic traits, etc. Crossbred dogs aren't recognized as 'breeds' and are termed 'designer' dogs.
Teacup Deer Head Chihuahua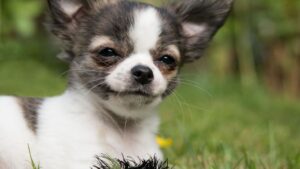 A teacup deer head Chihuahua is the smallest Chihuahua you can find. They grow up to 6 inches and weigh 3 pounds even when fully grown. But they are no different from Chihuahuas in terms of temperament.
They are tiny but pack a lot of aggression and attitude, which is why if you bring this dog home be ready to give it all of your undivided time and attention.
While Chihuahuas will grow out of their tiny size, the Teacup Deer Head Chihuahua will stay puppy-size forever. Most people see miniature dogs as cute and fail to understand that an intentionally encouraged genetic deformation through breeding causes dogs to be teacup-sized.
Related: Why is My Chihuahua Howling and What Should I Do If I Have a Crying Chihuahua?
Conclusion For "Long-Haired Deer Head Chihuahua"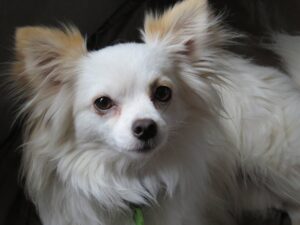 The Long-Haired Deer Head Chihuahua is perfect for those looking for a small and loving companion dog for their home. They know how to keep watch, are playful, and live for a long time. Yes, small dogs live much longer than large breeds. Chihuahuas, in particular, can live to the ripe old age of 20 if well taken care of.
For more Chihuahua mix guides, you can check out:
You can learn more about this Chihuahua by watching "Deer Head Chihuahua vs. Apple Head Chihuahua – How Are They Different" down below: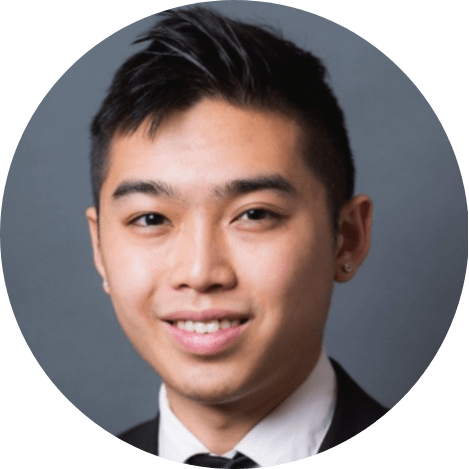 Andy is a full-time animal rescuer and owner of a toy doodle. When he's not saving dogs, Andy is one of our core writers and editors. He has been writing about dogs for over a decade. Andy joined our team because he believes that words are powerful tools that can change a dog's life for the better.
Why Trust We Love Doodles?
At We Love Doodles, we're a team of writers, veterinarians, and puppy trainers that love dogs. Our team of qualified experts researches and provides reliable information on a wide range of dog topics. Our reviews are based on customer feedback, hands-on testing, and in-depth analysis. We are fully transparent and honest to our community of dog owners and future owners.