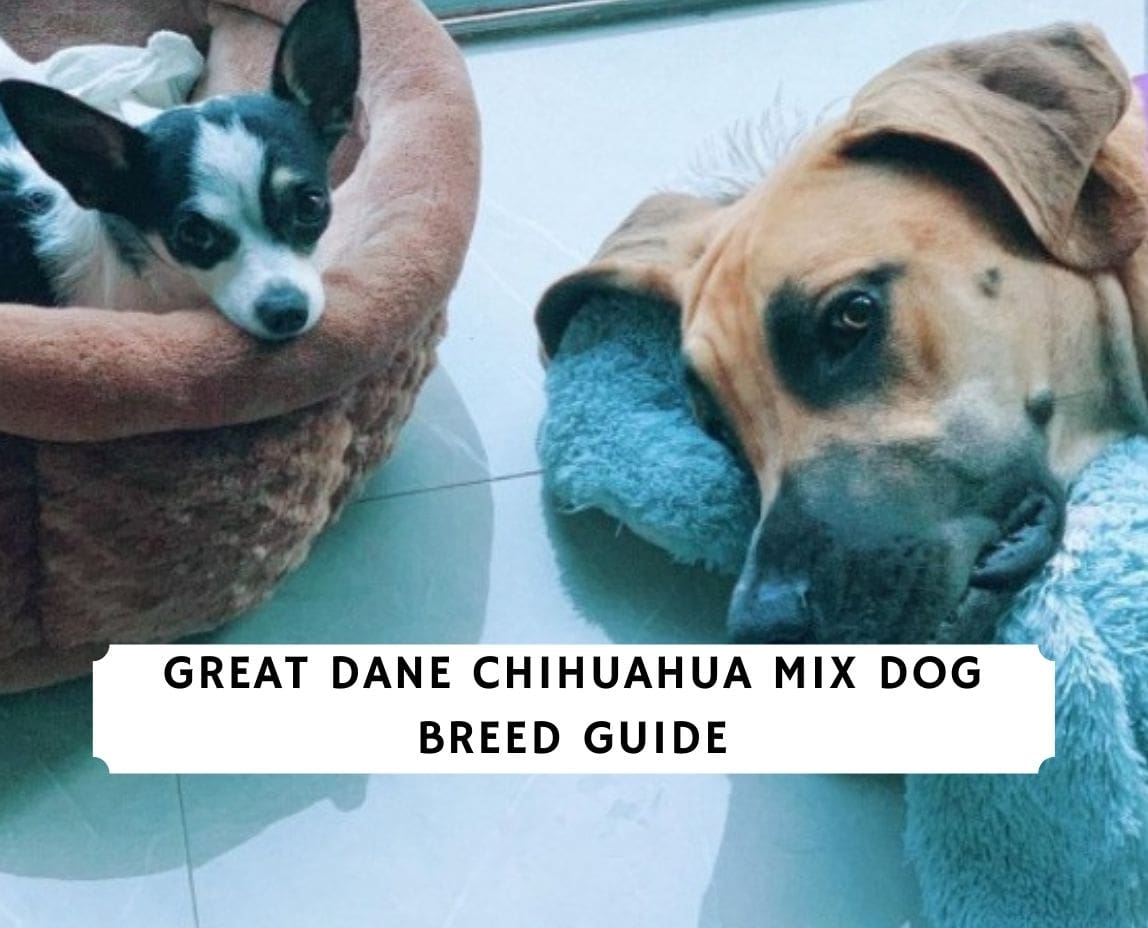 Is it possible to even have a Great Dane Chihuahua mixed breed? One of the most unlikely pairs of canines to be bred together is the tiny Chihuahua and the Great Dane. Also called The Great Mexican Dog or the Chi-Dane-Dane, the Great Dane Chihuahua mix is a designer breed not many people would expect. This mix of the Chihuahua and the Great Dane poses an almost awkward and seemingly impossible thought. Bringing these two purebreds together involves considerable obstacles, for obvious reasons. The difference in size alone gives one a pause. Let us take a closer look at this mind-boggling crossbreed.
Before scrolling down this Great Dane Chihuahua mix guide, you might be interested in these other dog mixes: Blue Heeler Poodle Mix and Chow Chow Poodle Mix.
Great Dane and Chihuahua Mix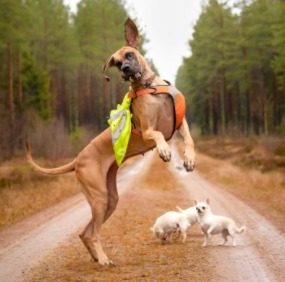 As the name suggests, a crossbreed between a Great Dane and Chihuahua results in a Chi-Dane-Dane. It is unclear when these two dogs were first bred together but there is a long history of their existence.
Other Dog Mixes: Best Giant Doodle Breeds and Best Hypoallergenic Dog Mixes.
Why is it Unusual To Breed These Dogs Together?
The Great Dane and Chihuahua stand on two extremes of height and weight. The Great Dane is one of the largest dogs in the world and weighs between 100 and 175 pounds (45 to 79 kgs) while measuring from 28 to 34 inches in height (71 to 86 cm). The Chihuahua is reputed for being one of the tiniest dogs in the world. This pocket-sized canine measures only up to 6–10 inches in height (15 to 25 cm) and weighs between 3.5 and 7.5 pounds (2 to 3 kgs). This makes it evident that breeding both these dogs is quite a task. The sheer difference in height and size makes breeding these dogs very uncommon.
Related Articles: How Many Puppies Can a Chihuahua Have and The Danger of Double Merle Dogs.
What Are the Challenges of Breeding a Great Dane and a Chihuahua?
The most obvious challenge while breeding both these dogs would quite naturally be getting the Great Dane and Chihuahua to mate. The natural process of mating is not possible. A male Great Dane mounting a female Chihuahua is not only improbable but also dangerous. Another challenge here is that if a male Great Dane impregnates a female Chihuahua, the puppies would be too big for the Chihuahua to carry.
It would eventually lead to the death of her puppies as well as the mother Chihuahua. This has been tried before and the outcome was the same. There have also been attempts to get the Chihuahua to deliver her puppies through a C-section. This was also a failure because the mother died followed by her pups. Breeders have also tried to get a female Great Dane bred by a male Chihuahua, which was unsuccessful.
Related Article: How Many Puppies Can a Dog Have?
Artificial Insemination
Once it was realized that breeding these two canines through natural processes was almost impossible, breeders tried using the process of artificial insemination to create a Great Dane and Chihuahua mix. A female Chihuahua was successfully inseminated. The problem of carrying puppies bigger than the mother rose again. And as mentioned above, a C-section also ultimately resulted in the death of the mother and her litter. The puppies were growing way too fast while still being underdeveloped.
For the few puppies that survived, nurturing them became a task. This meant that the owners would have to hand-feed the puppies. It is for these reasons that breeding both these dogs together is practically impossible. Breeding is only made harder because of the lack of information available on this subject. There have been cases where puppies of a Great Dane and Chihuahua have survived and lived long and healthy lives. Even though it's highly difficult to create this crossbreed, there have been cases where it has worked.
Related Dog Questions: When Do Puppies Start Barking and How Often Do Puppies Poop?
What Does a Chi-Dane-Dane Look Like?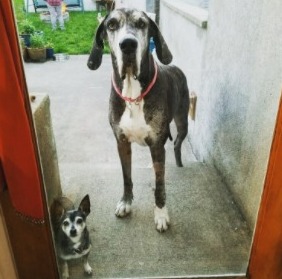 Healthy Chi-Dane-Danes are predisposed with large heads, often shaped like that of a Greyhound. This also makes them resemble a Dachshund because of their long bodies, short legs, and big heads. Like other mixed breeds, Chi-Dane-Danes also inherit their parents' fur color and fur type. For example, a Chi-Dane-Dane will have a longer coat of fur if the parent Chihuahua's coat is long.
How Big Can Chi-Dane-Danes Get?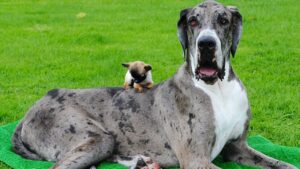 Predicting the height and weight of a Great Dane Chihuahua mix can be quite a task. Usually, a Chi-Dane-Dane is twice as large as a Chihuahua and considerably smaller than a Great Dane. Theoretically speaking, Chi-Dane-Danes aren't large dogs but their height and weight are dependent on their genetics.
What Are Chi-Dane-Danes Like As Pets?
A Great Dane Chihuahua mix takes after the personality of their parents. The Great Dane heritage has ensured that the Chi-Dane-Dane is a loving, friendly, and soft-hearted dog that loves to cuddle and is very social. A Great Dane Chihuahua mix has, what experts call, Small Dog Syndrome. This gentle dog gets this from the Chihuahua parent.
The Small Dog Syndrome is when a dog isn't fully aware of its size and goes to any lengths to protect its owner. Chihuahuas are known to be aggressive, so it's no wonder that this mostly calm dog has some shades of feistiness. Regardless, a Chi-Dane-Dane is a fun, affectionate, and loyal dog, making them great dogs.
Related Dog Question: Can a Dog Have Down Syndrome?
How Long Does Do They Live?
Like any dog, a Chi-Dane-Dane carries with them the genetics of their parents. This makes them predisposed to certain health problems that the Great Dane and Chihuahua face. To deal with these issues, you must ensure that you take them for regular check-ups at the vet and look after your Chi-Dane-Dane's health. The average life expectancy of a Chi-Dane-Dane can be considered an average of its parents. A Chihuahua lives between 12 and 20 years, whereas a Great Dane lives between 7 and 10 years. A Chi-Dane-Dane's life expectancy tends to fall within that range.
Dog Lifespan Questions: How Long Do Aussiedoodles Live and How Long Do Labradoodles Live?
Conclusion For The "Best Great Dane Chihuahua Guide"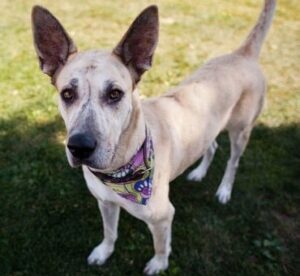 Although in some cases, the puppies of a Great Dane and Chihuahua turn out to be healthy, that doesn't mean that the process is morally correct. Experts have debated over the morality of breeding both these dogs, for obvious reasons. There are very few cases of this mix being successfully bred, and considering the lack of information on the subject, few breeders have engaged in creating a Great Dane and Chihuahua mix. Given all these obstacles, it seems unlikely that the Chi-Dane-Dane will become a common new breed. If the present difficulties are overcome and if the two canines can be safely bred, the Chi-Dane-Dane is sure to become an exciting new designer dog breed.
For more dog-related questions to help better understand dogs, check out:
To see the Great Dane and the Chihuahua in action, watch "Chihuahua refuses to share treat with Great Dane" from Rumble Viral down below: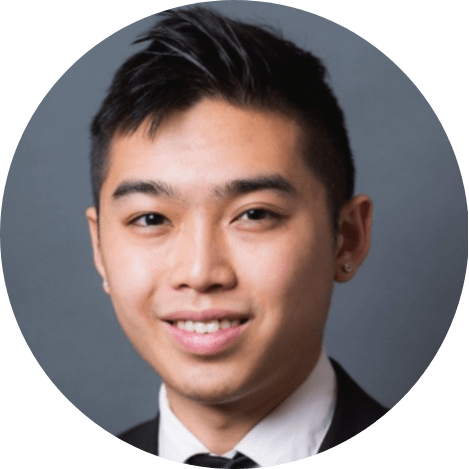 Andy is a full-time animal rescuer and owner of a toy doodle. When he's not saving dogs, Andy is one of our core writers and editors. He has been writing about dogs for over a decade. Andy joined our team because he believes that words are powerful tools that can change a dog's life for the better.
Why Trust We Love Doodles?
At We Love Doodles, we're a team of writers, veterinarians, and puppy trainers that love dogs. Our team of qualified experts researches and provides reliable information on a wide range of dog topics. Our reviews are based on customer feedback, hands-on testing, and in-depth analysis. We are fully transparent and honest to our community of dog owners and future owners.