Are you looking for a black and white dog with long hair? You've got plenty of options! That description fits a large range of sizes and personalities, from Australian Shepherds and Collies to Cocker Spaniels and Corgis. If the black-and-white look is your ideal aesthetic, take a look at the dogs on our list.
You can find these puppies for sale through breeders across the country, or you can make a difference in a dog's life when you adopt them through a local shelter.
No matter your preference, you'll want to check out our guide to black and white dogs with long hair.
Before you scroll down this list of the black and white dogs with long hair, you can check out these other breeds: 9 Scrunchy-Faced Dog Breeds with Pictures! (2023) and 8 Weird Dog Breeds with Pictures & Facts! (2023).
1. Newfoundland
The Newfoundland is a large dog that can grow to weigh 120 pounds! As an adult, your pooch may measure around 28 inches at the shoulder, so they're not lap dogs by any means.
Despite their size, though, Newfoundlands are docile and gentle animals. Easy to train and eager to please, this black and white dog with long hair tops our list of adoptable pups.
Due to size concerns, you won't want to keep your Newfie in an apartment. The breed is best suited to those who have room for the dogs to rest outside or in a large area.
These gentle giants can act like bulls in a china shop, not realizing they're knocking over your end table until the damage has been done. The Newfie is a sturdy dog and not necessarily built for speed. However, they'll require adequate exercise. Plan to go on two walks each day.
Newfoundlands are droppers and shedders! Care for your dog's lovely mane by brushing it out daily. A blowout can help mitigate shedding and can be done at home with the right equipment.
Alternatively, bring your pup into the groomer for a full-service style. Have her hair trimmed and blown out, her nails clipped, and her ears cleaned!
2. Japanese Chin
The Japanese chin is next on our list of black and white dogs with long hair.
These cute little pups can come in a rainbow of colors ranging from black on white to lemon or sable. In some cases, the fur will be so light that the entirety of it might appear to be white.
The American Kennel Club recognizes Japanese Chins, and you can purchase one of these dogs from a reputable breeder in your area. Check with the AKC website to find more information on breeders near you.
Alternatively, ask around to determine whether there are chins available in nearby shelters. These dogs may not have purebred pedigree, but they're no less deserving of a loving, safe home like yours.
The Japanese Chin is affectionate with its humans but aloof with strangers. The breed is not known for working, hunting, or other "jobs" — instead, this is the ideal little companion. Your chin will get along well with kids, too. They're fun dogs, but they're a toy breed, so teach young children how to hold them correctly to avoid injuries.
3. Springer Spaniel
The Springer Spaniel is an easily recognizable dog breed that can come in many colors, including black and white.
They have medium to long hair, depending on how you choose to keep your pup groomed. Your Springer Spaniel will look cute as a button with a kennel cut or a teddy bear cut, but you'll also love the look of his hair when it's kept long and brushed!
Springer Spaniels are bird dogs and they'll love to play outside. The breed only grows to weigh around 50 pounds, but they're surprisingly strong. Because the dogs are bred for hunting, you'll find that your pup will need to be walked on a leash. Every scent is more appealing than the next to these dogs, and their curiosity can get the best of them if they're not properly restrained.
Springer Spaniels are good family dogs, and you don't need to hesitate to bring one home to your kids. They make good companions for relatively active seniors, too. Springer Spaniels don't mind staying indoors most of the day, but they will need additional exercise outside, too.
4. Akita
The Akita is a gorgeous large dog with black and white long hair.
These dogs are easily recognized by their triangular eyes, and you'll fall in love with any pup's pointy, alert ears and playful, curly tail. The Akita is a Japanese breed recognized by the American Kennel Club, so many purebred Akitas are eligible to breed or to show.
If you're interested in adopting an Akita, you should be aware that they shed massively twice a year. In the spring and in the fall, you should plan to bring your Akita to a groomer for a blowout. In the meantime, be sure you're brushing your dog's black and white long hair to keep it free of dead hair, burs, and tangles.
Akitas don't love strangers and they don't love other dogs. Your Akita will be happiest as the center of attention in your family.
Firm training will be necessary to teach your Akita manners. Your dog will need to learn when — and when not — to bark at others who enter your home. Children can be a good fit with the Akita provided your dog is well-trained and socialized from an early age.
5. Border Collie
The Border Collie is next on our list of black and white dogs with long hair.
These dogs were originally bred in the United Kingdom but are now popular around the world. The pups were originally used to herd sheep; even if your dog isn't used in the pasture, it'll retain the intimidating stare that's characteristic of these dogs.
Border Collies have a double coat, so you should plan to brush your dog regularly to remove dead hair. A blowout may be required during spring and fall, but you may be able to manage your dog's hair with frequent brushing. Regardless, your dog is sure to get a bit of dirt and other materials in its hair, so it's best to bathe and detangle them on a consistent basis.
Border Collies are, perhaps, the ideal pet. They're steadfastly loyal, and they're calm dogs. They don't bark excessively and they protect their human herd unflinchingly. If you want a wonderful companion that will be content whether she's in the woods or at your feet, a Border Collie just might be the dog for you.
6. Welsh Corgi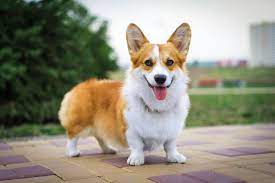 You've likely seen Welsh Corgis in the news and media. For years they've been a favorite breed of the British royal family. But did you know that these little pups can be black and white with long hair?
Typically, the dogs are "red" and white. However, black and white corgis do exist, though you won't know their true coloration until they reach adulthood.
Corgis are known for their little wigglebutts, but they're also known to be hardworking and extremely smart dogs. Your Corgi will be your partner on hikes, walks, or just playing fetch in the yard. Then, when it's time to settle down for the day, your Corgi will follow you around while you make dinner until it's invited to sit in your lap or at your feet.
Corgis look short and squat, but they're actually quite agile! You can train your pup to do tricks, and AKC-registered Corgis are welcome to compete in dog shows. Not many Corgis have won best in the show, but with determination, your dog could be the next to take home the trophy.
7. Alaskan Klee Kai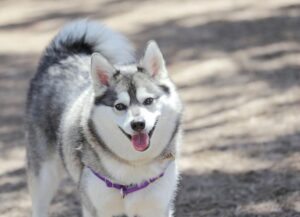 The Alaskan Klee Kai is a small dog with a long lifespan.
While your Klee Kai will likely only grow to weigh around 20 to 25 pounds, this breed can live to be 16 years old. The Alaskan Klee Kai is an energetic little pup with alert ears and a sassy attitude, and they're wonderful companions to other dogs and to families with children.
Your Klee Kai won't need frequent baths or brushing, but a slicker brush will help remove dead hair. Your dog will shed twice each year — once in spring, and again in the fall — so it's a good idea to schedule a trip to the groomer during that time.
Generally speaking, the Klee Kai is a healthy dog. They aren't prone to many severe medical conditions. However, it's a good idea to bring your dog to the vet for regular checkups. In some cases, they may develop cataracts, liver disease, or shoulder issues. Early detection is key to treating these medical conditions before they become problematic.
Frequently Asked Questions
How do I identify my dog?
If you are serious about figuring out your dog's breed, there are dog DNA tests to help you identify exactly that — but they aren't cheap. Consider a Wisdom Panel or Embark test.
Do dogs know their own name?
Scientists believe that dogs can understand the meaning behind certain words, outside of the tone used to express them.
What black and white dog looks like a Collie?
You might be thinking of a Shetland Sheepdog — they come in many coats, including black and white.
Conclusion for "Black and White Dog with Long Hair – Top Breeds"
Each human has a preferred look when it comes to the dogs they adopt.
For some, that means shopping for a puppy or adult dog that's black and white with long hair. We've put together a list of the top breeds that fit this description, making it simple for you to just find the pup you'd like to bring home with you.
If you're shopping for a new puppy or seeking a dog to rescue from a shelter, take a look at these black and white dogs with long hair. Some are large, others are small — but they all make fantastic companions.
Whether you're the outdoorsy type or a couch potato, there's a pup on this list that's suitable for your lifestyle.
You can check out these other lists of dog breeds from our team at We Love Doodles:
You can learn more about black and white dog breeds by watching "10 Black and White Dog Breeds" down below:
Garrett loves animals and is a huge advocate for all Doodle dog breeds. He owns his own Goldendoodle named Kona. In addition, he volunteers at the Humane Society of Silicon Valley, where he fosters dogs and helps animals. Garrett enjoys writing about Doodles and believes that dogs can teach humans more about how to live than humans can teach a dog.
Why Trust We Love Doodles?
At We Love Doodles, we're a team of writers, veterinarians, and puppy trainers that love dogs. Our team of qualified experts researches and provides reliable information on a wide range of dog topics. Our reviews are based on customer feedback, hands-on testing, and in-depth analysis. We are fully transparent and honest to our community of dog owners and future owners.