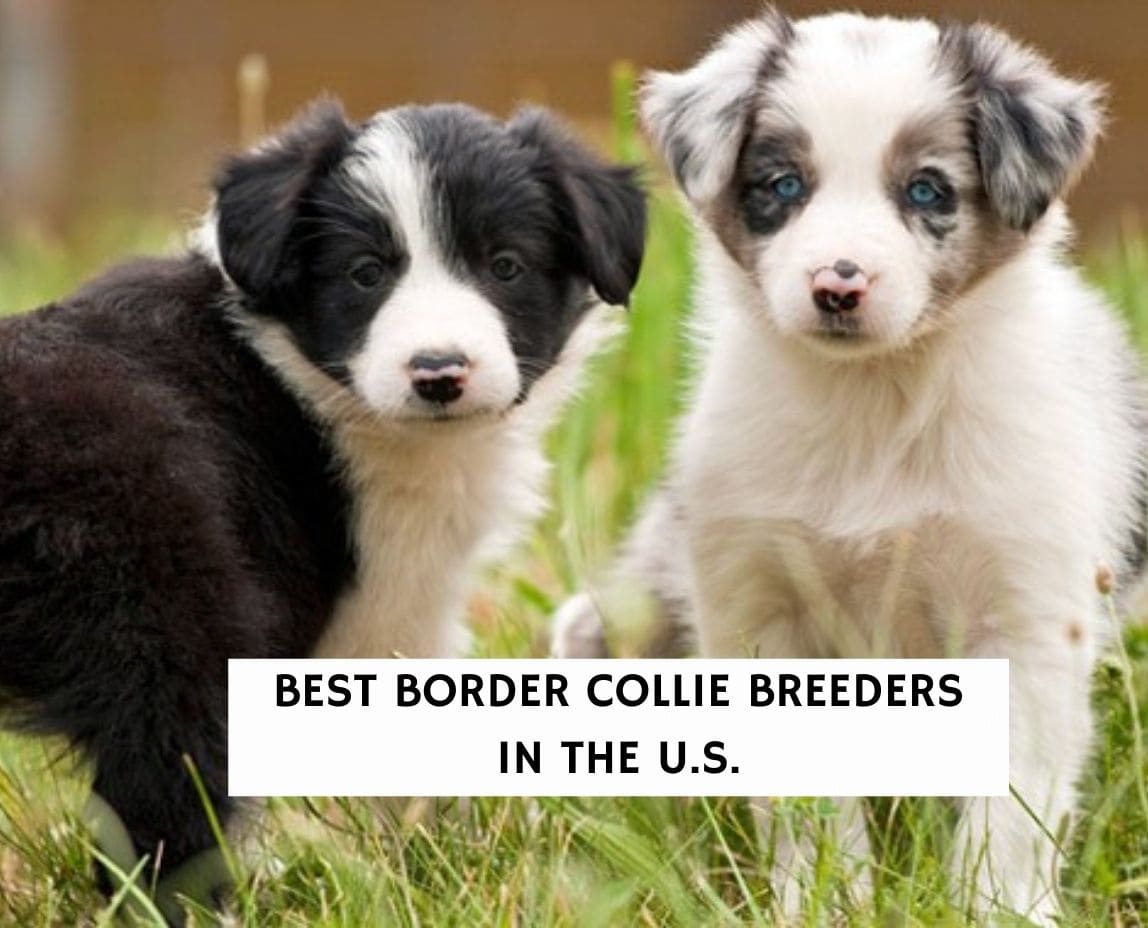 Here's what you need to know if you're searching for Border Collie breeders in the United States. One of the most common traits that are used to describe Border Collies is very intelligence. Another is hardworking and sociable.
All of these are true, and such adjectives are energetic, active, playful, friendly, territorial, and highly trainable. In addition, border Collies are considered one of the best working breeds, a breed that thrives on work, order and is laser-focused on tasks.
These playful puppies need a lot of exercise, daily challenges, lots of love, and socialization. They are extremely loyal and want to be with their family at all times. But, being one of the smartest dog breeds, they also need constant training, interaction, and confirmation of good behaviors.
The Border Collie originated in Scotland and was widely used among farmers along with Scotland and England. Queen Victoria was a fan of the Border Collie, but she was not alone.
These dogs are popular with celebrities, poets, farmers, ranchers, rescue workers, and even keep geese away. However, despite their popularity and ability to be used in many environments, the Border Collie did not become part of the AKC until 1995.
Since then, they have split into show and working dog lines. The major health risks for Border Collies are hip dysplasia, eye disorders, and sometimes seizures. Their overall health is good, though, and grooming is pretty basic, and they are easy to care for. 
Before scrolling down this list of Border Collie breeders in the United States, check out these recommendations: Best Cocker Spaniel Breeders in the United States and Best Pitbull Breeders in the United States.
Border Collie Puppies For Sale in the United States
As always, the breeders listed below should be checked out by you, as the listing here is not a 100% guarantee they are ethical. Talk to the breeder, make sure you can come to visit, are they checked by a vet?
Are they interested in how you will raise the puppy? Please make sure they are knowledgeable about the breed, that you can meet the puppy's parents, ask how many litters they breed each year.
Border Collie Product Recommendations: Best Shock Collars For Medium Dogs and Best No Spill Dog Bowls.
1. PuppySpot's Border Collies in the United States
Since you're searching for Border Collie breeders in the United States, we highly recommend checking out PuppySpot to make your search easier.
PuppySpot is a reputable platform filled with many Border Collie breeders across the United States, and they'll safely ship your puppy to your home.
All Border Collie breeders across the United States are strictly screened, so you can rest assured knowing that your Border Collie puppy will be safely shipped. Before you continue on your search for a Border Collie puppy for sale in the United States, you can check out the link below.
PuppySpot Details
2. Embrace Border Collies
Located on the Central California Coast, Embrace Border Collies is a small kennel that breeds just a few litters a year and has four adult show dogs that are trained in herding, obedience rally, agility, conformation, nose work, and rally obedience.
Embrace Border Collies has an AKC Breeder of Merit seal and a Good Dog Good Breeder and Good Dog Health Testing seals. Puppies from Donna's kennel will have health checks that include eyes, hips, thyroid, and elbows, among many others.
These puppies will come with lifelong support from the breeder, and she strives for a Border Collie owner to become knowledgeable about the breed. Puppies are raised in a highly social environment, introduced to various stimuli, and part of the Puppy Culture Program.
They are giving hearing tests, will be dewormed, microchipped, will have had their first set of shots and a vet visit. The breeder also does basic potty training, crate training, and car rides.
If you buy a puppy from Embrace Border Collies, you will get their first dose of flea and tick protection to take home. You can follow this kennel on Facebook.
Embrace Border Collies Details
3. Buttonwillow Farms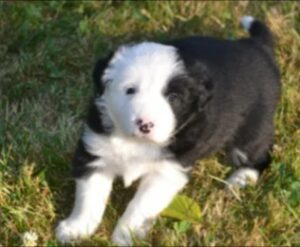 Buttonwillow Farms is fairly new, Leslie has been breeding since 2019, but this kennel is part of the Bred with H.E.A.R.T. program and part of Good Dog's Responsible Breeder Program.
The site doesn't have loads of information, but the breeder puts a lot of information and tips on the page, including training, exercise, and interaction tips.
You will also find the application on the landing page, and you will be asked such questions as space, time and environment you have to dedicate to a Border Collie and how you feel about leaving your dog in a car and about having your dog in the back of a truck bed.
Buttonwillow Farms Details
4. Wilsong Border Collies
Dogs at Wilsong are very much show and competitive dogs, as the breeder shows and competes in several states and multiple programs. In addition, they have adult dogs and puppies for adoption and provide stud services.
Wilsong Border Collies are part of the Border Collie Society of America, have an AKC Breeder of Merit Badge and a Train Pet Dog Breeder Award Winner Badge.
Puppies and dogs are screened, and health checked for multiple issues, participate in several activities, including agility, tracking, flyball, obedience, rally, plus many more.
On their site, you can find tips for potty training, crate training links to Border Collie rescue groups, information about puppy mills, and why papers are important. In addition, all puppies will come with a health check, health certificate, will be dewormed, vet checked, microchipped, and will be up to date on their shots.
They will occasionally have companion/show puppies available. Wilsong Border Collies does have a FB page to follow. In addition, their website is full of information, links and contains many pages, photos, and videos.
Wilsong Border Collies Details
5. North Star Border Collies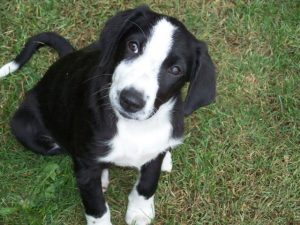 Debra's background includes kennel manager, professional groomer, and dog trainer, while her husband, Shawn, was a professional photographer for dog shows. In 2009 the couple got their first Border Collie, and thus, North Star Border Collies was born.
Border Collies at this kennel are bred for ideal temperament, health, breed standards, and correct structure. Their dogs are part of many competitive and show fields.
North Star Border Collies are part of many groups, including The AKC, the Bred with H.E.A.R.T. program, the BCSA, the Orthopedic Foundation for Animals, Pet Partners, and the North Star Herding Group, and the Nutmeg Border Collie Club.
Puppies are raised in the home as part of everyday family life, and they are a small kennel and do, on occasion, have therapy dogs. Your dog will come with various health checks, and the parents are health screened.
The site didn't provide much other adoption information. Still, there are many links to training and health organizations, clubs, shows, etc. that you can find useful information and tips, including a site for how to know what your pet is thinking. In addition, North Star Border Collies is on Facebook and Twitter.
North Star Border Collies Details
6. Whistle-stop Border Collies
According to the breeder, they are not a kennel. They are Border Collie enthusiasts who show dogs and breed on occasion. They started with one rescued Border Collie in 2000, and their dogs are raised with acres to roam, ponds to swim in, and even get to herd goats and sheep.
Click on the "Puppy Breath" tab to learn about whelping and raising Whistle-stops puppies, health screenings, their socialization, and the BioSensor Simulation program.
Whistle-stop Border Collies are raised in the home, go on many car rides, are raised on music, go through basic grooming routines, be temperament tested at 49 days, and be structurally evaluated at eight weeks.
Your puppy will have been introduced to a collar and leash, as well as basic obedience commands. Whistle-stop puppies will have been dewormed, vaccinated, checked by a vet, and microchipped.
You will also be sent home with a puppy care bag that includes treats and food, among other things. The breeder states they will stay in touch with you for the life of your Border Collie. They do have an AKC breeder of the Merit badge, and the application questionnaire is in-depth.
Whistle-stop Border Collies Details
7. Tonglen Lake Border Collies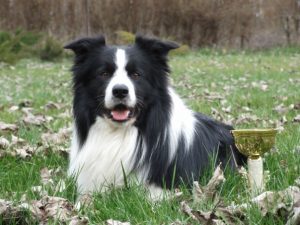 Tonglen Lake Border Collies can be found on the Good Dog website, and they have a Breeder of Merit Badge and an Excellent rating for Health Testing from Good Dog.
With 40 years of experience working with dogs, Donna focuses on the science of canine health and best puppy practices. Tonglen Lake Border Collies is part of the Border Collie Society of America and a local Kennel Club.
They use the Avidog and Puppy Culture practices, the Early Neurological Stimulation system, and early grooming desensitization. Tongen Lake Border Collies will keep puppies until they are ten weeks old.
They will leave with a collar, a puppy starter pack, AKC registration paperwork and will have received their vaccinations and will have been microchipped and dewormed.
They do offer a one-year health guarantee. Tongen Lake breeds for the working and performance betterment of the breed and wants all of her puppies to be placed in forever homes.
Tonglen Lake Border Collies Details
8. Borderline Kennels
Borderline Kennels breeds their dogs for optimal temperament, health, and instinct. They are also huge on raising their puppies in the Puppy Culture program. That means sound and environmental desensitization, lots of socialization with other animals, people, and children.
They will be used to different environments, have been given enrichment activities, been litter box trained, and even have some SAR training (used in rescue training, by searching for scents).
The breeder doesn't give a health guarantee. However, all her dogs are DNA tested to guarantee against testable genetic traits. Borderline Kennels are part of the AKC and the ABCA (American Border Collie Association).
They have a Good Dog Breeder of Merit Badge and a member of the Dunbar Academy Top Dogs. A puppy can be taken home at eight weeks and will come with a puppy pack that includes a small food bag and/or a toy. You can follow this breeder on Facebook.
Borderline Kennels Details
9. Blue Valley Border Collies
Jennafer Glaesemann is a licensed veterinarian who grew up on a dairy farm and is a member of the Border Collie. Her kennel is part of Good Dog's Responsible Breeder Program.
Dogs at Blue Valley are bred for their natural working and herding ability, focusing on temperament and personable disposition. Blue Valley Border Collies adopted puppies come with a lifetime health guarantee, will be vaccinated, dewormed, microchipped.
They will be sent home with a collar, flea and tick medication, a toy with their Mom's scent, and their breed club registration. Blue Valley Border Collies utilize the ENS (Early Neurological System) program, also known as the biosensor program.
That means their puppies are subjected to multiple sounds, stimulation, and socialization. They will also be used to basic grooming and walking practices as well as beginning with potty training.
They also offer further services, such as puppy training, sniff training, and development for certain specialties and spay/neuter services. Blue Valley Border Collies can be followed on Facebook or click on the link below.
Blue Valley Border Collies Details
10. Wildblue Border Collies
Founded in 1996, Wildblue is a family kennel operated by Deanne, an MD with a course study in animal sciences and the bloodlines of their dogs are from Australia, NZ, and the UK. They breed for conformation, herding ability, temperament, and intelligence.
Wildblue Border Collies have an AKC Breeder of Merit badge, and all puppies will come home with an AKC Puppy Protection Package. That package includes enrollment in the AKC Reunite Program, a handbook, a list of vets, and pet insurance.
The contract for buying a puppy from this breeder is particular, so read carefully and thoroughly. They have a private FB group, and the email link is on their page.
Wildblue Border Collies Details
11. On The Lamb
"On the Lamb Border Collies" is a full-fledged working ranch with livestock, herding dogs, various avian species and works as sheep production and livestock management. The breeder has 30 years of experience working with registered Border Collies competitively.
She is an AKC Breeder of Merit recipient, and her dogs are ABCA registered, and the ranch is part of the Bred with H.E.A.R.T. program. Since puppies here are part of a farm, they are all bred with the purpose of work ethic, health, and livability.
On the Lamb will take the puppy back if you can't keep it, the breeder uses the Puppy Culture method, which uses lots of attention, various stimuli, and enrichment activities. Puppies bought from the breeder will be dual registered with the AKC and the ABCA.
Robin is an AKC National Breed Club Member, and her dogs compete in the performance, agility, and obedience rings. You can do more than adopt a dog. The ranch offers such services as herding lessons and trick testing. On the Lamb, Ranch can be followed on Twitter, Facebook, Pinterest, and YouTube.
On The Lamb Details
12. Butterfield Farms Border Collies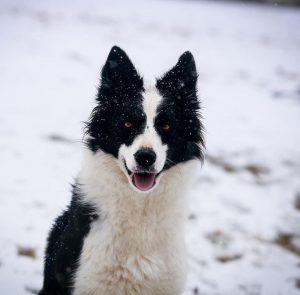 Last on the list of Border Collie breeders in the United States is "Butterfield Farms Border Collies." Alisha describes her kennels as a "micro-farm" where her dogs compete in sports and conformation, but puppies are bred and sold as family pets to go to a forever home.
Butterfield Farms is part of Good Dog's Good Breeder Program and has a testing level of excellent given by the site. The puppies are immersed in various enrichment activities, including clicker training, sound stimulation, daily socialization, and potty training.
Puppies are kept for up to 9 weeks and come with a 26-month health guarantee; they will be vaccinated, dewormed, and will have received a BAER test for hearing.
Your pet will be sent home with a puppy starter pack. Butterfield Farms considers themselves guardians of the breed and focuses on health, temperament, and performance ability. They have Instagram, Facebook and you can visit their website.
Butterfield Farms Border Collies Details
Frequently Asked Questions
What is the rarest color for a Border Collie?
The Border Collie is an energetic, active, and highly trainable dog breed. The rough or smooth double coat is usually black with a white blaze and ruff, but it can also be any color except all white. The rarest color is merle.
What is the best Border Collie color?
The most common Border Collie colors are black and white; the signature look of the Border Collie is when the body is primarily black with white markings on the face and the underside of the body. 
Some Border Collies will have their entire head covered in black fur, while the rest of the body, from collar to tail, is black and white. Keep in mind that black is a dominant gene that makes this color standard for the Border Collie. 
Chocolate and white are another popular Border Collie color combination, which can range from light to dark brown. Dogs with this color coat will have unique colored eyes and can be light to medium brown, golden yellow, or green.
Parents need to have the chocolate gene so that Border Collie pups will be brown and white. Another popular Border Collie color combination is the blue and white Border Collies. This is when the black color gets diluted and looks like a bluish-grey color. These dogs may be prone to color dilution alopecia.
Red border collies are rare. The Australian/Aussie red, gold, yellow, liver, or tan color is produced by two recessive genes and can be either dark or light in the shade. Some red Border Collies will have a reddish-brown coat, while others may be more of a coppery red color.
There are also brindle Border Collies with a base coat color that is black, chocolate, or red and strips of lighter colored fur. These dogs may have a brindle pattern that is light or dark.
And finally, there are merle Border Collies. This color coat is created by a dominant gene and can be any color, including black, brown, red, blue, or even cream. The coat will have patches of a lighter color and may be marbled or swirled. 
Merle Border Collies can also have blue or green eyes. Blue merles have a base coat color grayish in shade or a white base with black or blueish patches. They can also have different colored eyes. 
This is called heterochromia or merle eyes. Merle genes may predispose your Border Collie to deafness and blindness and possibly poor health.
Are mostly white Border collies rare?
There is no definitive answer to this question as breeders can have different opinions on what qualifies as a "white" Border collie. Some may consider any dog with significant white markings a white Border collie, while others may only consider truly all-white dogs to be in this category.
Because of this discrepancy, it is difficult to say how rare white Border collies genuinely are. However, they are likely not as common as the more traditional black-and-white variety.
Who is the most famous Border Collie?
The most famous Border collie is probably Chaser, featured in a 2010 book by John W. Pilley called "Chaser: Unleashing the Power of the Dog-Human Bond." 
In the book, Pilley describes how he taught Chaser an extensive vocabulary of over 1,000 words. This made her famous in the animal cognition community, showing that dogs are capable of far more complex language understanding than was previously thought. The AKC adds that Chaser passed away in 2019 in South Carolina.
Conclusion For The "Best Border Collie Breeders in the United States"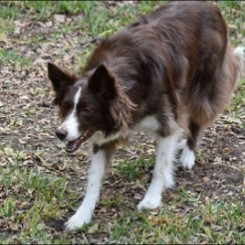 The Border Collie is a great and versatile pet with high endurance, stamina, and highly intelligent and loyal. They are very protective and can be wary of strangers and have a tendency to since they are so trainable, these traits can be managed. Border Collies have a wide variety of colors and can have long or short coats.
Since these playful puppies long to be with you every minute, they can suffer from separation anxiety and, if bored, will become destructive. So it's important before you get a Border Collie that you can dedicate the time and energy for these darling dogs.
For more articles with mentions of the Border Collie dog breed, feel free to check out:
You can learn more about the Border Collie by watching "Border Collie Puppy Training" down below:
Garrett loves animals and is a huge advocate for all Doodle dog breeds. He owns his own Goldendoodle named Kona. In addition, he volunteers at the Humane Society of Silicon Valley, where he fosters dogs and helps animals. Garrett enjoys writing about Doodles and believes that dogs can teach humans more about how to live than humans can teach a dog.
Why Trust We Love Doodles?
At We Love Doodles, we're a team of writers, veterinarians, and puppy trainers that love dogs. Our team of qualified experts researches and provides reliable information on a wide range of dog topics. Our reviews are based on customer feedback, hands-on testing, and in-depth analysis. We are fully transparent and honest to our community of dog owners and future owners.