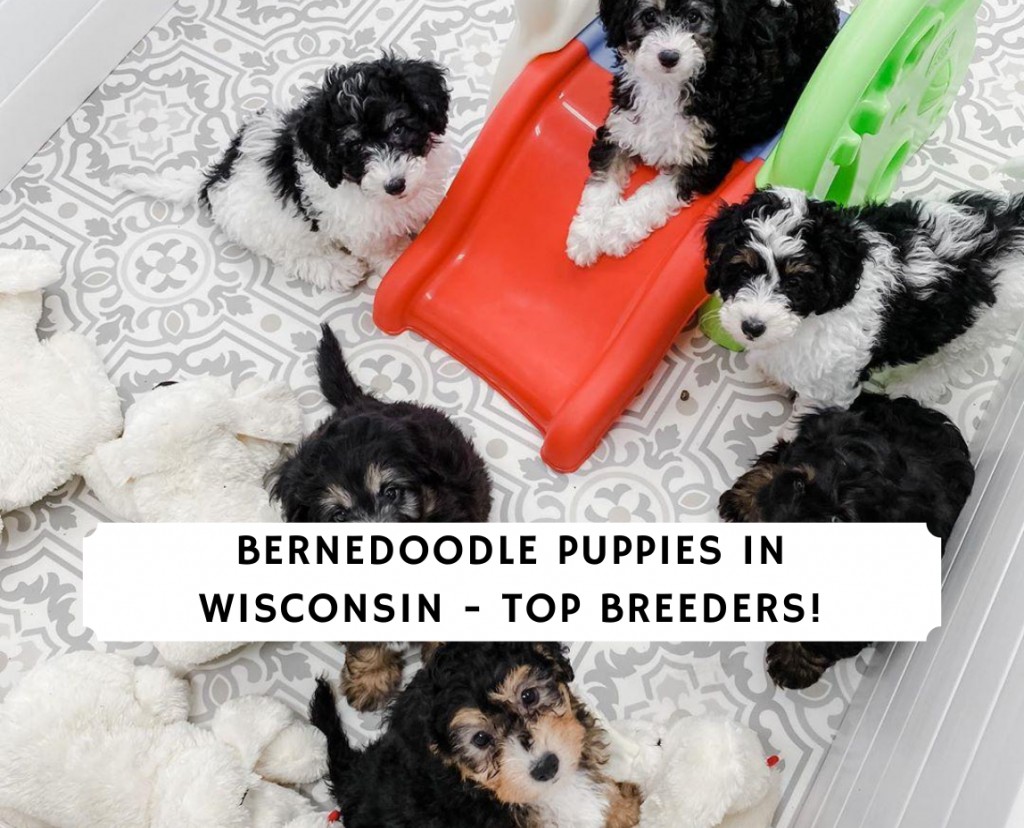 Does the thought of going for hikes, runs, walks, and playing around with a fluffy dog excite you? If so, a Bernedoodle may be the right choice for you. Bernedoodle puppies in Wisconsin love running and playing around whether they are toy, mini, or standard-sized. The mix of personalities that results from crossing the Poodle and Bernese Mountain Dog create a friendly dog that loves to be around people.
If you have family, Bernedoodles get along great with children due to their easygoing personalities. In addition, Bernedoodles love being part of a family and want to always be part of the action whether it's time to watch a movie, go on an adventure, or lounge in the living room.
We know there are many Bernedoodle breeders in Wisconsin and it's difficult to decipher between a puppy mill and a reputable breeder. To help you out, we have curated a list of the top 5 Bernedoodle breeders in Wisconsin to help you find your future puppy.
Even though Bernedoodles are not recognized with organizations such as American Kennel Club (AKC) because they are not yet categorized into an official breed group, these breeders have taken all the steps to ensure the puppies they breed in Wisconsin are healthy and happy.
1. Wolf River Bernedoodles Wisconsin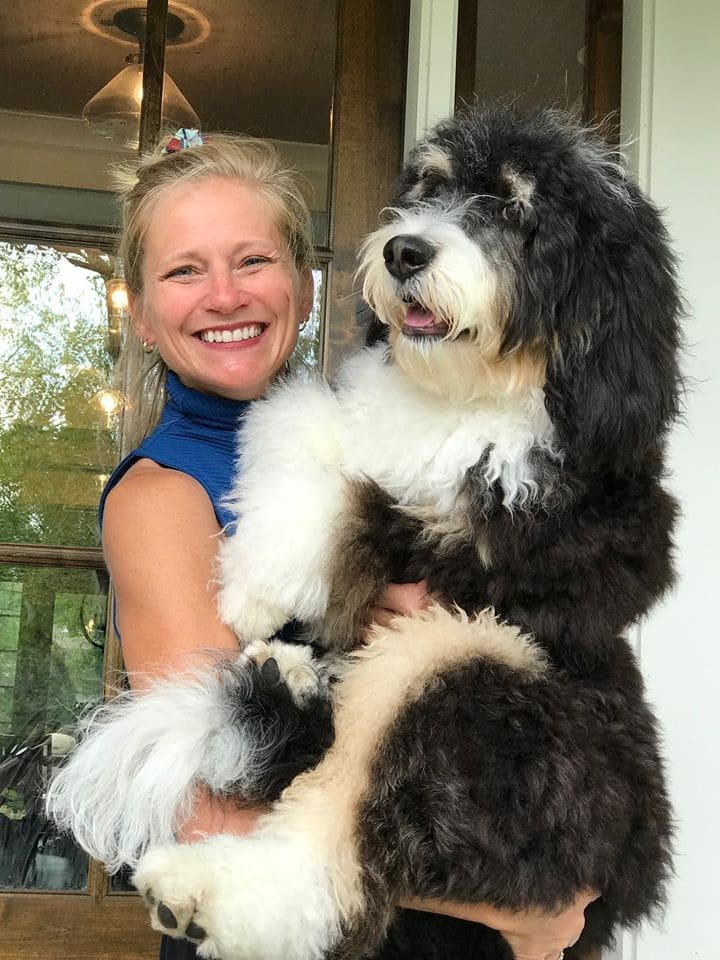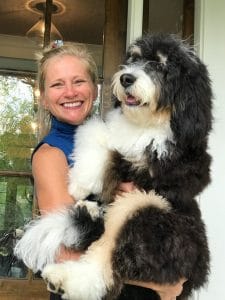 Wolf River Bernedoodles breeds F1 and multi-generational Bernedoodles in Neenah, Wisconsin. Their parent dogs undergo extensive temperament, trait, and genetic health testing to ensure that the puppies are high quality.
Dams and sires undergo a significant number of health checks including the hips, elbows, patellas, heart, thyroid, genetic Health, and genetic trait testing. You can ensure that this Bernedoodle breeder in Wisconsin does their best to guarantee you will get a healthy puppy.
Wolf River Bernedoodles in Wisconsin raises their puppies in their home along with their other pets. They socialize their Bernedoodle puppies from the day they are born and expose them to real-life experiences to ensure a smooth transition to your home. Socializing their Bernedoodle puppies often results in a less anxious and stressed dog.
Wolf River Bernedoodles price their Bernedoodles at $3,200 regardless of color or type. The puppies come with a 2-year health guarantee, lifetime support, and 1 month of Trupanion pet insurance.
Wolf River Bernedoodles are licensed by the state of Wisconsin. They are honestly one of the most reputable Bernedoodle breeders in Wisconsin.
Bernedoodle Puppy Information:
Generation: F1, Multigenerational Bernedoodle puppies
Size: Medium, Standard Bernedoodle puppies
Bernedoodle Breeder Details:
Location: Neenah (Winnebago County), Wisconsin
Address: Neenah, WI
Telephone: 920-470-9459
Website: Wolf River Bernedoodles Wisconsin
Email: brenda@wolfriverbernedoodles.com
2. Ruby's Goldendoodles & Bernedoodles WI
Ruby's Goldendoodles and Bernedoodles are a breeder in Poplar, Wisconsin. They believe that a puppy's best start to life starts with happy and healthy parents. To achieve this, they perform extensive health tests on all their parent dogs to ensure they are not passing down undesirable genetic traits. 
Each of the parent dogs are AKC-certified which mean they are purebred Poodles and Bernese Mountain Dogs. They start off the Bernedoodle puppies with the Puppy Culture Method when the dogs are a few days old until they go to their forever home at 8 weeks. They recommend new Bernedoodle owners to learn this method and continue it through to week 12 of the puppy's life. 
This breeder limits their litters to an average of 3 to 4 per year to ensure each Bernedoodle puppy has all the attention and care it deserves. Each Bernedoodle puppy goes for $3,500 and comes with a 2-year health guarantee. 
Bernedoodle Puppy Information:
Bernedoodle Breeder Details:
Location: Douglas County, WI
Address: Poplar, Wisconsin
Telephone: 218-391-8068
Email: rubysgoldendoodles@gmail.com
3. Central Wisconsin Bernedoodles Wisconsin
Central Wisconsin Bernedoodles is in Vesper, Wisconsin, and specializes in breeding F1b Bernedoodles. The breeding business is managed by the Tritz Family and they have been doing this for quite some time. The family's decision to breed Bernedoodles came after one of their sons was bit by a Malamute. The experience saw the family vow to never breed a dog that could hurt anyone ever again. Hence, Central Wisconsin Bernedoodles was born.
Since the start of their Bernedoodle business, they have raised all their puppies using Early Neurological Stimulation (ENS) and Puppy Culture Protocol to give them the best start in life. They expose the Bernedoodle puppies in Wisconsin to various sights, smells, sounds, and tastes to ensure the dogs grow accustomed to these experiences as a normal part of life. Socialization is an important process that these breeders take seriously.
If you're in Wood county or around the central part of the state, consider buying your Bernedoodle from Central Wisconsin Bernedoodles. They are one of the best Bernedoodles breeders in Wisconsin.
Bernedoodle Puppy Information:
Bernedoodle Breeder Details:
4. Doodle Dog Hill WI
Doodle Dog Hill is located in beautiful Northern Wisconsin. For the past 10 years, they have bred healthy and happy Goldendoodles, Bernedoodles, and Sheepadoodles. They take great steps to ensure that their dogs are of good and healthy parental heritage. 
They raise their Bernedoodle puppies in their own homes in Wisconsin. The Bernedoodle puppies' coat colors range from black, white, brown, and mixtures of the three colors. The puppies come with a 1-year health guarantee that can be extended to 2 years depending on the nutrition the new owners feed their puppies.
Doodle Dog Hill has flight and ground transportation available if you're far from their location. Their Bernedoodles prices start at $2,000. If you're looking for a cheaper priced Bernedoodle puppy in Wisconsin, this is a good breeder.
Bernedoodle Puppy Information:
Generation: F1 Bernedoodle puppies
Size: Mini Bernedoodle puppies
Bernedoodle Breeder Details:
Location: Ashland County, WI
Address: 3756 North Shore Road, LaPointe, WI 54850
Telephone: 715-415-4401
Website: Doodle Dog Hill WI
Email: donna@doodledoghill.com
5. Vesbach Doodle Valley Wisconsin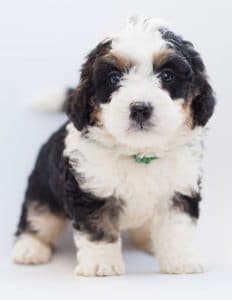 Vesbach Doodle Valley breeds poodles, Aussiedoodles, and Bernedoodles in the rolling hills of Vernon County, Wisconsin. They aim to breed and raise healthy and beautiful puppies with great health and wonderful temperaments.
Their parent dogs are AKC-registered and tested for hips, patella, liver, heart, thyroid, and kidneys. Their Bernedoodles come with a 1 to 2-year health guarantee and cost between $3,000 – $3,500.
The breeders require all their puppy owners to keep their dogs indoors once you pick them up. Almost all doodles are considered indoor dogs, but it's good that they contractual make new owners keep their Bernedoodle puppies indoors.
Bernedoodle Puppy Information:
Bernedoodle Breeder Details:
Location: Vernon County, WI
Address: E14154 State Road 82 La Farge, WI 5439
Telephone: 608-625-6570, 608-606-2874
Website: Vesbach Doodle Valley Wisconsin
Email: vavesbach@gmail.com
Bernedoodle Puppies in Wisconsin
The Badger State's continental climate is great for Bernedoodle puppies. For the warm summers, you can give your Bernedoodle a summer cut so they can handle the heat well. When trimming, ensure your Bernedoodle is thoroughly bathed and dried.
For the body, you will want to cut your Bernedoodles coat to a half inch during the summer and one or more inches in the winter. For the tail and head, use scissors to trim around your dog's face.
If you cannot do the grooming at home, we recommend you introduce your puppy to a professional groomer after they have completed all their puppy vaccinations. This is usually around four months of age.
To ease your Bernedoodle into grooming, ask the groomer to do a clean-up cut with scissors instead of clippers. They can introduce the clippers on the third or fourth visit. If you don't introduce grooming to your Bernedoodle early and often then they will become anxious and stressed over time when it's time for a haircut.
During the winter, it is also important to ensure your Bernedoodle gets exercise. Remember, Bernedoodles are just like Poodles. They love being up and about and that's part of the reason why they fit best in more active households.
Conclusion for Bernedoodle Puppies in Wisconsin
Bernedoodles are one of the best doodles you can own because they have a tri-color coat, are mostly hypoallergenic, nonshedding, and are easygoing dogs. In addition, their exercise requirements are not as extensive as a Labradoodle or a Goldendoodle. Mini Bernedoodles are usually very lively and can easily fulfill their daily activity needs by running around the house or yard. The standard sized Bernedoodles are usually up for a walk, run, or a game of fetch.
As the Bernedoodle grows in age, they will require 45 minutes of daily exercise depending on the size and activity level. Keep in mind that puppies younger than nine months should not participate in a lot of jumping and running to ensure they don't injure their developing bones and joints.
In terms of care, Bernedoodles shedding and drooling is generally low. Compared to other dogs, a Bernedoodle's shedding is extremely minimal so you don't have to worry about vacuuming up fur every day! However, Bernedoodles do require frequent grooming to ensure their coats are tangle and matte-free.
If this sounds like your dream doodle, check out the Bernedoodle puppies in Wisconsin on this list and start your journey to making your dream come true. Ensure you do extensive research and check through the health and genetic records to ensure your puppy comes to your home healthy and with a good temperament.
Other articles you might like:
Garrett loves animals and is a huge advocate for all Doodle dog breeds. He owns his own Goldendoodle named Kona. In addition, he volunteers at the Humane Society of Silicon Valley, where he fosters dogs and helps animals. Garrett enjoys writing about Doodles and believes that dogs can teach humans more about how to live than humans can teach a dog.
Why Trust We Love Doodles?
At We Love Doodles, we're a team of writers, veterinarians, and puppy trainers that love dogs. Our team of qualified experts researches and provides reliable information on a wide range of dog topics. Our reviews are based on customer feedback, hands-on testing, and in-depth analysis. We are fully transparent and honest to our community of dog owners and future owners.