If you're not yet familiar with the new Bernedoodle dog breed, you are certainly missing out! This breed is beautiful, colorful, mostly nonshedding, and hypoallergenic. In addition, they are known for their goofy and easy-going personalities mixed with their loyal and intelligent characteristics.
These are one of the most popular designer dog breeds behind the Goldendoodle and Labradoodle that are becoming harder and harder to find. It's been notoriously hard to find Bernedoodle puppies in Indiana as this breed becomes more and more popular.
If you're looking for Bernedoodle breeders in Indiana, we have a treat for you! There are a few really great options, particularly towards the Northeast portion of the state but also spread out in a few other areas as well.
We have done a ton of independent research and are here to share the best Bernedoodle breeders in Indiana complete with a basic overview of the practice and what each of them offers. However, we always recommend that you do your own research before purchasing a puppy and ask your future breeder lots of questions. Let's get started!
1. SM Bernedoodles Indiana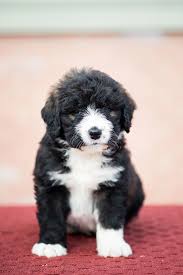 SM Bernedoodles specializes in standard and mini Bernedoodle puppies in New Haven, Indiana. They tend to have both sable and tri-colored Bernedoodle puppies available in their litters. All of their puppies are adorable, unique, and look extra fluffy. SM Bernedoodles raises smart and loyal dogs with positive dispositions from the beginning of life.
This family has a property with land and the parent dogs roam the property as they please. Moreover, the Bernedoodle puppies are born and raised in the home with the family and are cared for as part of the family every single time. They get lots of love, playtime, and are around children all day! Thus, you can guarantee that these puppies will be well socialized.
SM Bernedoodles has been in this business for over a decade and they have perfected the art of breeding. They enjoy breeding happy and healthy Bernedoodle puppies in Indiana to share with the world and they do a great job of it! They are openly available for questions and even allowing potential families to come and visit to get to know the breeder and the puppies.
Bernedoodle Puppy Information:
Bernedoodle Breeder Information:
2. Willow Creek Bernedoodles IN
Willow Creek Bernedoodles focuses on breeding healthy and adorable Bernedoodle puppies so that you can have a great lifelong companion. Most of their litters are tri-colored but the coat color for any Bernedoodle can vary. Right now, every puppy is sold out but there are plenty more to come.
Located just outside of Fort Wayne, Indiana, these Bernedoodle puppies have plenty of room to run and play as do the parents. This small farm is the perfect place to raise their own dogs and also to breed Bernedoodles to share.
Every puppy is loved and raised as part of the family in the home. They get tons of attention, care, and will come to you with all of the proper socialization skills. They allow visitors at any time to view their facilities, you just need to call in advance. This is another family-owned breeder that has truly perfected the art of breeding dogs and can provide really great results for you.
They expect their next litter to arrive in the fall so be sure to get on their list before it is too late to do so! Puppies receive all health treatments and come home to you with a 2-year health guarantee. In our opinion, these are some of the best Bernedoodle breeders in Indiana.
Bernedoodle Puppy Information:
Sizes: Mini and Standard Bernedoodle puppies
Generations: Multi-generational Bernedoodle puppies
Bernedoodle Breeder Information:
3. Gentle Giant Bernedoodles Indiana
This breeder is also located in Spencerville, Indiana which is not far from Fort Wayne. They have both standard and mini Bernedoodles for sale in Indiana. This family operates their breeding practices on a 30-acre farm and the puppies and parents get to roam and play on the farm. In addition, their dogs get lots of attention and exercise on the farm.
The Bernedoodle puppies are born and raised as part of the family. Additionally, they get cared for inside their home to ensure that they will transition easily to your home at the right time. The puppies are raised to be happy, healthy, and receive all of the necessary treatments and vaccines a puppy should get.
This breeder does allow visits, you simply need to contact them first and plan ahead so they know you are coming by and can be prepared for you. There are a lot of positive reviews and testimonials out there about this family and you can see their pictures on their site. They are a highly reputable Bernedoodle breeder in Indiana.
You can also read up about the parents and get to know the puppies and expected litters of the seasons.
Bernedoodle Puppy Information:
Sizes: Mini and standard Bernedoodle puppies
Generations: multi-generational Bernedoodle puppies
Bernedoodle Breeder Information:
Location: Spencerville, IN
Email: info@gentlegiantbernedoodles.com
4. DJ's Designer Doodles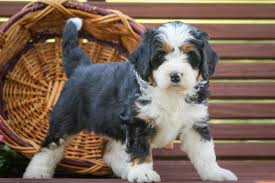 This breeder is farther away from the heart of Indiana, more southwest in the state, located in Freedom. DJ's designer doodles are bred to be designer dogs and they are beautiful as well as happy and healthy.
Most of the Bernedoodles for sale in Indiana are tri-color puppies. They primarily raise mini Bernedoodles which allows them to focus on one size and breed rather than trying to sort out multiple sizes. All of the puppies are raised as family pets as well as with the parent dogs.
The Bernedoodle puppies are raised and cared for in their own home and are treated as part of the family. They get lots of love, attention, and spend time around children and other pets as well. Moreover, they have lots of pictures and testimonials available on their site. You can also contact them to plan a visit!
This Bernedoodle breeder in Indiana really has the process of breeding and raising family-owned doodles down to a science. The mom dogs are AKC-registered Bernese Mountain Dogs that come from champion bloodlines.
Bernedoodle Puppy Information:
Sizes: Mini Bernedoodle puppies
Generations: F1B and F1 Bernedoodle puppies
Bernedoodle Breeder Information:
5. Acorn Lane Bernedoodles Indiana
In the heart of St. Joe, Indiana, near Auburn, lies this small farm that is known as Acorn Lane. Here they breed both mini and standard Bernedoodle puppies that are bred to be fun, smart, and loyal. These puppies range in color, with some of the highly sought after tri-color puppies in the mix.
This family is comprised of 2 adults and 7 children. The puppies are raised as part of this family and spend all day with the children so they are never lacking attention, care, or love. The family allows visitors and tours so you can meet the breeders, the family, and the puppies and parents as well. You can expect that the puppies will be well socialized when you bring them home.
All puppies get their health testing and vaccinations as well as health certifications. They come home with a health guarantee so it's likely they will be free of genetic diseases. You can check out plenty of pictures and testimonials on their website. It looks like you can also follow the Bernedoodle operations on their Instagram as well. We like this Bernedoodle breeder in Indiana because they are very transparent.
Bernedoodle Puppy Information:
Sizes: Standard and Mini Bernedoodle puppies
Generations: multi-generational Bernedoodle puppies
Bernedoodle Breeder Information:
How to Select a Bernedoodle Breeder in Indiana
Indiana is a state that has a lot of farm space and open areas. Many of the reputable Bernedoodle breeders in the state have acreage and farm ground. We've shared 5 Bernedoodle breeders in Indiana that spread out over the state, but there are several other options to choose from as well.
In an effort to help you make an informed decision, we've come up with a few tips to share to help you choose a good breeder. You want to avoid puppy mills and backyard breeders at all costs because you'll likely not get a healthy puppy that will live a long time.
Research and Look Around
Before you make a final decision, be sure to check out your options. Take a look at all of the available options and the information about a breeder online. Look into their background, testimonials, and reviews.
You want to know you are working with a reputable breeder and that the puppy you are paying for is everything you dreamed of. Just be sure to check out the information available to you. If possible, you might even plan a visit to check out their facilities.
Plan Ahead
With specialty breeds like the Bernedoodle, the puppies are typically reserved before they are born. It's important to understand that you may find yourself on a waiting list until a litter is born. Just be sure to plan ahead, plan for the costs, and know you probably aren't picking up your puppy tomorrow! The wait is well worth it! Most Bernedoodle breeders in Indiana have a waitlist that is typically a few months.
Just What IS a Bernedoodle?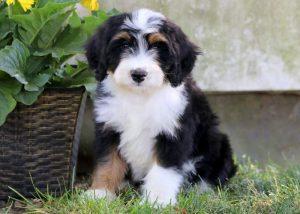 Bernedoodles are most often duo or tri-colored pups that can range in size from around 10 to 90 pounds, depending on how they are bred. Standard Bernedoodles are typically in the 50-60+ pound range while the popular mini Bernedoodle can weight closer to 10 pounds.
The Bernedoodle is bred using a Poodle and a Bernese Mountain Dog. It doesn't matter which parent is which and you can even use mini and standard sized Poodles. Bernedoodles puppies are all unique and beautiful in their own ways.
This breed is known for its goofy and laid-back nature. They love to play and they make really great family pets. In addition, you'll see Bernedoodles that make good service and therapy dogs because they are intelligent, caring, loyal, and fun.
Conclusion for Bernedoodle Breeders in Indiana
You really can't go wrong with a Bernedoodle, regardless of which type you go with. They all have decently long lifespans and they are also a hypoallergenic and nonshedding dog breed. However, finding reputable Bernedoodle breeders in Indiana is a difficult task because you want your puppy to be healthy and happy. There are several puppy mills that you need to avoid when purchasing a dog. Always do your own research and try to visit that facility that you're purchasing your puppy from. We hope you find the perfect Bernedoodle puppy in Indiana!
Other articles you might like:
Garrett loves animals and is a huge advocate for all Doodle dog breeds. He owns his own Goldendoodle named Kona. In addition, he volunteers at the Humane Society of Silicon Valley, where he fosters dogs and helps animals. Garrett enjoys writing about Doodles and believes that dogs can teach humans more about how to live than humans can teach a dog.
Why Trust We Love Doodles?
At We Love Doodles, we're a team of writers, veterinarians, and puppy trainers that love dogs. Our team of qualified experts researches and provides reliable information on a wide range of dog topics. Our reviews are based on customer feedback, hands-on testing, and in-depth analysis. We are fully transparent and honest to our community of dog owners and future owners.