Do you know the differences between F1 vs. F1B Bernedoodle dog breed? Understanding the different terminology when thinking about a hybrid dog makes a huge difference. These hybrid designer animals are all labeled based on the generations and how they are bread. When you see numbers like F1, F2, and similar ones, these are descriptors meant to inform you about the dog you choose.
The different numbers refer to how the dog was bred and where it falls in the generational line from the parents. While there may not be substantial differences in what each number means, there could be some specific factors that are important for your decision on the right puppy for you. Before making a choice, you should research to find the best fit. We've tried to help break it out a bit for you here. Check out this guide to F1 vs. F1B Bernedoodles to learn more.
Before you scroll down this dog generation comparison, "F1 vs. F1B Bernedoodle," you can check out these other similar guides from our team at We Love Doodles: Best F1B Bernedoodle Breeders in the United States and Bernedoodle Size Guide.
Before Comparing an F1 vs. F1B Bernedoodle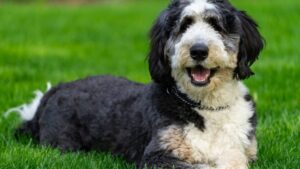 We're just going to start at the beginning. What is a Bernedoodle? This will help better understand the F1 and F1B differences later in this guide. A Bernedoodle is created when a Bernese Mountain Dog is bred with a Poodle. Each of those dogs is purebred. In this process, the purebred parents each have a 50/50 split in genetics.
At least with the initial breeding. However, as you go down the line, there are changes in the generations, which is where the different terms come from. You might see F1, F1B, F2, and even F3. Bernese mountain dogs are fairly large, so a standard Poodle is the most common parent.
However, there are also mini and toy Poodles bred with Bernese Mountain dogs, and then you get mini Bernedoodles and even toy Bernedoodles. Understanding the parents and where your potential puppy falls in the line will be very helpful for you to understand just what you're getting into. Overall, these dogs are playful and energetic. They are also loyal and cuddly and fun to be around.
F1 Bernedoodle
You might be wondering where people came up with the term F1. There is a meaning behind them. The F stands for respectful and refers to a filial hybrid. In this scenario, F1 means that this hybrid has two purebred parents. That means the F1 Bernedoodle is bred from a purebred Poodle and a purebred Bernese Mountain dog.
This is the basis of the hybrid itself. Most people will leave off the F1 and call the dog a Bernedoodle because it's the natural function of breeding the two together. This is the first generation of Bernedoodle in the line. There can be several F1 Bernedoodles from the same parents. As long as they are bred from two purebred parents, they are considered F1 Bernedoodles.
The changes come later down the line. The ultimate goal is to create Bernedoodles that are purebred eventually. These generations' separations are working towards that, but it hasn't happened yet. The lines must remain pure, which will take a lot of time to accomplish. With the F1 line, you can understand what to expect from your Bernedoodle based on each parent.
The size, features, temperament, and more all stem from their parents, and there is nothing else in the line to deviate. Typically, an F1 Bernedoodle or hybrid of any kind is the highest hybrid level. It's often the most popular because it is the most predictable and comes directly from the purebred lines. However, there can be great qualities to other lines too.
Size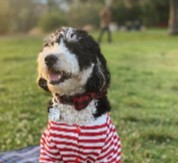 There are several different sizes for a Bernedoodle dog breed. They are broken out based on the size of the Poodle that was used typically. You can find mini, small, and standard. The mini is still a good-sized dog and weighs 30 to 50 pounds. The mini weighs anywhere from 50-80 pounds, and the standard will be the largest at 80-100 pounds.
Related: When is a Bernedoodle Full Grown?
Genetics & Appearance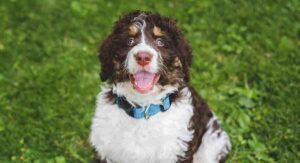 The appearance of an F1 Bernedoodle is another characteristic that is hard to predict. This is because Bernese Mountain dogs have long hair and Poodles have curly hair. When you put the two together, you get plush coats that typically have curls. The coat textures can vary slightly. Their coat colors also vary, and Bernedoodles are known for having two to three colors.
Temperament
The temperament of the F1 Bernedoodle will be heavily dependent on the parents. However, these dogs are known for being energetic and playful but also very loyal and affectionate at the same time. They love to run and explore.
Related: Facts About Adult Bernedoodles.
F1B Bernedoodle
When you bring F1B into the mix, you have some changes. The F still stands for a filial hybrid. The 1 means you have the first generation of Bernedoodle. And then you add in the B, which means there is a backcross in the breeding process. So, where the F1 generation is 50/50, the F1B generation will be 75/25. F1 uses a purebred Poodle and Bernese Mountain dog, but F1B only uses one purebred.
In most cases, they use the Poodle as the backcross works out better, and Poodles are hypoallergenic, so those qualities are sought after. To create an F1B Bernedoodle, a breeder would use a Poodle parent and breed them with a Bernedoodle. This could also be done with a Bernese Mountain dog and Bernedoodle, but the Poodle is the more common choice.
Related: What is a Reverse F1B Bernedoodle?
Size
Now that you are mixing a Bernedoodle with a Poodle (most common), there could be some differences in size. However, the size will be heavily dependent on the parent. Is the parent Poodle a toy, mini, or standard? Is the parent Bernedoodle a mini, small, or standard? This will play a part in the F1B Bernedoodle size.
Genetics & Appearance
If you follow the typical for an F1B and use a Poodle as the purebred parent, this is where your appearance will change potentially from F1. Since the Poodle is 75% of the makeup, your puppies will follow suit more than the Poodle. They will still have Bernese qualities but have tighter curls like the Poodle and require that type of grooming.
Related: Top Tri-Color Bernedoodle Breeders in the United States.
Temperament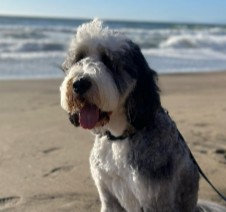 Now, when considering the temperament of an F1B Bernedoodle, you again need to consider the parents. However, remember that you likely have 75% Poodle and 25% Bernedoodle. This means you will have a very intelligent dog that trains easily. They will also be energetic. And then you add in the Bernedoodle.
This means you have very smart and very energetic but overall easygoing. They're fun dogs with huge personalities and well-known for being just a bit on the goofy and playful side. Most breeders will carefully breed for temperament and health, so your results should be good.
Related: Do Bernedoodles Shed?
Conclusion For "F1 vs. F1B Bernedoodle"
F1 and F1B animals have a lot in common but definite differences. F1 is strictly from the purebred lines and is an even 50/50 mix. With that in mind, you never know if the litter will take more after the Poodle or the Bernese Mountain dog. It's often just a guessing game.
The F1B is slightly more controlled simply because it's 75% of one parent and 25% of the variable. This makes predicting things like coats, colors, and temperaments easier. In most cases, the F1B breeds are more hypoallergenic, but only when the Poodle is the purebred of choice in the equation.
Both dogs can be great, and the differences are pretty subtle. What works best for you will ultimately depend on your home and your needs. You can't go wrong either way, but if you're looking for hypoallergenic qualities, F1B is the way to go.
If you find this guide, "F1 vs. F1B Bernedoodle," helpful, you can check out:
You can learn more about a Bernedoodle's generation by watching "Best Bernedoodle Generations" from We Love Doodles' YouTube channel down below: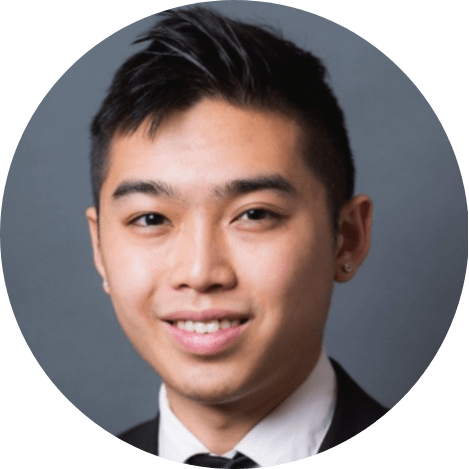 Andy is a full-time animal rescuer and owner of a toy doodle. When he's not saving dogs, Andy is one of our core writers and editors. He has been writing about dogs for over a decade. Andy joined our team because he believes that words are powerful tools that can change a dog's life for the better.
Why Trust We Love Doodles?
At We Love Doodles, we're a team of writers, veterinarians, and puppy trainers that love dogs. Our team of qualified experts researches and provides reliable information on a wide range of dog topics. Our reviews are based on customer feedback, hands-on testing, and in-depth analysis. We are fully transparent and honest to our community of dog owners and future owners.