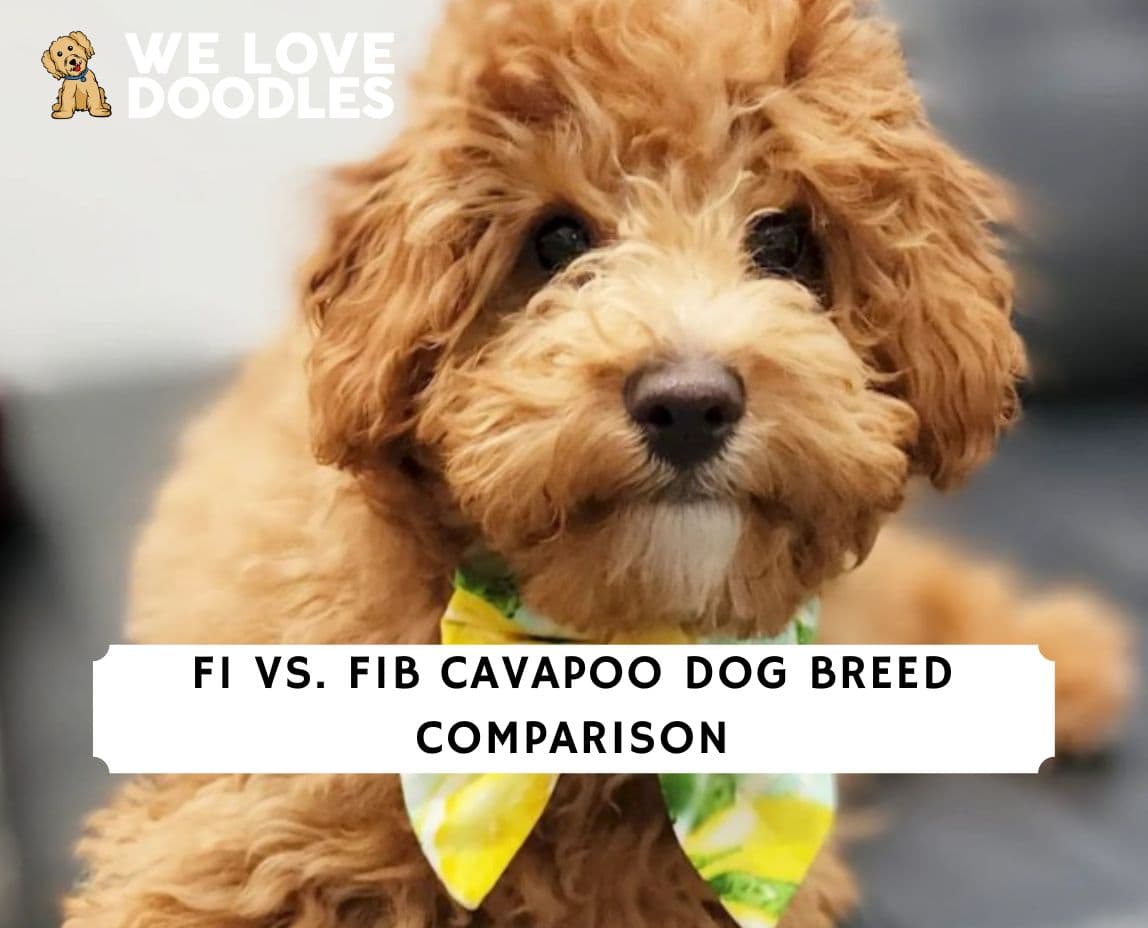 Have you ever looked at a breed of dog you were considering and seen notations like F1 or F1B? You might even see something like F2 or F3 in there. These terms do have a meaning, and those meanings might have an impact on the puppy that you choose. Ultimately, these terms are specifically related to the generation of the dog being bred.
Since Cavapoos are hybrid dogs, the generations are tracked in hopes that they will be considered purebred dogs at some point. It's simply part of the process. Until that time, understanding what each generational tag means and how that could affect the dog that you get is important. Look at this guide to understand F1 vs. F1B Cavapoo dogs.
Before you scroll down this F1 vs. F1B Cavapoo dog breed comparison guide, you can check out these other similar topics from our team at We Love Doodles: Best Cavapoo Generations and Cavapoo Size Guide.
Before Comparing an F1 vs. F1B Cavapoo
Let's start with just a brief overview of the Cavapoo. This dog is a hybrid designer breed. Since they are still fairly new and hybrids, they are not yet recognized as registered dogs. However, the hybrid is created from breeding together two purebred parents. Those parents are one Cavalier King Charles Spaniel and one Poodle.
Because the Spaniel is a smaller dog, the Poodle used for this pairing is a toy or mini Poodle, and the result is a small dog that is part of each of these breeds. They bring across the temperaments of their parents and their natures. They blend the best of both worlds and have some really interesting features. The results are great, and the Cavapoo is a good small dog with plenty of energy.
Overview of the F1 Cavapoo
When it comes to the generations of the Cavapoo breeds, you will find there can be some differences. Any hybrid breed is assigned these generational tags so that you can relate this F1 across the board. However, every breed is different in some way. It's the terminology that carries across.
F1 is the first generation. It's the purest breed and comes directly from a one-half spaniel and one-half Poodle. That's it. No other crossings in the breed. So, what does that mean for the breed? Since F1 is one part Poodle and one part spaniel, understanding their potential character, needs, and even colors is much easier.
There is no cross-breeding or mixing of other breeds into the line. F1 is considered the highest level of hybrid vigor and is often one of the most sought after at this juncture in the hybris world. Regarding the Cavapoo, F1 typically means that they will have typical Cavapoo features, sizes, and health.
F1 Cavapoo Size: The F1 Cavapoo size typically falls anywhere from 10-20 pounds. They could weigh up to 25 pounds, depending on the size of the Poodle. In addition, these dogs grow to up to 12 inches in height, and some are much smaller. They are a small dog breed. You can typically gauge the size based on the Poodle parent so keep that in mind.
Genetics and Appearance of the F1 Cavapoo: The F1 Cavapoo typically takes after both parents quite a bit. They sometimes favor one parent regarding looks and temperament, but it's a toss-up. Their colors could vary, and getting a double or tri-colored coat is easy. Their coats can also vary, but most of the time, they inherit at least some of the curl of the Poodle parent, and it's mixed with long, silky hair from the spaniel parent.
Temperament: Again, the temperament can pretty much be determined by the parents. However, the Poodle and the Spaniel are both known for being very smart and easy-going dogs. They are intelligent, social, and easygoing. They also train very easily but can be unruly, especially if they get bored.
Overview of the F1B Cavapoo
When you compare the F1 to the F1B Cavapoo, the differences are slight, but they are tracked for a reason. Where the F1 was 50% spaniel and 50% Poodle, the F1B breeds using a Cavapoo. So here you have one parent, a Poodle or a Cavalier King Charles Spaniel. It's just one of those; the choice is up to the breeder.
That choice is then bred with a Cavapoo. The most common parent for this type of breeding process is the Poodle. That's not always the case, but it is the popular choice. With that, 75% of the chosen purebred parent and 25% Cavapoo, the hybrid breed.
The result is that the F1B Cavapoo will hold a more prevalent gene for the parent that wasn't a Cavapoo in the breeding process. This means they will have more of their tendencies. This is another reason that poodles are common. The Poodle here actually helps an F1B Cavapoo be hypoallergenic.
F1B Cavapoo Size: The size of this Cavapoo will again heavily depend on the parents. However, since your Cavapoo is likely a small dog and the Poodle or Spaniel used is also probably a small dog, you can estimate that the F1B will be similar in size to that of the F1 Cavapoo. You shouldn't worry too much about size being hugely different here.
Genetics and Appearance of the F1B Cavapoo: The appearance is where you will likely notice a larger difference between the F1B Cavapoo and the F1 Cavapoo. The reason is that you have a higher gene than the parent that isn't a Cavapoo. Where an F1 Cavapoo is 50/50, the F1B Cavapoo is 75/25, so the like parent will stand out more in genetics and appearance. If you can see or view the parents and learn about them, this can be helpful to understand better what you should expect overall. An F1B Cavapoo that uses a Poodle parent will have curlier hair that is much more similar to the Poodle. Again, they are also hypoallergenic and shed much less too. That being said, their grooming needs will likely be higher to maintain those curls.
Temperament: The temperament of the F1B Cavapoo is where it gets a bit more challenging. They are said to have quite a bit more energy because they have 75% of the Poodle, which is energetic and intelligent, and 25% of the Cavapoo, which is also energetic and intelligent. Experts say that this requires you to be more proactive with making sure they are mentally and physically stimulated and giving them plenty of love and attention to keep them satisfied. You can use these same descriptors for an F1B Cavapoo with a Cavalier King Charles Spaniel instead of a Poodle as the parent. They will be 75% spaniel and 25% Cavapoo and inherit many more of the features and characteristics of the spaniel parent.
Conclusion For "F1 vs. F1B Cavapoo Dog Breed"
When you compare an F1 vs. F1B Cavapoo, you see a different mix of the Cavapoo working towards a pure Cavapoo line. The F1 Cavapoo is 50/50 with a Spaniel and Poodle mix, while the F1B is 75% spaniel or Poodle and 25% Cavapoo. It just keeps taking the line further down.
When it comes to choosing which one is right for you, think about these two basic things. The first is, will you be able to devote the time and attention that an F1B needs for proper training and exercise? It's not necessarily a huge difference, but they might require more.
The other thing is, are you prepared to handle their coats? An F1B Cavapoo is more likely hypoallergenic, which is great. Still, you also will need to anticipate higher grooming needs, particularly if a Poodle is one of the parents. Knowing the parents can help you understand the puppies quite a bit better.
If you find this guide, "F1 vs. F1B Cavapoo Dog Breed Comparison," helpful, you can check out these other guides from our team at We Love Doodles:
You can learn more about the Cavapoo dog breed by watching "Best Cavapoo Generations" from our team at We Love Doodles down below: