The Cavapoo, a mix between the Cavalier King Charles Spaniel and a Toy or Miniature Poodle, had no trouble getting accepted as one of the first designer dogs back in the 1990s. The success they found in Australia ensured the breed made its way to the United States and the United Kingdom, where they won the hearts of breeders and owners alike. 
Considered intelligent, loyal, easy-going, and playful at the same time, the Cavapoo exhibits the best qualities of both parents. Cavapoos have soft coats which range from straight to curly and come in all sorts of colors such as chestnut, cream, and red sable, to name a few. 
Though they are the perfect family pet for many reasons, it's their hypoallergenic properties that draw many people to choose the bread as man's best friend. One question that we are constantly asked is, "Do Cavapoos shed?" Today, we will answer everything that you need to know to get a Cavapoo that doesn't shed.
Other articles you would like: Types of Cavapoo Sizes and Are Cavapoos Hypoallergenic?
Do Cavapoos really shed?
The quick answer is yes, all dogs shed to some degree, including Cavapoos. Cavalier King Charles are natural shedders, as many owners can attest, but when mixed with a Poodle, shedding is minimal. The levels of shedding all depend on several different factors:
Coat type

DNA

Cavapoo Generation (F1, F1B, F2…)

The dad (sire)

The mom (dam)
Nevertheless, Cavapoos are the dog of choice for families who suffer from allergies because their different coats have mostly allergy-friendly properties. Depending on a couple of the factors listed above, some Cavapoos will prove closer to a non-shedding dog. 
Related: Cavapoo Dog Breed Guide
Why Some Cavapoo's Shed Differently?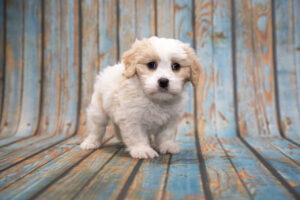 Soft and smooth to the touch, a Cavapoos coat can take on different forms such as straight as a Cavalier or curlier resembling a Poodle. Sometimes, Cavapoos take on the coat combination of both parents, neither completely curly nor straight, but wavy. Just like the dog's coat can look and feel different, shedding properties will also prove different.
The important thing to remember is that no matter what, a Cavapoo is still a dog and it will shed to some degree. Depending on how the DNA falls, some Cavapoos will shed more than others, which means it's important to choose the companion with the right coat. If your breeder conducted DNA testing on the parent dogs, you'd want to look for the RSPO2 gene, which will indicate whether or not your dog will shed through an improper coat.
Additionally, general breeding is a technique used by breeders to bring out the best qualities in each dog. Breeders often referred the purebred, or parent dogs, as the P generation, whereas the offspring. are considered F1 and are 50% Cavalier and 50% Poodle. There is also an F1B generation, which refers to dogs that are the offspring of an F1 Cavapoo and a purebred Poodle. This makes them 25% Cavalier and 75% Poodle.
When it comes to the shedding qualities of a Cavapoo's coat, most families want to look for an F1B Cavapoo because they have more Poodle qualities and are, therefore, more hypoallergenic. The curlier hair of a Poodle, which an F1B inherits, is less likely to shed than those dogs with more Cavalier qualities. Feel free to read more about all the different Cavapoo generations. In general, if you want a Cavapoo that doesn't shed, you'll want one with more Poodle genetics.
Let's Talk Puppy Coats 
When a Cavapoo is still a puppy, it has a much different coat than the one it will have as an adult. The Cavapoo's puppy coat is soft, fluffy, and absolutely a delight to the touch. This coat is something most people will fall in love with the instant they touch its softness. No matter how amazing the coat might feel to the touch, it cannot be the determining factor in deciding how much the puppy will shed as it gets older. 
Unfortunately, a Cavapoo has their puppy coat only until they are about six to nine months old, and then they make the transition to their adult coat. Brushing fur daily is important the instant there are signs that the transition is taking place in order to prevent matting. Without daily brushing, fur that is falling out will get tangled in the remaining fur, making it very painful to remove the mats.
A Cavapoos puppy coat can be an indicating factor of whether or not their adult coat will shed. Generally speaking, you'll want to find a Cavapoo with a more curly coat if you don't want it to shed. Cavapoos with a flat or straight coat tend to shed more than Cavapoos with a curly coat. This is because the Cavalier King Charles Spaniel has a mostly straight coat.
Are Cavapoos Hypoallergenic?
Many have asked just this question in their search for the right family companion. Some families suffer from allergies, and some are just not huge fans of clumps of fur flying around as the dog sheds on a daily basis. Whatever the reason behind this search might be, it's important to remember that there is no dog that is considered 100% allergy-free. However, some dog breeds are certainly more hypoallergenic than others.
Cavapoo's may not be completely allergy-free but they are allergy-friendly. If the shedding aspect of the dog is what worries anyone trying to obtain one, it's important to look for one with as much Poodle as possible, which means the F1B generation or any back-crossed generation. The more Poodle genes, the curlier the fur will be which is less likely to shed.
An important thing to remember during a hypoallergenic dog search is that the fur itself is not the irritant when it comes to allergies. The dander, or dead skin cells, are the real culprit when it comes to activating allergies rather than the fur the dog sheds. The correct grooming of a dog and the use of a good shampoo will have more impact on fighting allergies rather than preventing shedding in the first place. 
Grooming a Cavapoo So They Don't Shed
The hypoallergenic properties of a Cavapoo, especially those with more Poodle genes, make it especially important for the right grooming routine. Of course, since a Cavapoo will lose their baby coat the closer they get to one years old, this is not something that will be known right away. To prepare for grooming, the breeder may prove resourceful by providing all known information about the parents to determine the generation, such as if the puppy is an F1 or F1B. 
One thing is known, without the proper grooming practices, at home or with a professional, a Cavapoo is likely to develop mats and shed more often. The more mats that develop, the more painful a brushing or proper grooming will be for the dog. Sometimes, if mats may grow large enough, they will need a professional to remove rather than attempting the process at home. 
If you want to prevent your Cavapoo from shedding, the general rule of thumb is to brush their fur at home at least every couple of days. If the Cavapoo has more Poodle genes and curlier fur, you'll need to brush them more often to prevent mats. Simply put, the more your brush your Cavapoo, the less hair they have to shed.
About every four to six weeks, a professional should complete a thorough grooming which includes a wash, brush, and trim to keep the coat in good order. 
A well-thought-out grooming routine will include some of the following processes:
Brushing

Bath

Haircut

Combing

Teeth brushing

Nail trimming

Removal of stains from tears
Related Article: Best Types of Cavapoo Haircuts
Conclusion for Do Cavapoos Shed?
One thing to remember in the search for a dog is that none of them are considered allergy-free. The Cavapoo is considered as allergy-friendly as possible, but they do shed a little bit of hair. The more Poodle in the genes of the Cavapoo, the more likely they are to shed less inside the home. These dogs also do not "blow" their coats during the changing seasons but require strict grooming practices to continue looking their best.
Past owners have different opinions and experiences, some only noticing shedding once the coat has grown too long, making it more imperative to continue with the right grooming routine. Whether the puppy is an F1, F1B, or even F2, their hypoallergenic qualities are a wonderful compliment to their general friendly nature.
Other articles you will like: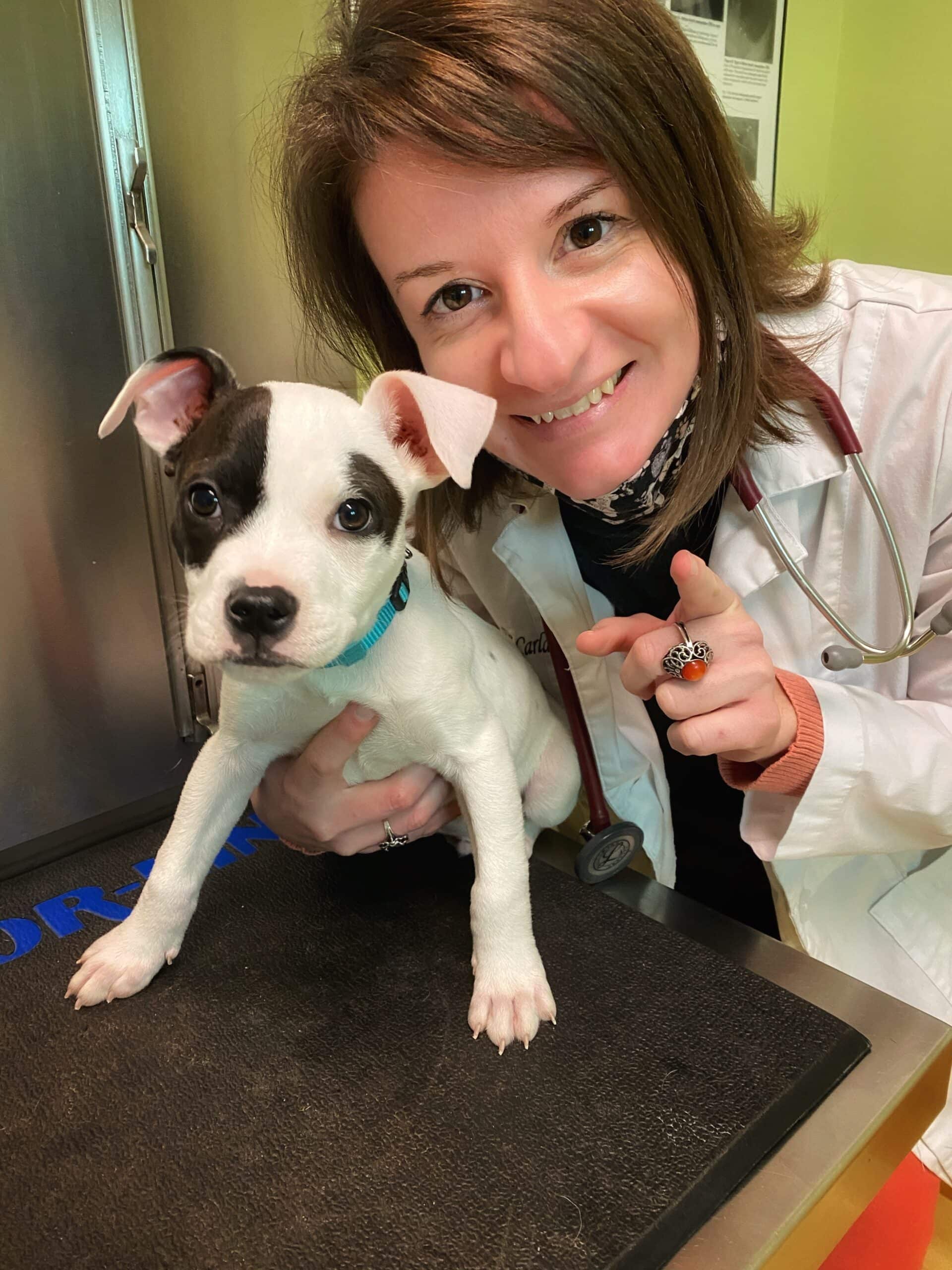 Dr. Carla Rodrigues is the owner of the veterinarian clinic Pawsitive Healing based in Jacksonville, Florida. She graduated from Montclair State University with a Biology degree and did her Doctor of Veterinary Medicine degree at Ross University. Dr. Carla Rodrigues completed her clinical at the University of Minnesota and began practicing in California and North Carolina before founding her own clinic.
Dr. Rodrigues specializes in canine rehabilitation and wants to help all pets recover whether they are a puppy or a senior dog! She practices neurologic recovery, arthritis recovery, and does orthopedic surgery. When Dr. Rodrigues isn't working or traveling, she spends time with her two loyal rescue dogs, Stella and Jackson.
Why Trust We Love Doodles?
At We Love Doodles, we're a team of writers, veterinarians, and puppy trainers that love dogs. Our team of qualified experts researches and provides reliable information on a wide range of dog topics. Our reviews are based on customer feedback, hands-on testing, and in-depth analysis. We are fully transparent and honest to our community of dog owners and future owners.