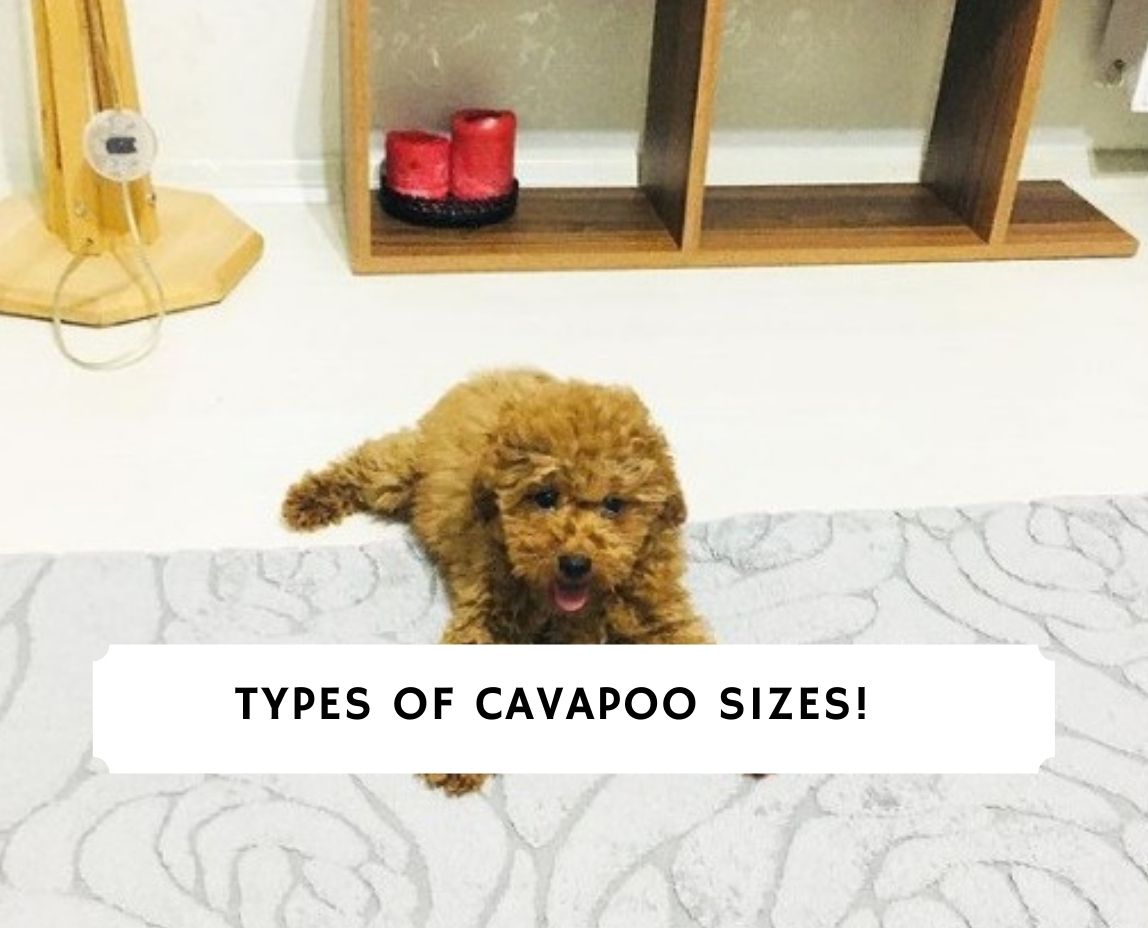 The Cavapoo, also known as Cavoodle or Cavadoodle, is a mixed breed from a cross between the Poodle and Cavalier King Charles Spaniel dog breeds. For the Cavapoo, there are very few standards when it comes to their size because it is a new breed. In general, you will see breeders advertising Teacup, Toy, Miniature, or Standard Cavapoo sizes so it's important to understand the differences between their sizes.
As a mix between Poodle and Cavalier King Charles Spaniel's parents, it is natural to expect Cavapoos to be small-sized to medium-sized. However, the size of the Poodle parent can drastically impact the size of the Cavapoo. This is because there are standardized sizes of Poodles: Toy, Miniature, Medium, and Standard. There is only one standardized size of Cavalier King Charles Spaniel.
Typically, Cavapoos weigh between nine to twenty-five pounds and have heights from nine to fourteen inches at the shoulder. It's worth noting that many Cavapoos can be smaller or bigger. Our article talks about Cavapoo sizes, the factors that can affect their sizes, and how to choose the correct breeder.
For more information about this dog breed, we highly suggest you read our Cavapoo Dog Breed Guide.
Teacup Cavapoo Size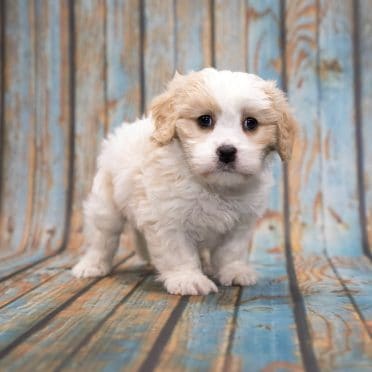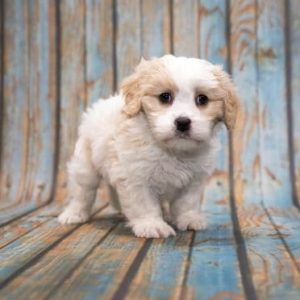 Teacup is a relatively "new" term for Cavapoos and is the smallest size that breeders typically sell. Typically, Teacup Cavapoos will be extremely small in size weighing between 5 to 10 pounds and standing anywhere from 8 to 10 inches. If you imagine holding a standard-sized sheet of paper up, that is how big a Teacup Cavapoo will get.
In general, the Teacup size Cavapoo is originally bred from a toy Poodle and smaller Cavalier King Charles Spaniel. Most breeders will then take the "runt," or smallest size puppy, from the litter to continue making smaller-sized puppies. There's quite a lot of controversy around Teacup-sized Cavapoos, so we generally don't recommend this size. Breeding smaller and smaller-sized Cavapoo puppies generally creates some health issues over time.
Toy Cavapoo Size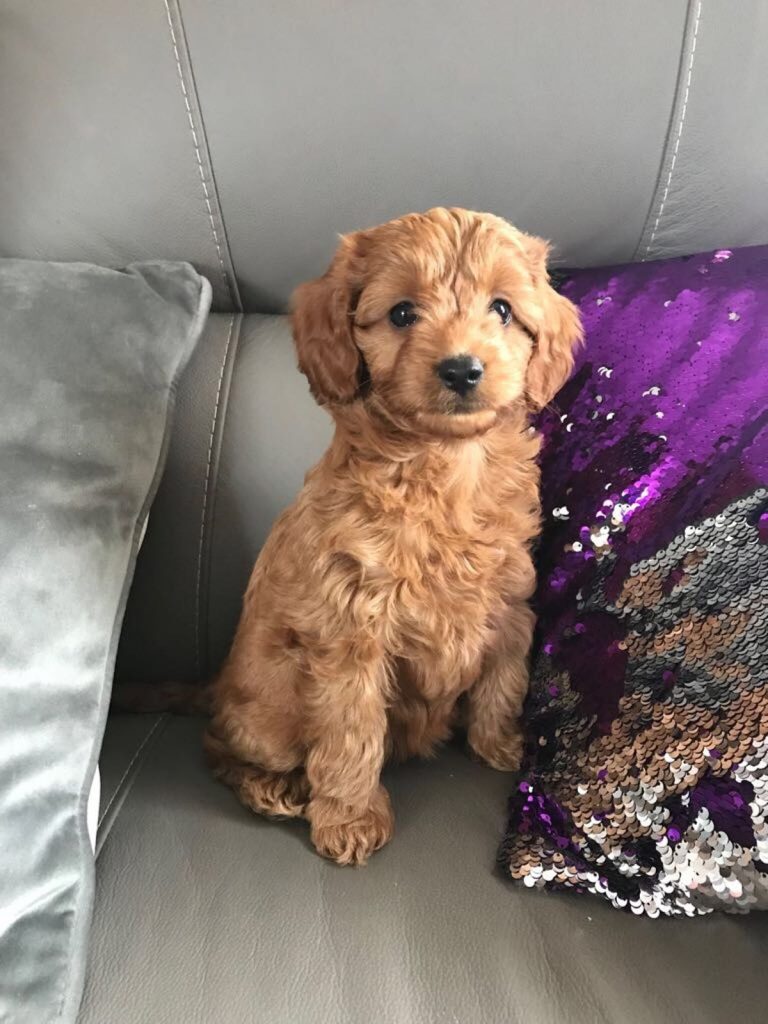 Toy Cavapoos are slightly bigger than Teacup Cavapoos. They are traditionally bred from a normal-sized Cavalier King Charles Spaniel and a Tiny or Toy Poodle, both of which are small! The Cavalier King Charles Spaniel has sizes between 12 to13 inches in height and weighs between 13 to 18 pounds. In contrast, the Tiny/Toy Poodle weighs between 6 to 9 pounds and has a height of about 10 inches.
The full-grown adult Toy Cavapoo has an average size of around 7 to 13 pounds in weight and a height of about 12 inches. If you live in an apartment or condo, a smaller sized Toy Cavapoo could be a great option for you since they can still thrive in smaller environments as opposed to the Doodle breeds who need more space to roam and exercise.
Mini / Miniature Cavapoo Size
The Mini or Miniature Cavapoo size is by far the most popular size for this dog. This size is only slightly bigger than the Toy Cavapoo size and is gotten from mixing a Cavalier King Charles Spaniel and a Mini Poodle. A Mini Poodle weighs between 12 to 20 pounds and has a height of about 15 inches. The full-grown adult Mini Cavapoo has an average size of between 13 to 25 pounds in weight and 12 to 16 inches in height.
People generally like Mini Cavapoo puppies because they aren't too small, but they also aren't too big. With their hypoallergenic and nonshedding coat, you get a very nice companion dog that will get along well with everyone in your family. They aren't too big like a Goldendoodle or Labradoodle, and they aren't too small. They can thrive anywhere, whether you live in a house, apartment, or condo.
Standard Size Cavapoo
The Standard Size Cavapoo is the largest of all the sizes. Generally speaking, breeders will just advertise standard Cavapoos as just "Cavapoos." You'll be able to decipher whether they are a standard Cavapoo by asking the breeder what size Poodle was bred with these dogs. If a breeder used a Standard Poodle, then you will be getting a Standard Cavapoo.
Standard Poodles are 40 to 70 pounds and stand over 15 inches tall. When bred with a Cavalier King Charles Spaniel, you'll see Standard Cavapoos that are 20 to 30+ pounds and stand 18 inches tall. Since these are the biggest size of Cavapoo, you'll want to make sure that you enough space for your dog and exercise them daily.
Factors that Affects the Size of a Cavapoo
Many factors can impact the size of your Cavapoo when it is fully grown. Some factors are the parents' weight and height, gender, and the generation to which your Cavapoo puppy belongs to. All these factors make it tricky to ascertain how big your Cavapoo will be. However, we have provided some helpful tips to better understand how big your Cavapoo will be. You can also read our in-depth article on "How Big Do Cavapoos Get?" for more information.
1. The Gender
The gender of your Cavapoo will play a huge role in determining how big your dog will become. The size of a male Cavapoo is about ten percent larger than the female Cavapoo. This isn't a huge difference, but it is essential to note that a male Cavapoo is generally slightly larger than a female Cavapoo.
2. The Size of the Parents
The parents' size is another essential factor to consider in determining the final size of your Cavapoo. The genes passed from the parents to the offspring play a role. While this can determine the full-grown size of a Cavapoo, it is not a hundred percent accurate in determining the size of your Cavapoo.
3. The Generation of Cavapoo
Finally, the generation from which your Cavapoo comes from can help to determine the full-grown size when it becomes an adult. The generation refers to the genetic makeup of your dog, theoretically. In other words, what is the genetic makeup of your Cavapoo in terms of the Cavalier King Charles Spaniel and Poodle. The higher percentage of the bigger parent, the bigger your Cavapoo is likely to become. We have a super in-depth guide on Cavapoo Generations if you're interested in learning more.
Choosing the Right Cavapoo Breeder
To begin, you want to find a trustworthy breeder. Ensure that you don't get your pup from a puppy mill (a kennel that cares only about money, so they breed plenty of puppies with little or no regard to their well-being, temperament, or their health.)
An excellent breeder will always check and test the parent dogs' health to erase any potential issues in the puppies genetically. They will always inform you that health-testing has been observed, and the Cavapoo puppies are safe from genetic illnesses. In some cases, they may show you a certificate from the OFA or PawPrint genetics.
Another important consideration that a trusted Cavapoo breeder will ensure is proper deworming and proper vaccinations. This will help keep your Cavapoo puppy healthy, regardless of its size.
Additionally, the environment in which the Cavapoo puppies were bred and raised equally plays a huge role in the puppies' future health. We recommend that you visit the potential breeder of your Cavapoo. Take notes of their surroundings and look at the parent dogs. If you notice that the kennel area is warm, nice, and overall clean, this can be a good sign. If where they are raised is disorganized, dirty, and messy, you might want to find a different Cavapoo breeder.
If, after deciding on your Cavapoo breeder, we recommend that you check their references/testimonials to see reports from their previous customers. Good breeders always have plenty of testimonials. We also have several articles on our website reviewing Cavapoo breeders!
Conclusion for Cavapoo Sizes
The Cavapoos make lovely family dogs as they are outgoing and love to cuddle. However, Cavapoos come in several different sizes so if you're looking for a puppy, you'll have to make sure that you choose the correct size from a breeder. We hope that our article has given you information on the sizes of Cavapoos and will help you determine which size is best for your lifestyle!