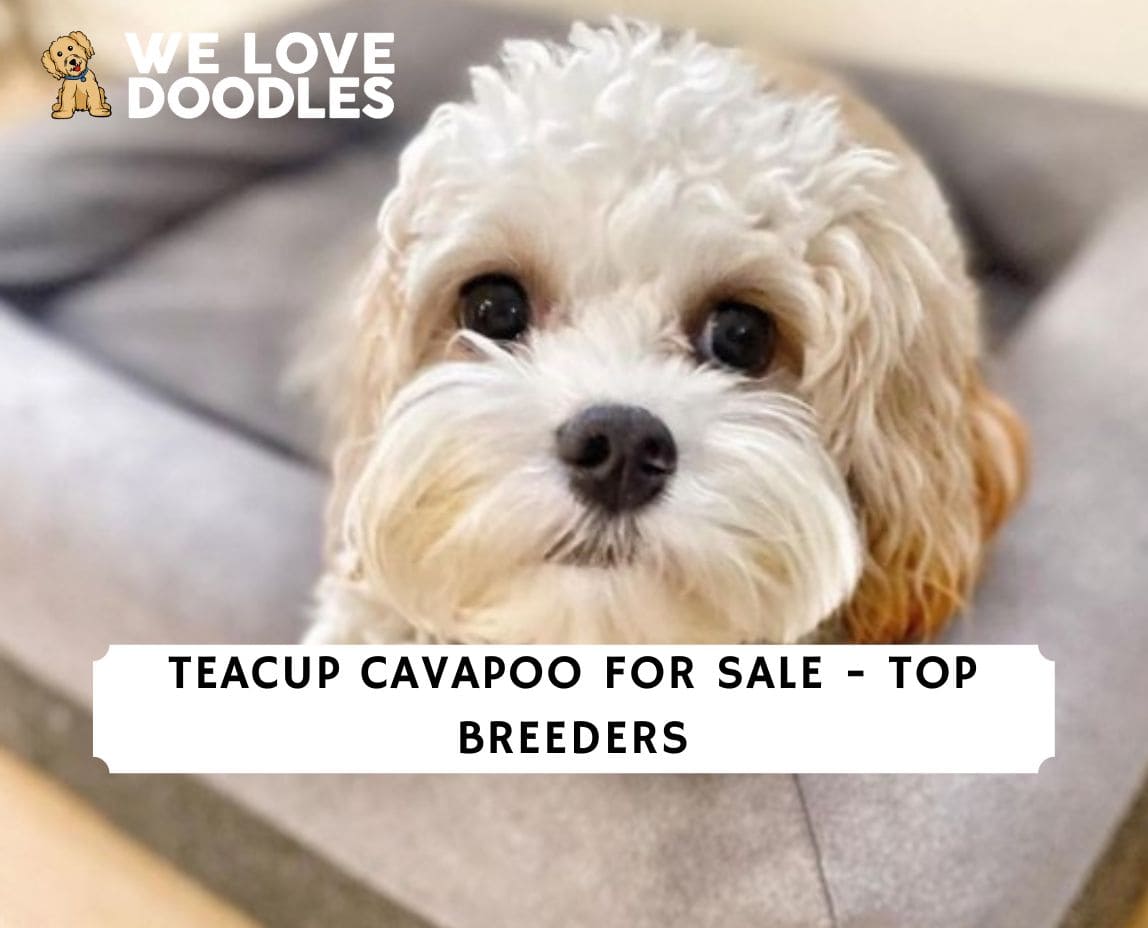 Are you on a quest to find an adorable teacup Cavapoo for sale? Here's what you need to know about this Poodle mix if you're searching for a breeder in your area.
Teacup Cavapoos are tiny; they don't usually weigh more than eight pounds and their adorable little faces make them irresistible! They're a cross between a Cavalier King Charles Spaniel and a toy Poodle.
With such specially bred designer dogs, you must be careful when looking for a breeder. We've decided to find and list the top breeders of teacup Cavapoos in the United States to help you make your decision! Ready to look for your new Cavapoo baby? Let's get started!
Before scrolling down this list to find a breeder with teacup Cavapoo for sale in the United States, you can check out these other breeder recommendations from our team at We Love Doodles: Havapoo Puppies in the United States For Sale and Best Havashu Breeders in the United States.
Teacup Cavapoo Breeders in the United States
A Teacup Cavapoo is a small dog that is a loving and playful little companion. Finding a reliable breeder is tricky, so we've compiled a list of the top breeders selling teacup Cavapoos.
Cavapoo Guides: How Much Does a Cavapoo Cost and Cavapoo Pros and Cons.
1. PuppySpot's Teacup Cavapoos For The United States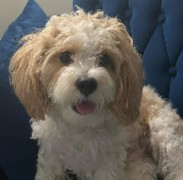 Since you're searching for a breeder with a teacup Cavapoo for sale in the United States, you should check out the PuppySpot platform. PuppySpot is a highly trusted marketplace where you can browse and find available teacup Cavapoo puppies anywhere in the country. Whether you live in Washington, Wisconsin, or anywhere in between, there's a teacup Cavapoo close to you!
All PuppySpot breeders with teacup Cavapoo puppies must undergo a strict screening process, so you can rest assured knowing that your companion will be safely raised, then shipped to your home. Filter your search by location and other criteria, then select the puppy you love. Once you find your dog, just add him to your "cart" and choose your shipping options.
Dogs come with a ten-year health guarantee, one of the best in the country. Your dog will be sent to you via USDA-certified airplane or vehicle, so you can be sure he'll arrive to you as fit as a fiddle!
PuppySpot Details
2. Precious Doodle Dogs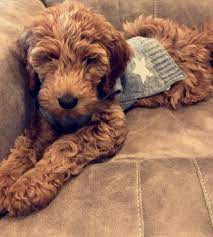 Precious Doodle Dogs is a reputable breeder of teacup Cavapoos and teacup Goldendoodles. They've been in business for almost a decade, and those who have purchased from this kennel have rave reviews about their experience!
Upon arrival at your home, your dog will be vet-checked, wormed, vaccinated, and will have had their dew claws removed. Crate training begins at the breeder's home – if you need advice don't hesitate to ask! Dams and sires are genetically tested to decrease the chance that your puppy will have a hereditary disease.
To adopt from this teacup Cavapoo breeder, you'll need to fill out an application and place a $500 deposit. Your down payment is deducted from the final purchase price for your dog, and it holds your place on the wait list. The price of your puppy is set by the breeder and may vary, but you can usually expect to pay a total of $3,000 for your dog.
Precious Doodle Dogs Details
3. Little Teton Doodles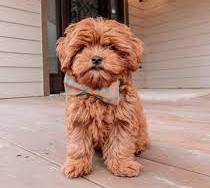 This breeder is located in Utah and has five-star reviews from previous buyers. They breed teacup Cavapoos, Labradoodles, and Goldendoodles, among other dogs. If you're interested in a puppy from this breeder, be sure to put your name on the wait list! You can sign up for this on the Little Teton Doodles website.
Once you determine that you're interested in a dog, place a deposit. This will put your name on the wait list and you'll be contacted when puppies are available. Before you purchase your dog, you can speak with the breeder about your dog's vet records, health guarantee, and vaccination records.
Little Teton Doodles Details
4. Toy Cavapoo Puppies (Update 2023)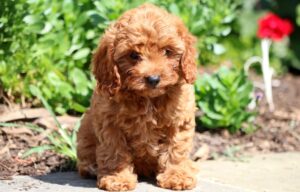 Unfortunately, after further research we do not recommend this breeder due to reports of scams. 
The next breeder on our list is located in Ohio and specializes in breeding Toy Cavapoos but may also breed Teacup Cavapoos. A Toy Cavapoo is slightly larger (up to 12 inches) than a Teacup Cavapoo (up to 10 inches).
This breeder has been breeding Cavapoos for 17 years, so they have much more experience than other breeders. This breeder provides a lot of useful information for looking after your Cavapoo, from details on what you can expect in terms of the temperament of these dogs to how to groom them and keep vaccinations up to date.
Toy Cavapoo Puppies Details
5. Happytail Puppies
Whether you're looking for a teacup Cavapoo for sale, a Bulldog, or a Chihuahua, Happytail Puppies has the pet for you! There are dozens of breeds available through this seller thanks to their large network of screened and safe breeders. The site has been in existence since 2005, and reviews from those who have shopped here are excellent!
If you're ready to buy a puppy from Happytail Puppies, you have the option to place a deposit and hold your dog or simply to buy him outright. Additionally, you can opt to make an offer on your dog, although the puppies are priced very affordably in comparison to some other breeders.
If you require shipping or delivery of your dog, you'll need to request a quote. Your puppy will travel with a pet nanny and will be supervised until he's safely delivered into your arms!
We love that, should you choose to split the cost of your dog into payments, Happytail Puppies works with third-party Credova. Apply to finance your dog prior to going through checkout.
Happytail Puppies Details
6. Northwest Doodle Dogs
Northwest Doodle Dogs specializes in small doodle breeds including miniature and teacup Cavapoos! As with other breeders, this kennel team requests that you fill out an application prior to adopting. Let them know all about your lifestyle and your existing pets, and tell them a bit about your family and your physical home.
Then, it's time to choose a puppy! Puppies are all microchipped before being sent home with a new owner. Puppies are also dewormed and given vaccines. You'll get a one-year health warranty on the puppy you purchase, and the kennel uses genetic testing to ensure that dogs do not pass along genetic conditions.
Before your puppy goes home with you, he'll have begun litter box and crate training. This helps make life easier for people adopting their dogs – the transition into your family will be as smooth as can be!
Northwest Doodle Dogs Details
7. Crockett Doodles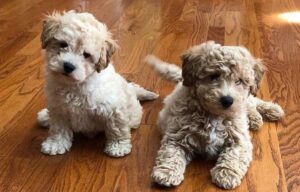 Last on the list of kennels offering teacup Cavapoos for sale is Crockett Doodles. This breeder produces teacup and mini Cavapoos. They have an excellent reputation and offer a warranty of three years on any puppies purchased from them. Check out the color varieties offered by Crockett Doodles – you'll find beautiful apricot, red, and tricolor Cavapoos for sale!
Crockett Doodles does genetic testing on parent dogs to reduce the chances of any puppies being born with inherited problems. The puppy you bring home will be vet-checked, vaccinated, and wormed, too. The age at which you can bring your pup home may vary. Small Cavapoos, for instance, Teacup and Mini Cavapoos may stay a little longer with the breeder because they are so small at birth.
Contact the breeder about pricing for your Cavapoo, but prepare to pay between $1,500 and $3,200 for your dog. Shipping and delivery is available for an additional fee.
Crockett Doodles Details
Choosing a Cavapoo Breeder in the United States
Teacup Cavapoos are miniature type designer dogs. It takes much care and experience to know how to produce healthy animals when miniature dogs like this are being produced. Exercise caution, and find a breeder you can trust before you put money down on a dog. You can begin by using our list and researching these and other breeders you may find or hear about.
Some breeders may have a form to fill in and payment method without additional information such as an address or phone number. This could be a red flag indicating that a person is trying to scam you. This is why we have included only breeders with a record of breeding Cavapoos who can be contacted through multiple means.
Good breeders often provide warranties and further information on the available puppies. The teacup Cavapoo is not as readily available as the regular size Cavapoo, so keep in mind that you will need to contact the breeders and see if they have any of the small dogs available or have any upcoming litters.
Related: When is a Cavapoo Full Grown?
Choosing Your Teacup Cavapoo Puppy
Miniature dogs like teacup Cavapoos are known to have more health problems than their standard counterparts. This is why it is particularly important to check on your dog's health guarantee and, if possible, to visit the breeder or get videos and photos of the puppy to see how active the animal is.
Tips for selecting your puppy:
More Information About Teacup Cavapoo Breeders in the United States
As you shop for a teacup Cavapoo for sale, do your homework and research information on more than one teacup Cavapoo breeder. Be careful if a breeder offers a dog to you on the cheap and without any other information. A trustworthy breeder should communicate everything about how the dog was bred, its pedigree, its health records, and the health guarantee offered.
Related: Best Cavapoo Generations.
Conclusion For "Teacup Cavapoo For Sale"
Teacup Cavapoos are adorable but not as readily available as regular size Cavapoos. Finding a trusted breeder for miniature-type dogs can be difficult. This is why we have researched and provided a list of the top seven breeders of teacup Cavapoos as a starting point for you.
For more guides similar to this list of breeders with teacup Cavapoo for sale, you can check out these other articles from our team at We Love Doodles:
Before you bring home a teacup Cavapoo companion, you can learn more about this Poodle mix by watching "Things You Should Know Before Getting a Cavapoo Puppy" on YouTube: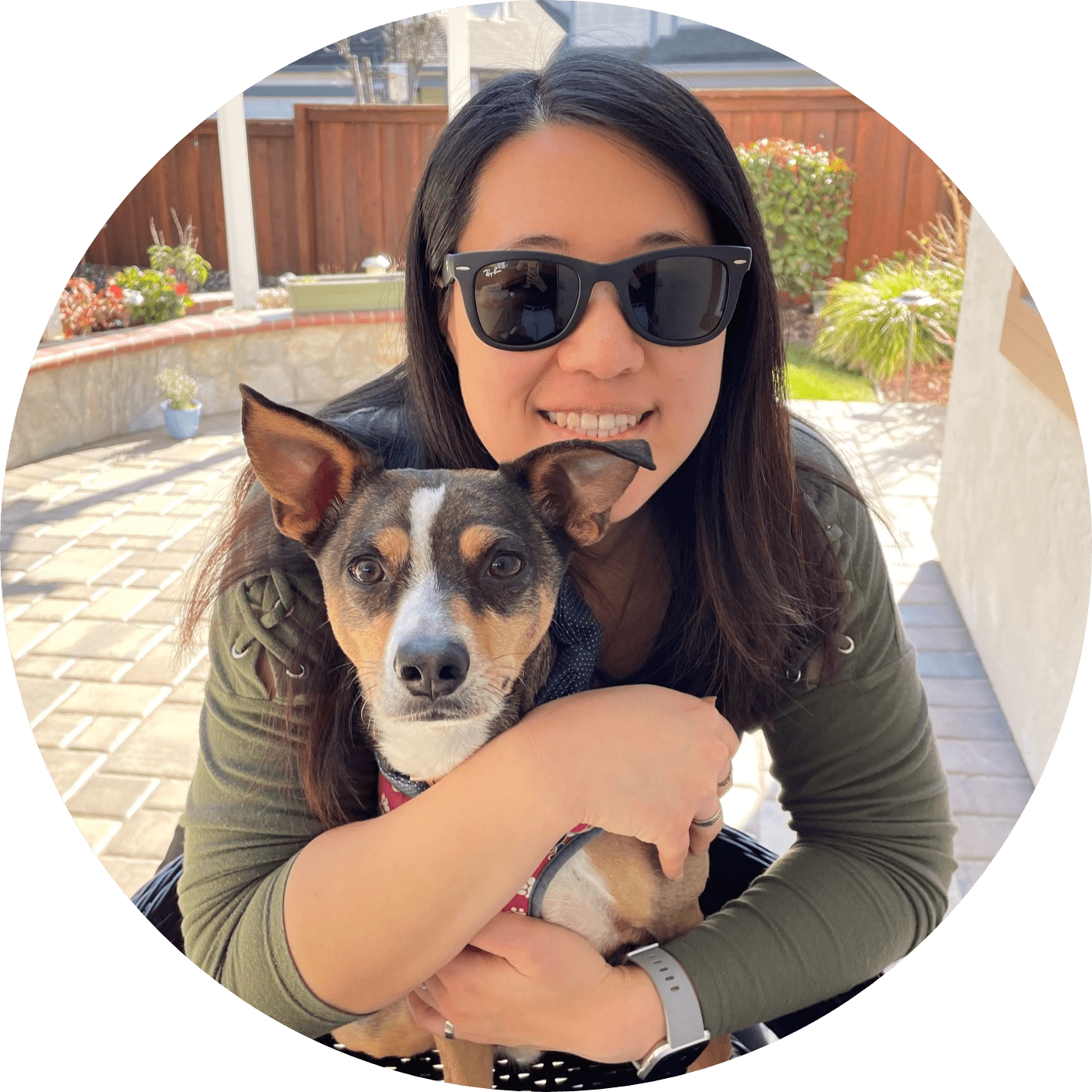 Dr. Sabrina Kong graduated from the Royal Veterinary College in England in 2016 and has been working at a small animal clinic in Northern California since then. She grew up in the Bay Area and got her bachelor's degree from Cal Poly San Luis Obispo. She also became a Certified Canine Rehabilitation Practitioner through a program at the University of Tennessee.
When she isn't in the clinic taking care of her four-legged patients, she enjoys traveling and trying new foods with her friends and her three-legged dog, Apollo. She adopted Apollo from her clinic when he was a puppy with numerous health issues. Dr. Kong truly cares about taking care of animals.