Cavapoo puppies are a small designer dog is a crossbreed between a Poodle and Charles Spaniel. They are an adorable breed that's been growing increasingly popular because of their hypoallergenic features, small size, and non-shedding coat. However, the rising interest in Cavapoos has also led to several puppy mills and backyard breeders taking advantage of unsuspecting new puppy owners. These dogs will often typically have genetic diseases that will only cost you a lot more in the future in medical bills. We highly recommend that you do your due diligence when looking for
Cavapoo breeders
if you truly want a happy and healthy puppy. To make your job easier, we've done a ton of research and looked at some of the best Cavapoo breeders in the United States. We even got one of our
doodles from a breeder
on this list (PuppySpot). Before you decide on a breeder, always be sure to ask them tons of different questions about health warranties, seeing the dogs in person, and the type of health inspections that they offer on their Cavapoo puppies. We hope that this list helps you find your future puppy!
Before scrolling down, here are some related articles: Do Cavapoos Shed? and Cavapoo Sizes (Teacup, Toy, & Miniature)
The long waiting list involved when it comes to finding Cavapoo puppies makes finding good breeders an even more difficult task. Oftentimes, a single breeder will have a waitlist of 6+ months and you won't even know when the female puppy is pregnant. This is where PuppySpot comes in since they are an extensive network of
Cavapoo breeders
that are ethical, reputable, and vetted across the United States. They have
Cavapoo puppies for sale
today and you can get one easily. A huge advantage of PuppySpot is that it vets all
Cavapoo breeders
on their website to eliminate any puppy mills or backyard breeders. All breeders must pass a 100 point inspection that requires you to be state-registered and USDA approved. You can be confident that you're buying from a reliable breeder since this process is backed by the AKC. You also have the freedom to select the specific aspects you want in your Cavapoo puppy such as their age, size, or generation. Every breeder on PuppySpot's marketplace is required to carry out comprehensive health evaluations, including up-to-date vaccinations and deworming, regularly to ensure that their Cavapoo puppies are healthy. Before the puppy can travel to you, the breeder has to provide a health certificate from their vet. Additionally, within three days of the puppy's arrival to the new home, the buyer is also required to re-verify its health through their own vet. All Cavapoo puppies purchased from PuppySpot come with an industry-leading 10-year health warranty. You won't find any other
Cavapoo breeder
offering this type of warranty.
Cavapoo Breeder Details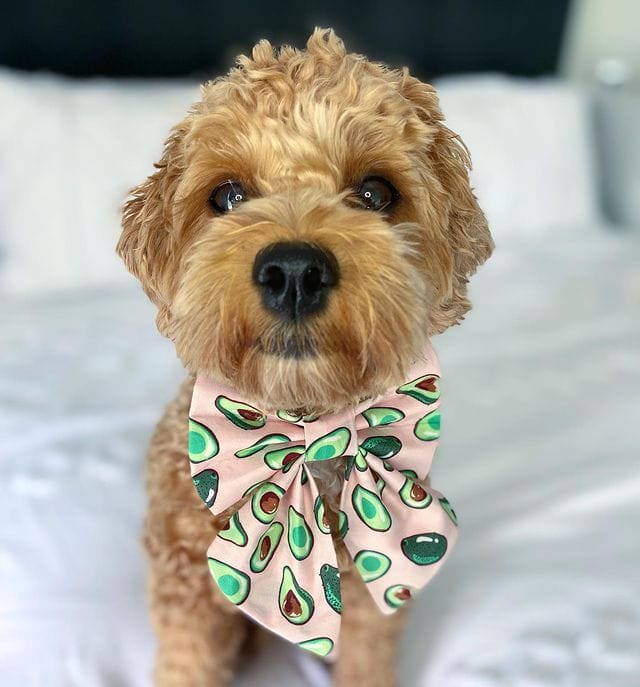 Premier Pups is a community of dog lovers who help you adopt small breed puppies from responsible Cavapoo breeders. They have a beautiful facility in Johnstown, Ohio, where they perform several checks to ensure your puppy reaches you safe, sound, and healthy. You can even visit their facility to inspect the Cavapoo puppy adoption process. One of the best aspects about them is that they can deliver anywhere in the United States. Their foundation lies in the network of Cavapoo breeders that they have around the U.S. The quality and well-being of their Cavapoo puppies are the core of Premier Pups' promise. They do so by strengthening their relationship with their breeders and disregarding those with substandard practices. Only breeders that are USDA-certified can apply. Further, there is a great deal of focus on the Cavapoo puppies' health. If you're really worried, you can purchase their Chem 10 blood evaluation test, which can tell you about the puppy's liver and kidney health. Additionally, all Cavapoo puppies for sale come with a standard 10 year health warranty. Also, it is a good idea to purchase pet insurance — plan the unexpected. As part of Premier Pups' family, you will get a 10% discount on pet insurance facilitated by Fetch.
Update: Premier Pups is generously offering our readers $250 off a new puppy with code WLD250.
Cavapoo Breeder Details
3. King Mountain Doodles
King Mountain Doodles specializes in breeding Cavapoos puppies and other doodles. They have 100 acres of fields, woods, and meadows where their dogs can play and run around in a huge fenced yard. However, they're extremely selective when it comes to selecting the prospective parents of their Cavapoo puppies, often taking a year or two to locate the right match. They want to make sure that you will be able to care for this type of puppy and provide it with a happy life. At King Mountain Doodles, good temperament is a priority when breeding along with conformation and beauty. In addition, they take pride in offering their puppies and dogs premium vitamins and food at various life stages, giving their dogs the balanced diet required to maintain optimum health. Additionally, all their Cavapoo puppies are raised by adopting a "puppy culture" that offers an excellent foundation for developing a confident, calm, and tranquil temperament. All their puppies are child-friendly and come with a 2-year health guarantee along with lifetime support. Upon purchase, you'll obtain a comprehensive veterinarian record, an information binder detailing a proposed daily schedule, and information on crate training and house training.
Cavapoo Breeder Details
4. Mulberry Farm Cavapoo Puppies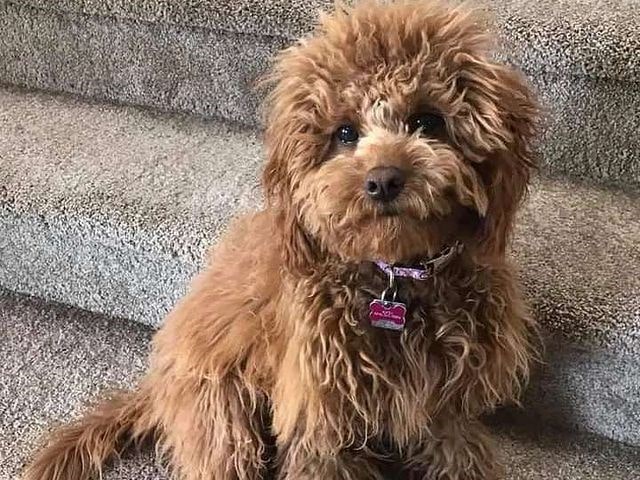 Located in Pleasant Valley, New York, the farm has been in operation since 1966. Besides Cavapoos, the
breeder raises Cockapoos
and Snoodles. All their puppies are raised in a homely environment and strive to breed puppies with loving personalities and kind, playful temperaments. Prospective Cavapoo puppy owners have to pay a $500 non-refundable deposit to book a puppy. In case you change your mind about getting the puppy, you'll have to forfeit the deposit. However, if your chosen puppy sustains critical injuries or dies before pickup, you'll obtain the next available one. When determining the best home for their puppies, the team at Mulberry Farm considers various factors, including the puppy's size and personality, whether the prospective owner's home setting will suit a specific puppy, and the duration for which the family or person has been waiting since they made their deposit. It's worth noting that the breeder reserves the right to annul the sale of any puppy before the pickup time and date set by the breeder.
Cavapoo Breeder Details
5. River's Edge Cavapoos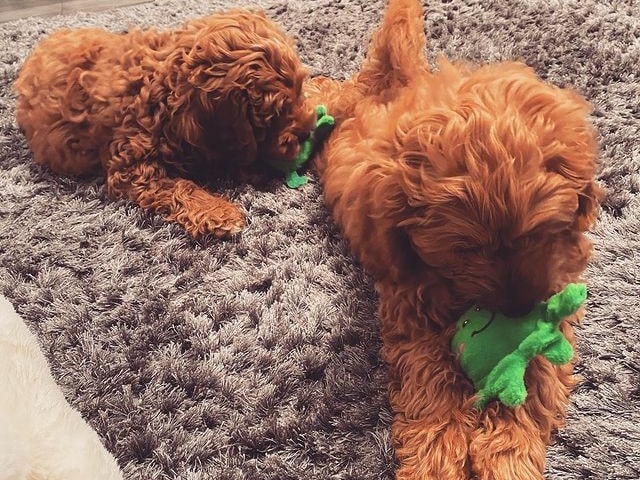 River's Edge team is committed to raising happy and healthy Cavapoo puppies. Their puppies come with all the essential vet checks, vaccinations, and deworming along with a health guarantee. Additionally, they raise their puppies in their own home to ensure effective socialization and allow the puppies to adjust to living with families. They also provide assistance and guidance to new puppy owners. Once you express an interest in their puppies, they'll add you to their waiting list. You'll have to put down a small deposit fee to reserve a spot. Just note that the waiting list is rather long because of the growing demand for the Cavapoo breed. This
Cavapoo breeder
ensures their puppies are regularly vaccinated and has their vet examine them thoroughly. Thus, you'll get a health certificate stipulating that the puppy has undergone inspection and is free from noticeable signs of infection will also be provided. River's Edge Cavapoos also issues a 2-year replacement guarantee from the purchase date against genetic defects. Buyers are quired to provide a health certificate from their vet within 72 hours of taking the puppy home. If your puppy develops a genetic defect within 2 years, they accept the puppy back, but you'll incur the costs associated with shipping to the breeder.
Cavapoo Breeder Details
Address: 5785 Waters Rd, Lowville NY
Contact: 315-286-4544
6. Dream Dogs by Christine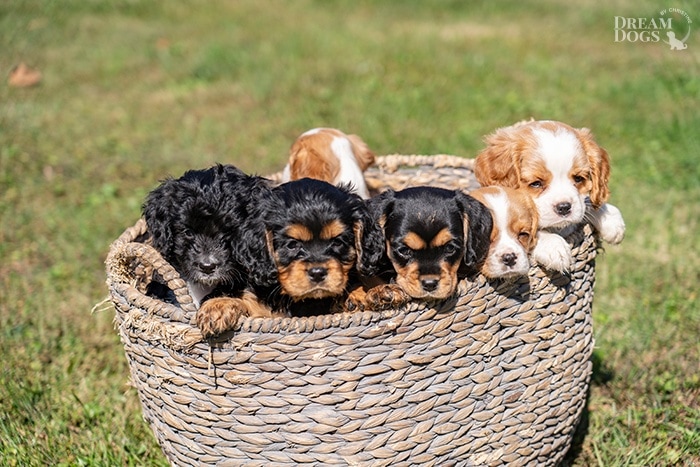 Dream Dogs are dedicated to delivering happy, healthy, and behaviorally stable puppies to loving homes across the United States. Their Cavapoos blend the exceptional Cavalier King Charles Spaniel temperament with a Poodle, producing a smart and sporty dog that sheds minimally. The owner, Christine Egbert, is a certified dog trainer, AKC evaluator/instructor, Avidog Breeder Associate, and a Trick Dog Instructor. At Dream Dogs, they recognize and appreciate the significance of stable temperaments and that the initial eight weeks are critical in a puppy's life. To succeed in their
breeding endeavors, they breed from parents of good lineage and socialize the Cavapoo
puppies to a wide range of situations while giving you the necessary tools to raise the puppies appropriately and help them grow into outgoing, adorable, and resilient family-friendly dogs. Dream Dogs by Christine also offers a training program for their puppies. The training program offers crucial puppy socialization with a significant focus on crate training, socialization, and grooming/handling along with various behaviors and formative development areas. Your puppy will also engage in personalized experiences outside the home to gain confidence and comfort in common circumstances, including vehicle rides and dealings with strangers. The Cavapoo puppies will also learn appropriate behaviors at home and be trained to establish suitable play boundaries. This helps them succeed when they eventually reach their forever home.
Cavapoo Breeder Details
7. Carolina Cavapoos
The breeders at Carolina Cavapoos focus on breeding parents of high quality to yield happy and healthy Cavapoo puppies. For this, they make sure that they seek purebred and healthy AKC parent dogs. Depending on the puppy's maturity, they allow the Cavapoo puppies to be taken home after they reach 8 to 10 weeks of age. All their puppies for sale come with a 1-year health warranty. Additionally, they're dewormed and given their first set of shots while also being checked by a vet. If you're looking to adopt one of their puppies, there's a non-refundable deposit you will have to pay for the upcoming litter. When your puppy is ready to go home, it will come dewormed and with a thorough vet examination. You'll also obtain the necessary support and resources designed specifically for their puppies.
Cavapoo Breeder Details
8. Whistle Hill Puppies
At Whistle Hill Puppies, the breeder strives to raise exceptional Cavapoo puppies. They focus on breeding healthy, quality, and hardy puppies and are committed to giving you a quality, beautiful companion. Whistle Hill Puppies is a small family-owned kennel that raises its puppies as part of their family in Pennsylvania. They've even been recognized as a 5-star breeder by the American Canine Association, which isn't an easy accomplishment. This
Cavapoo breeder
offers a 14-day health guarantee and a 2-year genetic health guarantee, for which they also require the buyer to have the puppy examined by their vet within 10 days of taking it home. The Whistle Hill team adopts the best breeding practices to raise healthy puppies ready for new homes, while understanding genetic standards and each dog's health. Once you're ready to take your Cavapoo puppy home, you will receive a complete health record that comprises parasite prevention and vaccinations along with a written health certificate from the vet. You'll also go home with puppy food as well as a blanket as you help the puppy transition.
Cavapoo Breeder Details
9. Bliss Kennels Cavapoo Puppies
With more than 19 years of experience in dog breeding, the love and passion for dogs are evident in how the team at Bliss Kennels raises their Cavapoo puppies. They raise their Cavapoos on a farm, allowing all their puppies to have a chance to interact with and relate to the other animals there and forge solid social skills. Additionally, they provide a 100% health guarantee for their puppies for the first six months of their life, as per the NJ Pet Lemon Law Act. Once you're ready to take your puppy home, Bliss Kennels will help you out with resources and guides that you can refer to and ensure that you're confident with puppy care. From crate training to health and nutrition, the breeder will guide you in making decisions that will help you adjust to your new puppy easily.
Cavapoo Breeder Details
10. Maryland Cavapoo Puppies
Maryland Puppies has been involved in dog breeding since 2004. They take pride in offering families a place to locate a new family member and offer potential purchasers some one-on-one time with their dogs so they can bond with the puppies and clarify any doubts they may have. Additionally, Maryland Cavapoo Puppies aims to find the best family to suit their dogs' temperaments, personalities, and breeds. They want to find owners who will treat their puppies like family because they put a lot of effort into socializing and raising their puppies before they reach their permanent home. Maryland Cavapoo Puppies also works with a local vet who examines all their puppies before they find new homes. All their
Cavapoo puppies
for sale are up to date with their deworming and shots. Your puppy will undergo a thorough health examination, and you'll be provided with a health certificate along with a 1-year health guarantee. They also welcome any questions you may have about puppy training and puppy care.
Cavapoo Breeder Details
11. Brooklyn Cavapoos
Located in the heart of NYC, the Brooklyn Cavapoos are committed to providing happy, healthy puppies with loving temperaments. All the parent dogs either stay with the family or in other guardian homes. Additionally, they're a home-based business that ensures the puppies under their care have frequent opportunities for socialization and undergo thorough health testing before buyers take physical custody. They also provide a two-year health guarantee for all their puppies. Buyers have to fill out a questionnaire to be considered being put on the waiting list for one of their upcoming Cavapoo litters. However, they do not guarantee placement on the basis of the questionnaire. These
Cavapoo breeders
are adamant about placing their puppies in the best home and are open to answering all questions posed by the buyers.
Cavapoo Breeder Details
12. The Left Paw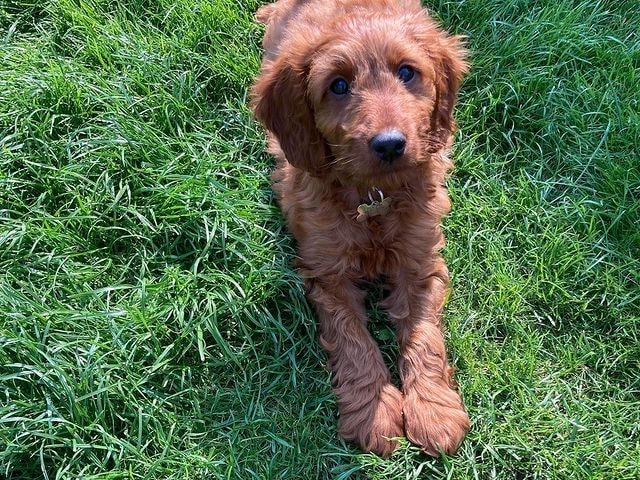 At The Left Paw, buyers get access to a tremendous selection of healthy and happy puppies. In addition, they keep and maintain health records of each of their Cavapoo puppies and are even open to showing you the necessary documents concerning the puppy if you ask for them. All their Cavapoos for sale are vaccinated as soon as they arrive. Additionally, an affiliated veterinarian checks the health of all the puppies every week. Finally, the breeder performs preventative measures to ensure their puppies are screened for any parasites before they're taken to their forever home. Each Cavapoo puppy goes home with a full puppy package, inclusive of records of up-to-date immunizations, vet health examination and certificates, 1-year health guarantee regarding congenital and hereditary defects, and a deworming regimen. They also provide a discounted training session along with a free puppy clean-up grooming. In addition, the breeder doesn't sell puppies if they notice any
health issues,
so buyers can be assured they'll take a perfectly fine, healthy puppy home.
Cavapoo Breeder Details
Frequently Asked Questions
What is the rarest Cavapoo color?
Cavapoos are a mix between the 
Cavalier King Charles 
spaniel and the 
Poodle
. Cavapoos can be found in many colors, with the rarest including all solid black Cavapoo, chocolate, and white. Cavapoos with irregular patterns like phantom, sable, and merle are also harder to find. Some black Cavapoos will have white patches on their chest and belly and no other color but black.
What is a good price for a Cavapoo?
Cavapoo prices will depend on the breeder and can range from around $1500 to a few thousand, depending on your pup's bloodline. Make sure to get your pup's health records, a copy of your pup's pedigree, a certificate of de-worming, first immunizations, and neutering records. You should also get a written guarantee to bring the puppy back for a full refund or another puppy if the vet finds any health issues with your Cavapoo puppy. Be careful of backyard breeders or puppy mills that will list their pups for less.
Which is better an F1 or F2 Cavapoo?
If you compare generations, you'll find that F1b or F2 Cavapoos will have the least amount of health issues. To ensure hybrid vigor, it's key to understand the lineage of your Cavapoo and know precisely how F1, Fb1, and F2 Cavapoo generations come into play. The F1 Cavapoo yields the highest level of hybrid vigor, where you'll find the most desirable traits.
How do you know if a Cavapoo breeder is reputable?
A good breeder will be open about any genetic issues in the breed. For example, every dog breed, even hybrids, may have some genetic health problems, so if your 
breeder
 is unwilling to discuss health concerns may be a red flag. Cavapoos are not registered with the AKC; this makes it harder to check Cavapoo breeders. That said, here's what you should do to check if a Cavapoo breeder is reputable?
Is the kennel or home clean?
What is the exercise area like?
Are the pup's bellies slightly plump but not distended?
Are the puppies curious and active?
Does the breeder have favorable reviews?
Are the adult dogs friendly?
Check the Better Business Bureau (BBB) rating?
How do you tell if a breeder is a puppy mill?
One of the most terrible situations is puppies from puppy mills. These inhumane and extensive breeding facilities keep dogs in cages their entire lives without proper veterinary care, no exercise, no mental stimulation, and minimal care. Puppy mills provide pet stores with puppies to sell, and female dogs are bred continuously. Both male and female dogs are caged, most times in filthy conditions. The takeaway is to watch out for puppies being shipped to pet stores around the U.S. You may find that pups from puppy mills have the following:
Genetic diseases
Health issues like parvovirus or distemper
Difficult to housetrain or socialize
If you want a Cavapoo puppy, refrain from supporting puppy mills. Look into one from a reputable breeder, preferably one that is local and that you can visit.
Conclusion Best Cavapoo Breeders in the United States
Finding a reliable
Cavapoo breeder
can be a daunting process if you don't know where to look. The popularity of this breed doesn't make this task any easier. Hopefully, this list can help guide you with finding the best breeders in the US whom you can trust.
You will also like:
Garrett loves animals and is a huge advocate for all Doodle dog breeds. He owns his own Goldendoodle named Kona. In addition, he volunteers at the Humane Society of Silicon Valley, where he fosters dogs and helps animals. Garrett enjoys writing about Doodles and believes that dogs can teach humans more about how to live than humans can teach a dog.
Why Trust We Love Doodles?
At We Love Doodles, we're a team of writers, veterinarians, and puppy trainers that love dogs. Our team of qualified experts researches and provides reliable information on a wide range of dog topics. Our reviews are based on customer feedback, hands-on testing, and in-depth analysis. We are fully transparent and honest to our community of dog owners and future owners.