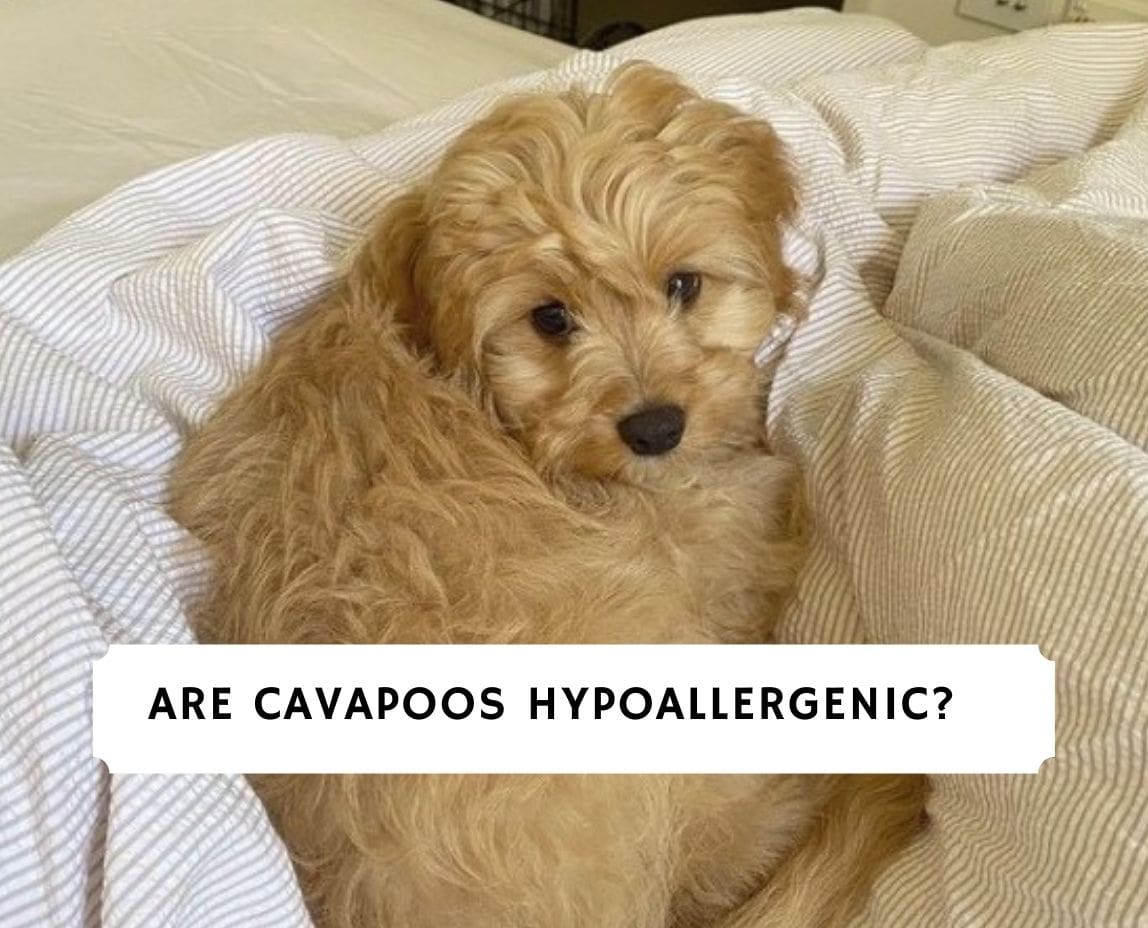 From their bubbly personalities to adorable appearances, Cavapoos, also known as Cavoodles, have grown in popularity as a hybrid breed. This mix between a Cavalier King Charles Spaniel and a Poodle takes on the best characteristics of each parent.
One of the most significant characteristics of the Cavapoo is its coat. With a Poodle parent, they've often been considered as hypoallergenic and nonshedding dogs. Their soft coats definitely make it easier to breathe better and prevent allergies when compared to dogs that shed. But are Cavapoos hypoallergenic?
If you are looking for the right breed of dog to add to your family, knowing which dog breeds are more prone to causing allergies and which do not is an important thing to consider. However, it's important to consider that no dog is truly 100% hypoallergenic, including Cavapoos. While most Cavapoos shed very little hair, they are still not completely hypoallergenic. We would consider most Doodle dogs to be mostly hypoallergenic.
If you want to learn about this breed, we highly suggest you check out our Cavapoo Dog Breed Guide.
Why Dogs Cause Allergies
Allergies to pets can be one of the main reasons why someone does not get a dog in their life, despite wanting one. In fact, about 10% of people in the United States are allergic to dogs.
While people may have varying degrees of reactions to dogs and the hair they come with, it's important to know what's actually causing those sneezes when a dog walks near you.
When we think of pet allergies, typically, the things like the dog's hair or dirt they carry are the main culprit. While that can sometimes be the case, it's sometimes more subtle than that. Most dog allergies are almost always due to pet dander. Pet dander is dead flakes of skin that fall off your dog when they shed. Dogs that shed less hair, like the Cavapoo, spread less dander.
Dander is minuscule and very difficult to see, making it even more of a challenge to clean and remove once your pet sheds it off. Once dander is released into the air, you more prone to breathe it in, which will cause sneezing and itchy eyes.
Dog dander can also easily accumulate on your clothes, furniture, and body, increasing your exposure to it. In addition to dander, allergens can also be found in the sweat and saliva of a dog. These allergens can cause mild to more significant allergic reactions.
Symptoms of Dog Allergies
Common symptoms of having a dog allergy to dander include a runny nose and watery eyes. Others may include congestion, cough, and other signs of inflammation of your nasal passages.
Those who have asthma may also experience more severe complications, including shortness of breath or chest tightness. It's important to keep an eye out for these symptoms to determine if you have a pet allergy.
As much as people love their pets, some people may experience unfortunate side effects from a dog's dander. Dog allergies prevent many people from owning a dog, and it's one of the main reasons that people will put their dogs up for adoption after purchasing them.
However, if dog allergies are a concern for you and your family, there are breeds available that reduce that allergy-causing dander. Those breeds, like the Cavapoo, are mostly hypoallergenic because they don't shed much hair.
What Does Hypoallergenic Mean?
For dog allergy sufferers, you'll want a dog that is mostly hypoallergenic. When speaking of hypoallergenic dogs, this means that they either don't shed at all or shed very little fur. When their fur does not get released into the air through shedding, fewer allergens overall can spread.
When grooming and washing your dog, that dander gets washed out rather than released into the air. Overall, dogs like the Cavapoo produce less dander and, therefore, fewer allergens that can compromise your health and the health of your family.
As pet dander and other allergens affect people differently so it's important to understand that what may be hypoallergenic to someone may not be the same for you. People may react differently to Cavapoos, and your allergy symptoms may be less significant with one breed than with another.
If you find that you are allergic to dog hair, then a Cavapoo that is mostly hypoallergenic and non-shedding can be a great option for you.
Are Cavapoos Truly Hypoallergenic?
No matter the breed, no dog is completely 100% hypoallergenic. Dogs have fur, and sometimes that hair is just going to fall off. This is especially when a Cavapoos skin is dry or not taken care of well – dead skin cells are just going to happen.
Since the Cavapoo has a Poodle as a parent, they are known for being one of the most hypoallergenic breeds available. Most Cavapoos have a significant portion of Poodle genetics with a wavy and curly coat like the F1B Cavapoos (75% Poodle and 25% Cavalier King Charles Spaniel). If you're truly allergic to dogs, make sure you choose a Cavapoo generation that is mostly Poodle genetics for a wavy and curly coat that doesn't shed.
Unlike most dog breeds, Cavapoos also have a single layer to their coats. This coat can also be either curly, wavy, or straight, depending on the parent's genetics. The most nonshedding and hypoallergenic Cavapoos are the ones with curly hair.
In addition to shedding less, Cavapoos also take on their Poodle parents in that they do not drool much. This lack of drooling helps eliminate the potential for allergens in their saliva. In general, Cavapoos are going to be mostly hypoallergenic dogs.
How to Minimize Cavapoo Allergies
As Cavapoos are not completely 100% hypoallergenic, there are some things you can do to further reduce the likelihood that they'll spur on your allergies. Keeping them properly groomed, like brushing regularly, can spread out the skin oils in your pet's hair and prevent further dander from building up.
Taking them to a professional groomer can also help ease any tangles or other concerns in their coats to keep them looking and feeling their best. A groomer can also bathe your Cavapoo, which significantly reduces dander. Bathing your Cavapoo can also help preserve the health of their coat.
You can also try to keep your home clean by vacuuming regularly or sweeping to remove any pet hair that may be on your floors. Additionally, you can also use an air purifier to eliminate any Cavapoo allergies that may still creep their way into your air and cause allergy symptoms.
Conclusion for Are Cavapoos Hypoallergenic?
If dog allergies are a concern for you, a Cavapoo or Cavoodle can be a great option for you since they are low-shedding dogs. While a Cavapoo may not be 100% hypoallergenic, the Poodle characteristics this breed brings makes them a manageable and viable option if you really want a dog.
Breeds like the Cavapoo bring several benefits for both allergy-suffers and non-allergy-sufferers. Regardless of your motivation for choosing a Cavapoo, you'll be sure to fall in love with this family-friendly and lovable dog.
Other articles you will like:
Garrett loves animals and is a huge advocate for all Doodle dog breeds. He owns his own Goldendoodle named Kona. In addition, he volunteers at the Humane Society of Silicon Valley, where he fosters dogs and helps animals. Garrett enjoys writing about Doodles and believes that dogs can teach humans more about how to live than humans can teach a dog.
Why Trust We Love Doodles?
At We Love Doodles, we're a team of writers, veterinarians, and puppy trainers that love dogs. Our team of qualified experts researches and provides reliable information on a wide range of dog topics. Our reviews are based on customer feedback, hands-on testing, and in-depth analysis. We are fully transparent and honest to our community of dog owners and future owners.