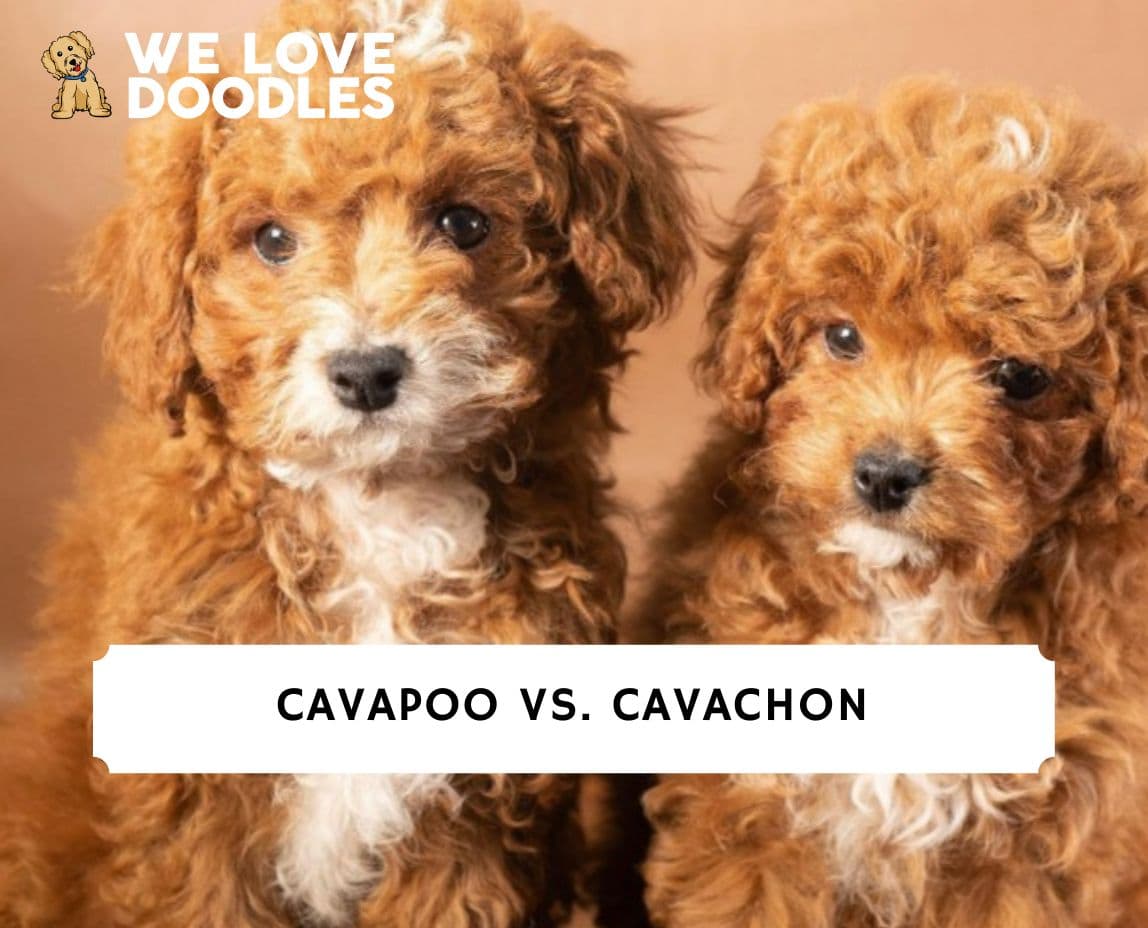 This guide will teach you the differences between Cavapoo vs. Cavachon dog breeds. Choosing the dog that will be the best fit for your family can be very challenging. While you might be interested in a specific breed or have it narrowed down to a few options, it's always good to do your research and learn about the breeds before making a final decision.
The Cavapoo and Cavachon are two similar breed choices that you might consider. However, before you pick, ensure you understand each breed and what kind of care and expectations you should be ready for. There is a lot to know, and both dogs are great. Take a look at this simple guide about Cavapoo vs. Cavachon.
Before you scroll down this dog breed comparison guide, "Cavapoo vs. Cavachon," you can check out these other comparison guides from our team at We Love Doodles: Cavapooo vs. Cavoodle Dog Breed Comparison and Cockapoo vs. Cavapoo Dog Breed Comparison.
Cavapoo
Let's start with the Cavapoo. Both of these dogs are designer dogs. They are hybrid, meaning you have two purebred dogs bred together to create this designer hybrid breed. The Cavapoo is a combination created of the Poodle and the Cavalier King Charles Spaniel.
In this case, the desire is to have a small dog, so the hybrid uses a toy or miniature Poodle to make the most suitable pairing. Cavapoo was created sometime in the 1990s. This is the era where many Doodles were created, and the Cavapoo falls into that same genre of designer dogs.
Cavapoos are kind and loving but also have a lot of energy. These dogs are smart and inherit the Poodle intelligence, which means you must keep them busy to keep them from finding trouble. It's just part of the breed. You will find many similarities to the Cavapoo and Cavachon, with just a few slight differences.
Size, Coat, & Color
The Cavapoo dog breed is considered to be small dogs. They might sometimes be slightly medium, but small is the general design. Because the spaniel is a small dog, they are bred with toys or mini Poodles to maintain the small size. Cavapoo will range from 9-14 inches tall when fully grown. Males tend to be taller than females. Regarding the overall weight, they also don't get super heavy.
The Cavapoo is likely to be just slightly smaller than the Cavachon. Their weight range at full grown is 7-18 pounds. Males are toward the medium and high end, while females are towards the low to middle end. They are relatively small dogs but have a lot of energy for their size. The color of the Cavapoo coat can vary quite a lot. The colors range from the parents, but the Poodle and the Spaniel have various colors.
The coats are most like gold, black, white, or tan. However, they can have dual colors, and tri-colors can even be common. Some Cavapoos are mostly white, but there is no way to predict the colors or patterns completely your litter will get. While the parents can be an indicator, you will find that even a single litter can have several different color variations.
Their coats are typically mostly curly. Cavapoos have some curl from both the spaniel and the Poodle. Spaniels have long curls, so you get a variation, but you can expect curliness. They also might have some fleece feel to their textures. However, it's possible to get wool or silky coat instead. The wool has the tightest curls.
Related: How Big Do Cavapoos Get?
Temperament
You will find that the Cavapoo and Cavachon are very similar when it comes to their temperament. They have similar personalities. However, the Cavapoo tends to have a bit more energy overall. This is the difference between the Poodle parent as opposed to a Bichon Frise for the Cavachon. Thanks to the Poodle, the Cavapoo has a lot of energy but is also very intelligent and easy to train.
They will calm down and hang out as your companion. Because of their size and temperament, they are popular as companion dogs and can be great for seniors. That being said, the Cavapoo does best with an active family that can support their energy levels. The Cavapoo dog breed is affectionate, and they love to be loved.
They will cuddle, and their size makes them suitable as lap dogs if you can get them to sit still long enough to cuddle. Cavapoos typically do fine around children and other pets, but they require socialization, which might depend on how you raise them. They are easygoing, so they can typically handle environment changes and easily go with the glow.
Related: Interesting Facts About Adult Cavapoos.
Training & Exercise
Thanks to the Poodle in their genes, combined with the loyalty of the king Charles Spaniel, Cavapoo dogs are pretty easy to train. They like to please, and they are very smart. They get the intelligence passed down from their Poodle parent so they will pick up things easily.
They get their feelings hurt, so they do best with positive reinforcement as far as training is concerned. Praise them when they do well, and don't be overly harsh when they fail. It's best to focus on where they do well, as they will want to repeat the behavior and be praised more.
Cavapoo dogs are more energetic than Cavachon, so keep that in mind. They need physical activity as well as mental stimulation. These dogs need a minimum of 30 minutes of physical activity each day, but they do best with more than 60 minutes. Remember that they are very smart, so you want to avoid them getting bored too.
Related: Do Cavapoos Bark a Lot?
Life & Health
Finally, your Cavapoo should live an overall healthy life. They can easily live up to 15 years with the proper healthcare and diet. The average lifespan of a Cavapoo is about 12-14 years. While there isn't specified testing yet since this is not a registered breed, a breeder can still have them tested or have their purebred parents tested to be proactive for health concerns.
The Cavapoo could potentially face some issues with heart health, although that is more common with the Cavachon breed. Cavapoo is more likely to experience various eye conditions, hip dysplasia, or luxating patella.
Cavachon
Now, let's compare the Cavachon and see just what the similarities and differences might be between the two breeds. The Cavachon is about the same size as a Cavapoo. They tend to be lower energy and much more laid back. The Cavachon comes from breeding the Cavalier King Charles Spaniel paired with the Bichon Frise.
They are small dogs and fall into the designer category. There are very pretty dogs, and they are also easygoing and smart. While they differ from the Cavapoo, you will still find that they can be similar in many ways. This dog has always been considered a rich person's dog. Of course, that's primary history now, but they were known for being pets in rich circles in the ancient past.
Related: Breeders with Cavachon Puppies For Sale in the United States.
Size, Coat, & Color
When you compare the size of the Cavachon to the Cavapoo, you find that they are very similar. A Cavachon might be slightly larger than a Cavapoo, but it depends greatly on the parents used for the breeding process. Most Cavachon will grow to somewhere between 8-13 inches tall. They will likely weigh anywhere from 15 to 20 pounds when fully grown. Again, this depends a lot on the parents, but it also depends on whether they are male or female.
Males are typically larger than females by several pounds and a couple of inches. Cavachon dogs have a little bit less curl since there is no Poodle in their blood. Their coats are generally wavy, but they will be soft and silk and grow to medium length. They do shed a bit, but if you brush them regularly, it isn't terrible.
There are Cavachon dogs with no wave and just straight coats as well. The Bichon Frise dog breed is almost always light colors, so the Cavachon is also usually fairly light in color. However, it's not uncommon to see some tan, apricot, black, or brown. They are more likely to be dual-colored or tri-colored than Cavapoo, and the darker colors often mix in as large spots on their coats.
Temperament
The Cavachon is an easygoing dog as well. They are more laid back than Cavapoo, so they do even better as a companion pet, particularly for a single person or a senior. They don't need as much physical activity or stimulation and are content to lie around and be pampered for the most part.
They tend to be chill and will go with the flow. They like calmness, and while they get along fine with children, they also are perfectly content in a quiet home. Much like the Cavapoo, Cavachon dogs are also lovable and affectionate. They want your attention and to know that they are loved.
These dogs can be very pleasant, and they can certainly be playful if the situation calls for it. They are curious and happy dogs. They are also independent. They can sometimes get a bit anxious if you are gone for long periods, leading to misbehaving.
Related: Friendliest Dog Breeds with Images.
Training & Exercise
Where the Cavapoo is a pretty active dog, the Cavachon is almost the opposite. They need some physical activity and exercise, but not nearly as much. They are playful and happy but only require about 30 minutes of physical stimulation to be content and wear them out sufficiently. They don't need as much activity and could easily be considered lazy dogs.
However, they will get out and adventure with you or play. They don't just snub you completely. As far as training goes, the Cavachon breed is easy to train. Their parents are smart and obedient dogs, leading the Cavachon to follow suit. They sometimes have a slightly stubborn streak but train well with positive reinforcement. They want to please their humans, so they quickly pick up on what you praise them for.
Related: How to Train a Dog with a Shock Collar.
Life & Health
Let's talk about life and health for these pretty, laid-back puppies. Their lifespan is again very similar to the Cavapoo dog. They have an average lifespan of about 10-15 years. They can live long, healthy lives. Of course, it's always a good idea to have regular vet care and a good diet to ensure the longest, healthiest life possible.
There aren't a ton of health concerns for the Cavachon puppy. Their most common issues are heart defects and atopic dermatitis. The heart defects come from the spaniel parent. Usually, the parent can be genetically tested for this, which is helpful. It's always a possibility.
The other issue is dermatitis, which ultimately is sensitive skin. They are prone to skin allergies and hot spots. The best way to care for these is to be proactive and be mindful of the things their skin is exposed to and how often you bathe them.
If you're paying close attention to these details, you are less likely to have issues when it comes to their skin. Their coats are easy to groom and don't shed an awful lot. However, it would be best if you planned to brush them several times a week to help keep their long hair from getting tangled or matted. It's a good idea also to have a groomer regularly groom their coats.
Conclusion For "Cavapoo vs. Cavachon: Dog Breed Comparison"
In closing, you will find that the Cavapoo and Cavachon have some similarities but are pretty different overall. Cavapoo dogs tend to have more energy while the Cavachon is more laid back. Both dogs are about the same size and similar in temperaments and trainability. The biggest factor will be their energy levels and how those best fit into the needs or design of your home.
If you find this dog breed comparison guide, "Cavapoo vs. Cavachon," you can check out these other content from our team at We Love Doodles:
The Cavapoo and Cavachon dog breeds are amazing, but you should check out these other Poodle mixes. You can learn more about the different types of Poodle mixes by watching "10 Poodle Mix Breeds That Will Make Your Heart Sing" down below: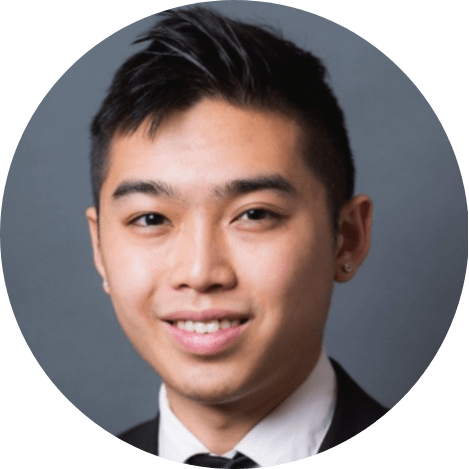 Andy is a full-time animal rescuer and owner of a toy doodle. When he's not saving dogs, Andy is one of our core writers and editors. He has been writing about dogs for over a decade. Andy joined our team because he believes that words are powerful tools that can change a dog's life for the better.
Why Trust We Love Doodles?
At We Love Doodles, we're a team of writers, veterinarians, and puppy trainers that love dogs. Our team of qualified experts researches and provides reliable information on a wide range of dog topics. Our reviews are based on customer feedback, hands-on testing, and in-depth analysis. We are fully transparent and honest to our community of dog owners and future owners.