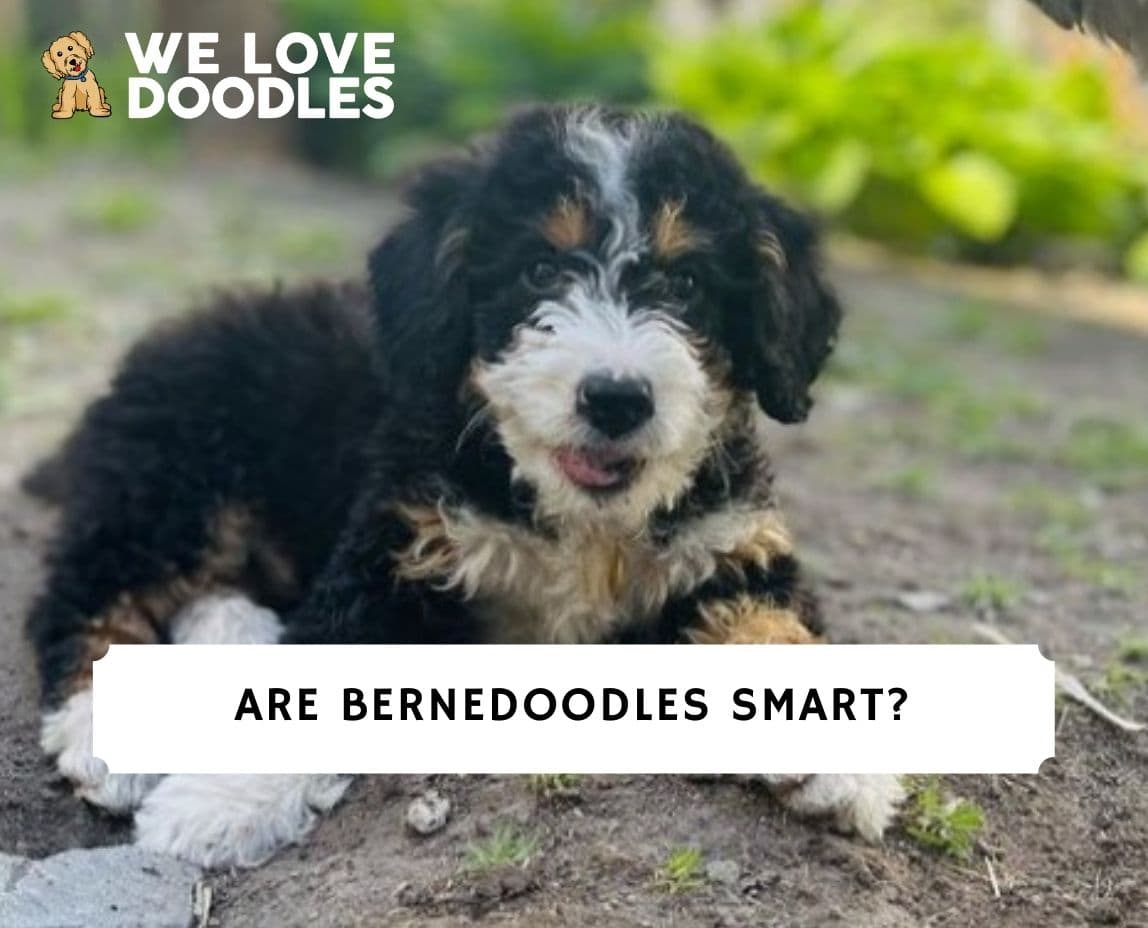 Are Bernedoodles smart, or are they not? Bernedoodles are affectionate, hypoallergenic balls of fluff that can warm anyone's heart. Whether you have one at home or considering bringing home a new puppy, you may wonder, are Bernedoodles smart? To answer that question, we have to look at the breeds that make up this loveable mix, the Poodle and the Bernese Mountain Dog.
Before scrolling down this article for a more in-depth answer of this guide, "Are Bernedoodles Smart," check out these related content by our team at We Love Doodles: Do Bernedoodles Like to Swim and Do Mini Bernedoodles Shed?
Diving Into The Intelligence of a Bernedoodle
Before reading further on the intelligence of a Bernedoodle, it's important to understand the parent breeds. A Bernedoodle is a Poodle mixed with a Bernese Mountain Dog. Here's a summary of these two dog breeds, so you'll have a better understanding of the intelligence of a Bernedoodle.
More Bernedoodle Guides: Are Bernedoodles Hypoallergenic and How Big Do Mini Bernedoodles Get?
The Poodle – Second Most Intelligent Dog Breed
According to canine psychologist Stanley Coren, Poodles are the second most intelligent dog breed in terms of obedience and working intelligence. He petitioned nearly 200 obedience trial judges from the AKC to assess the learning abilities and obedience using a specific set of criteria.
These criteria included how many times a dog needs to perform a command to master it and how frequently a breed will obey a known command on the first try. Out of all the breeds tested, only Border Collies beat the Poodle. But true intelligence goes beyond working intelligence and obedience. Another part of dog IQ is called instinctive intelligence.
Intrinsic intelligence is all about the original reason that the breed was created. The Poodle originated as a waterfowl retriever, making them great at playing fetch and swimming. Their owners don't need to teach them these skills; rather, they know how to do them. Since they're already good at swimming and retrieving balls or frisbees, Poodles can easily adapt to the life of a hunting dog.
Lastly, we must consider adaptive intelligence. Adaptive intelligence is about what a dog can learn for themselves by taking in their environment. Poodles often get ready for feeding time or their daily walk by watching their humans' time of day and movements. Sometimes, they can even figure out what's next by simply picking up a scent.
More Bernedoodle Guides: How Long Do Bernedoodles Live and Do Bernedoodles Shed?
Bernese Mountain Dog – Hard Working and Intelligent
Bernese Mountain Dogs earned the classification of "bright," according to the canine psychologist Stanley Coren. When tested with Coren's intelligence protocol, trainers discovered that the Bernese Mountain Dog could learn new commands in just 5-15 repetitions; the average dog needs 25-40 repetitions to learn something new. They are also quite obedient.
This trial concluded that this breed obeyed a command that they already know 85% of the time or more, while the average dog had a minimum success rate of 50%. As we learned with Poodles, the measure of a dog's intelligence doesn't stop with obedience and working skills. Intrinsic intelligence is another crucial piece of the dog IQ puzzle. Bernese Mountain Dogs originated as farm dogs and were expected to perform such tasks as guarding, herding, and cart-pulling.
Since they were bred for multiple jobs, this breed still has the versatility to handle nearly any task you assign them. The last piece of the dog IQ puzzle is adaptive intelligence, or the ability of a dog to learn for themselves. This trait varies across the breed, but many owners say their Bernese Mountain Dog can predict their day and stay one step ahead.
More Bernedoodle Guides: How to Groom a Bernedoodle and When is a Bernedoodle Full Grown?
Are Bernedoodles Easy to Train?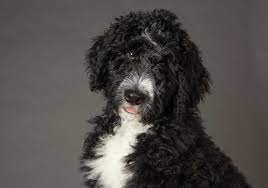 Now that you know that Bernedoodles come from two intelligent breeds, lending themselves to be smart animals, you may wonder if they're easy to train. After all, Border Collies are the most intelligent dog breed, but they can be notoriously hard to train if you don't keep them busy.
Bernedoodles are generally reasonably easy to train, but some can inherit a stubborn streak from the Bernese Mountain Dog. If you are consistent with your training when they are puppies, your adult Bernedoodle will acclimate to training more quickly over time. Since this breed is so intelligent, it will pick up new commands faster than many other dog breeds.
More Bernedoodle Guides: Best Dog Food For a Bernedoodle and How Much Does a Bernedoodle Cost?
Testing Your Bernedoodle's Intelligence
Now that we've established that Bernedoodles come from one of the most intelligent breeds overall and a breed that has a lot of working and obedience intelligence, you may be wondering how you tell if your dog is smart. Does your dog seem to figure things out quickly or try to communicate their needs to you?
Did you know that even getting into a lot of trouble can signify intelligence in Bernedoodles? If your dog is incredibly smart and doesn't get enough mental stimulation, they will look for something to do, and they don't always make good choices. If you want to find out how smart your puppy is, you can give them an IQ test.
Follow these simple steps to gauge their intelligence level:
Cover your dog's head with a blanket and time how long it takes them to get it off. Give them 3 points if it takes less than 15 seconds, 2 points if it takes 15-30 seconds, and 1 point if it takes longer than 30 seconds.
Line up a few empty cups and have your puppy watch you hide a treat under one of the cups. Distract them for a few minutes, then try to get them to find the treat. Give them 3 points if they go straight to the right cup, 2 points if they choose the right cup on their second try, and 1 point if it takes three or more tries to find the treat.
Rearrange the furniture in a room where your dog has a favorite spot, then let them in the room. If they go straight to their spot, give them 3 points, 2 points if they investigate for a few minutes before going to their spot, and 1 point if they choose a new spot altogether.
Hide a treat under furniture that your puppy can reach by putting their paw under the furniture. If your dog gets it out in a minute or less, give them 3 points. If they try to stick their head under the furniture or use their nose and paws together, give them 2 points. If they walk away without trying to get the treat, give them 1 point.
Get your dog's leash out at a different time than their daily walk. Give them 3 points if they get excited right away and 2 points if they don't get the message until you walk to the door. If they don't understand what's going on, give them 1 point.
Create a barrier using a large piece of cardboard with a hole cut in it. Let your puppy watch you throw a treat through the hole. If your dog realizes right away that they need to go around the barrier to get to the treat, give them 3 points, and give them 2 points if it takes them a bit to figure it out (more than 30 seconds). Give them one point if they try to go through the hole or trample the barrier.
Now, add up the points from each test to determine your dog's IQ.
If they get 15 points, your dog is extremely intelligent.
If they get 13-15 points, your puppy is still pretty clever.
If they get 9-12 points, they're about average.
If they only get 5-8 points, your dog might need help figuring out what you want from them.
If they only get 1-4 points, it could either mean that your dog isn't smart or too stubborn to follow your instructions.
Ultimately, unless you want your dog to be a working dog, their intelligence shouldn't matter. After all, it doesn't take a big brain to dole out the best kisses and cuddles.
More Bernedoodle Guides: Best F1 Bernedoodle Breeders in the United States.
Can You Improve Your Bernedoodle's Intelligence?
If you gave your dog the IQ test outlined above and were unhappy with the results, you might wonder if there's anything you can do to improve their intelligence. The answer is yes; you can make them smarter. According to scientists who study dog psychology, you can improve your dog's intelligence by training them.
The results of one study showed that trained dogs are better able to focus on learning a new skill than their untrained counterparts. The theory is that trained dogs have learned to learn, making them better at solving new puzzles than the average pet. So you have it: if you want your dog to be more intelligent, spend a little time challenging them to master new skills every day.
More Bernedoodle Guides: What is a Teddy Bear Bernedoodle and Best F1b Bernedoodle Breeders in the United States.
Conclusion For "Are Bernedoodles Smart"
This article examined both breeds that make up our beloved Bernedoodles to understand how smart we can expect them to be. Since Poodles are the second most intelligent dog breed listed with the AKC and Bernese Mountain Dogs also display above-average intelligence, it's safe to say that Bernedoodles are pretty smart.
Intelligence levels do vary from dog to dog, so if you're wondering what your pet's IQ is, there are some simple tests you can give them to find out. If you want to make your puppy smarter, you can start by giving them ample training time daily. If you teach your Bernedoodle new commands often, it will teach them how to learn and improve their intelligence and trainability over time.
If you find this guide, "Are Bernedoodles Smart," helpful, check out other similar dog-related content from our team at We Love Doodles:
You can learn more about the intelligence of dogs by watching "How Intelligent Are Dogs, Really" down below: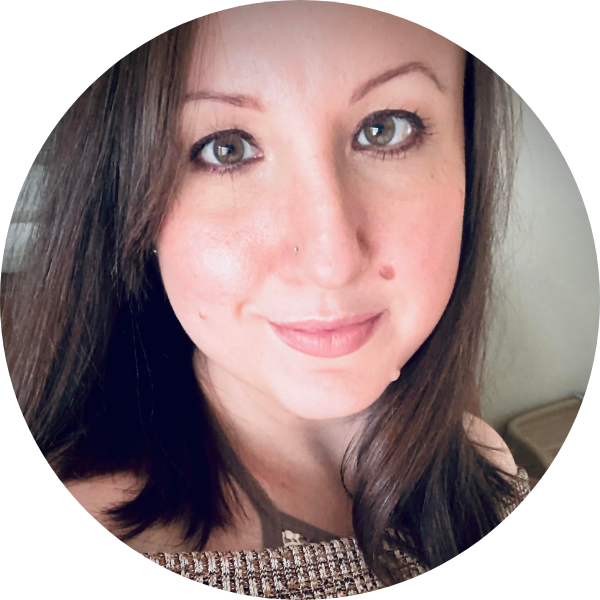 Christy is a freelance writer and pet enthusiast. She brought home her first puppy when she was only five years old and has shared her home with canine companions ever since.
She has been passionate about writing since childhood and feels blessed to have built a career around something she loves. When she's not writing or researching her latest article, Christy enjoys spending time with her daughters and their dogs.
Why Trust We Love Doodles?
At We Love Doodles, we're a team of writers, veterinarians, and puppy trainers that love dogs. Our team of qualified experts researches and provides reliable information on a wide range of dog topics. Our reviews are based on customer feedback, hands-on testing, and in-depth analysis. We are fully transparent and honest to our community of dog owners and future owners.