If you have a Bernedoodle and you're surrounded by passion hobbies around water, you'd probably wonder: "Do Bernedoodles like to swim?" Bernedoodles are hypoallergenic, loyal, faithful, protective, and intelligent dogs.
They also have high energy levels and require physical activity almost every day. Hence, it is recommended for Bernedoodle owners to take their pets out for walks and other forms of exercise at least once a day.
If you're a person who enjoys the water, you may have wondered if swimming is something Bernedoodles might enjoy. We tackle this together with a few basic facts about this lovable breed in this article.
Before scrolling down this guide, "Do Bernedoodles Like to Swim," check out these similar topics: Bernedoodle Pros and Cons and How Much Does a Bernedoodle Cost?
Quick Bernedoodle Facts
Bernedoodle is a breed of dog created as a cross between the Bernese Mountain Dog and the Poodle. The Bernedoodle is considered a designer breed and is known by several other names, including the Bernese Mountain Poo, Bernese Mountain Doodle, or a Bernese Poodle.
Types of Bernedoodles
Bernedoodles are relatively more expensive than other dog breeds because they require more maintenance, hence the label designer breed. The Bernedoodle was first bred in Canada in 2003 by Sherry Rupke. Let us now take a look at the different types of Bernedoodle generations:
F1 Bernedoodle: An F1 Bernedoodle dog is the result of mating a Bernese Mountain dog and a poodle. It is also known as a first-generation Bernedoodle dog.
F1B Bernedoodle: An F1B Bernedoodle dog is a type of dog that is bred from the mating between a Bernese Mountain Dog and a Poodle.
F2 Bernedoodle: F2 Bernedoodle dogs are bred when two first-generation Bernedoodles or F1 Bernedoodles mate.
F2B Bernedoodle: F2B Bernedoodle dogs are a variant of Bernedoodle dogs that are bred as a result of mating an F1 Bernedoodle dog and an F1B Bernedoodle dog.
Do Bernedoodle Dogs Like To Swim?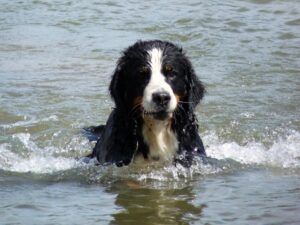 Although dogs generally do not like to swim, the Bernedoodle is a breed that does not hate water, provided it is exposed early on. Most variants of Bernedoodles enjoy being in the water, whether it be for swimming, playing, or just cooling off on a hot sunny day.
A Bernedoodle's love for water can be traced back to its poodle ancestry. As a breed, Poodles have always loved being in and around water because they were primarily bred as water retrievers for hunting purposes.
If your Bernedoodle has dominant traits from the Poodle, it is highly likely to enjoy swimming and playing in the water.
On the other hand, if your Bernedoodle has the dominant traits of a Bernese Mountain Dog, chances are it may not like to be in and around water. The reason is that the Bernese Mountain Dog is usually found in mountainous regions.
Therefore, it does not incline to jump into the water. However, it does not mean that Bernedoodles do not like to swim. Your Bernedoodle will surely learn how to swim and enjoy the water with the proper training.
Bernedoodle Guides: Best Bernedoodle Grooming Tips and Are Bernedoodles Hypoallergenic?
How Do I Get My Bernedoodle Dog to Swim?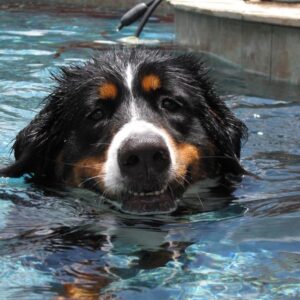 Since Bernedoodles have some traits from the Poodle, it should not be that hard to train your pet to learn swimming. Here are some steps that can help your Bernedoodle get started.
Start with the basics: Before introducing or putting your dog in water, you must train your dog to follow specific instructions. Make sure that your dog can understand commands such as 'come' and 'stay' so that if your Bernedoodle is facing any problem, it will come to you.
Introduce them to the water slowly: When teaching your Bernedoodle how to swim, do not expect them to enjoy being in the water right away. Start their training by putting your pet in a few inches of water, be it a shallow swimming pool or a bathtub. Let things move slowly so that your Bernedoodle becomes comfortable being in the water.
Follow by example: If you have adult dogs or pet dogs accustomed to being in the water and know how to swim, let your Bernedoodle watch those dogs first before stepping into the water. Then, when your Bernedoodle sees the other dogs enjoying themselves in the water, it will naturally become curious about why the adult dogs are having fun, and it will want to jump into the water on its own.
Take frequent breaks: While teaching your Bernedoodle how to swim, you must take breaks in between. It will not only help your dog relax but will also reduce the pressure to learn to swim. Moreover, breaks can help the dog calm down, particularly if it faces difficulties getting used to the water.
Stay patient: Not all dogs are born swimmers nor enjoy being in the water. Hence, it is important to practice patience while training your dog to swim. In addition, since Bernedoodles are generally stubborn, they can take more time to learn than other breeds. Thus, ensure that you stay calm and patient when teaching your Bernedoodle to swim rather than yelling or getting frustrated.
Play with your Bernedoodle: While training your dog, make sure it becomes a fun experience for you and your pet. Take frequent breaks during the training and play with your Bernedoodle by throwing a few balls or toys at it. This will help your dog feel relaxed and help them associate the experience with positive things.
Don't expect quick results: Although Bernedoodles generally love being in and around water, not all of them are the same. Your pet may be scared to go into the water or take some time to learn how to swim. Hence, you mustn't have any high expectations from your dog nor expect it to grasp swimming right away. Instead, remain calm, be patient, and try to support your Bernedoodle as much as you can during training.
Bernedoodle Guides: How to Groom a Bernedoodle and Bernedoodle vs. Goldendoodle Dog Breed Comparison.
Things To Keep in Mind For Your Bernedoodle
While teaching your Bernedoodle how to swim, there are certain things that you must keep in mind.
Use earplugs for your dog: Since dogs are highly susceptible to ear infections, it's recommended to use wax earplugs to keep the water away from their ears. Before letting your dog go into the water, put the wax earplugs in your dog's ears and fit them as tightly as you can. This will not only prevent the water from entering your pet's ears but will also keep away any insects and debris that can cause infections.
Start small: Before starting with swimming lessons, take your dog to a smaller body of water such as a swimming pool, a pond, or a bathtub. Once they get comfortable with the water and learn how to swim, you can take them to a bigger lake or an ocean for swimming.
Ensure that the water is not too cold: If the water is too cold, don't let your dog jump in too quickly. If the water is too cold, put your dog in the water gradually to help it get used to it and bring it out if you observe that it is feeling tired or scared.
Bernedoodle Guides: Best Bernedoodle Generations and How Long Do Bernedoodles Live?
Conclusion For "Do Bernedoodles Like to Swim"
Some Bernedoodles are naturally good at swimming, while others are not. However, most Bernedoodles will learn to swim and enjoy the water with training and practice.
Though Bernedoodles are typically stubborn by nature and may take a long time to become better at swimming, it is important that you, as its owner and trainer, remain patient, support your pet, and help them if they feel scared of the water.
There is no guarantee that your Bernedoodle will end up loving the water. After all, each dog is different, even if they are from the same breed or were bred from water-loving breeds.
However, if you follow the tips outlined here, you will be giving your Bernedoodle the best chance of becoming comfortable with water and eventually maybe even swimming in it.
For more guides similar to "Do Bernedoodles Like to Swim," you can check out:
Learn about the types of dog breeds that like to swim by watching "Top 10 Dogs That Love to Swim" down below: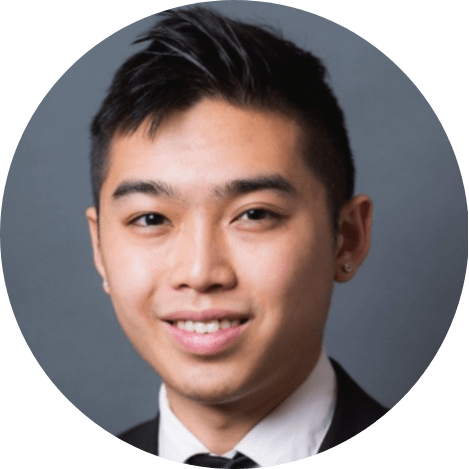 Andy is a full-time animal rescuer and owner of a toy doodle. When he's not saving dogs, Andy is one of our core writers and editors. He has been writing about dogs for over a decade. Andy joined our team because he believes that words are powerful tools that can change a dog's life for the better.
Why Trust We Love Doodles?
At We Love Doodles, we're a team of writers, veterinarians, and puppy trainers that love dogs. Our team of qualified experts researches and provides reliable information on a wide range of dog topics. Our reviews are based on customer feedback, hands-on testing, and in-depth analysis. We are fully transparent and honest to our community of dog owners and future owners.