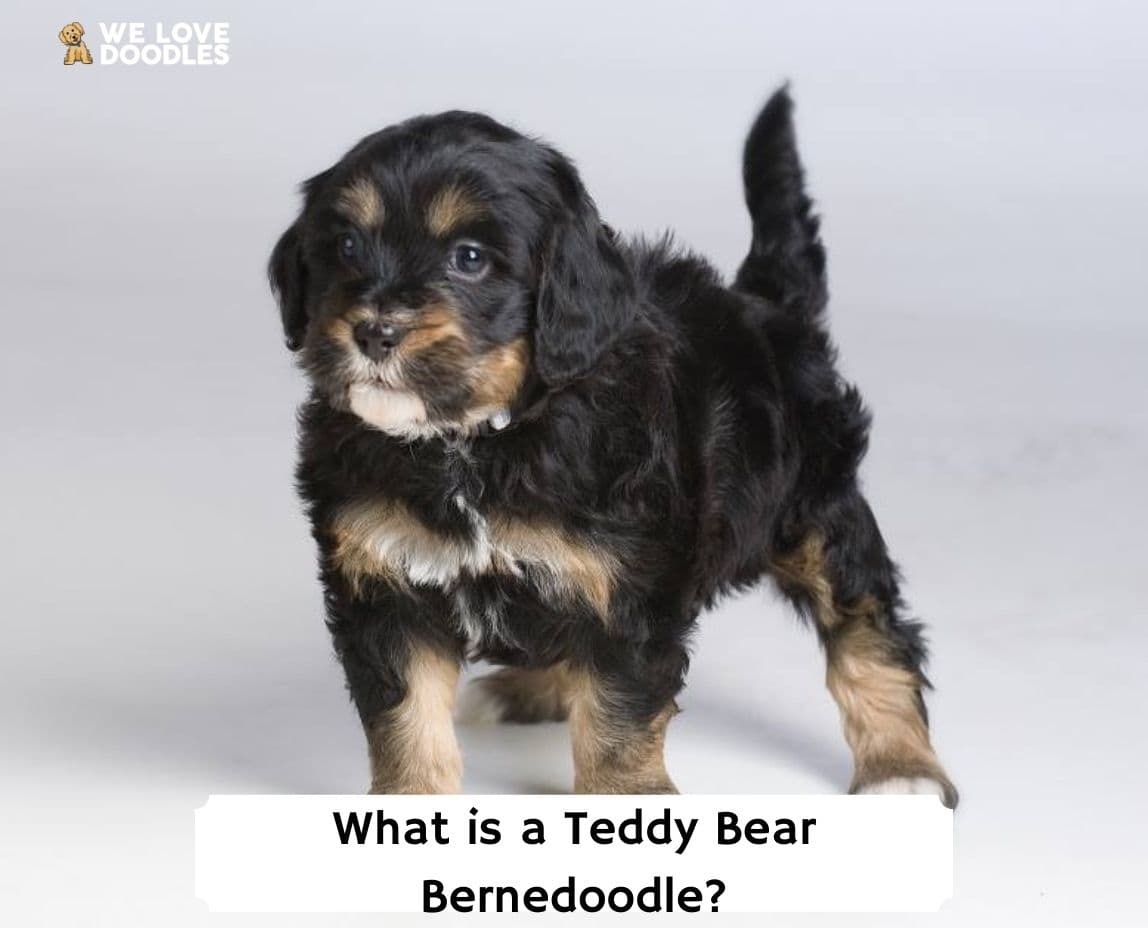 A Teddy Bear Bernedoodle is a product of two Bernedoodles. This is a multi-generational dog that has been crossbred over several generations. Breeders will sometimes use this terminology to classify their puppies. If you like mixed breeds, then you will love Bernedoodles due to their unique features and personality.
A Bernedoodle originates as a cross of the Bernese Mountain Dog and the Poodle in a 50/50 ratio. The Bernese side produces a loyal dog who protects its territory, and the Poodle gene adds intelligence and a coat that does not shed.
Those are two reasons why Bernedoodles make ideal pets. This guide will teach you about the generations of the Bernedoodle and what makes the Teddy Bear Bernedoodles different from other breeds.
Before scrolling down this guide, "What is a Teddy Bear Bernedoodle," check out these other helpful articles by our team at We Love Doodles: Bernedoodle Pros and Cons and Best Standard Bernedoodle Breeders in the United States.
F Generations of Bernedoodles
Bernedoodles are an attractive combination of two popular breeds. The Teddy Bear Bernedoodle is any generation that is not an F1. Sometimes breeders will classify a Teddy Bear Bernedoodle as an F1B, F2B, or multi-gen. 
F1 First Generation
F1 (First Generation): The first line of Bernedoodles originates from a purebred Bernese Mountain Dog and 100% Poodle. The result is the F1 Bernedoodle, making it half of each breed. Dogs in this generation are usually miniature and standard sizes. They are easier to predict their size, temperament, and coat.
F1b (First Generation): This generation of Bernedoodles is 25% Bernese and 75% Poodles. The F1b Bernedoodle is more hypoallergenic than the F1 generation puppies.
F2b (Second Generation): Teddy Bear Bernedoodle puppies are second-generation breeds. They are a mixture of two F1 Bernedoodles or an F1 and F1b parent. These dogs shed the least and are more favorable for households with moderate to severe allergy sufferers.
Related: Best F1b Bernedoodle Breeders in the United States and Best Bernedoodle Names.
Characteristics of the Teddy Bear Bernedoodle
Teddy Bear Bernedoodles have delightful characteristics that make them desirable pets.
Temperament
The temperament of a Teddy Bear Bernedoodle is unpredictable. It depends which parent it takes after the most. The Teddy Bernedoodles are calm, loving, loyal yet silly, and energetic. They are perfect therapy dogs due to their sweet disposition and are eager to please their owners.
Activity Level
The Poodle side of the Teddy Bear Bernedoodles is moderate to highly energetic. They love the outdoors and need ample room to stay active and work off their energy.
They enjoy taking walks and interacting with their owners. The Bernese Mountain Dog side is lazier and needs the motivation to be active. Since Bernedoodles seem to display behaviors from both sides, you will never have a dull moment with these puppies.
Although they can be a bit stubborn, thanks to the Bernese Mountain Dog, they will follow commands and respond well to training.
Another trait of the BMD makes them vulnerable to separation anxiety, meaning you may need to do some crate training with them as puppies to help you both adjust to the time apart.
Appearance
What does a Teddy Bear Bernedoodle look like? It has a wavy coat that resembles a Teddy Bear, hence the name. The fur comes in tricolor blends of black, white, and light brown.
Their coats are more curly and shaggier compared to other Bernedoodle breeds. Because of that, they are more hypoallergenic.
Related: How Much Does a Bernedoodle Cost and Do Bernedoodles Like to Swim?
Categories of Teddy Bear Bernedoodles
There are three types of Teddy Bear Bernedoodles, but only two are the most common.
Miniature Teddy Bear Bernedoodle
A miniature Teddy Bear Bernedoodle originates from a Bernese Mountain Dog and a mini-Poodle. The miniature full-grown Teddy Bear Bernedoodle weighs 20-50 pounds. The amount of shedding, degree of temperament, and health depend on the parents. Miniatures live up to about 12-15 years.
Their markings are tricolor, black and white with tan, or a rust tricolor. The wavy to curly coat produces less shedding, rendering it hypoallergenic. That is part of what makes the miniature Teddy Bernedoodle the perfect dog for families.
The miniature Teddies are active and energetic and adapt well to small children. They are loyal and protective of their owners. They don't like strangers. They are intelligent and easy to train. Teddy Bear Bernedoodle puppies need 750-1400 calories a day from food specifically for them.
Standard Teddy Bear Bernedoodle
The standard Teddy Bear Bernedoodle is an F2 generation dog. It has similar features to the miniature, but a full-grown Teddy Bear Bernedoodle can stand as tall as 23-29 inches high and weigh between 60 and 90 pounds.
These lovely puppies don't live as long as the miniatures—only about 10-12 years. The coat of a standard Bernedoodle is colorful and sheds very little. If you want a bigger dog that is safe for allergy sufferers, this is the one.
Related: How to Groom a Bernedoodle and Best Bernedoodle Grooming Tips.
The Health of Teddy Bear Bernedoodles
The Bernese Mountain Dog and Poodle have many overlapping health issues. Not all Bernedoodles will display every disorder, and some may not show any, but knowing what to expect will help you take good care of your dog.
Poodles
Common health problems in Poodles include:
Hip Dysplasia: Poodles are susceptible to this congenital disorder. The hip becomes weak and deteriorates over time, especially after a lifetime of over-activity or progressive weight gain.
Addison's Disease: This condition takes root in the adrenal glands. Dogs with this disease do not produce enough cortisol, a hormone that helps regulate certain levels in the body, such as stress and blood sugar.
Hypoglycemia: When blood sugar levels drastically drop, unwanted symptoms can occur. Weakness, fatigue, lethargy, tremors, clumsiness, or confusion are examples of what your dog may exhibit.
Thyroid Disease: The most common thyroid complication in Poodles is canine hypothyroidism, a low functioning thyroid gland. Your Bernedoodle may display weight gain, excessive hunger, cold sensitivity, or fur loss. Poodles with thyroid disease may also be more susceptible to illness.
Epilepsy: Poodles are at risk for seizures and need to see a veterinarian immediately if they witness one. Signs to report are unresponsiveness, stiffness of limbs, drooling, confusion, pacing, or difficulty breathing.
Progressive Retinal Atrophy: This condition refers to slow progressive changes in the retina that lead to blindness in both eyes. Night blindness, bumping into furniture, glassy eyes, and dilated pupils are indicators of the disease.
Collapsed Trachea: As the name implies, the cartilage rings of the trachea collapse and can cause respiratory issues.
Cancer: Insulinoma and hemangiosarcoma are two rare cancers that can affect Poodles.
Gastric Bloat: Gastric Torsion is a medical emergency if your dog shows symptoms. With this disorder, the stomach fills with gas, food, or liquids and can't exit the body. The stomach bloats up and can cause an interruption in breathing and blood circulation through the body.
Related: When is a Toy Poodle Full Grown and What is a Phantom Poodle?
Bernese Mountain Dog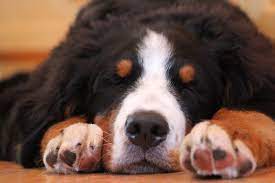 Like Poodles, the Bernese Mountain Dog has its health problems, which can suffer from hip dysplasia, progressive retinal atrophy, epilepsy, gastric bloat, and hypothyroidism. Some disorders affect the Bernese side, such as elbow dysplasia, von Willebrand's Disease, and a form of cancer known as histiocytosis.
Elbow Dysplasia: Similar to hip dysplasia, the deterioration happens in the elbow joint.
Von Willebrand's Disease: This condition is a hereditary blood clotting disorder that can cause the dog to bleed excessively after any break in the skin. If your BMD needs surgery, this could pose a severe threat. Symptoms include excessive bleeding, including nose bleeds, bloody stools, or blood in the urine.
Histiocytosis: Histiocytes, a type of white blood cell, multiply and take over specific tissues in the body. There are two forms: malignant and systemic. Malignant forms of this cancer are fatal within a matter of weeks. Systemic histiocytes are intermittent and will eventually lead to death. There is no cure.
Related: Best Bernese Mountain Dog Breeders in the United States.
Conclusion For "What is a Teddy Bear Bernedoodle"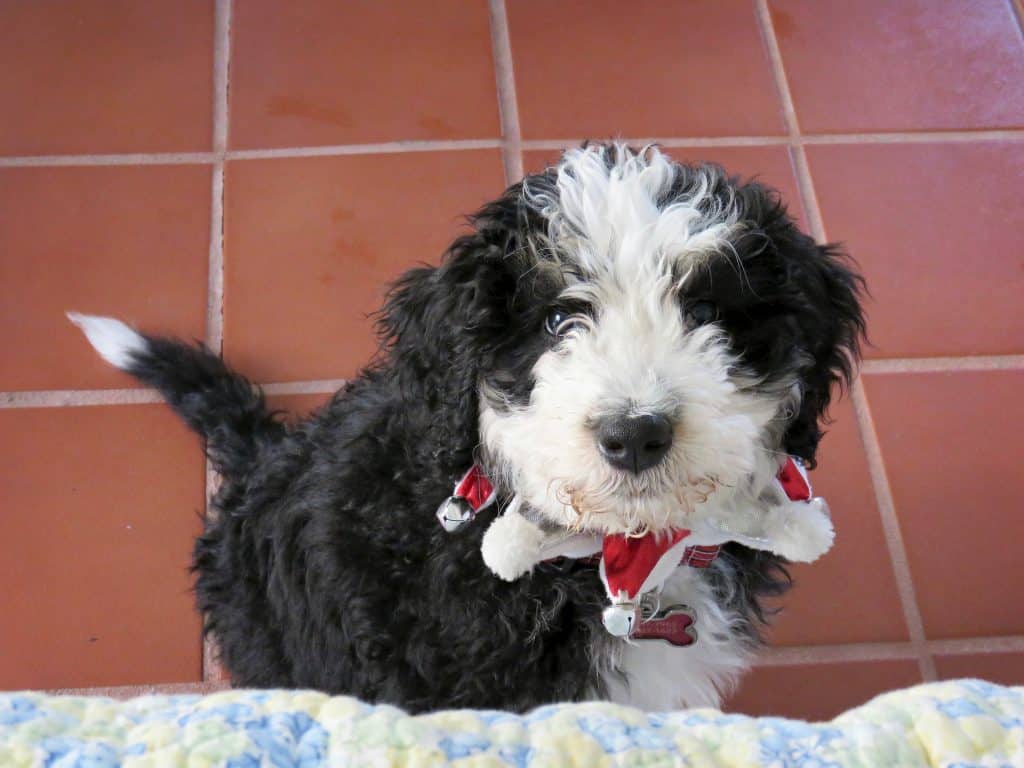 Teddy Bear Bernedoodles are the combination of two F1 Bernedoodles and can take after one parent more than the other. They make ideal household pets due to their colorful, low-shedding, Teddy Bear coats, easy-going personalities, and adaptation of families.
If you find this Teddy Bear Bernedoodle guide helpful, check out these other articles with mentions of the Bernedoodle:
You can learn more about the Bernedoodle dog breed by watching "Bernedoodle Dog Breed Guide – What People Love About The Bernedoodle" down below: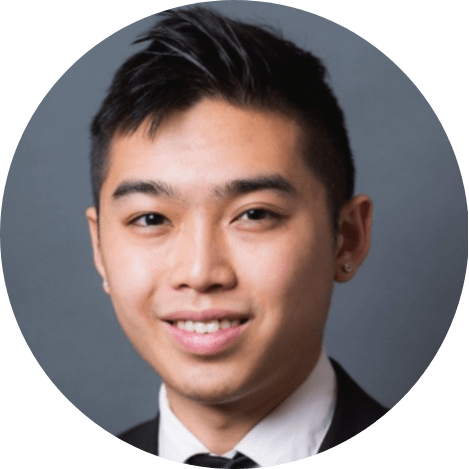 Andy is a full-time animal rescuer and owner of a toy doodle. When he's not saving dogs, Andy is one of our core writers and editors. He has been writing about dogs for over a decade. Andy joined our team because he believes that words are powerful tools that can change a dog's life for the better.
Why Trust We Love Doodles?
At We Love Doodles, we're a team of writers, veterinarians, and puppy trainers that love dogs. Our team of qualified experts researches and provides reliable information on a wide range of dog topics. Our reviews are based on customer feedback, hands-on testing, and in-depth analysis. We are fully transparent and honest to our community of dog owners and future owners.