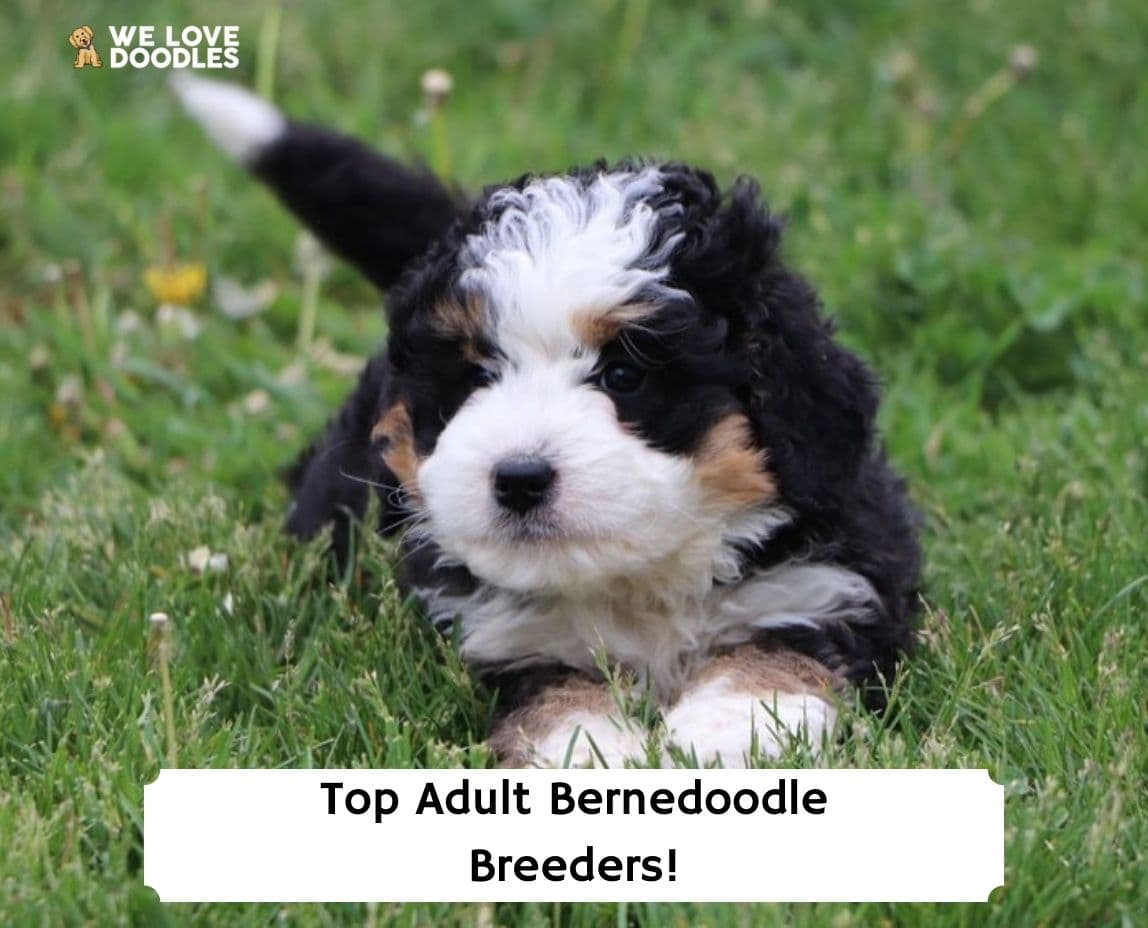 A Bernedoodle puppy is a beautiful addition to your family, but keep in mind that you're also committing to its health, safety, and loving care throughout its entire lifespan. Bernedoodle puppies will also require tons of training and typically will go through a "teething" phase that people don't like to deal with. This is one of the main reasons why people opt for adult Bernedoodles rather than puppies.
Here are a few tips about buying an adult Bernedoodle, along with a list of the best breeders in North America. We will preface this article by saying it is difficult to get an adult Bernedoodle since they are so popular. Many people want Bernedoodles due to the hypoallergenic and tri-color coats. Thus, they typically buy them as puppies and not adults. The demand for Bernedoodle puppies is high and thus, there aren't many adult Bernedoodles availible. Likely your best option for adult Bernedoodle is to see if your can rescue or adopt an adult Bernedoodle.
Other articles you would like: Bernedoodle Rescues and Adult Goldendoodle Breeders.
1. Recherche Bernes
Recherche Bernes offers adult Bernedoodle and Bernese Mountain Dog puppies. The training and care they provide is one of the best in the world.
This Bernedoodle Puppy Training Institute trains Bernedoodles from puppies to young adults. Their Bernese are all imported from Europe with generations of health clearances to produce the longest-living and healthiest pups. Twenty-two full-time staff members work at the facilities, and each Bernedoodle comes with a high-quality 4-year warranty.
New litters are now available for reservation, and they'd love to help you find the perfect adult Bernedoodle for your family.
Bernedoodle Breeder Information:
Location: Recherche Kennels, 174 Carodell Ln, Statesville, NC 28677
Telephone: 980-223-2779
Email: info@trainedbernes.com
2. Golden Savannah
Golden Savannah offers professionally trained Bernedoodle puppies. This is not a once-a-week training class but real-life preparation for your adult Bernedoodle to seamlessly become a valued member of your family. During the training period, your puppy will live in the home of its professional trainer. Puppies start this program between 8 and 10 weeks of age.
Golden Savannah breeds healthy, beautiful, and well-socialized adult Bernedoodles, so you can enjoy them for many years to come. Reservations can be made in advance for future litters, so don't hesitate!
Bernedoodle Breeder Information:
For more check out: Best Bernedoodle Breeders in Massachusetts! and Best Saint Berdoodle Breeders in the U.S.
3. Utah Bernedoodles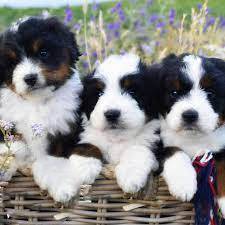 Unlike an "untrained" puppy, Utah Bernedoodles understands some people prefer to adopt a fully trained puppy or young adult dog. However, due to the significant demand for this type of family pet, they enthusiastically provide fully grown Bernedoodle puppies and fully trained young adults when they are available.
They reserve the right to select the first two picks within each litter. Puppies that they choose are explicitly chosen for their training program, breeding program, premium families, and other exceptional circumstances.
Purchasing an adult "Turnkey" Bernedoodle means that it has been kennel and leash trained, as well as able to obey all basic obedience commands such as Sit, Down, Stay, Come, No, and Okay. Additionally, these dogs have been taught home training and sleep in their kennel throughout the night.
Their Turnkey dogs have completed the fundamental awareness program, the intermediate awareness program, and the advanced awareness program. It costs approximately $18,000. During the duration of the program, your puppy will receive vetting, boarding, and training.
Bernedoodle Breeder Information:
4. SwissRidge
Raising a well-trained dog from scratch may seem daunting if you lead a busy life full of competing demands. However, you may long for a dog's company and know it would be good for you. There might be times when you think, "This dog would be perfect if only it weren't so hard."
Fortunately, it's now possible! The Bernedoodles at SwissRidge are trained to a very high level of obedience before they ever leave the facility. This type of dog is known as a "turnkey" dog because it arrives thoroughly trained and ready to fit seamlessly into your life.
Breeders are free to hold back a special puppy or two from a litter. Occasionally, they exercise that right by tucking a puppy away in their "Puppy Vault" to evaluate for breeding purposes. Sometimes they see that a puppy has such a bright personality that they keep it for six months or more of intensive training.
By the time your Bernedoodle arrives home, it will be fully housebroken and crate trained. He is well-mannered around people and other dogs and fully responsive to commands such as "sit," "down," "come," and "stay.". You can be confident your dog will respect leash etiquette and never pull you. They will introduce various situations, people, and places to them.
While the level of obedience outlined above is more than sufficient for most dog owners, Lucas plans to hold a few pups back until they are ready to go off-leash. To guarantee a Bernedoodle, don't hesitate to get in touch with them early as they now have a waiting list.
Bernedoodle Breeder Information:
5. Training Canines
A dog's learning abilities are never greater than from birth through sixteen weeks of age. After that, puppies learn 24/7, whether good or bad behavior.
Training Canines is not a breeder. They are a trainer. They specialize in puppy development.
Several years ago, they studied how puppies learn and what they could teach them. Unfortunately, they could not conduct their research; therefore, they searched for reputable breeders with vigorous breeding programs. We are amazed at how much they have learned in such a short time. Bernedoodles are now their focus.
This training program has taken a great deal of time and research. With every litter, they learn more and document their findings. Early Neurological Stimulation begins at three days old. This type of stimulation significantly affects your puppy's ability to cope with stressful situations. Puppy exercises are performed until the puppy is two weeks old.
What else could your Bernedoodle possibly learn? Check out their training page on their website and follow them on Instagram and Facebook.
Bernedoodle Breeder Information:
Adult Bernedoodle Puppies
Dog training covers a wide range of behaviors. The first step is learning to pee and poop outside and signaling their human owners when they need to do so. By training your dog, you can set boundaries, such as not letting the dog on the furniture or keeping him out of certain rooms.
For puppies and young dogs to learn the appropriate behaviors at home, they require mental stimulation and positive reinforcement. With consistent training, your dog will avoid future aggression, excessive barking, and difficulty socializing with other animals.
Benefits of Early Intervention
Getting an adult Bernedoodle sets you and your dog up for a happy life together. Early intervention can include addressing behaviors like socialization with other dogs and people of all ages, crate-training for the evening, waiting to go outside for a set number of hours during the day, prevention of destructive chewing, obedience to basic commands like "sit" and "stay," and leash-training without pulling or running away.
Most people are enthusiastic and patient enough to train for at least some of those behaviors. Professional trainers know how to teach your puppy how to behave in all situations from a very early age. Buying an adult dog lets you look forward to years of stability and loving companionship!
How to Choose an Adult Bernedoodle breeder?
Never buy an adult Bernedoodle without inspecting the breeder's home first. During 'puppy droughts,' when popular breeds like Bernedoodles are in high demand, it can be tempting to buy an animal immediately, without performing any preliminary inspections.
Try not to succumb to the temptation to 'panic buy' – you must visit the pup in the place where it was born first. Meet the mother (and the father, if he is around) and look at the living conditions.
Where do you find an Adult Bernedoodle breeder?
Did you know that 34% of dogs are obtained from breeders? Asking around is the best way to find a responsible breeder. Ask the following people if they know of a reputable breeder in your area.
Veterinarians
Dog trainers
Friends, family, and neighbors who have a healthy Bernedoodle dog
Local breed clubs
Attend a dog show and strike up a conversation with spectators and participants
Conclusion For Adult Bernedoodle Breeders
Training Bernedoodle puppies requires a lot of patience and time. In general, adopting an adult Bernedoodle is a good idea if you are a busy working professional because you may not be able to provide the lengthy monitoring necessary to house, train, and crate train a dog.
You can spend more time getting to know a dog who is already trained instead of trying to prevent him from going to the bathroom everywhere and chewing on everything. Even a little training can save time since the dog will be more responsive to learning new commands.
You will also like:
Garrett loves animals and is a huge advocate for all Doodle dog breeds. He owns his own Goldendoodle named Kona. In addition, he volunteers at the Humane Society of Silicon Valley, where he fosters dogs and helps animals. Garrett enjoys writing about Doodles and believes that dogs can teach humans more about how to live than humans can teach a dog.
Why Trust We Love Doodles?
At We Love Doodles, we're a team of writers, veterinarians, and puppy trainers that love dogs. Our team of qualified experts researches and provides reliable information on a wide range of dog topics. Our reviews are based on customer feedback, hands-on testing, and in-depth analysis. We are fully transparent and honest to our community of dog owners and future owners.