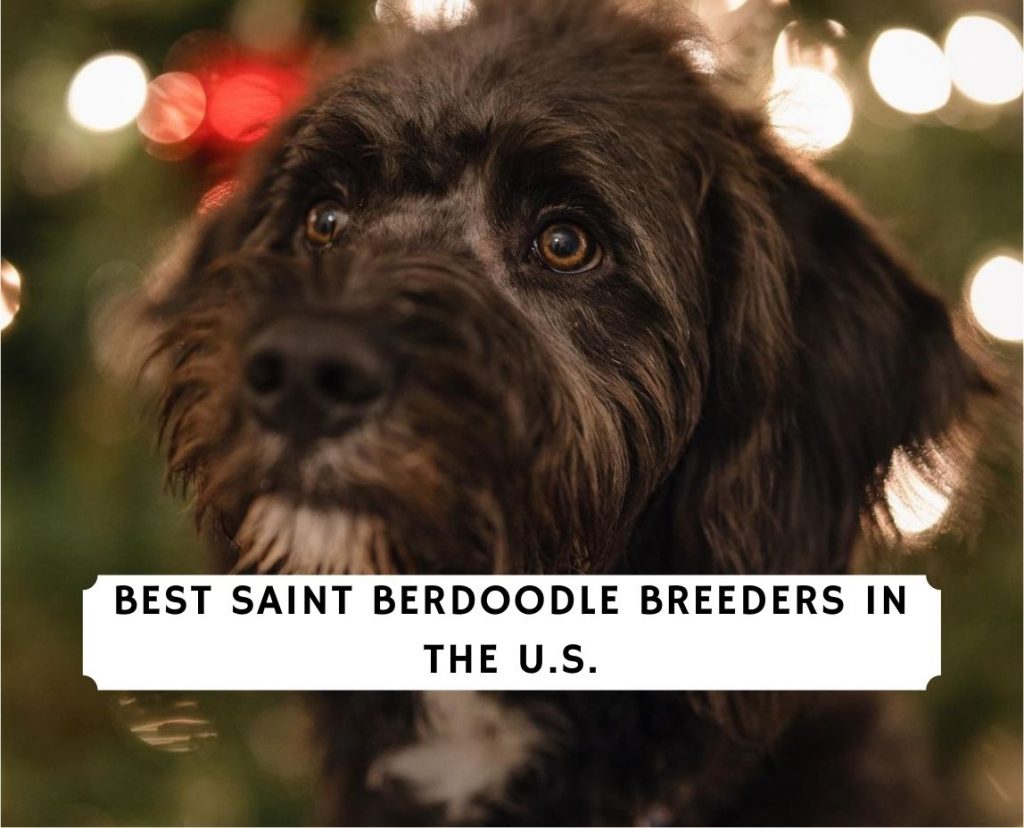 As one of the largest Doodle dog breeds, the Saint Berdoodle is growing in popularity. Imagine having a nonshedding and hypoallergenic Saint Bernard! This is one of the biggest draws to this dog breed and one of the reasons why it is trending in the dog breeding world. You'll find Saint Berdoodle breeders all around the United States, but it's important to find a reputable breeder.
Be sure to do your own research in determining if a Saint Berdoodle is the right fit for your family size, location, and lifestyle. When you're ready to move forward in adopting a Saint Berdoodle, finding a reputable and trustworthy breeder is the next logical step. We've created a list of some of the best Saint Berdoodle puppies for sale from the top breeders around the United States.
Other articles you will like: Saint Berdoodle Dog Guide and Best Schnoodle Breeders.
Saint Berdoodle Breeders in the United States
With cuddly coats and an intelligent personality, Saint Berdoodles can make perfect additions to families of all sizes. As you get ready to welcome in your own new furry friend, be sure to find a breeder that has experience in breeding Doodles, is trustworthy, and is reliable in communication in the adoption process.
Be sure you are intentional about searching for that right puppy for you and do your own research into the breeder's reputation and reviews. We based our research on the socialization of their dogs, health, and other testing. We always suggest that any potential dog owner reach out to a breeder and do their own research as breeding practices change quite frequently. Ask lots of questions and request an in-person visit.
You'll find a brief overview of the St. Berdoodle breeder as well as contact information if you're interested in learning more about their availability or process.
1. Brush Creek Berdoodles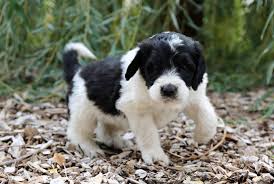 Discover the joy of Saint Berdoodles for yourself by exploring the resources and available puppies with Brush Creek. They help explain the difference between a Saint Berdoodle compared to a regular Saint Bernard to help you make the right choice of puppy.
The team is dedicated to raising St. Berdoodle dogs and puppies to share them with others. They breed both the Saint Berdoodle and Saint Bernard so you ask them any questions about either dog breed.
The space in which the Saint Berdoodle puppies are raised is a large piece of land with room for puppies and dogs to run and play. They are cared for in a family setting and adhere to best practices in socialization. This prepares their St. Berdoodle puppies to enter a forever family.
On their website, you can find information about upcoming litters and all about their adoption process. Each puppy stays with its mother for 8 weeks until they are transitioned to a puppy dog food. All their Saint Berdoodle puppies come with their vaccinations as well as a happy and healthy temperament and body.
Families that are interested in a Saint Berdoodle can start with an application. The team at Brush Creek Berdoodles are intentional about finding the right puppy for you and your family. Their application contains some intentional and in-depth questions to make the right fit in choosing a puppy. They also don't require a deposit to be put on a waiting list for an upcoming litter which is also another benefit.
Saint Berdoodle Breeder Information
2. Prize Poodles & Doodles
Whether you're looking for a purebred or hybrid, you'll find one at Prize Poodles & Doodles. In addition to beautiful Saint Berdoodles, you'll also find mixed breeds like Newfypoos, Bernedoodles, Irishdoodles, and Goldendoodles.
Their motto is all Doodles, all the time. They focus on breeding dogs that are healthy, intelligent, and beautiful. In addition, they raise their Saint Berdoodle puppies to have friendly personalities so that they make great companions for all ages.
As you consider the right puppy option for you and your family, the team at Prize Poodles and Doodles will help you through the process. All their puppies are raised on a 20-acre environment that's all fenced in. This gives the parent dogs and puppies lots of room to roam and play as they grow and socialize. Inside their home, they have rooms dedicated to the care and wellbeing of the puppies.
Families who are interested in adopting from Prize Poodles & Doodles can complete a form that shares a little bit about what they're looking for in a puppy. Online you can browse through available Saint Berdoodles puppies to find the right one for you. As you prepare to welcome home your new puppy, they'll also provide helpful resources as you adjust to having a puppy in your home.
Their Puppy Prep section provides key insights you'll want to know when it comes to navigating your puppy's nutrition, training practices as well as other grooming practices and resources to help in the adjustment. Even if you're not in the Williamstown, Kentucky area, they can deliver your Saint Berdoodle puppy to you.
Saint Berdoodle Breeder Information
Location: 303 Fairview Rd. Williamstown, Ky 41097
Email: Tom@PrizePnD.com
Phone: 859-462-3950
3. Mason Creek St. Berdoodles
Find your furry four-legged friend with the help of Mason Creek St. Berdoodles. As a family-owned and operated breeder, they are committed to raising Saint Bernedoodles within a close environment for best results of socialization and care. Dogs and puppies are provided with lots of room to play and roam around as they learn and grow.
All breeding parents are health tested and bred with a great deal of focus on their temperament and appearance. You can also read about the breed, the different varieties, and what you can expect with your new furry friend. Each parent is also health tested to ensure the best results with the puppies. They also participate in the puppy culture practice in raising well-behaved and loveable puppies. With all their health testing and socialization, they are definitely one of the better Saint Berdoodle breeders on our list.
If you're interested in reserving a puppy, you can submit a deposit and get notified of upcoming litters. When you're ready to welcome your new Saint Berdoodle puppy home, they will come with a relevant vaccination record, removed dew-claws, a sample of puppy kibble, a favorite chew toy, and a blanket as well as a collar and leash. Each of their puppies also comes with a health guarantee so you can be confident in your new friend.
Saint Berdoodle Breeder Information
4. The Saint Berdoodle Haven
Explore the fun and joy that comes with a Saint Berdoodle puppy with the team at the Saint Berdoodle Haven. Adopt with confidence as each puppy comes with a full veterinary check and are up-to-date on their vaccinations. They are also dewormed, so that's one less thing you have to worry about as you bring home your new friend.
Each puppy is raised with both indoor and outdoor access with lots of room to run, play, and explore. Puppies can be either of the F1 or F2 St. Berndoodle generations depending on the parents. If you're new to Doodle generations and don't know what F1 or F2 means, we suggest that you read our article on Doodle Generations. Choose the right Saint Berdoodle generation will have a drastic impact on what your dog looks like as the percentage of Poodle and Saint Bernard varies.
Puppies also come with a health guarantee and are ready to be adopted starting at 8 weeks of age. At the Saint Berdoodle Haven, puppies are raised to be in a healthy, happy, and loving environment so they can thrive. Their Saint Berdoodles puppies for sale are only occasionally available due to limited litters scheduled throughout the year.
With their popularity, it's also important to plan ahead if you're considering purchasing your Saint Berdoodle from them. On their website, you can also see photo collections of current and past litters, the parents, and other fun breeds you also may want to consider adopting.
Families who are interested in adopting a Saint Berdoodle from this breeder can contact the team at the Haven and submit a deposit to secure your spot in for an upcoming available litter. Even if you're not in the area, you can have your puppy shipped to you for an additional cost.
Saint Berdoodle Breeder Information
More Information About St. Berdoodle Puppies
Some say that with a hybrid or designer breed, you get the best of both dog breeds. That can be the case with the Saint Berdoodle breed as this hybrid is a mix between a Poodle and a Saint Bernard parent.
This dog is on the larger size due to the Saint Bernard parent and is usually only bred with a Standard Poodle parent. They also can be bred from two Saint Berdoodle parents to create an F2 generation of dogs.
This dog breed is growing in popularity due to its sweet temperaments and beautiful appearance. Unlike the many other Doodle varieties, the Saint Berdoodle is not a small dog which makes it appealing to dog owners who want a larger variety.
St. Berdoodles can grow to be between 110 and 200 pounds, depending on the parents. They need a lot of space which is important to remember as you decide if a Saint Berdoodle is right for you. We wouldn't suggest anyone living in an apartment or condo to purchase one of these dogs.
You'll need to have room for them to roam around as well as a living area that accommodates their large bodies. Their coats can be coarse, soft like silk, and have a very low level of shedding. Their coats can come in a variety of colors, too, including black, brown, or white. With regular grooming and brushing, taking care of your Saint Berdoodle puppy can be an easy practice.
The temperament and personality of the Saint Berdoodle is also very friendly and sociable. They enjoy being around people and receiving attention. In addition, they are loyal and loving to their families.
Saint Berdoodles require a lot of activity as they have energy and enjoy being out and about. However, due to their larger size, they may not make the best running companion. Moderate and regular walks are sufficient in caring for the Saint Berdoodle's activity levels.
A key thing to note about their temperaments is that they have a strong protective instinct to take care of their owners. Therefore, they may have an intimidating demeanor around strangers.
However, they are also known to be loving and kind to kids and families. With their Poodle parent, Saint Berdoodles have a high level of intelligence that makes them easy to train and love.
With both its adorable appearance and friendly personality, the Saint Berdoodle can be a great addition to your family if you're looking to add a furry friend.
Frequently Asked Questions
How much does a Saint Berdoodle puppy cost?
The average cost of a Saint Berdoodle puppy will be around $2,000 to $5,500, with some bloodlines costing more. In addition, there's a wide range of factors affecting Bernedoodle puppy prices.
This is the largest of Doodle dog breeds, and the Saint Berdoodle is growing in popularity. Imagine having a nonshedding and hypoallergenic Saint Bernard that's your best friend! Of course, you can either adopt a Saint Berdoodle or purchase one. 
We Love Doodles explains that before purchasing a Saint Berdoodle, you should do plenty of research since breeding practices change. Puppies can be either F1 or F2 St. Berdoodle generations depending on the parents. 
You'll need to choose the proper Saint Berdoodle generation, which will drastically impact your dog's appearance as the percentage of Poodle and Saint Bernard varies. 
How much should I pay for a mini Bernedoodle?
You should expect to pay anything from $3,000 to $5,000 plus for a mini Bernedoodle. The Bernedoodle inherits genetics that makes them nonshedding and hypoallergenic, making for wonderful family dogs that enjoy being around people and pets.
The cost of a standard Bernedoodle will most likely range anywhere from $500 to $5000, depending upon whether you adopt or purchase a Bernedoodle. A Bernedoodle is different than a Saint Berdoodle.
What is an F1B Saint Berdoodle?
An F1B Saint Bernedoodle is 75% Poodle and 25% Saint Bernard.
The St. Berdoodle is a hybrid dog that mixes two famous dog types: Saint Bernard and Poodle. We Love Doodles explains that the letter "F" represents filial, implying that Saint Berdoodle is a crossbred pet instead of a purebred one.
The number (1 or 2 or 3) is the generation of the St. Berdoodle. The letter "B" represents backcrossed, which implies that the dog was bred back to a 100% Poodle. We Love Doodles explains the following:
F1 St. Berdoodle: 50% Poodle and also 50% Saint Bernard.
F1B St. Berdoodle: 75% Poodle and 25% Saint Bernard.
F1BB St. Berdoodle: 87.5% Poodle and 12.5% Saint Bernard.
F2 St. Berdoodle: 50% Poodle and 50% Saint Bernard.
F2B St. Berdoodle: 62.5% Poodle and 37.5% Saint Bernard.
F2BB St. Berdoodle: 81.25% Poodle and 18.75% Saint Bernard.
F3 St. Berdoodle or Multi-generation St. Berdoodle: Several generations of St. Berdoodle breeding typically backcrossed to the Poodle.
What is an F2 Saint Berdoodle?
 The F2 St. Berdoodle: 50% Poodle and 50% Saint Bernard.
How do I get a St. Berdoodle?
You may find this terrific hybrid at breed-specific shelters or Doodle kennels. Berdoodles that have plenty of Poodle genetics will be more nonshedding and hypoallergenic. 
These multi-colored teddy bear dogs have a gentle personality and are non-aggressive with people and other pets. 
They need to spend plenty of time with family members during the day, so the Berdoodle is best for homes where they can be around family most of the day.
Conclusion for Saint Berdoodle Breeders in the U.S.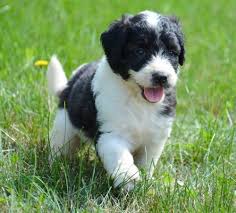 With their large bodies and even larger personalities, this hybrid between a Saint Bernard and Poodle can be a great option for your family. If you're ready to take that next step in welcoming a new puppy into your home, connect with several reputable and trustworthy Saint Berdoodles breeders in your area to discover availability and next steps. With their adorable appearances and loveable qualities, you won't be able to wait to bring one home. We hope that you found your next puppy!
Related Articles:
Garrett loves animals and is a huge advocate for all Doodle dog breeds. He owns his own Goldendoodle named Kona. In addition, he volunteers at the Humane Society of Silicon Valley, where he fosters dogs and helps animals. Garrett enjoys writing about Doodles and believes that dogs can teach humans more about how to live than humans can teach a dog.
Why Trust We Love Doodles?
At We Love Doodles, we're a team of writers, veterinarians, and puppy trainers that love dogs. Our team of qualified experts researches and provides reliable information on a wide range of dog topics. Our reviews are based on customer feedback, hands-on testing, and in-depth analysis. We are fully transparent and honest to our community of dog owners and future owners.