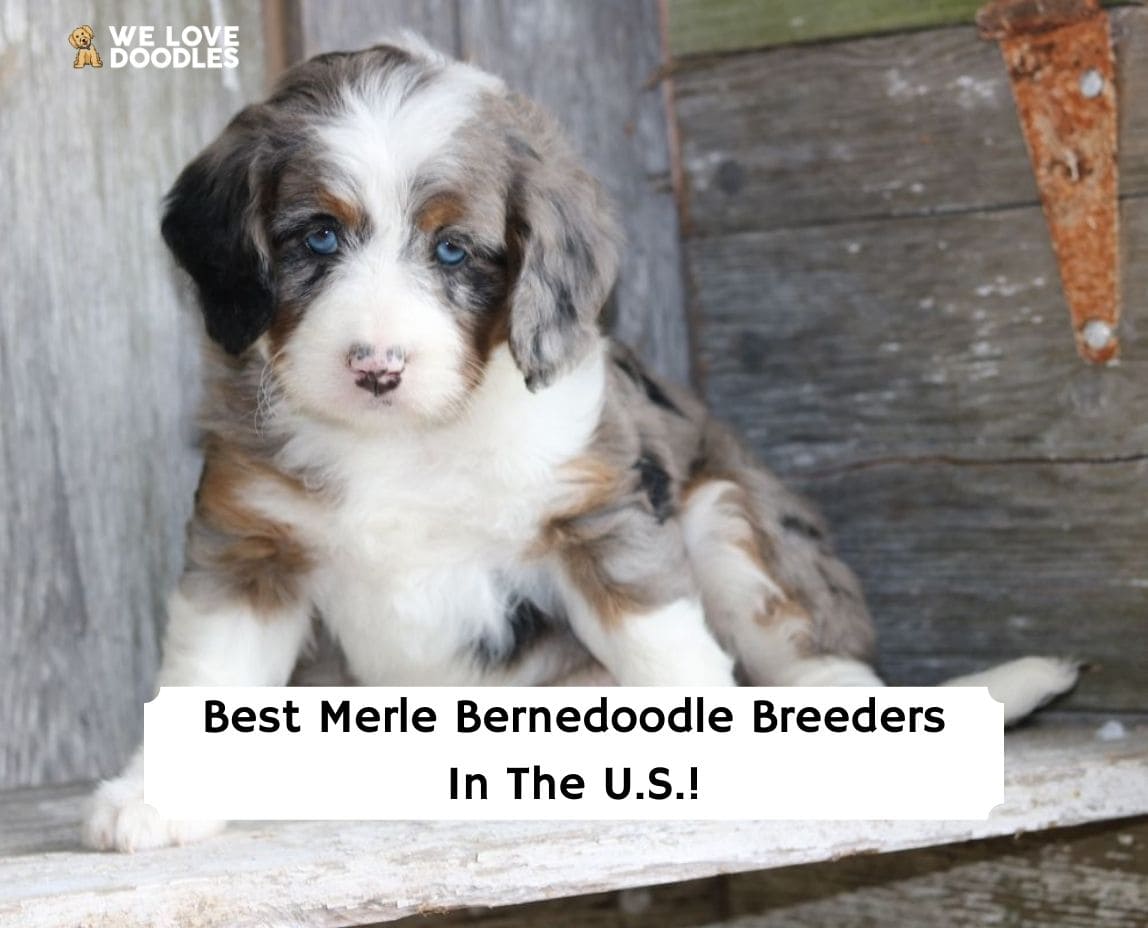 Chances are you've come across Bernedoodles if you're looking for a beautiful, fun-loving, and intelligent dog. Puppies like these make fantastic family pets and will surely bring you joy for many years to come! They are also excellent therapy dogs.
As with many other Poodle mixes – such as the Goldendoodle, Australian Labradoodle, and Aussiedoodle – Bernedoodles come in various colors. However, Merle Bernedoodles certainly stand out from the crowd as it's a rare and unique coat pattern.
You might be wondering what are the chances of finding a Merle Bernedoodle puppy? Who are the best breeders? Well, here's all you need to know about this beautiful colored pattern beauty.
Other articles you would like: Best Bernedoodle Dog Names and Standard Bernedoodle Breeders.
1. Utah Bernedoodles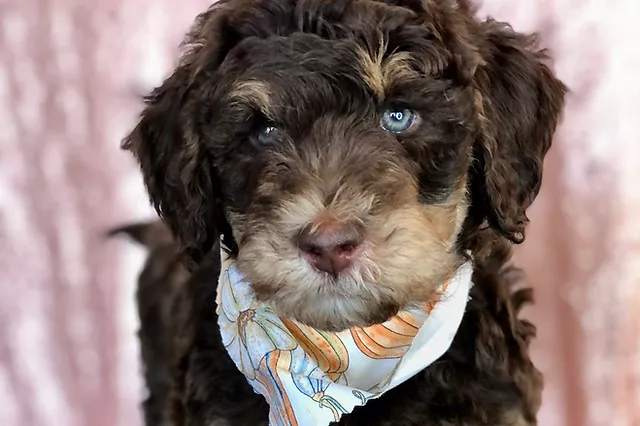 Utah Bernedoodle puppies are raised in a family setting, socialized with children, and taught the basics of house training to make the transition as seamless as possible. Through videos, photos, and social media updates, you will be able to watch your puppy grow.
They import health-tested quality lines from all over the world and the United States. The goal is to breed the healthiest, happiest, and most well-rounded Bernedoodles. You can find their litters for merle Bernedoodle puppies for sale online. Their Merle Bernedoodle puppies are typically mixed in a litter as it's virtually impossible to have a litter of all Merle Bernedoodle puppies. Contact them for more information.
Merle Bernedoodle Breeder Information:
2. Molly's Darling Doodles And Poodles
The key to raising quality Merle Bernedoodle puppies is to have quality parents! Their knowledge of pedigrees, genetics, and over a decade of breeding experience has allowed them to breed some of the very best Doodles in the U.S. Happy, healthy parents make for happy, healthy puppies!
They are located in beautiful northern lower Michigan. Being one of the original breeders of the Bernedoodle and Golden Mountain Doodle, their puppies are well known throughout the country! They have several Merle Bernedoodle puppies for sale throughout the year and you can contact them to see how you can specifically get on the waitlist for one.
Merle Bernedoodle Breeder Information:
3. Back Road Soul Puppies
Back Road Soul Puppies is a lively, hands-on family that has embraced every aspect of raising happy, healthy puppies. They breed several Merle Bernedoodle litters per year.
Many nights are spent staying up with expectant mothers, and hours and hours are spent on paperwork. During the day, they spend a significant part of their time cleaning, sanitizing, and vaccinating to ensure their puppies have the best start in life. They are thankful that their five children share their love of animals. Their lives revolve around playing, cuddling, and having adventures with the puppies.
They are licensed Merle Bernedoodle breeders with the USDA, certified with Iowa, and inspected annually by a veterinarian. They are a tiny kennel that focuses on health and socialization.
Merle Bernedoodle Breeder Information:
For more articles check out: Bernedoodle Pros and Cons
4. Unique Canines Bernedoodle Puppies
Along with their four daughters, the breeders at Unique Canines settled on a 12-acre farm in the country. As a result, their dogs have plenty of space to run and play. A dog's paradise, right?
The couple began adding to the UC family in 2013 when they bought their first female. They believe socialization is one of the keys to making your puppy the perfect companion for you and your family. As a result of their commitment to providing healthy, happy pets to their customers, they offer a one-year health guarantee.
You can rest assured that your furry best friend will be up-to-date on all vaccinations, be dewormed, and have a complete vet examination before going to their new homes. Having their puppies reunited with their forever families is one of their greatest joys. They have several Merle Bernedoodle puppies throughout the year for sale.
Merle Bernedoodle Breeder Information:
5. Rocky Mountain Bernedoodle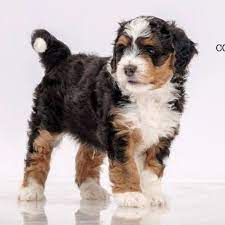 Rocky Mountain Bernedoodle has been breeding quality family dogs for over two decades. They place a high priority on health and temperament. As a result, every puppy receives lots of love and attention.
There is no better place for them to raise their fur family and spend time with their children and grandchildren than on five acres outside of the historic town of Montrose, Colorado. The Rocky Mountains surround them. But, despite their roots in the community, they love to travel.
Having healthy, happy dogs is what they love! They have worked in healthcare for over 35 years and are passionate about educating and informing dog lovers about the importance of health testing and the benefits of crossbreeding. Seeing some dismal scenarios in dog breeding over the years energizes them to promote programs that promote the health and well-being of their four-legged friends.
Dogs are a massive part of their lives, and they have helped several friends and colleagues start breeding programs. Their primary goal is to maintain stable and healthy lines, and they believe that smaller breeding programs with family-raised dogs create better quality puppies. Breeding dogs are either raised by the breeders themselves or sponsored by loving guardians in the local area.
Merle Bernedoodle Breeder Information:
6. Kandi's Sweet Bernedoodles Puppies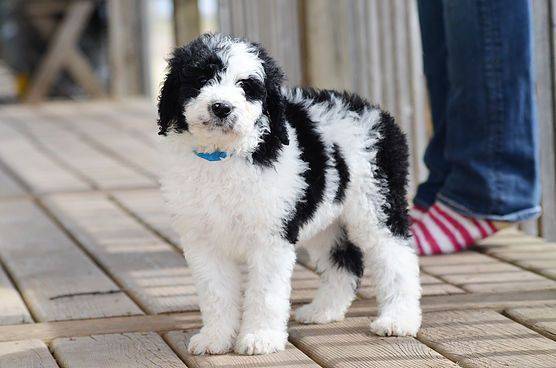 Kandi's Sweet Bernedoodles Puppies is a family-run business located in Byron Center, Michigan. Their animals include cows, pigs, cats, and dogs, which they love. They are very close to their pets, and they are family members.
The couple raised puppies for over 15 years, with their first litter born 11 years ago. They only raise Bernedoodles and sell several with the Merle coat coloring! They are not a kennel; all dogs are their family pets.
During rainy days and Sunday afternoons, their Bernedoodles enjoy lounging around the house and taking naps. They run through the woods and the hay fields on their 20 acres as they play.
A beautiful, loving puppy can bring a lot of joy to a family. They strive to bring families beautiful, intelligent, and most importantly, healthy and loving family pets. They raise only puppies that they would want to have as a member of their family, so you can rest assured that your new dog will be one to enjoy for many years to come.
Merle Bernedoodle Breeder Information:
7. Houskerville Doodles
From the moment they are born until ready for their new homes, Houskerville Doodles' puppies are handled daily and raised in their home. They live in the country on a farm with 80 acres of beautiful land, where their mature dogs can enjoy the countryside.
Each puppy undergoes an early neurological stimulation program that prepares him to adapt to new and unusual situations throughout his life with his forever family. Additionally, they ensure the health of their puppies by performing extensive health testing and other necessary vaccinations.
Merle Bernedoodle Breeder Information:
Merle Bernedoodle Breeders
Merle Bernedoodles are pretty rare and have recently become more popular due to the popularity of merle-colored dogs. However, despite its name, the merle color is not associated with either Poodles or Bernese Mountain Dogs.
The term "merle" refers to the pattern on a coat, not the color itself. It is a combination of colors in a dog's coat. A solid color base (typically red/brown or black) is dotted with lighter blue/gray or reddish patches, giving it a mottled or uneven appearance.
Bi-color black and white Bernedoodles, sable, phantom, merle patterns, and solid black and solid white are rarest. Additionally, as the Merle color Bernedoodle is one of the most coveted variations, you may have to wait a bit longer to qualify to adopt this Bernese-looking puppy.
How to Choose a Merle Bernedoodle breeder?
There is no doubt that Bernedoodles are one of the most popular breeds of Doodles. As a result, a few responsible breeders sell toy and standard Merle Bernedoodle puppies online, as well as mini Merle Bernedoodle puppies.
You should check their medical paperwork and read their reviews before purchasing a dog from any breeder.
By investing heavily in the health and development of their pups, they should strive to raise perfect companion dogs and family pets. You should also view your potential Merle Bernedoodle's parents and ask to see their medical history to ensure that they seem healthy and well cared for. Ask questions throughout the process.
Where do you find a Merle Bernedoodles breeder?
You can learn about others' experiences with a breeder by searching online and reading reviews.
Consider contacting your network to find out if any of your friends or associates have dealt with reputable breeders in your area.
There may also be a reputable Merle Bernedoodle breeder in your area that your current vet can recommend to you.
Consider visiting their breeding facility and observing how clean and organized it is.
Conclusion For The Best Merle Bernedoodle Breeders In The U.S.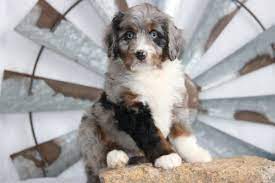 There you have it, the country's best Merle Bernedoodle breeders. We hope this was helpful. Make sure to do your homework and ask all the necessary questions before buying a puppy from a breeder. Getting your puppy socialized and trained when it comes to home is also a good idea.
You will also like: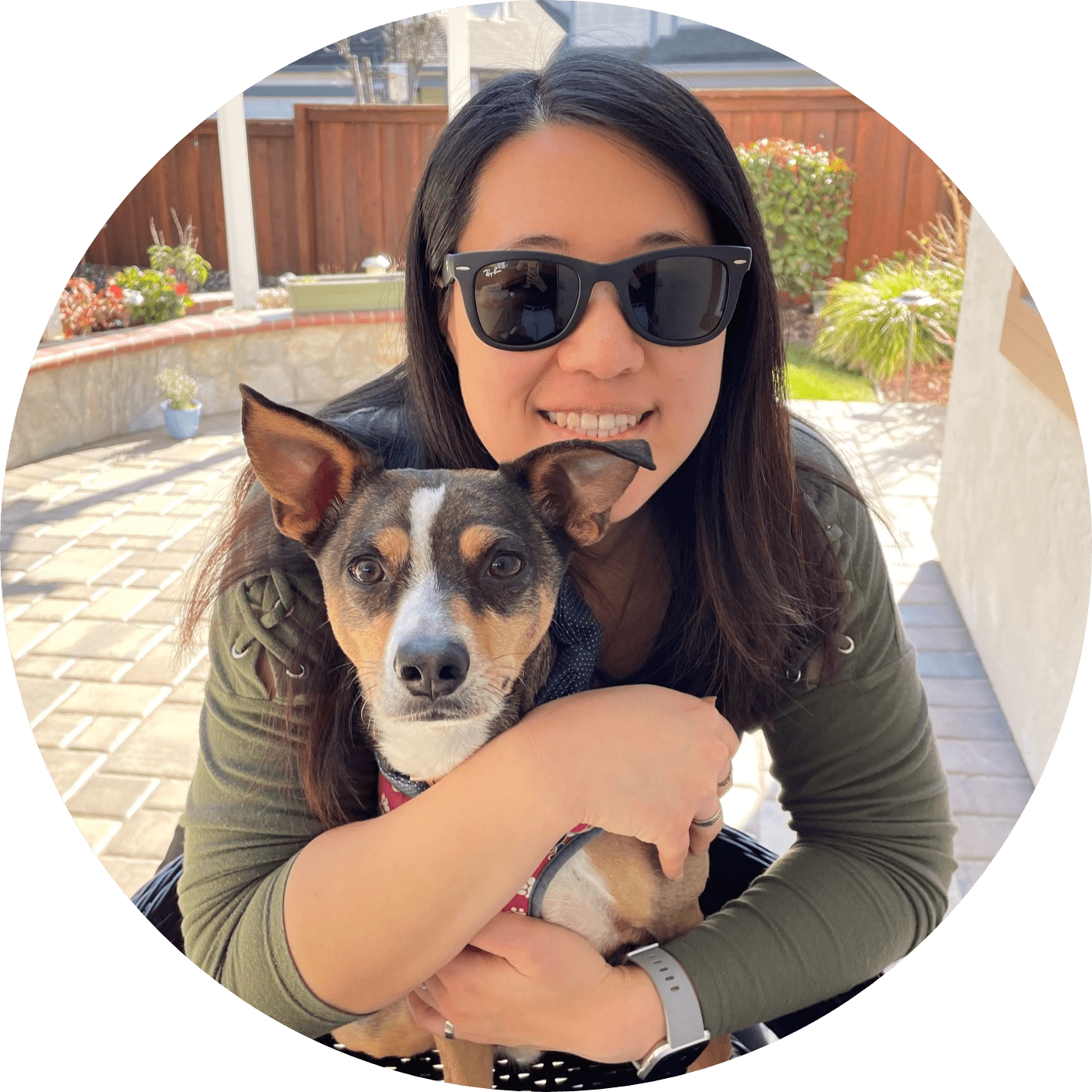 Dr. Sabrina Kong graduated from the Royal Veterinary College in England in 2016 and has been working at a small animal clinic in Northern California since then. She grew up in the Bay Area and got her bachelor's degree from Cal Poly San Luis Obispo. She also became a Certified Canine Rehabilitation Practitioner through a program at the University of Tennessee.
When she isn't in the clinic taking care of her four-legged patients, she enjoys traveling and trying new foods with her friends and her three-legged dog, Apollo. She adopted Apollo from her clinic when he was a puppy with numerous health issues. Dr. Kong truly cares about taking care of animals.