There is nothing better than an adorable bundle of fur and wet puppy kisses! When you decide to add a Goldendoodle to your family, it is important to understand the breeds you are interested in and find a breeder that you can trust and that will be a valuable asset as your puppy grows up.
Here we take a closer look at the F2 Goldendoodles for sale from top breeders (what does the F2 really mean?). We also offer some tips on finding the right breeder, as well as a list of some of the top F2 Goldendoodle breeders in the United States.
Other articles you would like: Goldendoodle Generations and F1 vs F2 Goldendoodle.
Understanding Goldendoodle Generations: F1, F1b, and F2
Before we start talking about generations, let's take a closer look at the Goldendoodle. The Goldendoodle is a designer hybrid breed that combines the Golden Retriever with the Poodle. Because Poodles vary in size (miniature vs standard), a Goldendoodle can range in size from under 17 inches and under 35 pounds to taller than 21 inches and near 100 pounds.
Goldendoodles are highly intelligent dogs that are friendly, playful, and gentle with other animals and human family members. They have a medium straight or curly coat that can come in a variety of different colors including black, cream, gray, red, blue, white, fawn, brown/chocolate/liver, and gold or yellow. Patterns can include bicolor, brindle, merle, and black and tan. This coat, thanks to the Poodle cross, is considered hypoallergenic and unlikely to shed.
Generations of Goldendoodles depend on the breeding parents. When a Golden Retriever breeds with a Poodle, the puppies are considered F1. They are 50/50 Golden Retriever and Poodle. If one of those puppies is then bred back to either a Poodle or a Golden Retriever, then you will have F1b puppies, being 75/25. This is often done with an F1 and another Poodle to increase the hypoallergenic properties of the puppies. F2 Goldendoodles occur when two F1 dogs breed together. Here you still have a 50% Poodle / 50% Golden Retriever breed mix.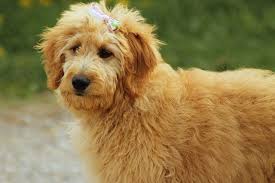 Adding a new F2 Goldendoodle puppy to your family is a fun and exciting adventure that should begin with finding a reputable breeder. Here we provide a list of some of the top F2 Goldendoodle breeders across the United States to help you with your search. While not all states are represented, we do have a reputable breeder option that is available no matter which state you live in.
1. Smeraglia's Teddybear Goldendoodles
Located in Alabama, Smeraglia's is a family-owned kennel that specializes in breeding, raising, and training all generations of Goldendoodles that are healthy, well-tempered, and well-trained. Many of their puppies go on to become service and therapy companion dogs. In addition to offering puppies, they also offer new puppy parents a puppy "prep school" that provides initial training to help ease the transition from litter to a new home.
They have extensive knowledge of the breed and are expert trainers, so they work to help you avoid typical "puppy behaviors." They also temperament test each puppy to help determine the best puppy for your family. Additionally, they not only sell F2 Goldendoodle puppies, but they also have other breeds of doodles that you can check out like the Schnoodle.
F2 Goldendoodle Breeder Information:
2. Coastland Goldendoodles
Located in Ventura, California, Coastland Goldendoodles strives to breed the highest quality Goldendoodles. All their breeding dogs come from pedigree lines and undergo genetic testing and health certification through the Orthopedic Foundation of Animals (OFA), Paw Prints Genetics, and PennHip to rule out any potential genetic concerns. All F2 Goldendoodle puppies go to their new homes with a two-year genetic health guarantee, are microchipped with prepaid lifetime registration, a leash and collar, toys, current food, a binder with all their health information, and a special brush designed for Goldendoodles.
F2 Goldendoodle Breeder Information:
3. Central Illinois Doodles
Central Illinois Doodles is a family-owned breeder run by John Jess. They specialize in raising family-friendly Goldendoodles and Bernedoodles. Jess grew up with Golden Retrievers and Bernese Mountain Dogs but understood that many families were unable to have these breeds due to shedding and allergies. Enter the Goldendoodle and Bernedoodle! Now families can enjoy these beautiful breeds without the concern of allergies and hair. All breeding dogs undergo health exams and genetic testing to rule out potential genetic concerns and all F2 Goldendoodle puppies come with a two-year health guarantee.
F2 Goldendoodle Breeder Information:
4. Lakeshore Doodles
Located in Kent, New York, Lakeshore Doodles is a family breeder with over 20 years of breeding experience. They strive to breed high-quality and healthy Goldendoodles through regular health and genetic testing and through their thorough testing program, they can currently guarantee with your puppy will not inherit over 150 different health concerns. They work with you to help choose the perfect puppy, not only by looks, but by temperament. All F2 Goldendoodle puppies for sale are raised in a home environment and begin socialization at birth, helping to ensure you have a puppy ready to take on the world. They also offer early puppy training that can go from 8-10 weeks of age, more in-depth training if you desire. They offer a wide range of breed and puppy information on their website to help you prepare for your new puppy, offer training tips, and so much more.
F2 Goldendoodle Breeder Information:
5. PuppySpot Goldendoodles
If we didn't list a Goldendoodle breeder near you, have no fear! We have one option that caters to new puppy parents across the country. PuppySpot is a breeder marketplace that allows APPROVED Goldendoodle breeders to list their available puppies for you to browse and adore. When you find a puppy that you think maybe the perfect fit, PuppySpot works with you and the breeder to arrange for puppy transportation directly to you. They are backed by the USDA and the AKC, so you know that you will be getting an awesome puppy – we even got one of our Goldendoodles from them!
No need to worry about puppy mills puppies here. PuppySpot has a comprehensive screening process for all their breeders and breeders are not allowed to put puppies until they pass this screening process. In addition, PuppySpot is so confident in their breeders that they offer a 10-year genetic health guarantee on all puppies. The downside is that they don't separate Goldendoodle puppies by generation. If you're looking specifically for an F2 Goldendoodle puppy then you will have to call them and their customer support will help you. We really enjoyed getting our Goldendoodle puppy from them and highly recommend them.
Update: You can use an exclusive code "WLD100" at checkout for $100 off a new puppy.
F2 Goldendoodle Breeder Information:
Why is a Reputable F2 Goldendoodle Breeder Important?
Hybrid breeds, like the Goldendoodle, are very popular and can be expensive. For this reason, many backyard breeders and puppy mills have turned to the breed in order to increase their paycheck. Unfortunately, these breeders are only in it for the money and rarely make the health and wellbeing of the dogs and puppies a priority. In many cases, you will end up with a puppy that develops genetic conditions down the road that should have been tested for and bred out of a reputable breeding program.
A reputable breeder invests in their dogs and their breeding program by genetically testing their breeding dogs, as well as providing regular health exams for both the dogs and the puppies. In most cases, a reputable breeder offers a health guarantee for at least one year against any genetic health conditions, helping to ensure you bring home a healthy and happy puppy.
In addition, a reputable breeder has a vast understanding of their breed. In the case of Goldendoodles, these breeders will have knowledge of both the Golden Retriever and the Poodle and will be able to offer advice and help to you as your puppy grows.
Conclusion for F2 Goldendoodles Puppies For Sale
As you're searching for an F2 Goldendoodle puppy, you'll want to know that this breed is high in demand. As we were doing our research, we noticed tons of puppy mills as well as backyard breeders. Additionally, we read many complaints about people getting their deposits stolen from fake breeders. We highly suggest that you do in-depth research before selecting a Goldendoodle breeder. Ask to see the parent dogs in-person, verify credentials, and ask for references. Lastly, you'll want to ask any Goldendoodle breed about their health warranties, health checks, and any genetic testing that they conduct.
Other articles you would like:
Garrett loves animals and is a huge advocate for all Doodle dog breeds. He owns his own Goldendoodle named Kona. In addition, he volunteers at the Humane Society of Silicon Valley, where he fosters dogs and helps animals. Garrett enjoys writing about Doodles and believes that dogs can teach humans more about how to live than humans can teach a dog.
Why Trust We Love Doodles?
At We Love Doodles, we're a team of writers, veterinarians, and puppy trainers that love dogs. Our team of qualified experts researches and provides reliable information on a wide range of dog topics. Our reviews are based on customer feedback, hands-on testing, and in-depth analysis. We are fully transparent and honest to our community of dog owners and future owners.