Are you searching for breeders with micro Goldendoodle puppies for sale in the United States, then you've come to the right place. Designer dog breeds, where two purebred breeds are bred together, have gained in popularity across the United States, and the Goldendoodle is one of the top 10 designer dog breeds just about every year.
This popularity makes these breeds the perfect target for puppy mills or breeders that overbreed to make the most profit. Unfortunately, many of these puppies are at risk of serious health complications.
When looking to add a designer dog breed, such as the Goldendoodle, you must do your research and find a reputable breeder that puts the health of their dogs and puppies first. Here we introduce the Micro Goldendoodle breed, some tips for finding a reputable breeder, and a list of some of the top Micro Goldendoodle breeders across the United States.
Before scrolling down this list of breeders with micro Goldendoodle puppies for sale, you can check out these recommendations: What is the Micro Goldendoodle?
An Intro to the Micro Goldendoodle Puppy Breed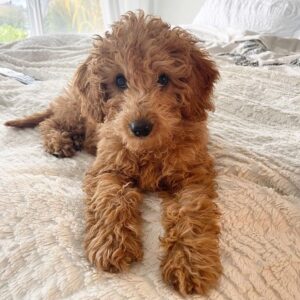 The Goldendoodle is a designer dog breed that combines the Poodle and the Golden Retriever. When you first think of these two dog breeds, the idea of a micro dog seems farfetched. First, you must consider that the average height of a Golden Retriever is 20-24 inches tall and between 55-75 pounds. That is far from micro! So, let's look at the Poodle.
This is where size can dramatically change. A Standard Poodle stands 18 to 24 inches tall and can weigh 50-100 pounds. But Standard Poodles are not the only Poodle. A Miniature Poodle stands about 15 inches tall and weighs between 12-20 pounds. A Toy Poodle stands under 10 inches tall and weighs between 4-6 pounds. So, when it comes to Goldendoodles, the Poodle size plays a very important role.
While the Poodle size does play a role, achieving a Micro Goldendoodle is still difficult and leads to some unethical breeding practices to create the smallest dog possible. In some cases, multigenerational Goldendoodles are bred with smaller and smaller Toy Poodles or runts in the hope of going even smaller.
In some cases, the Cocker Spaniel is added to the mix to achieve an even smaller size. Unfortunately, this breeding can lead to an increased risk of genetic health problems and a reduced life span. This is why it is so important to find a reputable breeder regarding designer dog breeds.
While many breeders may say they can produce a puppy under 15 pounds, the ideal micro or mini Goldendoodle will be over 15 pounds. This gives you a small dog with the perfect balance of Golden Retriever and Poodle without compromising the puppies' health. These adorable dogs are the perfect mix of two wonderful breeds, and, thanks to the Poodle, they are considered hypoallergenic and non-shedding.
Micro Goldendoodle Puppies for Sale in the United States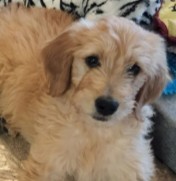 Now that you understand the Goldendoodle breed and how to find a reputable micro Goldendoodle breeder, we have created this list of some of the top breeders in the United States to help you search.
If you cannot find a reputable Goldendoodle breeder in your local area, it is still possible to find the perfect Micro Goldendoodle puppy for you and your family. PuppySpot does all the research and breeder screening for you, creating a puppy marketplace where screened breeders can list their available puppies for sale.
All their Goldendoodle breeders have undergone extensive screening, and the health of their dogs and puppies is a priority. Because of this, PuppySpot offers a 10-year health guarantee on all puppies adopted through them.
Search the marketplace for the perfect Micro Goldendoodle for you and your family. Once you find the perfect puppy, PuppySpot works with you to arrange transportation and delivery of your new furry family member right to your door. It's also worth noting that PuppySpot has given our blog readers an exclusive coupon code "WLD100" for $100 off your next puppy! Check them out today!
PuppySpot Details
2. Crockett Doodles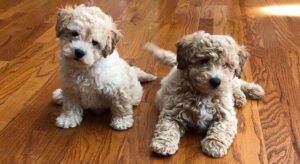 Crockett Doodles, started by Dr. Nathan Crockett, is a network of Doodle families breeding and raising various Doodle breeds, including Standard and Mini Goldendoodles. All dogs and puppies are raised in homes with families, and Crocket Doodles works to ensure that every puppy is paired with a family that is a good fit for them.
Their Goldendoodles range from medium standard weighing between 40-50 pounds to classic minis weighing between 25-40 pounds and little minis, or micros, weighing between 8-25 pounds.
They focus on the health and wellbeing of the dogs and are committed to raising healthy, happy puppies. They offer an outstanding 3-year health guarantee when you feed your new puppy the dog food they recommend.
In addition, they understand that life happens and, unlike many breeders, offer a full refund on puppy deposits should your circumstances change. And your location doesn't matter as they have breeding partners throughout the country and offer puppy ground delivery or a Puppy Flight Nanny Service for transportation.
Crockett Doodles Details
3. Colorado Golden Doodlebugs
Colorado Golden Doodlebugs is a family breeder owned and operated by Kim Brehon. She is an AKC-registered breeder that breeds Golden Retrievers and Goldendoodles. Additionally, she is an A.K.C. Bred with H.E.A.R.T. breeder, meaning she focuses on health, education, accountability, responsibility, and tradition regarding her breeding program.
When it comes to her Goldendoodle puppies, they specialize in F1 Standard and Mini Goldendoodles and occasionally have F1b petite mini Goldendoodles. She provides all puppy parents with the health certificates of the parents, and all her dogs are O.F.A. certified hips, elbows, patella, and cardiac. Additionally, they all undergo extensive genetic testing to rule out genetic conditions.
She offers a 2-year health guarantee. All puppies will be up to date on vaccinations, dewormed, and declaws removed. In addition, their micro Goldendoodle puppies are also microchipped and go home with a special home bag that includes food samples, toys, treats, and a blanket with mama's scent.
Colorado Golden Doodlebugs Details
4. Mountain Doodles
Mountain Doodles is a small family farm and dog breeder specializing in raising Mini Goldendoodles. Puppies are raised in the home and on the farm, with all dogs being a part of the family. Breeding parents are all A.K.C. registered healthy examples of their breed standard. Their micro Goldendoodle puppies are $2,500 and require a $250 deposit. Additionally, all puppies come with a 1-year genetic health guarantee.
Mountain Doodles Details
5. Lakeview Doodles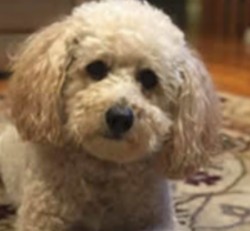 Lakeview Doodles is a family breeder located on the shores of Lake Ontario in Upstate New York. They specialize in high-quality, healthy, and family-raised Miniature, Petite, and Tiny Petite English Goldendoodles, Labradoodles, and Double Doodles. All puppies are raised in their home with their children to socialize and get them used to the sights and sounds of an active family.
All their breeding parents undergo extensive health testing, and they will provide you with all the results. All micro Goldendoodle puppies for sale receive health checks and vaccinations and offer a 2-year health guarantee.
While located in New York, they can offer personal puppy delivery to New York, Pennsylvania, New Jersey, Connecticut, Massachusetts, Ohio, and Vermont. In addition, they can arrange with you air transportation with one of their family members, as they will not ship puppies alone.
Lakeview Doodles Details
Finding a Reputable Micro Goldendoodle Breeder in the United States
When looking for a Micro or Mini Goldendoodle, finding a reputable breeder is essential for the health of your new puppy. A reputable breeder puts the health of their dogs and puppies first and doesn't try to follow a fade designer breed at the expense of their health. They are also a wealth of information, especially if this is the first Goldendoodle you add to your family. When looking for a breeder, there are a few things to consider:
Other articles you will also like:
Before bringing home a micro Goldendoodle companion from a breeder in the United States, you can learn more about this dog breed by watching "Mini Goldendoodle – The Miniature Size Goldendoodle" down below: