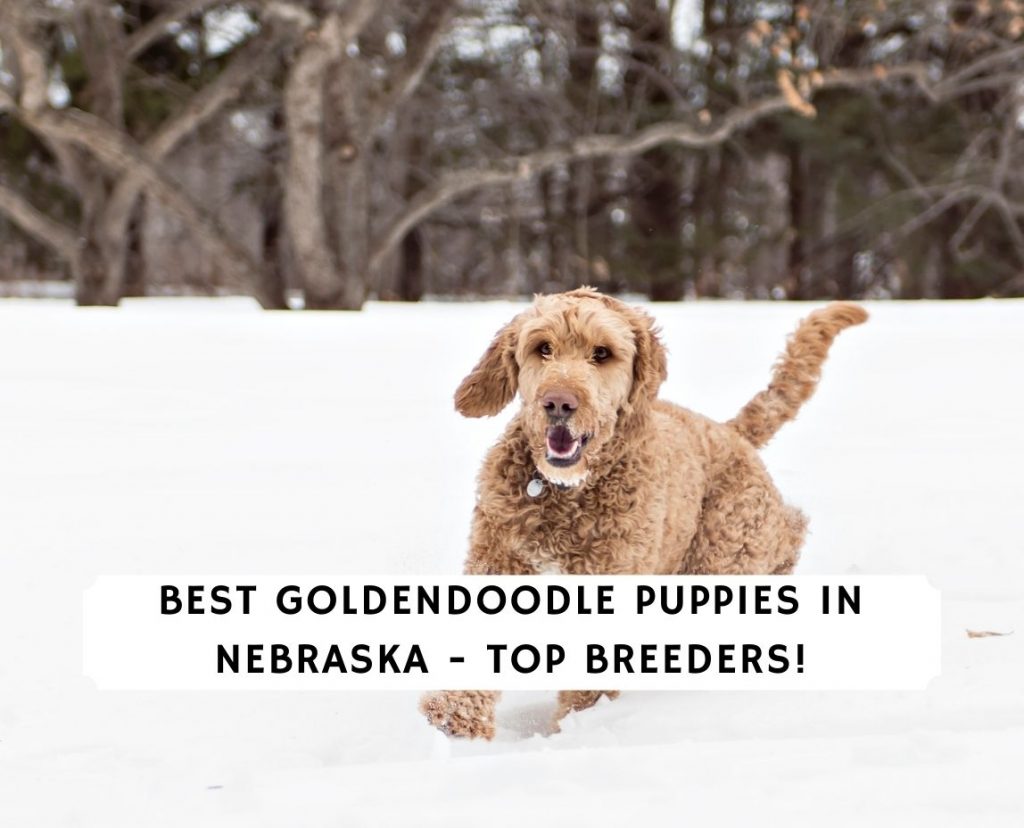 If you're looking for Goldendoodle puppies in Nebraska that are friendly, intelligent, and easily trainable then you came to the right list. A hybrid mix of Golden Retriever and Poodle, Goldendoodles have all the best qualities of each breed mixed into one beautiful dog. They are friendly, energetic, and loyal, just like a Golden Retriever, while also smart and easily trainable like a Poodle. These dogs have the beautiful color of Golden Retrievers and the soft, curly, non-shedding coat of a Poodle.
We've done our own independent research to help you find some of the best Goldendoodle breeders in Nebraska because we know researching breeders is difficult and time-consuming.
Before we get started, you might want to read these guides out: Best Puppy Food for a Goldendoodle and Best Dog Crate For a Goldendoodle.
Best Goldendoodle Breeders in Nebraska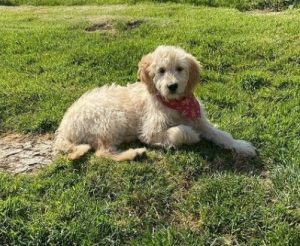 Now that you've heard about all the great qualities of a Goldendoodle, you may have decided this is the perfect dog for you. If you live in Nebraska, you are in luck – there are many reputable Goldendoodle breeders in your state that can help you with any questions you may have. If you are ready to start the journey to adopting a Goldendoodle puppy, check out the resources below.
1. Heartland Classics Nebraska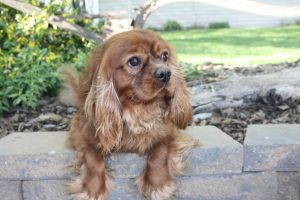 Heartland Classics, located in Lyons, Nebraska, is a family-owned kennel with over 35 years of breeding experience. They specialize in providing their customers with rare breeds with bloodlines the tie back to the dog's original homeland. These dogs meet breed standards to ensure health and quality. At Heartland Classics, they only breed Standard sized Goldendoodles. This means that their Goldendoodles typically grow to about 50-60lbs. They focus on Standard Goldendoodles to ensure your puppy's health by avoiding breeding small dogs with large dogs.
Heartland Classics typically breeds F1b generation of Goldendoodles. This means that they breed a Goldendoodle with another Poodle. By doing this, the puppies' coats will be more similar to the Poodle parent than the Golden Retriever parent. Because of this process, the Goldendoodles at Heartland Classics typically do not shed at all.
All parent dogs are thoroughly health tested before breeding occurs. These tests ensure that no genetic health problems are passed down to puppies. Their Goldendoodle puppies for sale in Nebraska are vaccinated, dewormed, and veterinarian checked to ensure that they are healthy before going to their forever home. All puppies are additionally microchipped, so if your new friend ever gets lost, you will be able to find it. If you want to adopt a healthy Standard Goldendoodle, contact Heartland Classics today!
Heartland Classics Breeder Details
2. Midwest Puppy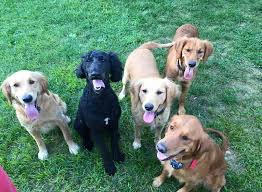 At Midwest Puppy, their goal is to provide all their customers with a happy and healthy puppy. Located in Omaha, Nebraska, Midwest Puppy is a community-oriented breeder. Because Doodles are such well-behaved and intelligent dogs, they are often chosen to become service dogs. At Midwest Puppy, they donate at least one puppy a year to become a service dog for people in need. Sometimes they also donate their puppies to Veterans who are in need. If you are looking for a Goldendoodle breeder who cares about the community as well as dogs, look no further!
Specializing in breeding Poodle mixes, you have your choice of Bernedoodles, Sheepadoodles, and Goldendoodles at Midwest Puppy. These are all well-tempered and healthy breeds, so you are guaranteed a great dog from Midwest Puppy. Each puppy is given its vaccinations and has its dewclaws removed before adoption. Additionally, your puppy will have a health examination to ensure that it is free from any health problems before you bringing it home. Every Goldendoodle puppy comes with a 1-year genetic health guarantee to ensure that your puppy is free from hereditary illnesses.
The Goldendoodles at Midwest Puppy are also well-socialized before adoption. From their first days of life, these Goldendoodle puppies are exposed to children and adults of all ages. This means your new puppy will be comfortable around people, ensuring that your puppy will be well-adjusted when you welcome it into your home. If you are interested in adopting a Goldendoodle puppy from Midwest Puppy, contact them as soon as possible so you can pay your deposit and get your name put on the waiting list for upcoming litters.
Midwest Puppy Breeder Details
3. The Goldendoodle Boutique NE
Located in Lincoln, Nebraska, The Goldendoodle Boutique has the answer to all your Goldendoodle questions. This small home breeder specializes in breeding well-socialized and lovable Goldendoodle puppies. The puppies are born and raised in the family home, where they are well-loved by children and adults. When you adopt a dog from The Goldendoodle Boutique, you are guaranteed to welcome home a loving family member. When adopting a puppy from The Goldendoodle Boutique, you also are guaranteed a few things. First and foremost, you will receive a healthy and happy Goldendoodle puppy. This puppy will be thoroughly vet-checked, vaccinated, microchipped, and dewormed.
Because of these health precautions, their Goldendoodle puppies in Nebraska will also come with a 1-year health guarantee. In addition to these procedures, each puppy will also come with a collar and leash, a dog toy, nail clippers, a 5-pound bag of puppy food, and a blanket with the scent of its littermates on it. If a puppy from The Goldendoodle Boutique interests you, contact them today, and they can guide you through the process of becoming a Goldendoodle owner.
The Goldendoodle Boutique Details
4. Rock Creek Puppies Nebraska
At Rock Creek Puppies, their goal is to match every person with a puppy for a long term relationship. Located in North Central, Nebraska, this breeder focuses specifically on breeding Miniature Goldendoodles, which are known to be extremely smart and easy to potty train. Rock Creek Puppies' puppies are F1 generation, meaning they are created by breeding a purebred Golden Retriever with a purebred Poodle.
Every parent dog at Rock Creek Puppies has been carefully chosen based on bloodline. Some of these bloodlines include past champion show dogs. These parent dogs are registered with the right registration bodies, such as the American Kennel Club (AKC). This ensures that parent dogs are healthy and will prevent them from passing down health and genetic problems to puppies.
All Goldendoodle puppies at Rock Creek Puppies are microchipped, vaccinated, and dewormed before adoption. These puppies are well-socialized with the family before adoption, so you will get a friendly pup when you adopt from Rock Creek Puppies. You can view all their available Goldendoodle puppies for sale in Nebraska on their website. If you want one of these beautiful Miniature Goldendoodles from Rock Creek Puppies, contact them today. They are here to help you every step of the way and match you with your perfect puppy.
Rock Creek Puppies Details
Pet Stores and Animal Shelters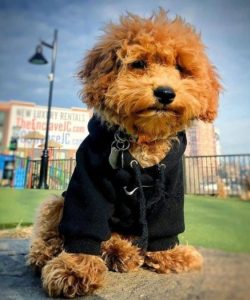 As you can see, there are many reputable Goldendoodle breeders in Nebraska. However, if you have decided that you do not want to deal with a breeder directly, there are other options. You can find Goldendoodle puppies at pet stores and sometimes even at animal shelters. If you want to adopt a puppy from a pet store, it is essential to ensure that the pet store follows state health and safety standards. You will also want to ask questions regarding the breeder that a pet store uses for their puppies.
Unfortunately, sometimes pet stores get their dogs from puppy mills, so if they do not give you breeder information, chances are you are getting a puppy from either a backyard breeder or puppy mill. Puppies from puppy mills are more prone to health complications. If a pet store is willing to share information about their breeder, ensure to ask about parent dogs.
Knowing the health of parent dogs can help you understand your new Goldendoodle puppy better. Additionally, you may want to contact the specific breeder to ensure that they follow health and safety standards as well. Another option you may choose to pursue is adopting a dog from an animal shelter. Although most dogs at animal shelters are older than puppies, you can still find the perfect dog for you.
Related Articles: Best Goldendoodle Rescues for Adoptions.
On occasion, you may find a Goldendoodle puppy at an animal shelter because people adopt puppies without realizing how much work they really are. Visiting an animal shelter may also open your eyes to adopting an older dog looking for a second chance instead of a puppy.
Conclusions for Goldendoodle Puppies in Nebraska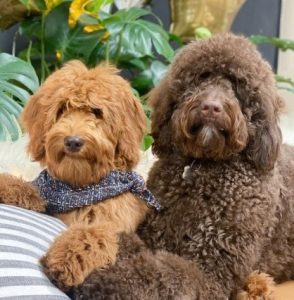 If you live in Nebraska and are ready to welcome an affectionate, intelligent, and playful puppy into your family, you have many options. All these Goldendoodle breeders are reputable and prioritize the health and safety of your potential new pup. They are willing to help you with all the steps towards welcoming home your new family member. So, contact them today to get started!
If Nebraska is a long distance for you, you can check out our other recommendations similar to the Goldendoodle puppies in Nebraska:
To learn more about the Goldendoodle dog breed, you might learn a lot more from this informative video:
Garrett loves animals and is a huge advocate for all Doodle dog breeds. He owns his own Goldendoodle named Kona. In addition, he volunteers at the Humane Society of Silicon Valley, where he fosters dogs and helps animals. Garrett enjoys writing about Doodles and believes that dogs can teach humans more about how to live than humans can teach a dog.
Why Trust We Love Doodles?
At We Love Doodles, we're a team of writers, veterinarians, and puppy trainers that love dogs. Our team of qualified experts researches and provides reliable information on a wide range of dog topics. Our reviews are based on customer feedback, hands-on testing, and in-depth analysis. We are fully transparent and honest to our community of dog owners and future owners.