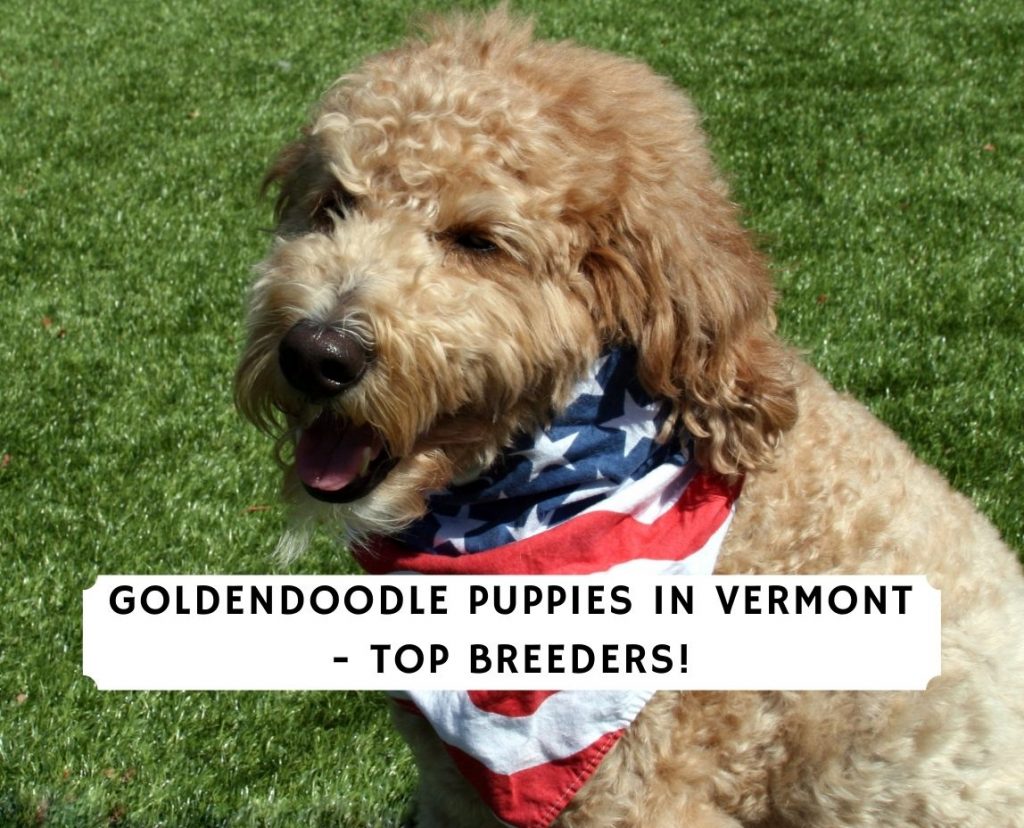 You're probably in search of Goldendoodle puppies in Vermont because you want an affectionate, intelligent, and gentle new dog. Goldendoodles are a hybrid mix of Golden Retriever and Poodle. These beautiful dogs have the friendly personality of a Golden Retriever and the intelligence of a Poodle. Goldendoodles also have the hypoallergenic and nonshedding qualities of a Poodle, so they are the perfect dogs for allergy sufferers.
If you think a Goldendoodle is the right choice for your family, you may be unsure where to start looking for your new puppy. You have many options if you live in Vermont, as there are many Goldendoodle breeders in your area. You may also opt to adopt a Goldendoodle from a pet store or local animal shelter.
Before you scroll down, you might want to consider reading these Goldendoodle guides to help you get started:
Best Goldendoodle Breeders in Vermont
Below you will find a list of reputable Goldendoodle breeders in Vermont that are more than willing to answer any questions you may have about the dog breed. You will also find tips and tricks for safely adopting a Goldendoodle from a pet store or shelter. If you are ready to adopt a Goldendoodle puppy today, have a look and get started on welcoming home your new family member!
1. Wright's Mountain Goldens Vermont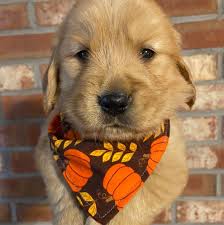 If you are looking for a reputable breeder with many years of experience, Wright's Mountain Goldens is a great place to start. With over 20 years of breeding experience, Wright's Mountain Goldens specializes in providing their customers with beautiful and healthy puppies. Located on a 225-acre farm, the dogs at Wright's Mountain Goldens are given lots of exercise and exploration opportunities. Originally focused on exclusively breeding Golden Retrievers, Wright's Mountain Goldens has expanded to include Poodles and Goldendoodles in their lineup.
They use the beautiful purebred Golden Retrievers and Poodles in their care to provide customers with the best puppies possible. Thus, they are considered F1 Goldendoodle puppies. These parent dogs are thoroughly health tested to ensure that hereditary illnesses are not passed down to their Goldendoodle puppies. The puppies at Wright's Mountain Goldens are vet-checked before adoption to ensure that they are in full health before going home with their new families.
Additionally, these puppies are exposed to human interaction at an early age, so they are socialized and comfortable with humans before entering their new homes. This socialization makes the transition to a new home and new family easier on the puppy and you.
If Wright's Mountain Goldens sounds like the right Goldendoodle breeder for you, then you can check out available and upcoming litters on their website. Oftentimes puppies are reserved before becoming available on the website, so make sure to contact them as soon as possible to complete an adoption application and get your name on the waitlist!
Wright's Mountain Goldens Details
2. Vermont Goldendoodles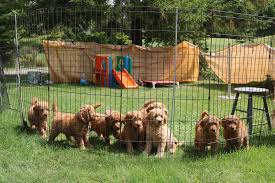 Vermont Goldendoodles is a small breeder that specializes in breeding miniature to medium-sized Goldendoodles. At Vermont Goldendoodles, you have a choice between an F1 generation Goldendoodle puppy or an F1b Goldendoodle puppy. F1 generation puppies are a mix between a purebred Golden Retriever and a purebred Poodle. F1b generation puppies are a mix of an F1 Goldendoodle and a purebred Poodle. If you are someone prone to allergies, you will want an F1b Goldendoodle because the Poodle genetics are more dominant, making these dogs even less likely to shed.
In addition to the choice of the generation you want, Vermont Goldendoodles also has size options. Depending on the parent dogs used, the puppies at Vermont Goldendoodles can range between 20-50lbs. So, regardless of your home's size, you will be able to find the right Goldendoodle for your situation.
Puppies at Vermont Goldendoodles are kept for 9 weeks after birth. Typically, most Goldendoodle breeders in Vermont will keep puppies for 8 weeks, but at Vermont Goldendoodles, they believe that this extra week with their littermates can improve socialization. In general, the longer the puppies stay with the parents and other littermates, the better.
Their Goldendoodle puppies for sale in Vermont are started on paper training at 4 weeks of age and crate training at 7 weeks of age. This will ensure that your puppy is already well on its way to being fully potty trained by the time you bring it home. Every puppy at Vermont Goldendoodles is given a thorough veterinary examination before adoption occurs. Additionally, all puppies are given their first round of vaccinations and dewormed before going to their forever homes.
If a Goldendoodle from Vermont Goldendoodles interests you, contact them today, and they can help you get started with the process of adopting one of these beautiful and well-behaved puppies.
Vermont Goldendoodles Details
3. MorningShine MountainDoods-Doodles of Vermont
Previously located in Vermont's Green Mountains, MorningShine MountainDoods (now located in New York) still offers great Goldendoodle puppies to Vermont and New York residents. The goal of MorningShine is to improve the Goldendoodle breed and provide customers with the best Goldendoodle puppies around.
At MorningShine MountainDoods, the puppy lineage is well known. This ensures that all their Goldendoodle puppies are free of genetic illnesses passed down through generations. This is done through extensive genetic testing of parent dogs and even older generations.
This is a huge benefit of adopting a puppy from a breeder who traces bloodlines because it guarantees that they know where your Goldendoodle puppy is coming from and any health risks it may have. Additionally, their puppies have ample time to socialize with older dogs, other puppies, cats, and humans before they are adopted. This exposure to different species of different ages helps to make your future dog comfortable with animals and in situations with humans. This is a great way to ensure that you receive a friendly dog.
If you decide that a MorningShine MountainDoods Goldendoodle is for you, complete an adoption application found on their website. Once your application has been reviewed and approved, they will contact you with the next steps to getting your new puppy home safely.
MorningShine MountainDoods Details
Pet Stores and Animal Shelters in Vermont
As you can see, many great Goldendoodle breeders in Vermont can help you adopt the perfect match for your family. However, you may have decided that adopting directly from a breeder is not the path for you since they oftentimes have long waitlists. If this is the case, you are in luck as you have a couple of other options.
You can always choose to adopt a dog from a pet store or a local animal shelter. However, just make sure to check their health and safety standards beforehand. Pet stores in Vermont can be a great place to adopt a new puppy. However, some pet stores do not follow the right procedures to ensure the safety of their Goldendoodle puppies. When finding the right pet store, make sure to ask about where their puppies come from.
A reputable pet store should be able to tell you where they get their Goldendoodle puppies from. If they are secretive about this, it could mean that the puppies are coming from a backyard breeder or puppy mill. Puppy mills mistreat dogs and breed unhealthy puppies, so avoiding puppy mill puppies is an essential part of adopting a healthy and happy dog. If a pet store discloses their breeding information, you may want to contact the breeder to inquire about parent dogs used. This allows you to ask questions about the size, bloodline, and any health conditions parent dogs may have.
Knowing about your puppy's parents can help you determine its needs and potential health risks in the future, so you can begin taking any preventative measures from a young age. Your other option for adopting a Goldendoodle is to check animal shelters in your area. If you are looking for a young puppy, an animal shelter may not be the best choice because they often have older dogs. After visiting an animal shelter, you may decide to give an older dog a second chance instead of adopting a newborn puppy.
Conclusions for Goldendoodle Puppies in Vermont
As you can see, if you live in Vermont and want to adopt a Goldendoodle puppy, you have many options. Whether you decide to adopt a Goldendoodle straight from a breeder or choose to check out a pet store or animal shelter instead, you must ensure that your puppy comes from a safe and healthy place. Listed above are some of the reputable breeders in your area and some tips for choosing the best place to buy a puppy. If you are ready to welcome a beautiful Goldendoodle into your home, contact any of the places above to get started!
If you're looking for specific generations of Goldendoodle puppies that are more hypoallergenic and nonshedding, check out the following articles:
For more information about the Goldendoodle dog breed, you might want to watch this video:
Garrett loves animals and is a huge advocate for all Doodle dog breeds. He owns his own Goldendoodle named Kona. In addition, he volunteers at the Humane Society of Silicon Valley, where he fosters dogs and helps animals. Garrett enjoys writing about Doodles and believes that dogs can teach humans more about how to live than humans can teach a dog.
Why Trust We Love Doodles?
At We Love Doodles, we're a team of writers, veterinarians, and puppy trainers that love dogs. Our team of qualified experts researches and provides reliable information on a wide range of dog topics. Our reviews are based on customer feedback, hands-on testing, and in-depth analysis. We are fully transparent and honest to our community of dog owners and future owners.