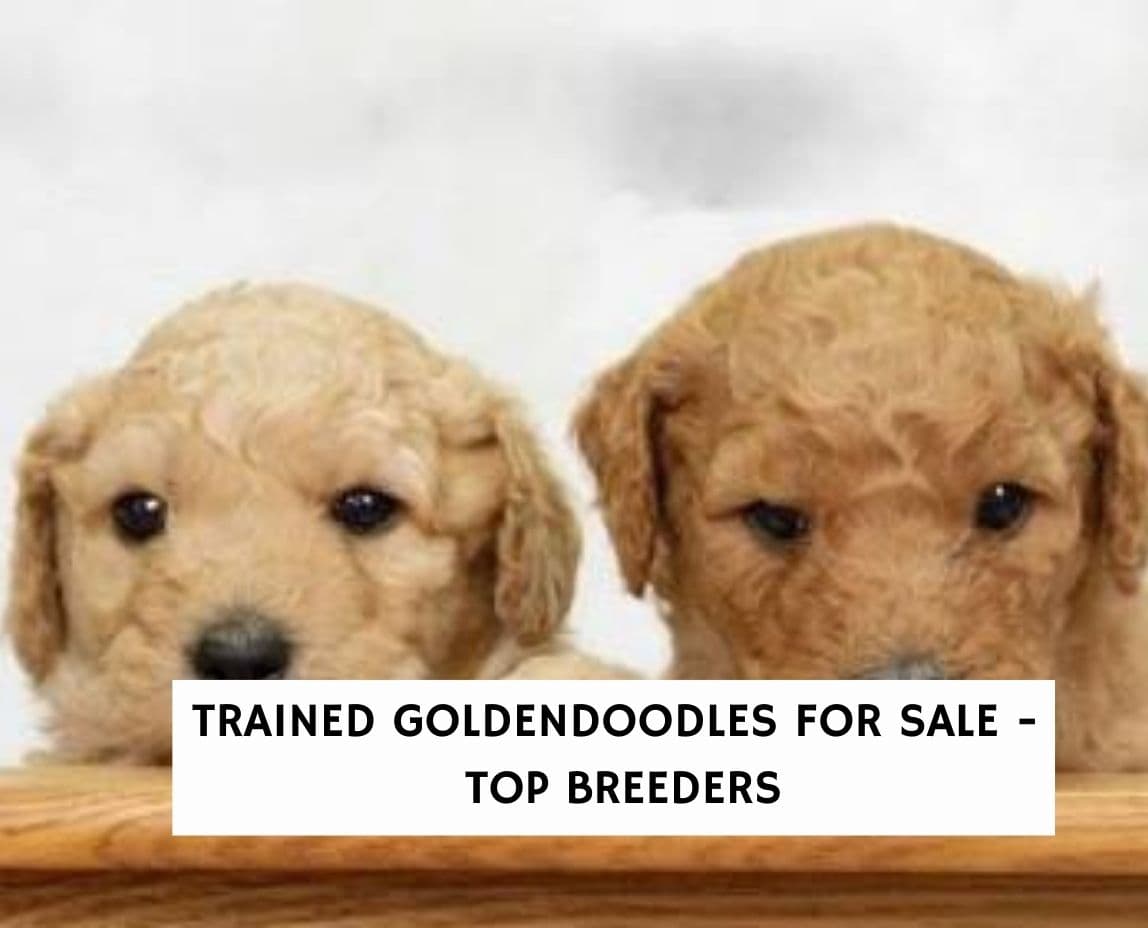 Have you always wanted to add a Goldendoodle puppy to your family but just don't have the time to go to puppy obedience class? Do you want a furry family member but don't want to deal with pee pads and piles of poop in the living room? We have good news for you if you answered yes to these questions. Many Goldendoodle breeders realize that training a new puppy can be difficult for a family, so they have turned to early puppy training. You get your puppy when they are a little older, but they are also housetrained and know basic commands. What more could you want when it comes to adding a puppy to your family? In this article, we will review the 5 best breeders where you can get trained Goldendoodles for sale.
Before scrolling down this list, check out these other recommendations: Goldendoodle Dog Breed Guide and Can a Goldendoodle Be a Service Dog?
Benefits of a Pre-Trained Goldendoodle Puppy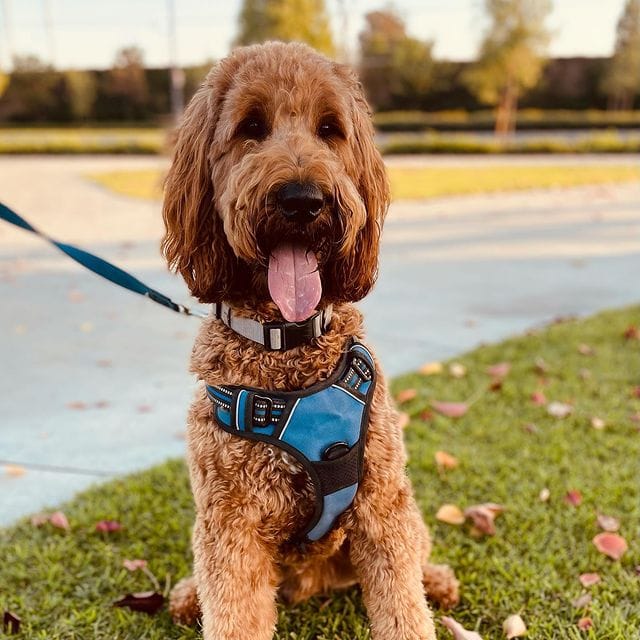 Training a new puppy can be a challenge, especially if you are a first-time puppy parent. You must have time to devote to training and constantly work with the puppy to help avoid problem behaviors from developing. However, with a family's busy schedule, there isn't always time for thorough puppy training. Once-a-week puppy obedience classes just don't always cut it and often leads to destructive behavior. The good news is many breeders understand this and are moving to offer puppy training before you even take your puppy home. This means you get a new puppy that can easily adapt to being a member of your family. Some common early puppy training includes:
Housebreaking – no need for puppy pads and trips outside every 30 minutes or so. Trained puppies will be housebroken and ready to let you know when it is potty time.
Basic Commands – Your new puppy receives basic command training for commands like sit, stay, come, down, etc.
Socialization – Many training programs include extensive socialization training, allowing you to take your puppy to the dog park or out on a walk without worry.
Leash Training – No worries about the dog taking you for a walk. Early training teaches your puppy how to walk properly on a leash and allows you to be in control while taking your favorite walk.
Prevention of Unwanted Behaviors – Unwanted behaviors often develop when puppies do not receive proper training. Early puppy training helps to prevent these behaviors and enables tour puppy to transition into your family with ease.
Top Breeders for Trained Goldendoodles
Not all breeders offer puppy training, so do not be surprised if you are unable to find a local breeder offering this service. You may need to travel to pick up your puppy when he/she is ready to come home, or you will need to arrange for puppy transportation. Here we have created a list of some of the top Goldendoodle breeders that offer trained puppies for sale in the United States.
1. Breezy Hollow Puppies
Breezy Hollow Puppies strives to present a healthy and happy trained Goldendoodle that is ready to fit right in with any family. Breezy Hollow's Puppy Training Program is a great solution for anyone looking for a shorter program that tackles all the main necessities: crate training, potty training, obedience training, command training, leash and travel training. They personality profile their Goldendoodle puppies prior to beginning training and come up with a very personalized/detailed schedule for training each and every puppy – ranging between 2 weeks – 3 months in length.
For anyone that opts into having their doodle trained by them, the boot camp is completely customizable for that person's needs! They are located in Pennsylvania but deliver all over the United States. Some other fun perks of adopting with Breezy Hollow is that all of their puppies are genetic, health and coat tested, as well as microchipped. They offer a great take-home kit that's perfect for brand new pet parents. Their Mini Goldendoodles range from 25-30 pounds and 25-20 pounds at full adult weight. And their Micro Goldendoodles are under 15 pounds at full adult weight.
Goldendoodle Breeder Information
2. Pride & Prejudoodles
Located in Virginia, Pride & Prejudoodles specializes in trained Goldendoodle, Labradoodle, and Cockapoo puppies. Once the puppies reach 8 weeks of age, they move into the home of their certified dog trainers for the start of their training. The trainers work with the puppies for 3-5 months before they are ready to come home. When they graduate training and are ready to come home to you, Pride & Prejudoodles personally delivers each trained Goldendoodle puppy to homes within the 48 contiguous states. Puppies range in base price between $3900-$4400, and training ranges between $12,900-$17,900. All older Goldendoodle puppies for sale come with a 1-year health guarantee against genetic conditions, and they also guarantee that these puppies will never shed!
Goldendoodle Breeder Information
3. Kentucky Mountain Doodles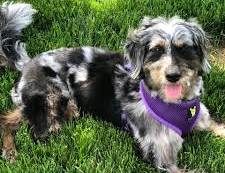 Kentucky Mountain Doodles is a family-owned breeder specializing in Goldendoodles and Bernedoodles in Mount Sterling, Kentucky. All puppies come with a health guarantee against hip dysplasia and genetic eye diseases. When it comes to training, Kentucky Mountain Doodles offers a wide range of options depending on what you need and your budget. General puppy adoption costs are around $3,500, and training costs are additional. Training starts with Puppy Kindergarten for an additional $1,000 and includes crate and leash training. The top package is the bachelor's degree for $15,000 and includes training until the puppy is 6-7 months old. In addition, the trained Goldendoodle puppies for sale that stay for extended training periods undergo spay/neuter procedures, receive all vaccinations, and are groomed on a regular basis.
Goldendoodle Breeder Information
Location: Mount Sterling, Kentucky
Phone: (606) 748-7894 or (606) 356-8551
4. Forever Friends Goldendoodles
Located on a 10-acre farm in Crystal, Michigan, Forever Friends Goldendoodles specializes in breeding and raising healthy and well-tempered teddy bear style Goldendoodles. They are hand-raised by the family in their home. While they offer Goldendoodle puppies without training, they offer an 8-week training program that you can choose for your puppy. Once your puppy can leave the mother, they transfer to the home of their certified puppy trainer. Each puppy starts with basic potty and crate training, basic commands, leash walking, car travel, and basic grooming. While these puppies will require additional training when they come home to you, this is a great jumpstart on a training program.
Goldendoodle Breeder Information
Location: Crystal, Michigan
Phone: (989) 388-6465
5. Jenna Lee Designer Doodles
Jenna Lee Designer Doodles is a South Carolina breeder that specializes in Goldendoodles, Bernedoodles, Sheepadoodles, and Golden Mountain Doodle puppies. Their breeding program offers rare coat colors such as parti, merle, and phantom. While they offer traditional puppy adoption, they also offer a 12-week advanced Puppy Preschool. Once you decide on a litter and a puppy, training slots are reserved with their professional trainers. During the first 8 weeks, the puppy stays with the mother and their littermates. However, during this time, they undergo Puppy Culture training which focuses on daily socialization. Once the puppy reaches 8 weeks old, they move into the trainers how, where they will undergo 24/7 training for 12 weeks. During this training period, you receive weekly report cards from the trainer, keeping you updated on your puppy's progress. Before graduation and bringing your Goldendoodle puppy home, you will receive a transition guide to help your puppy move in easier. This includes a video showing commands and a written guide. Puppy pricing is $4,500, and the 12-week training is $10,000.
Goldendoodle Breeder Information
Conclusion for Trained Goldendoodle Puppies for Sale
The Goldendoodle is a designer dog breed that combines the best characteristics of the Poodle and the Golden Retriever. They range in size based on the Poodle used in the breeding program. When a Standard Poodle is bred, the average Goldendoodle will stand over 20 inches tall and can weigh as much as 100 pounds. However, when bred with a Miniature or Toy Poodle, your Goldendoodle will be much smaller, standing between 14-17 inches tall and weighing between 15-35 pounds. Many people want to get an older trained Goldendoodle puppy, so we put together a list to help you find a breeder!
These dogs are very affectionate and loyal, doing everything they can to love and please their human family members. They are also highly intelligent and easy to train. In addition, because of the Poodle mix, they are considered hypoallergenic and non-shedding, making them a perfect addition to any family. They love kids and tend to do well with other animals. Additionally, you can further train your Goldendoodle to become a service dog.
You will also like:
Garrett loves animals and is a huge advocate for all Doodle dog breeds. He owns his own Goldendoodle named Kona. In addition, he volunteers at the Humane Society of Silicon Valley, where he fosters dogs and helps animals. Garrett enjoys writing about Doodles and believes that dogs can teach humans more about how to live than humans can teach a dog.
Why Trust We Love Doodles?
At We Love Doodles, we're a team of writers, veterinarians, and puppy trainers that love dogs. Our team of qualified experts researches and provides reliable information on a wide range of dog topics. Our reviews are based on customer feedback, hands-on testing, and in-depth analysis. We are fully transparent and honest to our community of dog owners and future owners.