Are you in search of the best Goldendoodle puppies in South Dakota to bring home? If a friendly, intelligent, and loving dog sounds like what you are looking for, then a Goldendoodle is the dog for you. Goldendoodles are a hybrid dog made up of Golden Retriever and Poodle. Golden Retrievers have a friendly, reliable, and loyal personality while Poodles are intelligent, easily trainable, and faithful. Goldendoodles are the best of both of these breeds. It's no surprise why Goldendoodles puppies for sale in South Dakota are growing in popularity.
Additionally, because of their Poodle genetics, Goldendoodles are low to non-shedding dogs, so they are great for those who suffer from allergies. If you live in South Dakota and a Goldendoodle sounds like a dog for you then you have a few options in the state and many options out of state.
There are definitely some reputable Goldendoodles breeders in South Dakota who can help you get the happiest and healthiest Goldendoodle puppy possible. You also have the option of adopting a Goldendoodle from a pet store or a local animal shelter if you decide a breeder isn't for you. 
Other articles you will like: Best Goldendoodle Puppy Food and Best Dog Crate for a Goldendoodle.
1. Lori's Puppy Palace South Dakota
At Lori's Puppy Palace, they take pride in breeding high-quality Goldendoodle puppies in Viborg, South Dakota. The facilities at Lori's Puppy Palace are USDA inspected and approved, so you know that your puppy is coming from a safe and healthy environment. Employees attend workshops and seminars about breeding standards and proper puppy handling to ensure that they are doing everything they can to make puppies comfortable and happy.
In their own words, the puppies at Lori's Puppy Palace are "child-tested, and grandmother approved." This means your Goldendoodle puppy is given lots of love from the very beginning of its life. This early socialization will result in you adding a loving and friendly Goldendoodle puppy to your family. Each puppy at Lori's Puppy Palace is inspected daily to ensure that they are healthy and all needs are being addressed. Every puppy is vet-checked and provided with the best puppy food to help them grow big and strong.
The parent dogs at Lori's Puppy Palace come from champion bloodlines and are health tested to ensure that genetic ailments are not passed down to puppies. If you are interested in adopting a Goldendoodle puppy from Lori's Puppy Palace, contact them today, and they can get you started on your Goldendoodle journey.
Lori's Puppy Palace Details
2. Cowpounder Kennel South Dakota
Cowpounder Kennel, located in Peever, South Dakota, is a family-owned farm-based dog breeder. With over 35 years of raising dogs and almost 20 years of Doodle experience, Cowpounder Kennel is a great place to adopt a Goldendoodle puppy. The dogs at Cowpounder Kennel are well-socialized with humans and other animals, making them a great addition to your family. When adopting a Goldendoodle from Cowpounder Kennel, they will help match you with the puppy that best fits your lifestyle and family.
Depending on your preference, Cowpounder Kennel can match you with any size of Goldendoodle you want. They breed Mini Goldendoodles (20-30lbs), Medium Goldendoodles (40-50lbs), and Standard Goldendoodles (60-70lbs). Regardless of the size of the dog you are looking for, you will be able to find your perfect match here. Cowpounder Kennel also offers different generations of Goldendoodle: they breed F1 and F1b generations. An F1 Goldendoodle is a mix between a purebred Golden Retriever and a purebred Poodle. An F1B Goldendoodle is a mix between an F1 Goldendoodle and a purebred Poodle.
Because the amount of Poodle genetics in an F1b is higher, these dogs shed the least amount and are the best fit for people with mild or severe allergies. All customers are given a two-week money-back return if they decide that their Goldendoodle puppy in South Dakota is not the right fit for them.
They also guarantee that your puppy is free of genetic diseases and offer a replacement if your dog dies from a genetic disease. There is a 6-12 month waiting list at Cowpounder Kennel, so if you are interested in one of these beautiful dogs, contact them today to get added to the list and get one step closer to your dream dog.
Cowpounder Kennel Details
3. Christensen Doodles
Christensen Doodles is a small, family-owned breeder whose goal is to provide all customers with a beautiful and loving family member. Located right on the border of Minnesota, North Dakota, and South Dakota, Christensen Doodles has many puppies for customers from all three of these states.
These Goldendoodles puppies near South Dakota born at Christensen Doodles are treated as part of the family before they even become a permanent part of yours. At Christensen Doodles, they breed many different color Goldendoodles. Although you may think that Goldendoodles have to be golden, red, or apricot in color, in reality, the puppy color can actually change depending on the color of the Poodle parent used when breeding.
From classic Golden to Merle to Apricot, they have a wide range of Goldendoodle puppies in South Dakota available and planned. When you adopt a puppy from Christensen Doodles, you are guaranteed some bonuses with your purchase, including a written health guarantee and a blanket with the scent of the mother on it. Additionally, each of their Goldendoodle puppies for sale in South Dakota has received its vaccinations and has been given deworming medication before adoption. All puppies at Christensen Doodles receive Early Neurological Stimulation (ENS) exercises from 4 days of age.
ENS is an exercise in which puppies are exposed to mild stressors from a very young age to promote the growth and development of a healthy immune system and stress tolerance. If you want a well-socialized and healthy Goldendoodle puppy, check out Christensen Doodles today!
Christensen Doodles Details
Pet Stores and Animal Shelters in South Dakota
After looking at your different options in South Dakota, you may have decided that getting a Goldendoodle from a breeder is not for you. If that is the case, you always have additional options, such as pet stores and animal shelters. However, when adopting a dog from one of these places, you must always ensure that they are reputable, so you receive the healthiest Goldendoodle puppy possible. Pet stores can be a great resource for adopting a new puppy, but you need to make sure that the pet store you choose follows state health and safety standards.
Sometimes pet stores get their Goldendoodle puppies in South Dakota from puppy mills – this is the type of pet store you should avoid. Dogs from puppy mills are treated poorly and are extremely prone to health and genetic problems. To determine whether a pet store is for you, ask them about where they get their puppies. They should be able to provide you with information about the breeder they use.
If they do not disclose this information, be wary. You should be able to contact the Goldendoodle breeder and ask any questions about parent dogs and breeding procedures. These are important steps in determining whether a pet store is safe or not.
Maybe you have decided that you want to rescue a dog from an animal shelter instead of adopting from a breeder. If this is the case, check out your local animal shelters for Goldendoodles. Oftentimes, shelters have older dogs, so you may not find a Goldendoodle puppy, but you may find that saving an older dog is a better option for you.
Bringing home a Goldendoodle from a shelter or rescue could make a huge difference. It creates space for newly rescued dogs and you're bringing happiness to an abandoned dog. For Goldendoodle rescue recommendations, check out the article Best Rescue Goldendoodles for Adoption.
Conclusions for Goldendoodle Puppies in South Dakota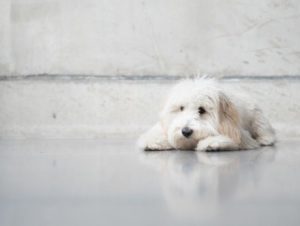 As you can see, if you are looking for Goldendoodle puppies in South Dakota, you have many options. There are Goldendoodle breeders in and around your state that are professional and more than willing to help with all your Goldendoodle needs. Just remember, when you are adopting a dog from a breeder, please ensure that the breeder follows health and safety standards.
These standards will ensure that your puppy will grow up to be a healthy and happy dog. On the other hand, you may opt to adopt a Goldendoodle from a pet store or a local animal shelter. These places must also follow health and safety standards, so make sure you do your research before committing to one of these places. If you are ready to bring a loving, intelligent, and, not to mention beautiful, dog into your family, contact one of these reputable breeders today!
For a Goldendoodle comparison with other dog breeds, check out:
Once you find Goldendoodle puppies for sale in South Dakota, reading these information articles could help you prepare in advance:
Are you still debating? This video about Goldendoodles might help you learn more about your future companion!
Garrett loves animals and is a huge advocate for all Doodle dog breeds. He owns his own Goldendoodle named Kona. In addition, he volunteers at the Humane Society of Silicon Valley, where he fosters dogs and helps animals. Garrett enjoys writing about Doodles and believes that dogs can teach humans more about how to live than humans can teach a dog.
Why Trust We Love Doodles?
At We Love Doodles, we're a team of writers, veterinarians, and puppy trainers that love dogs. Our team of qualified experts researches and provides reliable information on a wide range of dog topics. Our reviews are based on customer feedback, hands-on testing, and in-depth analysis. We are fully transparent and honest to our community of dog owners and future owners.