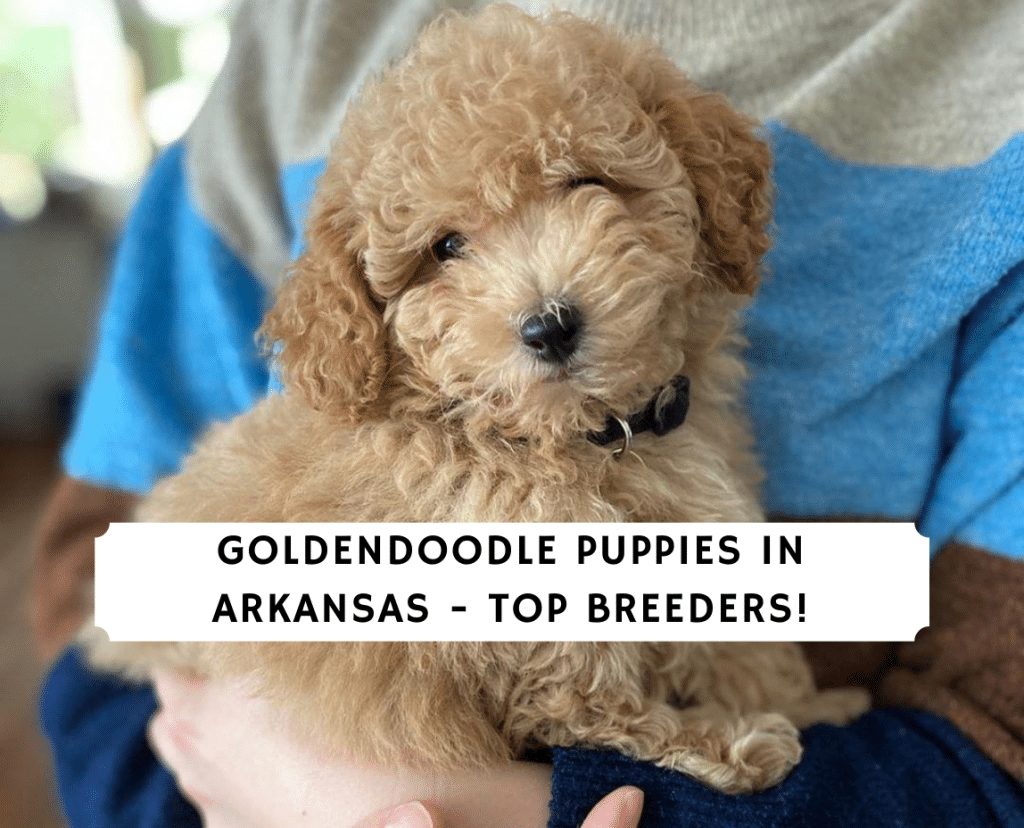 Goldendoodle puppies in Arkansas are becoming extremely popular due to their loveable nature, high intelligence, and trainability. In addition, they have genetic features from the Poodle that give them a hypoallergenic and nonshedding fur coat. They are honestly one of the perfect family dogs and even will join in on outdoor activities like swimming, hiking, and boating.
Due to the rise in popularity of Goldendoodles in recent years, it is important to do your own research to ensure that you are getting a puppy from a reputable breeder.  Goldendoodle puppies should be well-tempered and come from parents that have been health and genetic tested to avoid the costly and emotional ramifications associated with poor health later in the life of your Goldendoodle.
We recommend looking for Goldendoodle breeders in Arkansas which are members of the Goldendoodle Association of America (GANA). However, as of today, there have yet to be any Goldendoodle breeders in Arkansas affiliated with GANA. 
If you are looking for a Goldendoodle breeder in Arkansas, then we have done much of the background work and research for you. Each breeder has been sorted by reputation as well as the types of Goldendoodles they sell including size and generation. Any Goldendoodle breeder that looks like a puppy mill or appears to have unethical breeding practices has not been included on our list. 
1. Platinum Goldendoodles Arkansas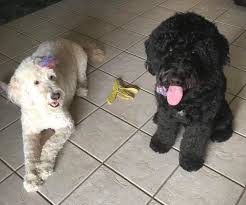 The breeders at Platinum Goldendoodles have a beautiful farm in Arkansas where their children happily play and socialize with their Goldendoodle puppies. This breeder welcomes questions and conversations about whether getting a Goldendoodle puppy is the right choice for your family. Additionally, she will work towards ensuring that she matches the temperament of the puppy to the lifestyle of the family that will be their permanent forever home. 
The love never stops, so feel free to reach out to Platinum Goldendoodles if you have purchased one of their puppies and have any questions whatsoever over the lifetime of your pet. All of their Goldendoodle puppies in Arkansas come with a two-year health guarantee, have had a complete veterinarian check, up to date vaccinations, and have been dewormed.  Standard Goldendoodle puppies cost $1800 which is quite a reasonable price for one of these designer dogs. Feel free to contact them for current availability or to be added to the waiting list.
Goldendoodle Puppy Information:
Goldendoodle Breeder Details:
2. NE Arkansas Goldendoodles
Goldendoodle puppies from NE Arkansas are hand-reared in their own home and given ample amounts of socialization prior to going to their forever home.  Their adult Goldendoodle have been health test limit the likelihood of passing on any unwanted genetic traits. This allows NE Arkansas Goldendoodles to produce healthy, happy, and well-tempered puppies. 
All their Goldendoodle puppies in Arkansas are microchipped, vet checked, come with up to date vaccinations, will have the first dose of heartworm medication, and be treated with a flea / tick preventative before being sent home with you at eight weeks of age. This is a reputable Goldendoodle breeder in Arkansas and we like their breeding program.
Goldendoodle Puppy Information:
Goldendoodle Breeder Details:
3. My Doodle Darlins Arkansas
Carrie and the loving folks at My Doodle Darlins raise both Petite and Miniature Goldendoodles in Marrilton, Arkanasa. They are one of the oldest Goldendoodle breeders in Arkansas and have been raising puppies for over 25 years. All dogs are hand raised in their home and their puppies are in high demand so contact them to be added to the waiting list. Petite and Miniature Goldendoodle puppies are $2000 whereas Toy Goldendoodle puppies are $2500. These are pretty reasonable prices for smaller sized Goldendoodles.
The price of your Goldendoodle puppy includes a two-year genetic health guarantee, vaccination, deworming record, information on NuVet vitamins, a sample of the puppy food that your pet is current eating, microchipping, a few toys, and a blanket with the scent of your puppy's mom and littermates to make their transition to your home a bit easier. If you're looking for a mini Goldendoodle in Arkansas, this is definitely a good breeder to choose.
Goldendoodle Puppy Information:
Generation: Multigen Goldendoodle puppies
Size: Toy, Petite, and Miniature Goldendoodle puppies
Goldendoodle Breeder Details:
4. Doodle Bug Doodles AR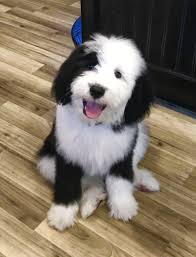 If you get a Goldendoodle puppy from Doodle Bugs Doodles then you can be assured that your puppy has come from a loving environment.  Maria hand raises all of her puppies and has extensive knowledge of the Goldendoodle breed standards.  She offers either a 1 or 2 year health guarantee for genetic defects on all the Goldendoodle puppies she sells.  A $300 non-refundable deposit can be made to be added to the waiting list. 
Goldendoodle Puppy Information:
Goldendoodle Breeder Details:
5. Kings River Doodles Arkansas
Located on a sprawling farm in Omaha, Arkansas, you will find the loving couple behind Kings River Doodles.  Their Goldendoodle puppies are raised as part of the family so they are well-adjusted to the normal sights and sounds of a boisterous household.  In addition, this Goldendoodle breeder is committed to raising healthy puppies so all their dogs come with a two-year limited lifetime warranty for genetic defects.
This breeder also does all the standard veterinarian checks including dewormingand health checks.  A $300 deposit is required to be added to their waiting list and the Goldendoodle puppies are ready to go home from eight weeks of age.
Goldendoodle Puppy Information:
Generation: F1 and F1B Goldendoodle puppies
Size: Standard Goldendoodle puppies
Goldendoodle Breeder Details:
Address: 9961 Rainbow Ridge Dr. W, Omaha, AR 72662
Telephone: +1 (501) 282-2845
Website: King River Doodles Arkansas
Facebook: Social Media
Email: kingsriverdoodles@gmail.com
Contact: John and Deirdre Griffith
6. Petit Jean Puppies Arkansas
Laura and her staff at Petit Jean Puppies aim to breed healthy and happy Goldendoodle puppies which will provide you and your family with a lifetime of enjoyment.  Expect to be asked questions about your lifestyle, your previous dog experience, and if you have a fenced yard because this breeder wants to ensure her Goldendoodle puppies are going to loving homes.  Online application forms are available through their website and you must fill it out if you want one of her puppies.
There is an initial $100 fee to be added to the waiting list before the birth of a litter.  After the litter has arrived, the remaining $400 of the total $500 deposit will be due.  All her Goldendoodle puppies in Arkansas come with a one-year health guarantee as well as a blanket with the scent of the litter, a sample of puppy food from NutriSource, two toys, veterinarian check document, an implanted microchip, and a fresh bath and grooming.  Please bring your own crate when you pick up your Goldendoodle.
Goldendoodle Puppy Information:
Generation: F1 Goldendoodle puppies
Size: Micro Mini and Miniature Goldendoodle puppies
Goldendoodle Breeder Details:
Do Goldendoodles Puppies need a lot of Exercise?
Goldendoodle puppies in Arkansas are the ideal dog for an active family.  This particular breed has the energy from both the Golden Retriever and Poodle decedents so will need to exercise them at least a half-hour to one hour daily.
Goldendoodles are great companion dogs for long walks, hikes, and will be able to keep up with you on an extended run.  Say the word "walk" and we are sure that your Goldendoodle will be jumping for joy. 
Goldendoodles also adore water so if you have a pool, or live near a lake, then teaching your Goldendoodle puppy to swim will provide for hours of summertime entertainment for the whole family.  It is recommended to brush their coat well afterward to remove any debris and avoid any matting.
Are all Goldendoodles Puppies coats Gold Colored?
No – Goldendoodle puppies come in a range of coat colors including white, apricot, red, cream, brown, grey, black, and of course, gold.  Many are even multicolored and some coats will even lighten as they grow older.
Conclusion for Goldendoodle Puppies in Arkansas
Goldendoodles tend to inherit the best traits of both their Golden Retriever and Poodle genetic lineage while gaining a health trait called hybrid vigor that is known in crossbreed dogs.  Taking on the responsibility of an active dog is not for everyone, but we are sure that if you have the time and inclination for adding a dog to your family then a Goldendoodle puppy is a great choice.  Goldendoodle puppies are certain to provide you with years of fun, love, and cuddles and there is no doubt that you will have one of the cutest dogs on the block.
However, there have been many different Goldendoodle breeders in Arkansas popping up. Many of these different breeders are puppy mills and backyard which you will want to avoid. These breeders won't do any health checks on their Goldendoodle puppies in Arkansas so you risk getting a dog that has genetic defects. You can start with our list of Goldendoodle breeders for your initial research finding a puppy.
Garrett loves animals and is a huge advocate for all Doodle dog breeds. He owns his own Goldendoodle named Kona. In addition, he volunteers at the Humane Society of Silicon Valley, where he fosters dogs and helps animals. Garrett enjoys writing about Doodles and believes that dogs can teach humans more about how to live than humans can teach a dog.
Why Trust We Love Doodles?
At We Love Doodles, we're a team of writers, veterinarians, and puppy trainers that love dogs. Our team of qualified experts researches and provides reliable information on a wide range of dog topics. Our reviews are based on customer feedback, hands-on testing, and in-depth analysis. We are fully transparent and honest to our community of dog owners and future owners.