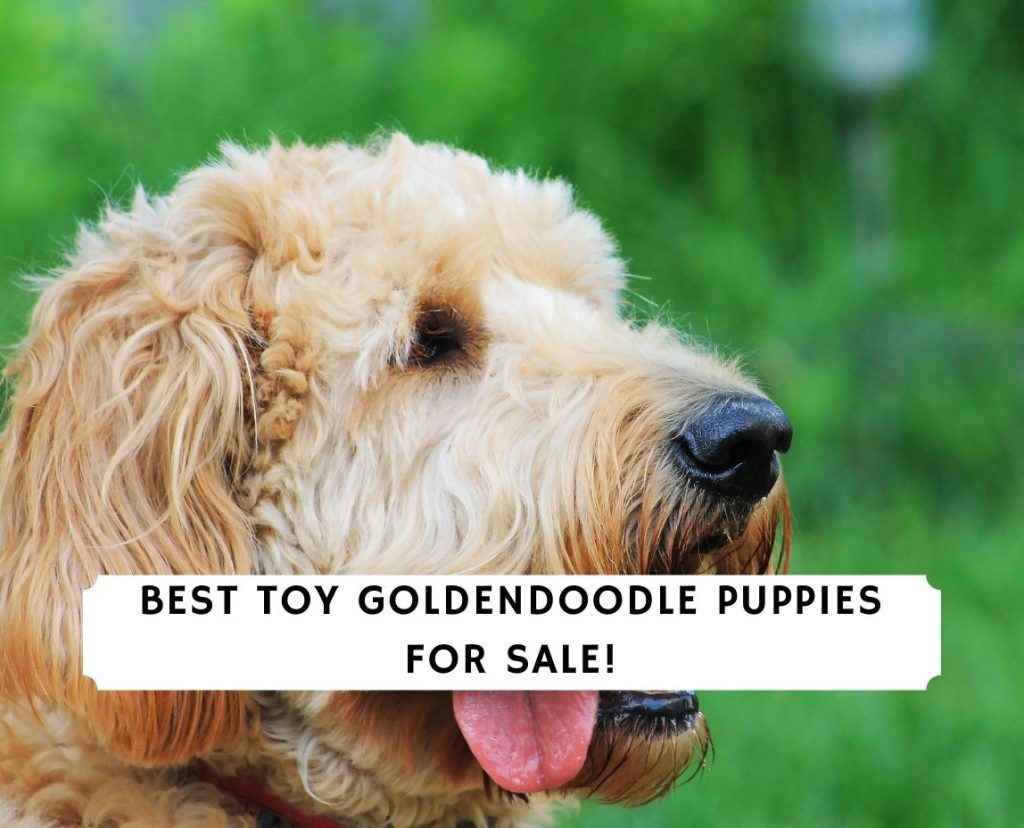 If you're looking for the best toy Goldendoodle puppies for sale, you've come to the right place. There are many different sizes of Goldendoodle puppies available now. The toy size is one of the smallest sizes.
However, it can be hard to find a reputable breeder that has this size of Goldendoodle available. This is the newest size of Doodle, which makes the availability limited amongst breeders. Don't worry – that's why we put together this guide on toy Goldendoodle breeders!
Before scrolling down this list of breeders with Toy Goldendoodle puppies for sale, you can check out these recommendations from our team at We Love Doodles: Best Dog Crate For a Goldendoodle and Best Dog Toys For a Goldendoodle.
Toy Goldendoodle Breeders in the United States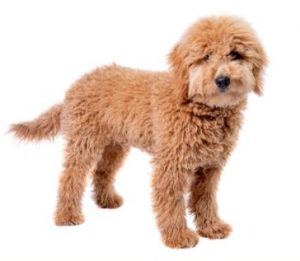 We've found the best Toy Goldendoodle breeders in the United States. All of these breeders are members of the Goldendoodle Association of North America (GANA) and follow the breeder guidelines for the organization. These toy dog breeders appear to be reputable, and we believe that none of them are puppy mills. However, please do your research before committing to any of these breeders.
Related: Goldendoodle Dog Breed Guide
First on the list of toy Goldendoodle breeders is ABCs Puppy Zs. They have been breeding toy Goldendoodles for over 15 years. We chose to include them first on our list because this breeder conducts OFA genetic testing, provides a 5-year health warranty, puppy health certifications, and socializes their puppies from an early age. This is everything that you should be looking for when choosing a toy Goldendoodle breeder.
The owner of ABCs Puppy Zs is named Bricks, and he genetically tests all the parent dogs so they don't pass down genetic illnesses to the puppies. Additionally, all his puppies have up-to-date vaccines, veterinarian checks, and come with a health certification. You can be sure that you will be getting a healthy Goldendoodle puppy that will live for many years.
From birth, his puppies socialized using Early Neurological Stimulation (ENS) and Puppy Culture which exposes them to various real-world sounds and stimulations. The puppies are also raised in a family home and not in a kennel. The breeders provide basic puppy training such as crate training, potty training, resource guarding training, and leash walking training. This will give your puppy the best start in life. 
If you're not located in the Texas area, ABCs Puppy Zs offers a hand delivery service throughout the United States. We highly recommend that you check this toy Goldendoodle breeder out. They breed F1 Toy, Mini, Teacup, and Micro Goldendoodles so you can choose from various small sizes at affordable prices.
ABCs Puppy Zs Details
2. Heaven on Earth Goldendoodles
Heaven on Earth Goldendoodles is a smaller breeder of Toy Goldendoodles located in Canton, Georgia. They are not a large breeding operation and don't always have available toy Goldendoodle puppies for sale. Even with the small size of their breeding program, they are still a blue ribbon breeder with GANA, the Goldendoodle Association of North America, which sets the standards for the Goldendoodle dog breed.
The Heaven on Earth owners want all dogs to grow up and live in homes where they are a part of the family. In fact, their house is home to six dogs! Additional breeding dogs and puppies are placed in guardian homes until it's their turn to be bred. 
Check the website to find our the availability of new and upcoming litters, in particular those that are toy varieties. The prices at Heaven on Earth Goldendoodles do vary based on size. A toy-sized Goldendoodle puppy costs $3,500. Potential owners will need to fill out an application to start the adoption process and be placed on the waiting list. Transportation will need to be discussed directly with the breeder.
Heaven on Earth Goldendoodles Details
3. Cosmopolitan Companion Dogs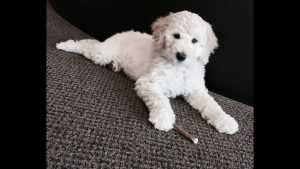 Cosmopolitan Companion Dogs is a professional and reputable breeder in the North Central Florida area. The owners are a knowledgeable and experienced mother and daughter team. They both have extensive experience in the dog world through multiple outlets.
The mother, Hari, has been a veterinarian technician and a trainer of police dogs and other companion and service animals. The daughter, Ji, has experience with the science behind breeding and is the founder of Midwoofery. This is a service used by many reputable breeders.
Even though this is a larger Goldendoodle breeding operation, they have a long waiting list. They even sometimes close down their applications if the demand is too high. This is to keep their waitlist from getting too long.
However, if you want to be notified when their applications open back up, you can click on the "reserve a puppy" link on the website. This will put you on the email notification list so you can get your application in quickly and reserve a spot.
Pricing for Toy Goldendoodle puppies for sale changes every application cycle and is subject to change. Current pricing is not available, but they mention several times that the toy puppies receive head start training and that their prices reflect that.
Cosmopolitan Companion Dogs Details
4. Twin Flames Farms Goldendoodles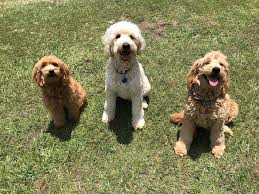 Twin Flames Farms Goldendoodles is a newer Goldendoodle breeder and is a smaller program since they are just starting. They are mentored by the founder of the Goldendoodle Association of North America (GANA), so prospective buyers can be sure they are a reputable toy Goldendoodle breeder and follow association standards.
Twin Flames doesn't produce many litters each year, and their waiting list is usually full. The pricing is consistent regardless of the size of the dog; every toy Goldendoodle puppy is $2800. This includes the non-refundable deposit placed when you reserve your spot on the waiting list. This price does not include the Florida sales tax.
Twin Flames Farms will ship your toy Goldendoodle to you for an additional fee. The puppies can fly to your nearest airport for an extra $450. The breeder also offers something called a Snuggle Puppy. This stuffed puppy with a simulated heartbeat helps your new puppy not feel alone, and are available for an additional $40. If you want one to go home with your puppy, just let the breeders know.
Twin Flames Farms Goldendoodles Details
5. Colorado Doodlebugs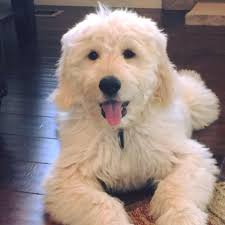 Colorado Doodlebugs has been breeding Goldendoodles and Golden Retrievers for more than 20 years in Colorado. This breeding program was founded in 2000 and has always been a family operation. The owner runs the day-to-day business alongside her three daughters. They specialize in mini Goldendoodles but have the occasional toy Goldendoodle litters.
If you would like to get on their waiting list for a toy Goldendoodle puppy, you will need to get on the list early. There is a process to get on the waiting list for puppies. Each puppy for sale is $2,500. You will need to pay a $200 deposit to get on the waiting list. This will reserve your place in the pick order, but it may not be refundable. Ask the breeder for details.
Once the toy Goldendoodle litter is born, you will submit another $300 to reserve a puppy from that litter. There is no puppy application. Puppies from this breeder come with 30 days of Trupanion insurance and a code for 25% off Baxter and Bella online training.
Colorado Doodlebugs Details
6. Ambermoon Goldendoodles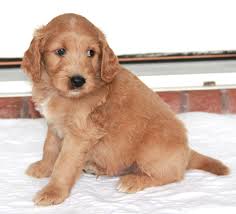 Ambermoon Goldendoodles is a small breeder in Alabama specializing in Mini and Toy Goldendoodles. They are new to the Goldendoodle breed but have years of experience with Mini and Toy Australian Shepherds. They switched to Goldendoodles because they found they loved the breed and wanted to share it with others.
Over the years, Ambermoon has placed puppies in almost every one of the United States! Since their Goldendoodle program is new, it is rather small. Many new breeding adults are being added and tested, but they are not ready to breed yet. This keeps the number of litters produced each year low, so put your name on the waiting list early!
The breeder is growing, and will soon have several litters a year. All of their current Toy Goldendoodle litters are reserved, but they will have new litters in the fall of this year. If interested, complete the puppy application to be placed on the waiting list. The website states that the waiting list is long, and there is more than a six-month wait for a puppy. Speak with the kennel about the availability of shipping. 
Ambermoon Goldendoodles Details
7. GoldenQuest
GoldenQuest began as a Golden Retriever breeding operation, but the owner saw a problem she wanted to fix for potential owners: she realized that not everyone wants a 60-pound lap dog that sheds! Even with the amazing temperament of the Golden Retriever, the size and the shedding was a deal-breaker for many potential dog owners.
That is when she developed the Comfort Retriever. This is a Goldendoodle but a full-size Golden Retriever with a Toy Poodle. This gave a smaller-sized dog that is hypoallergenic with the lovable personality of the Golden Retriever. This is the signature size of GoldenQuest.
They have several sizes available now, one of which is the Toy Goldendoodle. The price of the puppies varies with the type of puppy. Comfort Goldendoodles are $2,500 per Toy Goldendoodle puppy, while the Comfort Retrievers are $9,000.
Regardless of breed, there is a $1,000 deposit for one of the GoldenQuest puppies. Puppies can be shipped all over the country and to various countries outside of the United States for an additional fee. This can be discussed and arranged with the breeder when the time comes.
GoldenQuest Details
8. Keepsake Toy Goldendoodles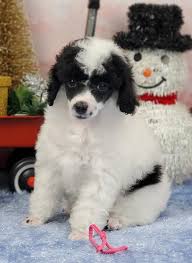 Keepsake is a small, family-owned and operated breeding operation in Norton, Ohio. All of the family, including the in-laws, are very active in the everyday tasks of Keepsake Goldendoodles. Even though they are smaller, they offer many different breeds, including Poodles, Goldendoodles, and Bernedoodles.
They have all of the Goldendoodle sizes available, from Toy to Standard. Keepsake utilizes a guardian program. They recognize that this is the best way to ensure the dogs are treated like family and given the attention, training, and care they need and deserve. If you are interested in becoming a guardian family in the Norton, Ohio area, contact the breeder for more information.
There is a very thorough application that prospective Toy Goldendoodle owners will need to fill out to be considered for the waiting list. They may take longer to get back to families as they're a family breeder, so be patient after submitting your application. 
Keepsake Toy Goldendoodles Details
Conclusion For The "Best Toy Goldendoodle Puppies For Sale"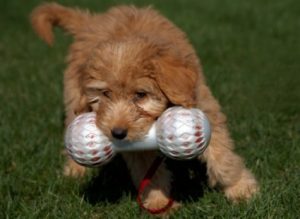 For such a tiny dog breed, Toy Goldendoodles have a lot of love to offer! Hopefully, this guide helped you find a compatible companion to bring home. If you're planning to purchase a Toy Goldendoodle from other breeders that aren't well known, we recommend you do your research before taking action.
There are many puppy mills out there that are breeding dogs in unethical ways. By going with a reputable Toy Goldendoodle breeder, you can help prevent puppy mills. You will also help to ensure that you get a healthy and happy puppy. If you're still debating on a breed, you can check out our list of Doodle breeds to find what you're compatible with.
For other recommendations similar to the best Toy Goldendoodle puppies for sale, check out:
To learn more about the Goldendoodle, check out:
If you're curious about the Toy Goldendoodle, you can watch this awesome video from Emily DiDonato:
Garrett loves animals and is a huge advocate for all Doodle dog breeds. He owns his own Goldendoodle named Kona. In addition, he volunteers at the Humane Society of Silicon Valley, where he fosters dogs and helps animals. Garrett enjoys writing about Doodles and believes that dogs can teach humans more about how to live than humans can teach a dog.
Why Trust We Love Doodles?
At We Love Doodles, we're a team of writers, veterinarians, and puppy trainers that love dogs. Our team of qualified experts researches and provides reliable information on a wide range of dog topics. Our reviews are based on customer feedback, hands-on testing, and in-depth analysis. We are fully transparent and honest to our community of dog owners and future owners.