When you involve a Poodle in a hybrid breed, the opportunity for an adorable puppy with a nonshedding and hypoallergenic coat is endless. Bordoodles are one of the most trending Doodle dog breeds. Their easy temperament, high intelligence, and beautiful appearance make them highly sought after.
It's important to know about the Bordoodle breed and its temperament before deciding to purchase one for your own family. Once you're set on this dog breed, one of the hardest tasks is to find reputable Bordoodle breeders.
Other articles you will like: Bordoodle Dog Breed Guide and Best Schnoodle Breeders.
Bordoodle Breeders in the United States
Adopting a new puppy is a long process and requires a lot of research. After all, you're welcoming a new member to your family for 12 to 15 years. To help you get started in your search for the right Bordoodle puppy, we share a list of some of the top Bordoodle Breeders in the United States. You'll find a brief overview of the breeder as well as contact information if you're interested in learning more about the breeder and their availability.
Often, these breeders specialize in designer dog breeds like Bordoodles so they can help answer questions about the specific breed. Many will also provide helpful resources as you plan and welcome home your new four-legged member.
1. Oregon Bordoodles Puppies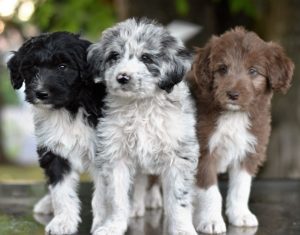 At Oregon Bordoodles Puppies, you can find your perfect Border Collie, Poodle, or Bordoodle puppy. They're dedicated to raising intelligent and healthy puppies to share with families. On their website, you can read all about the dog breed as well as their available Bordoodle puppies for sale and upcoming litters. You can also photos of the dogs and the puppies to give you an idea of what to expect
Families that are interested in adopting from Oregon Bordoodles can secure their interest by completing an application and submitting a deposit. Typical wait times for a Bordoodle puppy from this breeder are about a year. If you're purchasing a Bordoodle from a reputable breeder, it's common to have a waitlist.
Their Bordoodle puppies are all priced the same regardless of color, gender, or size. The deposit you submit goes toward the total price of the puppy. Due to their popularity, keep in mind you may have a longer waiting time.
The Bordoodle puppies are raised with love and attention and are ready to go home to their forever family at 8 weeks old. The puppies come with a health guarantee and receive basic training in areas like potty training and general manners.
All their Bordoodle puppies for sale receive relevant vaccinations and other deworming procedures so they're healthy and ready to go. Families of adopted dogs will also receive a helpful puppy packet full of resources as you get started in raising your Bordoodle puppy.
Bordoodle Breeder Information
2. Mountain Rose Bordoodles
As a family-operated breeder, the team at Mountain Rose Bordoodles raises puppies that are familiar and comfortable around kids and people. The owners have years of experience in dog breeding as well as professionally trained dogs.
Dogs go for daily walks in the beautiful open air and are given room to roam and play. While Bordoodles don't have universal standards as a hybrid breed, the team at Mountain Rose follows established standards to ensure the best quality puppies. They adhere to their own standards for each Bordoodle puppy that they sell.
With their dedication to excellence, these Bordoodle puppies come with a 10-year health guarantee – which is by the longest health guarantee we have seen from a breeder. Their puppies are also exposed to Early Neurological Stimulation at an early age to help them grow in both mental and physical health.
They are also well-socialized and comfortable around other humans and dogs. All their Bordoodle puppies receive Puppy Temperament Testing to ensure the right puppy is picked for your family.
Families who are interested in adopting a Bordoodle can begin the process with an application and submitting a deposit. They are by far one of the best Bordoodle breeders that we could find!
Bordoodle Breeder Information
3. Turk Family Farm Bordoodles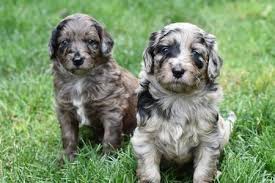 Specializing in Bordoodle puppies, the team at Turk Family Farm is committed to sharing the love of smart and loving puppies for families. They offer both F1 and F1b Bordoodle puppies, which have different percentages of Border Collie to Standard Poodle ratios. An F1 Bordoodle will be 50% Poodle and 50% Border Collie. An F1B Bordoodle will be 75% Poodle and 25% Border Collie. Pet owners typically like F1B Bordoodles because they tend to be more hypoallergenic and nonshedding due to more Poodle genetics.
Families who are interested in adopting can submit their application and submit a deposit. They'll be put on a waiting list for an upcoming Bordoodle litter for sale. Once a litter is planned, families can receive photos of the puppies and receive photos of milestone moments.
Their Bordoodle puppies are well-cared for and given lots of love, attention, and interaction with other dogs and people. During an open house event, all Bordoodle puppies can be selected and picked up.
When you're planning and preparing to bring home a new puppy, the team at Turk Family Farm provides helpful shopping lists and other things to prepare for as you welcome your puppy into your life.
Bordoodle Breeder Information
4. Willow Wind Doodles
The team at Willow Wind Doodles breeds Bordoodle puppies. With a love for dogs and experience in raising quality pets, they are passionate about sharing the joy and delight a dog can bring. Parent dogs are given space and time to play outside, sleep, and relax.
Availability for Bordoodle puppies can vary, so be sure to check their upcoming litters for more information. In order to secure your interest in a Bordoodle puppy, a deposit is required. Puppies can be chosen from the litter at 4 weeks and can go home with you at 8 weeks old.
Each Bordoodle puppy comes equipped with a one-year health guarantee of genetic concerns. They also offer helpful resources in best practices in caring for your new puppy as well as what to expect in helping them live their best lives.
Bordoodle Breeder Information
5. Creekside Doodles
As a family-run breeder, Bordoodle puppies are raised in a home environment. They are dedicated to raising Doodles that are healthy, happy, and have a beautiful appearance. In addition to Bordoodles, they also breed and raise Aussiedoodles, Double Doodles, and Labradoodles.
Their Bordoodle puppies for sale are ready to be welcomed into their new family homes at 8 weeks old. They are all health guaranteed against genetic or heritable diseases. In addition, your puppy will also have its first round of vaccinations and dewormings.
All their Bordoodle puppies also are microchipped and have started litter training to make things a little easier for you when a puppy transitions to your home. They've been socialized to be comfortable around other dogs and people.
Each Bordoodle is Standard size, so they don't offer Miniature versions of their dogs. Keep in mind that their sizes may vary based on the parent breeds.
Those interested in securing a puppy from Creekside Doodles can inquire and be asked to put on the waiting list for the next available litter. You'll complete an application to help them best match the right puppy for your family.
You'll also submit a deposit when you're ready. On their website, you can also browse through collections of photos of current and previous litters so you know what to expect with your own fun, furry, and loveable Bordoodle.
Bordoodle Breeder Information
6. Mile High Bordoodles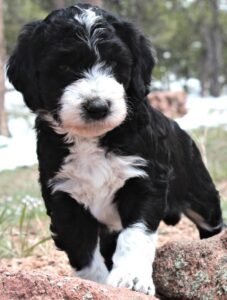 Mile High Bordoodles has a massive 40-acre property where they raise their adorable Bordoodle pups. The team of breeders in this kennel lives in the same house with their dogs and considers them as part of their family. All their pups are raised with care and love. They get more than enough playtime to run around and exercise.
The breeders here familiarize their pups with strange noises and situations. So, by the time you go home with your furry pal, he would be able to adapt to your home quickly. The team of breeders in Mile High Bordoodles has a special connection with their puppies and adult dogs. 
Bordoodle Breeder Information
7. Dakota Bordoodles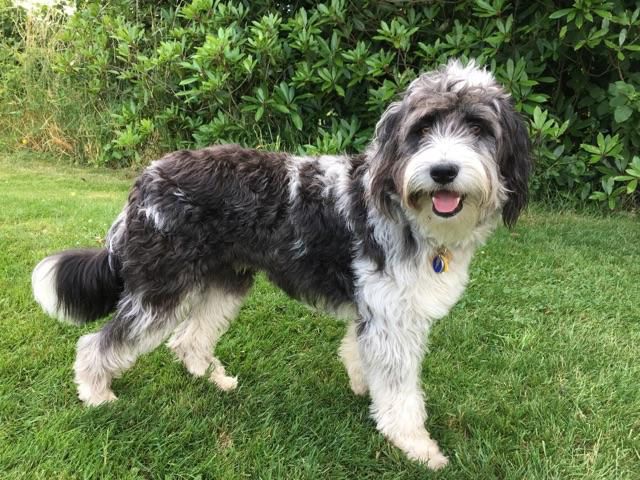 The team at Dakota Bordoodles is dedicated to providing as many families as possible with high-quality Bordoodle puppies. They make sure to select the best parent dogs for breeding. This way, they are sure that the resulting puppies will be sound. Not only are all the Bordoodle pups in this kennel extremely intelligent, but they are also highly athletic dogs.
All the Bordoodle pups here are compassionate and affectionate. They enjoy cuddling on the couch with the humans in their world. This breeder offers a variety of colors and coat types. The coat types vary with the first-generation crosses depending on their Border Collie to Poodle ratios.
The dogs here are non-shedding to low shedding, and some shed moderately. The breeders at Dakota Bordoodles do not like using the term "hypoallergenic" to describe their dogs. That's because no breed is completely hypoallergenic, as some people are more allergic to saliva and dander than they are to fur. This breeder offers a 1-year genetic health guarantee and helpful resources to make raising and training your new fur buddy easier.
Dakota Bordoodles is home to many agility dogs, family companions, and service dogs. You can visit their website to check their available puppies for sale.
Bordoodle Breeder Information
8. Safari Doodles 
Safari Doodles comprise a team of dedicated Bordoodle lovers. The dogs here live in the same home as the breeders and are seen as family members. This breeder has many years of experience in breeding top-winning show dogs. They also produce excellent service dogs and family pets.
If you are looking for a service dog to help someone with disabilities, Safari Doodles might be a great place to check. They usually donate their pups to service dog organizations. This breeder is known for producing high-quality Doodles and Golden Retrievers. 
The team at Safari Doodles does not compromise when it comes to the health of their puppies. They screen all parent dogs before breeding and only the ones certified through DNA and OFA are used in their breeding program.
Bordoodle Breeder Information
More Information About Bordoodle Puppies
The Bordoodle is also one of those specialty designer breeds that bring out the best in its two parent breeds. The Bordoodle is a mix between a Poodle and a Border Collie and also may be known as Borderpoos, Borpoos, or Borderdoodle.
This designer breed is typically a first-generation mix, F1, which typically results in puppies that are 50% Poodle and 50% Border Collie. While each puppy shares some characteristics with its siblings, designer breeds like the Bordoodle also bring a level of diversity and variety that can be very exciting and intriguing for dog owners.
Bordoodles are known to be highly affectionate and friendly. They are also very intelligent, thanks to their Poodle parent, and can also have a protective aspect to their personalities. Their intelligence makes them easy to train and a well-behaved family friend. Bordoodles puppies can learn commands quickly and are eager to please their owners.
While Bordoodles do have a lot of energy, they only need a moderate amount of exercise every day. Their easygoing activity schedule and needs make it convenient for families and individuals who can't commit to several hours of running around outside. It's recommended that you exercise them for at least 1 hour per day.
While the Bordoodle is a very social dog, it also can be great if you are working during the day or can't be home all the time to give them constant attention. While this isn't ideal, they typically don't suffer from separation anxiety like your see from types of Doodles.
The size of a Bordoodle depends greatly on the parents. Typically, Standard sized Bordoodles can get up to between 30 and 60 pounds in weight. Their life expectancy of 12 to 15 years also provides confidence that they'll be lifelong friends. However, their lifespan highly depends on whether or not you buy from a reputable Bordoodle breeder.
Their coats are wavy and soft and don't require an excessive amount of grooming. Bordoodles typically don't shed a lot and are easy on allergies. Brushing their coat just a few times a week can be sufficient for taking care of their soft fur.
Conclusion for Bordoodle Breeders in the U.S.
As you're ready to take your next step in adopting a Bordoodle puppy into your home, it's important to find a reputable breeder. Do your own research to find the right fit for your family and ensure the safety and well-being of the dogs, puppies, and other family members.
With our list of the best Bordoodle breeders, as well as looking around your area for breeders, you can get on your way to adopting your adorable puppy. With their intelligent personalities and adorable appearance, a Bordoodle puppy can be an ideal addition to your family.
Check out these other articles:
Garrett loves animals and is a huge advocate for all Doodle dog breeds. He owns his own Goldendoodle named Kona. In addition, he volunteers at the Humane Society of Silicon Valley, where he fosters dogs and helps animals. Garrett enjoys writing about Doodles and believes that dogs can teach humans more about how to live than humans can teach a dog.
Why Trust We Love Doodles?
At We Love Doodles, we're a team of writers, veterinarians, and puppy trainers that love dogs. Our team of qualified experts researches and provides reliable information on a wide range of dog topics. Our reviews are based on customer feedback, hands-on testing, and in-depth analysis. We are fully transparent and honest to our community of dog owners and future owners.