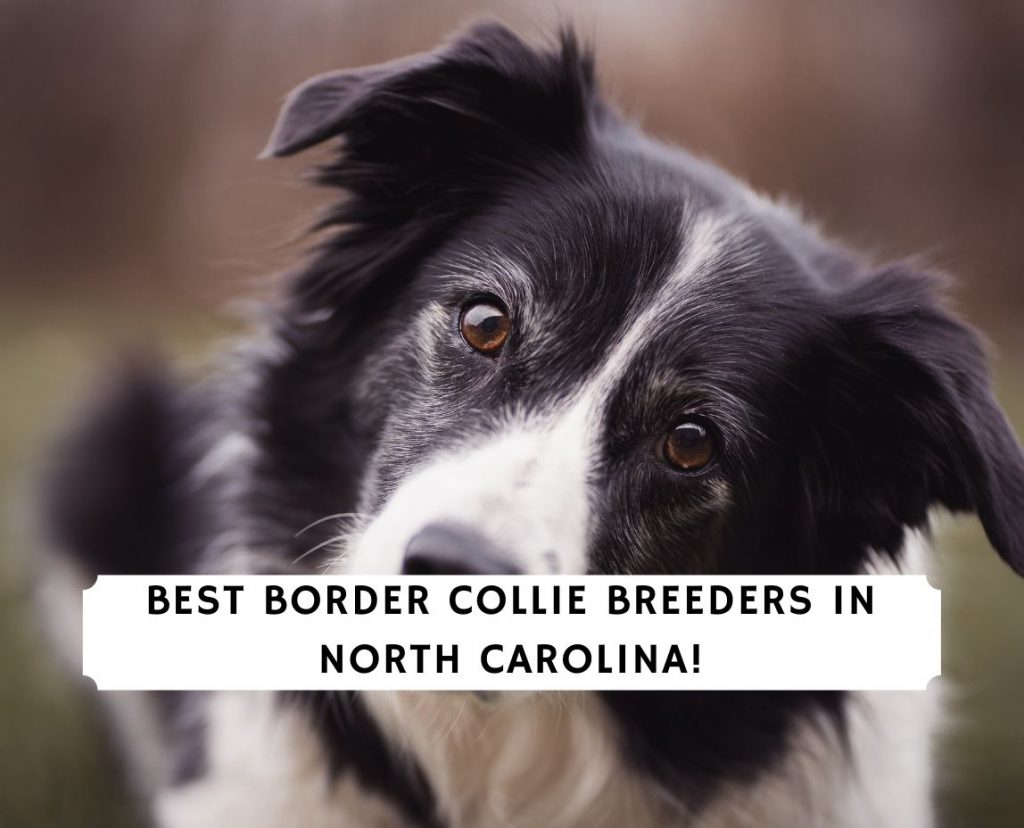 If you're in search of Border Collie breeders in North Carolina, then you must have some knowledge about how much they've helped humans throughout history. These herding dogs are one of the most intelligent dog breeds in the world and they help serve as emotional support pets, therapy pets, and are often used in law enforcement work. It's no surprise that there are tons of Border Bollie puppies for sale in North Carolina.
However, it's important that you purchase a puppy from a reputable breeder. One of the hardest tasks as a potential new puppy owner is choosing a breeder. We created a list to help you narrow down some of your choices.
Other articles you might like:
Border Collie Puppies For Sale in North Carolina
North Carolina is a great place to raise Border Collies. The vast open farmland there makes it the perfect place to have one. However, it's important to find a breeder who health tests and socializes their dogs. Breeders raise puppies during one of the most important phases of their lives for 8 weeks. This can have a huge impact on whether your puppy is healthy or not.
1. Kuykendall Border Collies North Carolina
First on the list of Border Collie breeders in North Carolina is Kuykendall. Kuykendall Border Collies, located in Franklinville, North Carolina, has been in love with Border Collies. Owned by Kent and Gwen Kuykendall, Kuykendall Border Collies has been raising Border Collies for decades. Kent started at the age of 13 to raise his first Border Collie on his father's land. Kent continued to help his father with the shepherding duties and learned to train the dogs independently.
Kent married Gwen in 1988 and have continued together raising Border Collie puppies in North Carolina. Kent has been featured in The Smithsonian and on Animal Planet. Now working with their children, Kent has worked with Border Collies for over 60 years. Kuykendall Border Collies also trains the dogs to your needs. They have over 85 acres, three ponds, and streams, and have been in business for three generations. They offer a 45-day health warranty and a six-month replacement warranty. They are available to you for a lifetime consultation.
Kuykendall Border Collies Details
2. MGF Border Collies North Carolina
MGF Border Collies is a 100-acre farm in Cleveland, North Carolina. Located between Winston-Salem and Charlotte, MGF Border Collies has a lot to offer. Their Border Collie puppies are known for their intelligence and excel at herding, agility, search and rescue, and owned as therapy dogs. They are cautious with their breeding and pay particular attention to the temperament of the dogs. Some are bred to be working dogs and others are bred to be loyal companions. They offer training packages and will train not only their Border Collies but other dogs as well.
Their Border Collie puppies for sale in North Carolina have all their shots, including rabies, enrolled in the AKC's reunite database, and receive a microchip before being sent home with you. MGF Border Collies can set up your heartworm, flea, and tick prevention with an extra month included. They will release the veterinarian file on the dog to you. Their priority is the well-being and health of their Border Collie puppies.
MGF Border Collies Details
3. King Border Collies NC
King Border Collies, located in Parkton, NC, is owned by Jerry and Liz King. Jerry was known for training cutting horses and, naturally, expanded to Border Collies. They start training the Border Collie puppies at a young age, and by six months of age, they are already bringing stock in from the fields. 
Started over 20 years ago, King Border Collies also has onsite training. Each dog is trained specifically for your needs. If you purchase a puppy from the King's, the training cost is $500, and if you bring your dog to King's the training costs $750. If you're looking for a well-trained Border Collie puppy, then you should consider King's.
King Border Collies Details
4. New Bern Border Collies
Owned by Julio Garcia, New Bern Border Collies raises some of the best Border Collie puppies. Located in New Bern, North Carolina, New Bern Border Collies has all their dogs' DNA tested, hips X-rayed, and reviewed by the only company that can certify dogs' hip health – the Orthopedic Foundation for Animals.
Border Collies are animals who love to be outside. New Bern Border Collies trains their Border Collies according to the sheepherders' standards of the past. They explain the high-energy of the Border Collie and have several stories on their website describing what their Border Collies get into because of their high-energy. New Bern Border Collies believe that Border Collies are the most intelligent breed.
New Bern Border Collies Details
5. Buck Branch Border Collies North Carolina
Last on the list of Border Collie breeders in North Carolina is Buck Branch. Buck Branch Border Collies, located in Pittsboro, North Carolina, is on 10 acres of land with ponds and trails in the North Carolina countryside. Good Dog Responsible Breeders have named Buck Branch Border Collies as a responsible breeder.
Buck Branch Breeders plan their litters years in advance. They also test the DNA of their dogs to make the breed as healthy as possible. Due to COVID-19, Buck Branch Bolder Collies decided not to breed or have any litters in 2020 and have just had their first litter of puppies for 2021. They charge a $500 deposit and all their Border Collie puppies in North Carolina are dewormed, vaccinated, and microchipped before sending puppies to their new home.
As a reputable breeder, Buck Branch Border Collies require all puppies to be spayed or neutered except under special consideration. Owned by Christy and David Bierema, Buck Branch Border Collies raised puppies since 1994.  Buck Branch Border Collies feeds their dogs a raw diet with some kibble. As puppies, when they are old enough, they are started on the same diet to ensure their health. They also will train the puppies for you. Their sincere hope is that you and your puppy have a long, healthy, and happy life as companions.
Buck Branch Border Collies Details
Border Collie History
Border Collies are a brilliant and athletic dog. They herd sheep, goats, and other herd animals. The Border Collie was recognized as a breed in 1915 but was known for its herding skills long before being recognized by the American Kennel Club. Breeders in Northumberland, which is on the border between Scotland and England, bred the Border Collie as a working dog. The Border Collie obtained his name because of the border.
Border Collies are energetic dogs and they require a lot of attention. Additionally, Border Collies can be house pets but they must have room to play and exercise daily. They will do anything to please humans but they do require a lot of work to maintain. One of the most intelligent breeds of dogs is the Border Collie and they quickly learn commands and are often trained for some time as a puppy to become a herder.
Conclusion For The Best Border Collie Breeders in North Carolina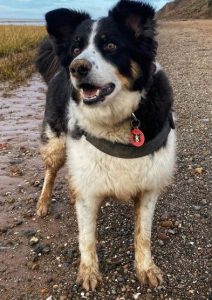 While Border Collies are one of the most intelligent breeds, it is up to you as the owner to make sure you understand the breed before you take on the responsibility. Border Collies need room to roam, hunt, run, and herd. They are loyal companions and will follow you anywhere. The owners of Border Collies pass down stories about their attentive dog companion. One such tale states that after working all day in the fields with their owner, Border Collies would follow the owner to the pub and lay at the owner's feet until it was time to return home.
These stories and tales keep the Border Collie as one of the top breeds as a working animal. From Scotland and England's rugged fields, the Border Collie possesses traits that make him a confident, strong, and agile dog.  Apartment living isn't the life for a Border Collie unless you understand how much playtime and exercise they need. A Border Collie exercised and given a daily workout, toys, and fun is likely to be your best friend.
After all, breeders and owners alike want a perfect match between you and your new puppy. This list contains the best Border Collie breeders in North Carolina, and you couldn't go wrong with any of them. Be sure that you seek reputable breeders because they'll help you find the right personality and puppy. It may take some time to find a breeder, but the reward will be worth it. There is nothing better than a loyal companion to provide that unconditional love and the Border Collie is one of the best breeds for it.
If traveling to these Border Collie breeders in North Carolina is too far for you, check out our recommendations for other states:
To learn more about the Border Collie dog breed, watch "10 Fascinating Facts About The Border Collie" down below:
Garrett loves animals and is a huge advocate for all Doodle dog breeds. He owns his own Goldendoodle named Kona. In addition, he volunteers at the Humane Society of Silicon Valley, where he fosters dogs and helps animals. Garrett enjoys writing about Doodles and believes that dogs can teach humans more about how to live than humans can teach a dog.
Why Trust We Love Doodles?
At We Love Doodles, we're a team of writers, veterinarians, and puppy trainers that love dogs. Our team of qualified experts researches and provides reliable information on a wide range of dog topics. Our reviews are based on customer feedback, hands-on testing, and in-depth analysis. We are fully transparent and honest to our community of dog owners and future owners.