When it comes to finding a dog that embodies protection, strength, and loyalty, the Rottweiler can be a top choice. They're often well known for their confidence and innate protective qualities. Characterized as a breed in the working dog group, the American Kennel Club ranks Rottweilers as the 8th most popular dog among purebreds. It's no surprise why Rottweiler puppies for sale in North Carolina are growing. However, it's important to choose a reputable breeder.
Check out these other articles: Labrador Breeders in North Carolina and Goldendoodle Breeders in North Carolina.
Rottweiler Breeders in North Carolina
If you're ready to take the next step in bringing home a Rottweiler puppy into your home in North Carolina, one of the most important things to look into is quality and reputable breeders in your area. Finding a Rottweiler breeder you can trust and that has both your and the puppy's best interest in mind can provide the confidence and assurance you need to welcome in a Rottweiler puppy.
Especially for this breed, early socialization and training are essential in raising happy and pleasant puppies. Be sure to do diligent research and exploration to confirm that a Rottweiler is the best choice for you and your family before you search for a breeder.
To help you get started in your research for the perfect Rottweiler puppy in North Carolina for you, we share a list of some of the top breeders we were able to find. You'll find a short overview of the breeder as well as initial contact information if you're interested in learning more about their purchase process and availability.
1. Von Z-Max Rottweilers North Carolina
Since 1995, the team at Von Z-Max has been raising and breeding Rottweilers puppies that come from German and European bloodlines. They emphasize quality in both temperament and health. Temperament testing and early socialization are done so you can help ensure that you won't be getting an aggressive dog.
If you're curious about what their Rottweiler puppies in North Carolina look like, you can browse through their male and female dogs used for breeding. This will give you a good sense of the size and coat color of your Rottweiler puppy. You can read about their health history and where they come from as well.
Their website also shares updates on upcoming and current litters if there are any planned. If you're interested in learning more about their availability and what you can expect in purchasing a puppy, you can reach out to them via their online contact form or phone. This breeder is located in Summerfield, North Carolina.
Rottweiler Breeder Details
2. Silverhill Rottweilers NC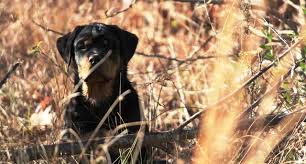 Rottweiler puppies at Silverhill are raised on a 25 acre stretch of land that offers lots of room for them to roam and run in Kenly, North Carolina. Their puppies are purebred and come from a line of champion dogs, so you can be confident in their quality. The owner, Cathy, has years of dog breeding experience in raising and showing Rottweilers. She knows quality when she sees it and can help you answer any questions.
In addition to breeding, she also has experience in training and equipping dogs to serve as therapy dogs for others. She's dedicated to the Rottweiler breed and to sharing the joys the breed can bring with others.
To help you in the process, their website shares some important answers to frequently asked questions. You can discover important insight regarding several aspects of raising Rottweiler puppies in North Carolina. From their health to their temperament to their appetite, you can get an answer on their website. You can find resources in housebreaking your puppy, grooming them effectively, and training them in several other ways.
All their Rottweiler puppies for sale in North Carolina come with deworming treatment and other health checks prior to joining their forever families. If you're interested in moving forward with a Silverhill Rottweiler, you can begin with an application to express what you're looking for in a puppy.
Rottweiler Breeder Details
3. Guernsey Rivers Rottweiler Kennel NC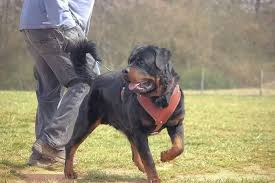 The Rottweiler puppies here are raised and sold from Charlotte, North Carolina. They are imported German Rottweilers that are hard-working and strong. They also come with full registration papers so you can trust in their lineage and status. Guernsey Rivers Rottweiler Kennel also partners with kennel services to provide shipping options for Rottweiler puppies.
They operate from a Facebook page, so you'll need to message them over social media or feel free to give them a call. Their Rottweiler puppies are on the larger size and often used for police work or other working reasons.
Rottweiler Breeder Details
4. Von Philhaus Rottweilers North Carolina
With years of experience in raising Rottweiler puppies, the team at Von Philhaus is passionate about sharing the love and joy of the dog breed. They breed dogs that are high in quality in health and temperament, making them easy to train and love. Their parent dogs come from quality bloodlines and are fully health checked for best results in the litter.
On their website, you can browse current and upcoming litters and see if any of the Rottweiler puppies catch your eye. Puppies for sale can be reserved with a submitted contract as well as a $300 deposit.
All their Rottweiler puppies in North Carolina come with their tails docked and their back dew claws removed, so that's one less thing you'll have to worry about. You can discover their availability and start the purchasing process by reaching out to them via phone or email.
Rottweiler Breeder Details
5. DuPrees Rottweilers
The team at Dupree's Rottweilers is committed to quality and proving the care puppies need. They pride themselves on holding high standards and ethics when breeding for the best results for all.
From day one, their Rottweiler puppies are showered with love and care. With over 15 years of experience, the team there know how to best prepare and raise this breed to be their best.
You can see upcoming litters and their availability on their website. Their Rottweiler puppies for sale in North Carolina receive their vaccinations and are available for pick up at 8 weeks old. They encourage that puppies visit a veterinarian within 72 hours to ensure they are in good health standing.
As you welcome a puppy into your home, they also share helpful insights of what to expect and how to best prepare for the fun and important transition. If you're interested in learning more about purchasing a puppy from DuPree's Rottweilers, you can connect with them via phone or email.
Rottweiler Breeder Details
6. Vom Berg Rottweiler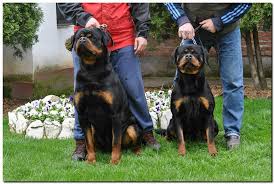 Discover quality with the puppies from a champion bloodline. Rottweiler puppies here are bred with attention to quality in health, appearance, and temperament. Their Rottweiler puppies come with a lifetime hip and health guarantee so you can be confident in your purchase.
Check out their website for current and upcoming Rottweiler puppies for sale. Even if litters aren't available immediately, you can still reach out to discover more about their availability and when new litters may be planned. With the collection of photos, you may just fall in love with the Rottweiler even more. This breeder is located in Morganton, North Carolina.
Rottweiler Breeder Details
More Information About Rottweiler Puppies in North Carolina
The appearance of a Rottweiler exudes strength and athleticism. Male Rottweilers can reach a height between 24-27 inches tall and a weight between 95-135 pounds.
Female Rottweilers are slightly smaller as they have a height ranging from 22-25 inches tall and a weight between 80-100 pounds. Because of their large size, they have a shorter life span than tinier breeds, with an average expectancy between 9-10 years.
Rottweilers have a short, dark coat that helps them stay active and shows of their muscular figures. They have a fairly large frame that offers both protection and the ability to be quick off their feet. Their coats are coarse and shed moderately throughout the year, with heightened shedding twice a year.
Their muscles help them stay active for long periods of time, whether through swimming or running outside. With their high energy and athleticism, they require regular exercise.
With proper training and preparation, they can be raised to be happy and pleasant dogs. However, with their protective instincts, they can be quite reserved when interacting with strangers or other animals. Therefore, training and discouraging aggressive behavior are essential when raising a Rottweiler puppy in North Carolina.
While Rottweilers can often be characterized as aggressive and unfriendly, they can also be raised well to be calm and confident in interacting with their family. Behind their strong bodies is also a fun and a goofy puppy that loves to play and cuddle. Again, training and consistent positive reinforcement are important in raising your Rottweiler well.
Conclusion for Rottweiler Breeders in North Carolina
Rottweilers can be both highly active and protective while also loyal and caring. If you've determined that a Rottweiler is the right choice for you, finding a breeder with quality puppies available and raised in a caring environment is an important next step.
As you research Rottweiler breeders in North Carolina, be sure to ask questions of them as well as read reviews of past customers. With a trustworthy breeder, you can welcome home your Rottweiler puppy with confidence and eagerness for a fun and active life together.
Other breeders in North Carolina:
Garrett loves animals and is a huge advocate for all Doodle dog breeds. He owns his own Goldendoodle named Kona. In addition, he volunteers at the Humane Society of Silicon Valley, where he fosters dogs and helps animals. Garrett enjoys writing about Doodles and believes that dogs can teach humans more about how to live than humans can teach a dog.
Why Trust We Love Doodles?
At We Love Doodles, we're a team of writers, veterinarians, and puppy trainers that love dogs. Our team of qualified experts researches and provides reliable information on a wide range of dog topics. Our reviews are based on customer feedback, hands-on testing, and in-depth analysis. We are fully transparent and honest to our community of dog owners and future owners.