Powerful and captivating, Rottweilers are a majestic dog breed that can fulfill the companionship or service you need. Those who know the Rottweiler can't help but love them and that love is brought back a hundred-fold.
Even though the Rottweiler gets negative press, bringing this breed into your home will be a positive and life-changing experience. In fact, according to the American Kennel Club (AKC), the Rottweiler is the 8th most popular dog breed in the United States. Thus, you will see many different Rottweiler puppies for sale in California.
There are tons of reputable Rottweiler breeders in California that have dedicated years to breed this impressive dog so you can have a healthy and happy Rottweiler. On the other hand, we saw several puppy mills and backyard breeders selling cheap Rottweiler puppies that aren't health checked or genetically tested. Remember that if you don't buy from a reputable breeder, your Rottweiler may have a genetic disease that will cost you lots of money in the long term.
We have done our own independent research to help you find a reputable Rottweiler breeder. However, breeding practices always change so we recommend that you always ask any potential dog breeder lots of questions. Always verify testimonials, view their genetic testing results, and visit their breeding facilities. Always find a breeder that you can trust before you put your deposit down on a Rottweiler puppy in California.
Check out these other articles: Doberman Breeders in California and Boxer Breeders in California.
PuppySpot is on the top of our list because they are a network of highly-rated dog breeders. This means that they are licensed, screened, and state registered so you will be getting an ethically sourced Rottweiler puppy. Additionally, you can get a Rottweiler puppy today and choose by gender, age, coat, and size.
Most other reputable Rottweiler breeders in California will have a long waitlist for a litter so you'll end up waiting several months for a puppy. You also won't be able to get a good pick for the litter unless you sign up early with a particular breeder. You'll also have to reach out to several Rottweiler breeders to find the exact puppy you're looking for. PuppySpot saves you a lot of time and their prices are affordable.
Additionally, if the puppy that you find is not located in California then they can easily fly it out to you and hand-deliver it. They are one of the few networks of breeders that actually own and operate their own airline to safely transport puppies. Other breeders will use airlines or carriers that aren't as safe. We had an outstanding experience with PuppySpot and recommend you check them out.
Rottweiler Breeder Information:
2. Von Ruelmann Rottweilers California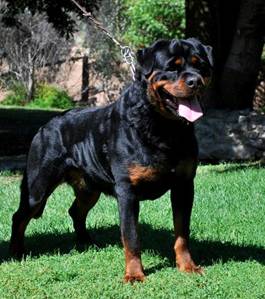 Von Ruelmann Rottweilers are the home to the top 3 Rottweilers in the world. They are the only American kennel to compete and win the highest rating in the Seiger class at the ADRK Klub Seiger show for their Rottweiler dogs. Their breeding journey dates back to 1980, a course of over 3 decades of breeding excellence. With these accolades alone, you can ensure that this is a reputable Rottweiler breeder in California.
Their breeding program offers pure-breed AKC Rottweiler puppies from the best worldwide breeding stock. They rely on tested and tried breeding techniques that date over 100 years ago. In addition, their studs and females are in top shape and in excellent health. They list the studs and female lineages and health conditions on their website for all prospective puppy owners.
Their litters are high-quality Rottweiler puppies in California whose health, structure, and temperament are an OFA average of 9 out of 10. These is some of the highest ratings from the OFA that almost ensure your Rottweiler puppy will be healthy.
Buying a Rottweiler puppy from this breeder is straightforward. First, you will need to check the availability of current or upcoming litters via a phone call. Although this Rottweiler breeder updates the current ad upcoming litters on their website, availability may change because of the high demand.
Next, they will require you to put down a non-refundable deposit of $1,000. The deposit is transferable if the puppy is unsuitable for you and they are relatively flexible. The Rottweiler breeder holds the puppies until they are 8 weeks in which you can pick them up, or they can ship them to you.
If you're not a local to California, the breeder can ship the puppy to you wherever you are in the United States. They have a partnership with United Airlines and Delta to make sure your Rottweiler puppy arrives safe and sound. For current pricing, please contact the breeder.
Rottweiler Breeder Information: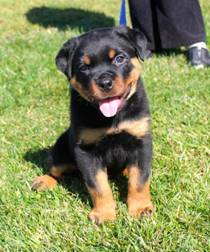 Marlo's Rottweilers is owned by Marlene Keene, the former President and Education Coordinator of the Associated Rottweiler Fanciers of North California. She has been breeding since 1976 and has over 100 titles in American and Canadian Rottweiler championships. She's also one of the oldest Rottweiler breeders in California.
Her breeding program adheres to the AKC Rottweiler pure breed standard, and she strives to always improve her breeding practices. Her program's hallmark is a strong breed and a sound temperament. You can check out her studs and dams' excellent health records on her website. We love that she's so open about sharing all her health testing results.
Marlene defines success as placing the right Rottweiler puppies in the right home. She raises her Rottweiler puppies at her home in Sacramento, California. In addition, she socializes them to thrive in their new lifetime home by exposing them to various sounds and environments. She regards each puppy, leaving for a lifetime home as a hello, not goodbye.
To buy one of her Rottweiler puppies in California, you will need to contact the breeder to get a puppy application form. You can check out the current or planned breedings on the litters' tab on the website. Current pricing information is not available and we recommend you contact the breeder on this topic. They also have shipping options if you don't live in California.
Rottweiler Breeder Information:
4. Vom Hognadottir Rottweilers California
Vom Hognadottir is in the business of breeding top-notch Rottweilers and German Shepherds with sound structure, high intelligence, and stable temperaments. Vom Hognadottir is run by Betty Burden, who has been breeding dogs for over 30 years.
Her studs are from 100% ADRK champion bloodlines who have superb health and impressive temperaments. Her female Rottweilers are also on par and selected for their strength, large bones, and substance.
Her current or planned Rottweiler litters are on the website. If you're interested in buying from this Rottweiler breeder in California, we advise you to check and contact the breeder.
To kick off the process, you will need to fill in a puppy application sent by the breeder. Information on current pricing is best consulted with the breeder.
Rottweiler Breeder Information:
Location: 3262 Mandarin Lane, Pilot Hill, CA 95664
Telephone: 916-933-3861 or 916-205-3861
Email: vomhognadottir@gmail.com
5. Scotty's California Rottweilers
Scotty's California Rottweilers is a small, ethical, and responsible breeder of AKC Rottweiler puppies with championship bloodlines. The breeder breeds from European and German bloodlines.
Their breeding program focuses primarily on producing show-quality Rotties that are genetically healthy, structurally correct, have good temperaments, are proven in pedigree, and are highly intelligent. The breeder posts each dog's health information on their website and past puppies.
The breeder has a few litters every year to make sure that their female Rottweilers are constantly healthy. To reserve one of their Rottweiler puppies in California, you will have to put down a $361 refundable deposit.
A Rottweiler puppy from this breeder costs $2500. The puppy comes with limited non-breeding rights and a 2-year puppy replacement guarantee. At 8 weeks old, the puppy will be microchipped, declawed, current on vaccines, and tail docked before leaving for your home.
This Rottweiler breeder in California is open to making shipping arrangements depending on where you live. Reach out to them for more information.
Rottweiler Breeder Information:
At Vom Aztlan Rottweilers, raising the bar is not a statement. It is a way of breeding. Vom Aztlan Rottweilers believes in breeding for the current and next generation of Rottweiler puppies with impeccable health. Their breeding program improves and surpasses the ideal purebred standards of a Rottweiler.
Aside from their excellent health, this breeder's dogs are top pedigree in style and beauty. The adult Rottweilers are also German titled and trained. In addition, the dogs have Schutzhund and Ztp/BST titles which are crucial in a young Rottie's life. Most of their females breed in Germany and whelp in their facility in Whittier, California.
They update planned Rottweiler litters on their website. Under each planned litter, you will see the health records and lineage of the parents. They are a very transparent Rottweiler breeder and welcome any questions that you may have. For information on the Rottweiler's price and shipping policies, please contact the breeder.
Rottweiler Breeder Information:
7. Vom HochKlasse Rottweilers California
For the past 2 decades, Vom HochKlasse has built a stellar reputation for producing high-quality Rottweilers with huge square heads and wide, short muzzles. Vom HochKlasse handpicks and breeds only the best worldwide Rottweiler studs with their females. Aside from having excellent genetic health, their females also possess robust character and beauty.
All of their Rotties can trace back several generations free from genetic defects and hip dysplasia. Their litters speak to the breeder's excellence whether they are for companionship, show, breeding, or work. You can check out the health records of the dogs and past litters on their website.
This breeder has only a few litters of Rottweiler puppies for sale in California per year which are booked well in advance. To book a puppy, you will require a non-refundable deposit of $500. Rottweilers for companionship cost between $2800 to $3500. Show or breed quality Rottweiler puppies cost between $3000 and $4000.
Rottweiler Breeder Information:
Conclusion for Rottweiler Breeders in California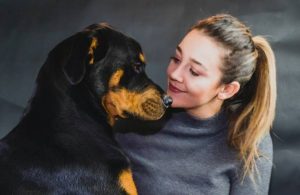 The Rottweiler's origin dates back to Roman times as cart pulling and herder dogs. Today, the Rottweiler finds purpose in something to do. Breeders aim for a Rottweiler of abundant strength, powerful nobility appearance, black coated with defined rich tan markings, and suitability for being a working, service, companion, and rescue dog.
If you have your heart set on getting a Rottweiler puppy in California, don't let the negative press get you. Destructive Rottweiler behavior usually stems from poor training and handling. As you bring your Rottweiler puppy home, we advise you to enroll them in a training program. The way you train and socialize your Rottweiler is how it will turn out.
Before you buy a Rottie, do your research, talk to one (or all!) of the Rottweiler breeders in California on this list. Chances are you will have to wait on a waitlist, but it is oftentimes worth the wait.
Other articles you might like: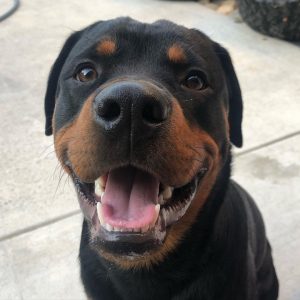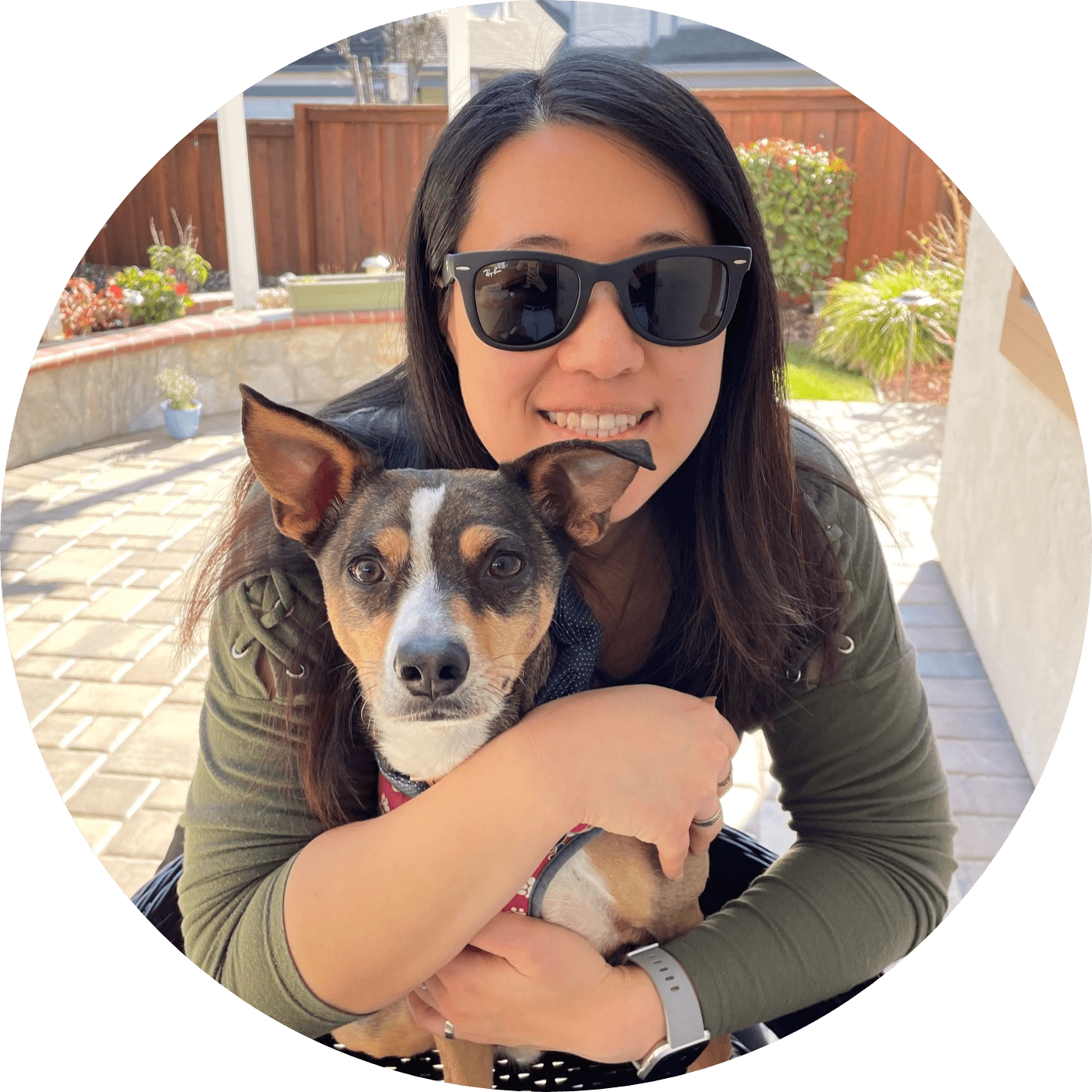 Dr. Sabrina Kong graduated from the Royal Veterinary College in England in 2016 and has been working at a small animal clinic in Northern California since then. She grew up in the Bay Area and got her bachelor's degree from Cal Poly San Luis Obispo. She also became a Certified Canine Rehabilitation Practitioner through a program at the University of Tennessee.
When she isn't in the clinic taking care of her four-legged patients, she enjoys traveling and trying new foods with her friends and her three-legged dog, Apollo. She adopted Apollo from her clinic when he was a puppy with numerous health issues. Dr. Kong truly cares about taking care of animals.