Boxers rank as one of the most popular breeds in the U.S. for many reasons. In fact, the Boxer is the 11th most popular dog breed in the world according to the American Kennel Club (AKC). They are the sweetest friend you can have that is full of loyalty and intelligence. However, there are many Boxer puppies for sale in California and it's very difficult to choose a reputable breeder.
We've done our own independent research to find the best Boxer puppies in California that are going to be happy and healthy. If you have your heart set on this champion snuggler in California, you have the best seat in the house. Here are the top 7 boxer breeders in California.
Other articles you might like: Golden Retriever Rescues in California and Labrador Breeders in California.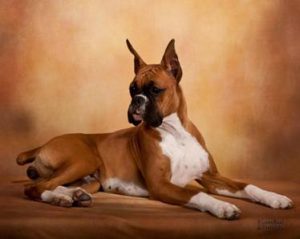 Telstar Boxers California is home to over 75 AKC Boxer champions, including 2 Dams of Merit and 8 Sires of Merit. The duo behind Telstar Boxers is owners, Jennifer and Gene, that have over 35 years of breeding excellence. For what it's worth, they were also one of the oldest Boxer breeders in California that we could find.
Through their breeding program, they aim to produce a quality Boxer puppy who is structurally sound, healthy, and ideal temperament. Whether you're looking for a companion, show dog, or family companion than Telstar Boxers is a reputable breeder.
The breeder updates its website regularly on current and planned litters. If you would like to buy from this breeder, we recommend you to check their Boxer puppies tab. For information on pricing and policies, please contact the breeder.
Boxer Breeder Information:
2. Soleil Boxers Northern California
Soleil Boxers California is owned and run by Richard and Katrina Sun in the East Bay Area of California. The couple began breeding Boxers puppies in 2002 whilst in college and have made it their lifelong passion. The duo doesn't take breeding lightly and they only have a few litters every year to ensure that the sirs and dams are healthy all year around.
They specialize in breeding Boxer puppies in California as family dogs and show or working dogs. Before breeding, careful planning goes into every litter considering all aspects of an ideal Boxer – health, conformation, and temperament.
Their boys and girls are AKC registered and have superb health and temperaments. You can check out the health results on their website under the "our dogs" tab. Being so transparent about health and genetic testing their parent dogs makes this Boxer breeder extremely reputable.
The breeder's planned puppies are spaced-out and regularly updated on their website. For information on pricing and shipping policy, please reach out to Soleil Boxers California via their contact form. Lastly, Soleil Boxer's has an open-door policy. If you can't handle raising your Boxer anymore, you can return it to them at any time. They don't want to see their Boxer puppies end up at the shelter or rescue.
Boxer Breeder Information:
3. Black Dymond Boxers California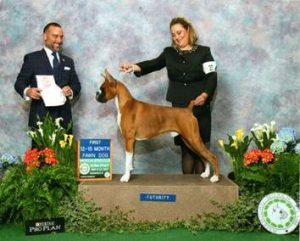 Black Dymond Boxer's California is in the small town of Gait which is 30 minutes south of Sacramento International Airport. They strive to produce show-quality AKC Boxer puppies who thrive in conformation to the purebred standard. They place great importance on all of their Boxer puppy's health, longevity, and temperaments.
Although their Boxer puppies in California are crate trained and spend a lot of time on the couch or running around in the breeder's 5-acre property. Purchasing a boxer from this Boxer breeder in California is straightforward. After filling out an application and speaking to the breeder, you will get a spot on a waiting list if they don't have puppies available. The breeder doesn't take deposits on their puppies before birth which is quite uncommon amongst dog breeders. Once the Boxer puppy'ss personality emerges at week 6, the breeder will require a deposit to hold the dog for you.
Before leaving for their lifetime homes, the Boxer puppies are potty trained and socialized to adjust well to an array of situations. The breeder doesn't place their Boxer puppies according to color preferences. If you would like a puppy of certain markings or color, it will take you a longer period to get matched with a suitable puppy and you'll have to work with the breeder.
Each Boxer puppy comes with a 24-months health guarantee against genetic illnesses. The Boxer puppy price depends on the puppy's characteristics. The price ranges from $1200 to $2500. 
Boxer Breeder Information:
4. Anden Boxers California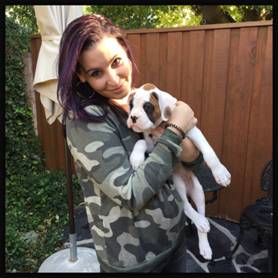 Anden Boxers is a small kennel in Southern California that specializes in breeding boxers as working dogs and family companions. The breeder strives to improve the temperament, health, intelligence, and correctness of the Boxer structure according to the AKC purebred standard.
Anden's Boxers are all AKC registered and some of them have won nationwide championships. You can view their health testing records and lineage on the breeder's website. Their litters are born and raised at the center of their home in a loving and caring environment.
In addition, they expose their Boxer puppies in California to the sounds and sights of different environments with humans and pets.  They feed all their Boxers an all-natural raw food diet that follows closely to what mother nature intended for canines. The puppies also follow this dog food diet to get the best start in life.
The breeder doesn't breed often and only has a couple of litters per year. This means you might need to wait for 6 to 14 months before getting your Boxer puppy home. They are members of the American Boxer Club, Buena Ventura Dog Training Club, and Boxer Club of San Fernando Valley.
Boxer Breeder Information:
5. Encore Boxers California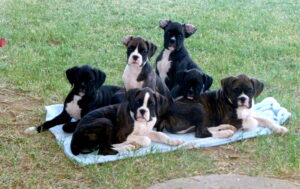 Encore Boxer's California has been breeding Boxer puppies since the 1970s. They began raising select Boxer puppies to form a breeding program that has thrived and grown for years. The owner, Cheryl Cates, goal is to produce quality and healthy Boxers that are happy. In addition, each of their puppies will come with a wonderful temperament and be well socialized. This reduces the amount of stress and anxiety they have when going to their forever home.
Before breeding, Cheryl Cates ensures all their dams and sires are in excellent health and genetic condition. You can check out their health records on their website. They raise their Boxer litters in their home where they receive a lot of love, affection, and socialization.  Their Boxer puppies in California also receive vaccinations and deworming.
Each pup comes with a health guarantee, AKC registration papers, a chew toy, and lifetime support. Since they started back in the 1970's they have produced close to 100 AKC champions and 18 Producers of Merit puppies. Your Boxer puppy may be a future show dog champion!
Boxer Breeder Information:
6. Baldwin Boxers California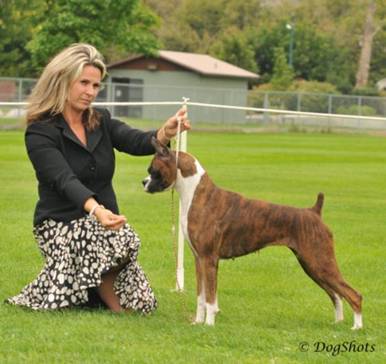 Baldwin Boxers is a breeder in Devore, Southern California. They breed quality Boxer puppies that excel in health, show conformation, and temperament.  They strive to produce the ideal Boxer that will excel as a show dog or companion dog.
In addition, Baldwin Boxers is active in the show dog community and has won many awards in America and Canada. Their boys and girls are AKC registered and cleared for any genetic and health conditions prior to breeding puppies. You can check out their health records and lineage on the breeder's website.
Upcoming litters are regularly updated on the website. Each of their Boxer puppies in California is raised in the breeder's home and showered with love and care. The puppy and their littermates are also well-socialized together.
To purchase a Boxer puppy, you will need to fill in a questionnaire that takes 10 to 12 minutes to fill. Once this is done, the breeder will contact you and place you on the waiting list. Every one of their Boxer puppies for sale in California comes with a health guarantee and lifetime support. Shipping options are available and upon discussion with the breeder.
Boxer Breeder Information:
7. Cinnibon Boxers CA
Update 3/3/2022: This breeder has moved to Alabama.
Cinnibon Boxers is home to over 35+ AKC Boxers champions in America. In 2019, the AKC recognized the breeder as the kennel producing the most Boxer champions in the USA. 
Their boxers undergo health testing for Hips, Eyes, CERF, OFA, ARVC among others before breeding. Previous dams and sires have excelled in performance and conformation to the Boxer purebred standard.
Puppy socialization starts on day 3 to 14, where the breeder performs Neurological Stimulation exercises. As the pups grow, the breeder exposes them to new experiences to boost confidence in unfamiliar situations.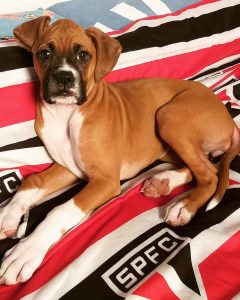 When placing the puppies, the breeder focuses on temperament and how well the puppy will fit into your family dynamic. While this Boxer breeder will try their best to accommodate your preferences on the sex, marking, or coat color of the puppy, please keep an open mind.
The puppy's adoption fee ranges from $2,000 to $2,800. The fee is inclusive of the first vaccine series, AKC registration papers, veterinarian check, and microchip and chip registration. Shipping options are per discussion with the breeder. The average wait time is 6 months before you will receive a Boxer puppy.
Boxer Breeder Information:
Conclusion for Boxer Breeders in California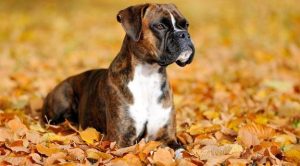 There are many reputable Boxer breeders in California. Aside from going to great lengths to ensure their Boxers are as close to the ideal purebred standard as possible, a good breeder will know all about the dog's life. They will know the lineage, issues at birth, and their Boxer's personality.
 If you're serious about getting a healthy Boxer puppy in California, we recommend you start with our list. If none of the breeders satisfy you – check out the AKC, American Boxers Club, or the U.S. Boxer Association for more qualified breeders.
Check out these other articles: