The Doberman, unlike most dogs, has only been in the world for less than 150 years. The breed traces its origin back to Germany from the tax collector named Karl Louis Dobermann. The Dobermann worked many jobs from being a dog catcher to a police officer. Thus, they become a bodyguard-dog as they are extremely loyal to their owners and highly intelligent to listen to commands.
Today, Dobermans have transitioned to loving companions through deliberate breeding. Breeders are moving away from breeding Dobermans with aggressive qualities into ones with softer personalities suitable for companionship. That being said, there are still breeders who bred the Dobermann Pinschers specifically for security. In fact, the American Kennel Club (AKC) ranks the Doberman Pinscher as the 17th most popular dog in the world which is why you'll see many Doberman puppies for sale in California.
However, not all Doberman breeders are the same and you'll find many puppy mills throughout California that don't health test their parent dogs. For this list, we have focused on the top 8 Doberman breeders in California who breed for companionship dogs. Some of these breeders also breed for security, but that is on a need basis. We've done our own independent research to find breeders who do health checks, have a good reputation, and are affiliated with many different Doberman organizations. 
We always recommend that before you purchase a Doberman puppy in California that you do a ton of research and ask the breeder lots of questions. It's important to find a breeder that you can trust to provide you with a healthy Doberman puppy. These dogs live a long time and you want them to be healthy and happy.
Other articles you might like: Golden Retriever Breeders in California and Boxer Breeders in California.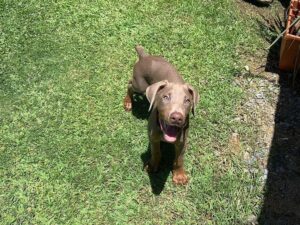 We bought one of our puppies from PuppySpot and had the easiest experience with getting a dog. First, PuppySpot screens all Doberman breeders so you don't have to interview them and ask them questions. They have a strict 100-point process that is USDA approved and AKC approved. A fun fact is that less than 10% of all breeders who apply are able to list a puppy. Thus, you're can ensure that you won't be getting your Doberman puppy from a puppy mill or backyard breeder in California.
Another great benefit of PuppySpot is that they have Doberman puppies for sale today. Typically, individual breeders have a long waitlist to get a puppy and the litter isn't even born yet. With PuppySpot, the puppies are already born so you know exactly what you are getting. You can sort by Dobermans per their coat color, age, gender, and size. You're essentially selecting the perfect puppy that you want.
If the Doberman puppy you want isn't located in California, then PuppySpot will fly it out to you. All their puppies come with a health guarantee, head to nose health check, and they will periodically check-up with you even after you purchase the dog. Our experience with PuppySpot was extremely easy and convenient which is one of the main reasons that we recommend them. We didn't have to spend a long time researching reputable dog breeders and interviewing them.
Update: PuppySpot is giving our readers $100 a Doberman puppy with coupon code "WLD100".
Doberman Breeder Contact Details:
2. West Coast Doberman Ranch California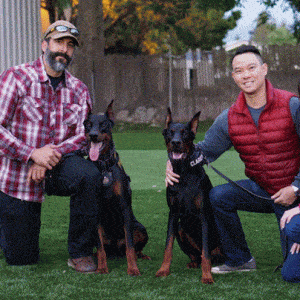 West Coast Doberman Ranch is a family-run breeding business in Northern California in the large city of San Jose. The breeder strives for top-quality European Doberman Pinschers that have superb health, ideal temperaments, and conformation to the purebred AKC standard.
This Doberman breeder in California is special because they select only the best dogs for their breeding program. The Doberman parents are OFA tested health and genetic tested. In addition, Vetnostics Labs runs DNA tests on the dogs for color and VWD genetics to make sure they aren't passing on any genetic diseases to their puppies. The University of Washington checks their dogs' cardiomyopathy tests to ensure the dogs have the best health record. This breeder only sells the healthiest Doberman puppies in California.
Moreover, puppy socialization starts from birth. They train the Doberman pups to be human and animal friendly. The breeder exposes their puppies to various types of environments from city life to ranch life to make the puppy easier to train and transition to your family.
Their Doberman puppies in California come with up-to-date vaccinations, deworming, a health guarantee, and lifetime support. If you're in Northern California, we believe this is one of the best Doberman breeders.
Doberman Breeder Contact Details:
3. All In Kennels California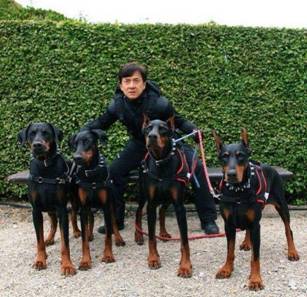 All in Kennels is a North Hollywood breeder with over 20 years in the dog breeding industry. For what it's worth, they are one of the oldest Doberman breeders in California that we could find.
We like this breeder because they check all their adult Dobermans for any health conditions before breeding and ensure only the best make it into their breeding program. They sell their puppies as company pets only and don't breed any security or bodyguard dogs. They keep their Doberman puppies current on vaccinations, dewormings, and have their tails docked at birth.
A Doberman puppy price starts at $1500 from All in Kennels. Shipping is available nationwide for an additional fee and depending on whether they ship the puppy via ground or airline transportation. However, we always recommend that you visit a breeder in-person if possible to check out their facilities.
Doberman Breeder Contact Details:
4. Devenshire Dobermans Southern California
Devenshire Doberman's has over 40 years of breeding Doberman puppies throughout the state of California. They are active members of the United Doberman Club (UDC), SoCal All Breed Ringers, and National Association of Ringsport (NARA). Based on their reputation and affiliations, you can tell this is one of the most reputable Doberman breeders in California.
Their dogs come from top international bloodlines and are certified by the DPCA and AKC. The breeder's Doberman males are tall standing 27.5 to 29 inches and weighing 90 to 105 lbs. The females are elegant and stand 25 to 26.5 inches and weigh 65 to 70 lbs. The males and females undergo extensive health testing before breeding so that only the best are bred. In addition, all of their Doberman parent dogs confirm to the purebred breeding standards.
A Doberman puppy from this breeder starts at $2,500 with limited registration and $3000 with full registration. The breeder requires a $250 deposit before breeding, and a $500 deposit if you book after the breeding takes place.
This is a small scale Doberman breeder in California and only breeds one or two litters every year. The waiting list is between 6 to 12 months, but it's well worth the wait. Each of their Doberman puppies in California has a health guarantee and comes lifetime support from the breeder. A total 6-year replacement policy is also included. They are located in Southern California near Chatsworth.
Doberman Breeder Contact Details:
5. Euro Dobermann of California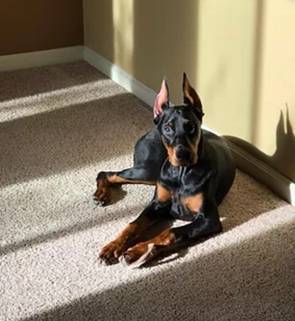 Euro Dobermann of California is a breeder in Central Valley, California. The small-time breeder strives to breed top notch Dobermanns that will love, protect, and accompany any family. The males and females are imported from reputable Eastern and West European breeders. The dogs are offsprings of champion bloodlines from their native homelands and adhere to the purebred standards.
This breeder breeds all types of Doberman puppies including dogs for show, protection, work, and companionship. The puppies are born and cared for in the breeder's residence. The breeder limits breeding to a few litters every year to make sure that their female dogs are going to remain healthy. Therefore, the waiting list period can be anywhere from 6 to 14 months if you want one of their Doberman puppies in California.
The breeder subscribes to the Western European practice of keeping the natural physical state of the Dobermann. This means the puppies are not declawed, tail docked, or ear cropped. If you prefer any of this, the breeder is flexible and you can request these procedures at the time of birth.
In addition, every one of their Doberman puppies is offered a health guarantee and lifetime support. If for any reason you aren't able to care for your Doberman, they will also offer to take the dog back. They don't want to see any of their puppies end up in shelters or rescues.
Doberman Breeder Contact Details:
6. Soquel Dobermans California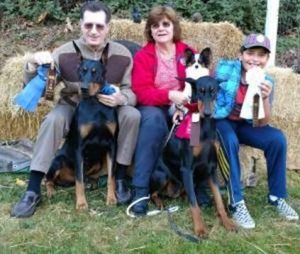 Soquel Dobermans have been breeding Dobermans since 1974 in Central California. For the past 46 years, they have kept the vision of breeding healthy and sound Dobermans as per the Dobermann Pinscher Club of America.
Their dams and sires live in their ranch in North Monterey County, California. The dogs are all American champions and they breed only the best dogs possible. If you want a show dog or family companion that comes from championship bloodlines then this is an excellent breeder.
Their Doberman puppies in California are well-socialized with pets and humans to get used to being around different environments. The breeder doesn't have information on shipping or pricing on their website and they suggest you reach out to them for the latest details. You can check out their past breedings on their website as well as upcoming litters.
Doberman Breeder Contact Details:
7. Holder Park Dobermans
Holder Park Dobermans have been in the breeding business for over 20 years. They have been active members of the Doberman Pinscher Club of America for over 33 years. The breeder was awarded Breeder of the Year in 2004 by AKC for her impressive work in improving the quality of the purebred Doberman. The breeder has since gone on to win many awards through championships. This is by far one of the most reputable Doberman breeders in California.
Needless to say, all Holder Park's Dobermans are AKC registered with impressive health and temperaments. The Doberman puppies are socialized early as the breeder aims for dogs that are confident with adults, children, and other animals. It's extremely important to socialize a Doberman and expose them to various sights and sounds to prevent stress and anxiety. Dobermans who are highly stressed and anxious may get aggressive if they have to defend themselves.
They only have a few Doberman litters every year and they booked well in advance. For any spots on the waiting list and shipping policies, we recommend you speak to Sue in the contact details below.
Doberman Breeder Contact Details:
8. Morgana Dobermans California
Morgana Dobermans is a family-owned kennel that has been in the business of breeding Dobermans for over 30 years. The breeder only produces a few puppies every year and follows the code of ethics set by the Doberman Pinscher Club of America.
Morgana Dobermans has produced top-notch healthy Doberman puppies from top European and American bloodlines. The breeder strives for a solid temperament and excellent health for the dog to be successful in sports such as agility, barn hunt, tracking as well as being an excellent companion and protector.
To purchase a puppy from Morgana Dobermans, you will need to fill in a  puppy questionnaire. The questionnaire takes an average of 15 to 20 minutes. For the questionnaire, be prepared to have a signed letter from your landlord (if you rent), check with your homeowner's or renter's insurance policy, and provide a lot of references. This Doberman breeder in California really cares where her puppies end up.
After the application is approved, the Doberman breeder will contact you and place you on a waiting list. Their Doberman puppies in California are matched at week 8 or 9 based on their physical and personality traits, and what you want in a Doberman.
Before the puppy leaves for your home, the breeder will ensure the Doberman is current on age-appropriate vaccines and dewormed. For inquiries on price and shipping policy, reach out to the breeder with the contact information below.
Doberman Breeder Contact Details:
Conclusion for Doberman Breeders in California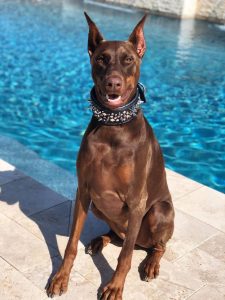 The Doberman makes for a devoted companion. With a loving and firm pack leader, a Dobbie will make a great friend, obedient companion, protector of children, and a loving household member. Doberman puppies for sale in California have become extremely popular and it's important that you find a reputable breeder. The most reputable Doberman breeders in California will health test their dogs, be affiliated with multiple Doberman organizations, and provide you with a puppy warranty. We wish you the best in search of your future Doberman.
Other articles you might like: